Women on-and-off the Screen: A panel discussion held by US Consulate General, Mumbai and Asian Centre for Entertainment Education
by Sukanya Sudarson
August 10 2018, 6:37 pm
Estimated Reading Time: 4 mins, 9 secs
Representations of women in film and television have always been a subject of contention among media professionals and social scientists. Though women and girls comprise half of the world's population, they have constantly been underrepresented in the entertainment industry. Women hardly have roles that speak and are either hyper-sexualized or objectified in their depictions in films and soap-operas. The roles of women behind the camera are no less challenging with tough competition and constant deterrence from moving to the top.
A study by the Center for the Study of Women in Television and Film on the Top 100 grossing films of 2017 showed that women constituted only 8% of directors and 10% of writers. In India, less than 10 percent of the Indian film directors are women. Though, many women work in countless roles in the media industry, hardly few remain in decision-making positions.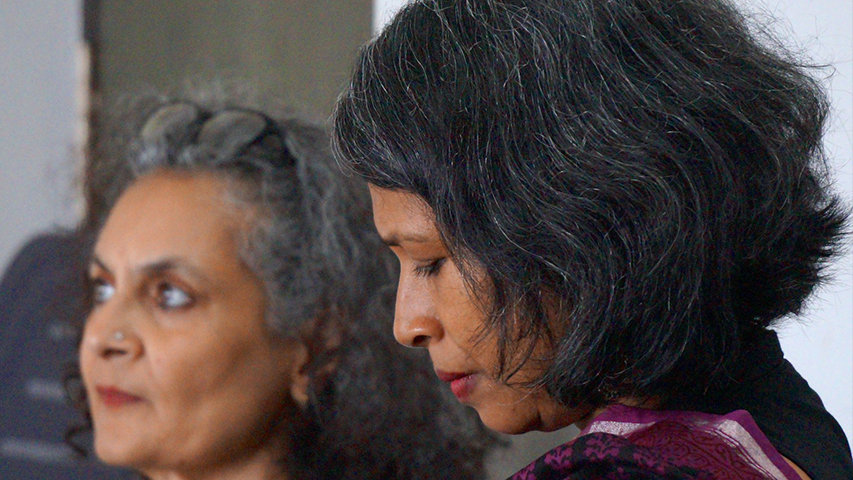 Alaka Sahani in deep thoughts
The Times Up movement and #MeToo campaign have raised pertinent questions about the rights of women in the workplace, whether it is the media industry, the military or the corporate sector. It has encouraged women to be more assertive in their workspace and in their daily lives. Being a global movement, it did have an impression in India too, but is it a lasting impact, is a question that remains to be answered.
To find some answers to this testing question, the US Consulate General Mumbai and Asian Centre for Entertainment Education (ACEE) jointly organized a special talk on 'Portrayal of Women in Film and Television' by Cristal Williams Chancellor, Director of Communications, The Women's Media Center, USA, which was followed by a panel discussion by eminent writer and filmmaker Veena Bakshi and reputed journalist Alaka Sahani. The event was organized on Thursday, 9th August 2018 at the Asian Centre for Entertainment Education in Mumbai and was attended by filmmakers, journalists, writers, documentarians and bloggers from across the city.
Cristal spoke about the research undertaken by the Women's Media Center, USA and presented the findings of the study on the 'Portrayal of Women and Girls in Media in India and Around the Globe'. In the study, they found that, "24.9 percent of female characters are depicted in films in India whereas Germany had 35.2 percent and UK had 37.9 percent of female characters." She also spoke about the sexualization of female characters where they are forced to show women in sexy attire or with exposed skin and depict women beautiful or thin, thus creating an expectation among women to always remain beautiful and thin.
Cristal stressed that discrimination of women existed not just in the films, but also in the awards being given to films, where only 20 percent of films nominated were directed by women filmmakers. Though such huge differences were seen, she said that the #MeToo campaign was indeed bringing about a change in the US, and that women artists and media professionals were more assertive and willing to fight for equal opportunities today.
The talk was followed by a panel discussion on 'Women in Media' participated by Cristal Chancellor and Alaka Sahani, an associate editor at The Indian Express, whose work includes research based pieces on cinematic history of India, in-depth profiles of actors and directors as well as pieces that explore the contemporary cinematic trends. The session was moderated by Veena Bakshi, an Independent Writer and Filmmaker, who has over 300 advertising films to her credit and is the director of the national award-winning film The Coffin Maker that has also been the recipient of international acclaim.
It was a very interactive and lively discussion in which even the audience participated enthusiastically. The conversations revolved around the depiction of women in films in the US and in India and how women all over the world face similar problems and challenges. They also spoke about the various problems faced by women in front of and behind the camera – less pay for the same work when compared to male colleagues; not being taken seriously as professionals; the drastically low representation of women in decision making and how women are often expected to be submissive and accommodating.
While Alaka said, "In India, we are raising pertinent questions and criticizing issues that affect women, but we are hardly coming together to address the issue large at hand"; Cristal was more optimistic when she said, "in the US, change has begun. There are more open discussions about issues concerning women and there is certainly more awareness among professionals and society in general."
It was a worthwhile gathering with inspiring talks and meaningful conversations. Veena Bakshi shared her own struggles and challenges in the film industry and concluded the session saying that, "opportunity must be distributed fairly to achieve gender equality", and stressed that, "the older women professionals should be role-models to the younger generation and should continue to mentor aspiring women."