A Mother normalizes Breastfeeding through her Photographs
by Yash Saboo
August 7 2018, 3:38 pm
Estimated Reading Time: 2 mins, 32 secs
Recently, Utah and Idaho passed laws legalizing breastfeeding in public, making them the last two states to enact such laws in the U.S. So breastfeeding in public places is finally legal in all 50 states. Though the legislation is clearly on the right side of history—and literally every other state had done so already—the change did not come without a fight and a whole lot of Puritan outrage, particularly among male lawmakers.
Honouring the National Breastfeeding Awareness month, Boston-based photographer Gina Brocker captures beautiful pictures that celebrate breastfeeding. She admits that breastfeeding her own son was an extremely empowering experience for her despite being painful. In the hopes of inspiring other mothers throughout their breastfeeding journey, Gina created a stunning photo series titled "Latched On" that shows how feeding your child can be done anywhere.
Time
"After giving birth to my son and experiencing breastfeeding first-hand, I became fascinated and passionate about the process," Gina said in an interview. "I'm amazed that our bodies can create, birth and nourish these amazing little humans — but it isn't without challenges and it doesn't always come easy. After navigating the typical uncomfortable and challenging situations, the need to share the realities of breastfeeding led me to begin this project."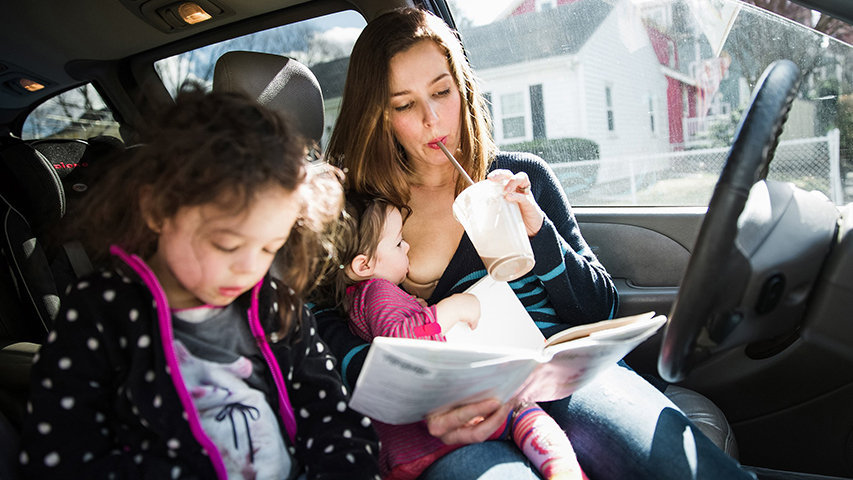 Time
For Gina, capturing the more challenging aspects of breastfeeding is just as important as showing the tender moments.
"Knowing the realities of breastfeeding gives us strength," said Gina. "It lets us know that we're not alone and that it's all very normal. By empowering families, the barriers of breastfeeding become more manageable and helps ensure they can continue their breastfeeding journey for as long as they would like."
Time
The images depict women breastfeeding in a variety of mundane situations, in both public and private spaces. The large variety of settings represented allows for a normalization of the act—women are shown feeding their children in the bathtub, at a café, even at the grocery store—and the world still hasn't ended. Gina points out some of the hypocrisies inherent in those who seek to shame and obscure action.
Time
Breastfeeding is a choice and commitment. With its many rewards, comes challenges and sacrifices. Physical pain, being constantly on call and the unbalanced care-giving between you and your partner – to name a few. Battling outside criticism and judgment is often another hurdle families have to face. Often, mothers feel pressured from their own families to stop breastfeeding once their baby gets to a certain age. Partners have suggested that it's inappropriate to nurse in certain public settings. One mother had laughing teenage boys photograph her while breastfeeding on public transportation.
Gina wanted to leave the public with a final message:
"Meeting the needs of babies and children should be the priority. Not just of parents, but our society," she said. "Breastfeeding is the best possible way to ensure they get the nutrition and comfort they need, and there shouldn't be any additional barriers to that."