How to combat the coronavirus right now
by Dr. Kishore Madhwani
March 9 2021, 12:00 am
Estimated Reading Time: 9 mins, 23 secs
Dr. Kishore Madhwani writes on everything you must know today with the nation's ongoing tireless vaccine drive and how we need to take more precautions than ever before.
As I write this, the experts' viewpoint is: How to navigate hard scientific evidence to overcome the surge (temporary spike) of 16,838 new cases across India, with Maharashtra recording 12,316 new cases (Mumbai - 1173) followed in terms of numbers by Kerala, Punjab, Karnataka, Tamil Nadu and Gujarat. These six states account for 86 percent of fresh cases.
Although we are partially opening up at the directives of the government, we all need to ensure that strict protective measures are implemented to prevent transmission of the virus. If we let our guard down, allowing the globally emerged mutant virus strains to spread in India, we will be in a state of emergency. The health authorities will be overwhelmed with the number of hospital admissions and the availability of ICU beds - a reality experienced in Mumbai, since the last couple of weeks.
It is but natural to expect that new mutations of the virus will come to the fore every day. While some of us are living in fear, many are living under denial. This battle between these two attitudes is getting even more complex since there is an increasing amount of 'information fatigue' among people.
This article will essentially focus on factual information to provide you simple solutions to cope with current situations and a realistic prediction of the outcomes, based on our current interventions and adaptability of the virus to survive. These interventions have the potential of becoming game-changers to ultimately topple the coronavirus.
It is interesting to note how our interventions have changed from 2020 to date: from 'no mask' (advocated by WHO) to 'yes mask' (advocated by CDC, USA and finally agreed by WHO) to the current 'please double mask for 95% protection' (CDC, USA). U.S. President Joe Biden and his team of office-bearers are double masking today, as seen on CNN.
Why have these recommendations evolved and changed ?
Very simple – we are updating recommendations because the virus is becoming smarter (as it is mutating); hence we need to outsmart the virus by wearing a shield on our face (double mask) and also by creating an additional shield around the population by speeding up vaccinating everyone (starting with most vulnerable group above 60 years and 45 years with co-morbidities in India, initiated in 1 March 2021) locally, nationally and globally.
According to Oxford University's Our World in Data website, 268.57 million vaccine doses have been administered across the world. In India, 14 lakh people were given the vaccine till 7 pm on March 5. The Health Ministry data showed a total 17.14 lakh people have been vaccinated in the last five days and 1.9 crore beneficiaries since January 16 - as confidence and vaccine eagerness increases across the nation.
It is reassuring to know that we are one of the few countries globally, where citizens have access to getting vaccinated 24x7 at hospitals in their vicinity with monitoring for adverse effects under close supervision.
In the U.S., vaccines are being given inside self-driven cars with subsequent 15 to 20 minutes waiting inside the car. Of course, any one would prefer close monitoring inside hospital premises, rather than inside a car. Credit is due to our Health Ministry for releasing a 542-page list of hospitals across India under the Prime Minister's Jan Arogya Yojana scheme, the Central Government Health Scheme and local private hospitals, to realistically progress towards achieving the goal of vaccinating 30 crore population by the end of July 2021.
Very recently in India, the coronavirus positivity rate (based on a seven day moving average) has increased from 1.7% (one month ago) to 1.9% (one week ago) to the current 2.1% today.
Why has there been a surge in cases recently?
Indians are fed up, fatigued and have become complacent in Covid Appropriate Behaviours (SMS V3) when the curve has flattened. Some are not wearing masks during travel by public transport, in public places, in gyms; where going maskless is a key factor in COVID-19 transmission, and also not following social distancing norms.
Even some nurses and healthcare workers have been hesitant to get themselves vaccinated. The same scenario is witnessed in countries where cases are receding. In the U.S. the Governor of Texas, in an announcement, sweepingly rollbacked the 'TEXAS MASKING MANDATE' in the state. To this horrifying revelation, the Infectious Disease Specialist Dr Peter Chin Hong, Professor at University of California, commented on NDTV, "It is going to be dangerous, as lives are going to be lost". The coverage reported that Michigan, Louisiana, Mississippi would follow suit based on a political directive.
The COVID-19 virus is a sneaky, stubborn and persistent virus, which needs to be tackled with extreme patience, without any fear or panic, very cautiously (throughout 2021) because if we become complacent and let our guard down now, the virus will get the upper hand and create a scenario mimicking bombing of the virus in the community; as is currently being witnessed globally and in India, too, where a resultant second wave could be inevitable.
Permit me to explain: If your enemy is becoming smarter by changing in structure and virulence, which can bring about a change in symptoms and immune escape [rendering currently available vaccines ineffective against variants (mutant strains), you need to understand the new symptoms. You have to be more vigilant in early detection and isolation to block the virus transmission.
The newer symptomatology for the variants is fever, skin rash (ranging from hives, blisters to maculo-papular lesions), conjunctivitis, sore throat, loss of sense of taste and smell, persistent cough, headaches, muscle aches and tiredness - in short profound influenza like illness features, as shown in diagram]. Any patient having a sore throat, cold and bodyache should be immediately tested by RTPCR test for COVID-19.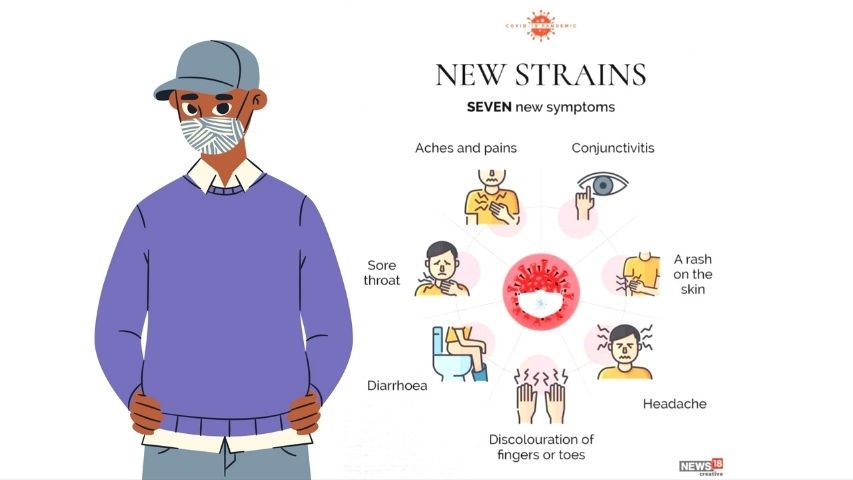 Which variants are causing the above symptoms?
The UK (B.1.1.7), South Africa (B.1.351) and Brazil (P1) variants of SARS-CoV-2 are probably causing the above symptoms in the country. As on date, 242 cases of these variants have been reported by the Ministry.
Analysis from the National Institute of Virology indicates that Bharat Biotech's COVAXIN has 81% efficacy & antibodies generated by it can neutralise the UK variant B.1.1.7 strains and other heterologous strains. This is our Ah-moment and hopefully becomes our Ah-moment and game-changer.
Cases caused by the B.1.351 variant were reported in the U.S, at the end of January 2021. Vaccine-makers Moderna and Pfizer-BioNTech (mrna vaccines) have already announced that they are working to modify their vaccines to better protect against the South African B.1.351 variant - and possibly to create booster shots. The mrna vaccine production technology - it is based on genetic coding just by altering the genetic code - against the variants can be genetically engineered and manufactured in minimal time. This is a definite gamechanger in the fight against COVID-19. The good news is that mrna vaccines will be produced in Hyderabad, India by year-end.
The P1 Variant has been reported from Brazil. It is among the factors, which epidemiologists believe is contributing to a rise in cases and deaths, and there has been concern in the scientific community about the variant's resistance to vaccines. This P1 variant contains a set of additional mutations that may affect its ability to be recognised by antibodies resulting in immune escape, which may render the current vaccines ineffective against it.
But a WOW moment here is the breaking news released that an Oxford University study shows that Covisheild (Serum Institute of India) shot works against the Brazil P1 Strain, implying that the Indian vaccine will not have to be modified in order to protect against the variant. Another game-changer in the fight against COVID-19.
Another breakthrough is the single dose Johnson and Johnson vaccine, which is effective against the South African and Brazil strains, protection starting two weeks after vaccination and by four weeks after the shot, it prevents severe disease, hospitalisations & death. Efficacy is 72 percent and storage temperature is 2 to 8 degrees centigrade.
One more breakthrough announcement is the initiation of human phase 1& 2 trials in India by Bharat Biotech on nasal vaccines, which if successful will be a great milestone in our battle against COVID-19. A couple of intranasal puffs in nostrils intercepts virus present in mucosal membranes (not achieved by injectable vaccine) stimulating the immune system to make proteins in the nose and blood to combat the virus and prevent it from growing.
Administered in all age groups with fewer side-effects, provides easy immunity by directly interacting with T cells present in the nose and throat, targeting the immune cells present in the mucosal membranes. Self-administered, it is immediately absorbed by the blood vessels without needles and cold chain maintenance in remote areas, having an infinite outreach globally; if successful could eradicate COVID-19.
What should be our approach to curb the sudden surge in cases?
Vaccinate as many citizens as soon as possible to achieve maximal local coverage of populations/herds to gradually move towards achieving herd immunity. The limited data available suggests the vaccines will at least partly reduce transmission, and the studies to determine this with more clarity are underway.
There should be more data within the next couple of months. Until then, precautionary measures like double masking, 2 metres social distancing in the presence of unvaccinated people will remain top priority with repeated emphasis on V3. The first V is vigilance for early disease detection and isolation -- to prioritise micro containment in order to control the virus transmission and tackle the recent surge. The second V is ensuring ventilation during travel, at workplaces and public spaces. The third V is when visiting out, please ensure to avoid the 3 Cs
Limit closed conversations to 5 minutes
Closed gatherings 50 people has the potential of becoming a superspreader events
Closed confined spaces with minimal or nil ventilation
To ensure that you are protected from COVID-19 including the mutant virus strains, kindly watch my video on YouTube explaining V3; which is part of the acronym SMS V3 (for covid appropriate behaviour)
Here is the link:
Yesterday evening my cousin sister's eight-year-old daughter diligently wearing a mask visited a mall to shop essentials and came across another eight- year old and asked, "Where is your mask? Why are you not wearing one?" The parents of the eight-year-old were so embarrassed that they apologised to my cousin and made the child wear a mask immediately. Moral of the story: Children can significantly influence adults to adopt V3 along with SMS without offending anyone.
"It is easier for us to make children wear masks than adults," Jake Tapper has stated on CNN and he is so correct.
To conclude: To eliminate COVID-19, scientific wisdom should prevail for easing lockdown restrictions. Children could effectively inspire the implementation of COVID Appropriate Behaviour (CAB) along with celebrities and politicians who could spread this message:
YOU NEED TO FIRST SHIELD YOURSELF WITH A DOUBLE MASK AND SHIELD ALL PEOPLE AROUND YOU WITH VACCINATION; AS THESE ARE PRECIOUS INTERVENTIONS SPEARHEADING THE ATTACK ON COVID-19.