India flattens curve, but precautions are a must
by Dr. Kishore Madhwani
February 11 2021, 12:00 am
Estimated Reading Time: 6 mins, 19 secs
Dr. Kishore Madhwani writes on the flattening of the COVID-19 graph in India, and emphasises that COVID Appropriate Behaviour is still extremely essential in our daily lifestyles to beat the virus.
The news has been heartening since the last month. India has flattened its COVID-19 graph; 146 districts had no new cases for seven days, Health minister Dr Harsh Vardhan had stated on January 28 in a press release.
All across the nation newly diagnosed COVID-19 cases stood at a total of 12431 (Rapid Antigen & RTPCR Test based). The overall numbers have reduced gradually over the last few months. The positive news is that the pandemic is probably receding ;except in the states of Kerala with 6102 fresh cases and Maharashtra with 2736 cases.
Hence, a high-level team of experts from the Centre's Ministry of Health and Family Welfare has reached the states to control the situation by auditing and reviewing the surveillance, containment measures and a strict enforcement for COVID Appropriate Behaviour.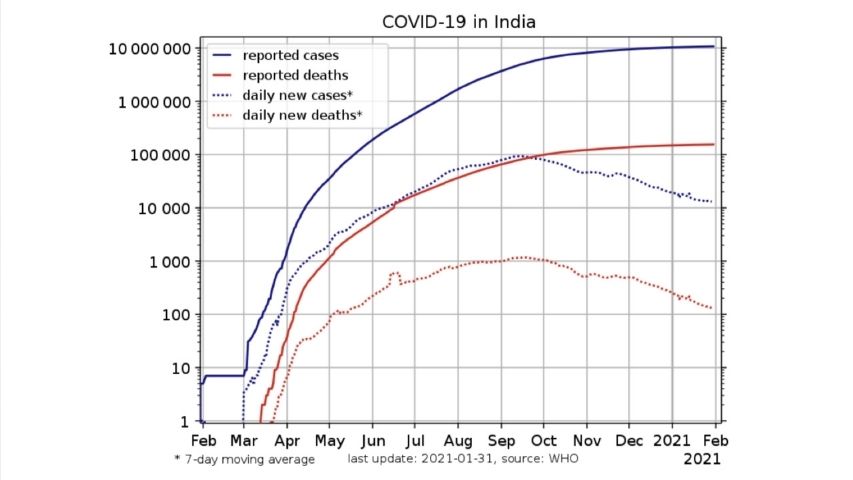 The curve (daily new cases) plateaued in September 2020; after which it has been receding gradually towards hopefully becoming totally flat in the due course of time.
With nearly 2.48 million cases of Coronavirus around the world, countries across the globe have been grappling with ways to stall the spread of the pandemic. The number of cases across the world have continued the exponential growth since last month, mainly due to emergence of mutant virus strains.
However, there are a few countries like India which have been able to limit the rate of growth and 'flatten the curve'. This involves reducing the number of new COVID-19 cases from one day to the next. When a country has fewer new COVID-19 cases emerging than it did on the previous day, that's a sign that the country is flattening the curve.
The first case in India was detected on January 30, 2020. The country took 109 days to record 1 lakh cases and subsequently on June 13, 2020 recorded over 11,000 cases for the first time. The seven day moving average of the cases on February 4, 2021 fell to 11,818 cases (below 12,000) for the first time in last eight months, since June 2020. This is encouraging news indeed.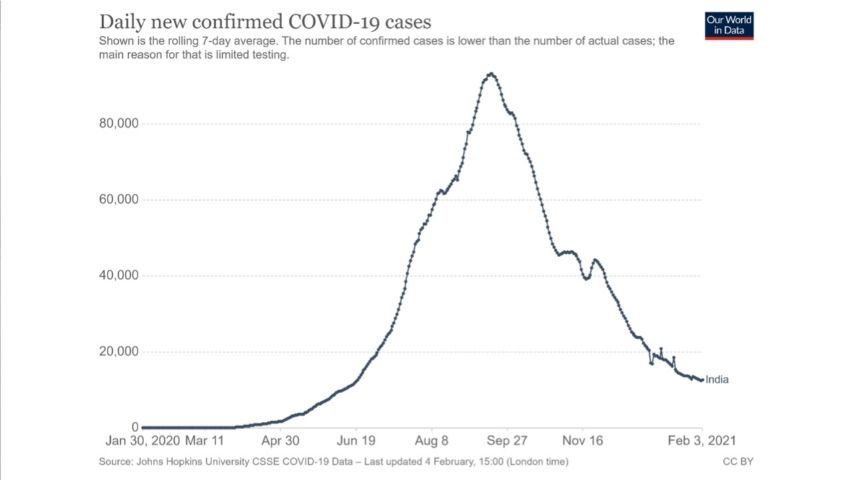 The good news for India is that the pandemic, which had spiked with maximum cases in the month of September 2020, has been successfully tamed, after which there has been a steady decline in the number of reported active cases.
On February 1 2020, there were 11,427 new cases recorded across pan-India (12 per cent lower than previous day) and 118 new deaths have been recorded. The five days moving average has reduced for a) India from 19772 cases on 1 January 2021 to 13,617 on 1 February, and b) Mumbai from 630 cases on 1 January to 447 cases on 31 January 2021. Hence, it is evident that the curve is receding and gradually moving towards flattening.
With the initiation of the largest vaccination drive across India on 16 January 2021, we are gradually moving towards further flattening of the curve. Keeping these developments on the radar, the Union Home Ministry on 27 January, issued an order to open up the lockdown measures very gradually with strict guidelines enforced for surveillance, containment and caution against COVID-19 from February 1 to 28. This is being executed with abundant precaution to ensure that the number of cases do not increase.
The State Government and Union territories have been asked to mandatorily enforce containment measures as well as Standard Operating Procedures (SOPs) on various activities along with COVID Appropriate Behaviour. These activities are movement by metro and local trains, air travel, reopening of schools, colleges, swimming pools, gyms, yoga centres, hotels, restaurants, multiplexes, shopping malls and entertainment parks.
No restrictions have been imposed on inter-state and intra-state on persons and movement of goods. Subsequently, the home ministry allowed swimming pools to open for everyone and 100 per cent seating capacity in cinema halls in most states and Union Territories.
Treading on the side of caution correctly, the Maharashtra State government has enforced strict measures in cinema halls, airports and local trains in Mumbai. It has permitted only 50 per cent seating capacity with strict enforcement of the SOPs.
Municipal authorities in plainclothes also visit the cinema halls to ensure sanitisation of the premises with disinfectants (in empty halls), staggered entry-exit of viewers, social distance maintenance during intermissions and a prolonged interval time - as no eatables are permitted inside auditorium, a temperature maintenance of 24-30 degrees ensuring 70 per cent relative humidity and outside air exchanges (with internal exhaust ventilation) approximately every 30 minutes are complied with in major multiplex chains like the PVR cinemas. This may instill confidence in resuming filmgoing as even ticketing and snack purchases have no-touch digital payment facility.
To arrest the spread of the mutant virus strains at international airports in Maharashtra, passengers arriving from Denmark, U.K., UAE, Brazil, South Africa and a few European cities are compulsorily quarantined at their own expense in hotels for seven days, during which they are tested by RTPCR for COVID-19 on Day 5 . If negative; they are then sent home on Day 7 and are advised to remain in home quarantine for another 7 days.
Health Minister Harsh Vardhan has stated that 165 cases of a new UK variant of the virus have so far been reported in the country. The patients are being kept under supervised quarantine and surveillance. If any foreign national tests positive for COVID 19, they are transferred to COVID-19 designated hospitals; until they turn negative, a necessary procedure.
Mumbaikars can travel by local train (Western Railway) early mornings from 4.15 a.m. up to 7 a.m., then 12 p.m. to 4 p.m. and after 9 p.m. until the last train at 12.50 a.m. (up to Virar). The essential service staff can utilise trains from 7 a.m. to 12 noon and from 4 p.m to 9 p.m. Shops are open until 11p.m. and restaurants until 1 a.m.
Severe precautions are being taken to halt the transmission of the mutant virus strain. Because, if we let our guard down now, when the cases are gradually receding, and if the mutant virus strains spread in India, we will be in the same state of emergency as the above-mentioned countries where health authorities are overwhelmed with numbers of hospital admissions, ICU beds, shortages in the supply of PPEs for healthcare workers and medication.
Hopefully we will be able to succeed in halting the transmission of mutant virus strains and simultaneously upscale the Prime Minister's ambitious programme of vaccinating 30 crore Indian population by July 2021. To ensure that you are protected from COVID-19 including the mutant virus strains, kindly watch my video on YouTube titled MISSION POSSIBLE: A SAFE NEW NORMAL 2021 with SMS V3 (Covid Appropriate Behaviour) & Vaccinations.
The guidelines issued by the ministry mention that citizens above 65 years of age, those with comorbidities, pregnant women and children below the age of 10 years are now advised to be careful and take necessary precautions. All the district magistrates have been asked to strictly enforce measures for enforcement of social distancing. "State governments may, as far as possible, use the provisions of Section 144 of the Criminal Procedure Code," the guidelines have stated firmly. Meanwhile, the government has asked the Civil Aviation Ministry to further open up international air travel but only in consultation with the Home Ministry.
In conclusion, the coming months and the year 2021 will be extremely crucial for India. We all need to implement SMS V3 (COVID Appropriate Behaviour), get vaccinated early and disseminate this information to our families, colleagues and places frequented by us like gyms, parks, malls, swimming pools, markets, restaurants, cinema halls and entertainment parks to practise SMS V3 in our daily lifestyles.