India's Maternal Mortality Rate on a Downward Trend
by Yash Saboo
June 12 2018, 3:36 pm
Estimated Reading Time: 2 mins, 15 secs
According to the Sample Registration System bulletin, which was released last Wednesday, the maternal mortality ratio in India has reduced by 22% during the 2014-2016 period as compared to the 2011-2013 period. The ratio has declined from 167 deaths per one lakh live births in 2011-'13 to 130 in 2014-'16. Maternal mortality ratio is defined as the proportion of maternal deaths per one lakh live births.
The Scroll reported that the survey covered 62,96,101 pregnant women. Of them, 556 died. The Maternal Mortality Ratio is the key indicator for efforts made to improve health and safety of mothers before, during and after childbirth per country worldwide. MMR measures the quality of safe deliveries and maternal care. India is lagging when it comes to healthcare services when compared to neighbouring countries like China and Sri Lanka.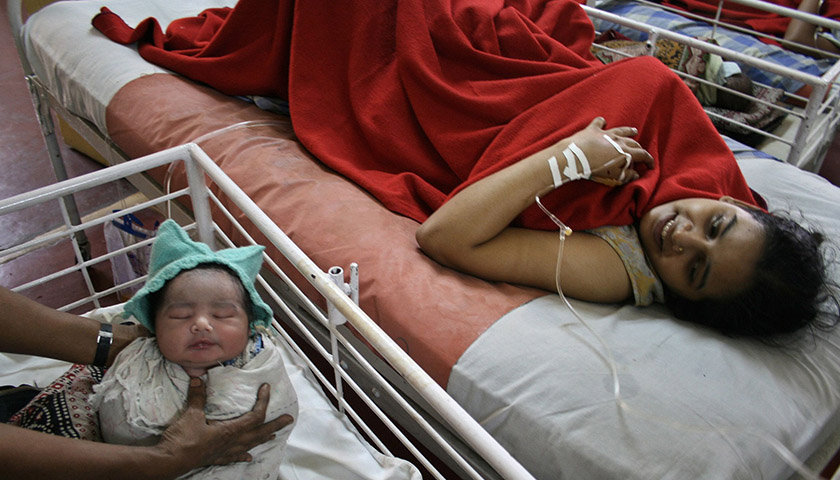 Source : Quartz
"The latest Sample Registration System figures reveal that we have gone beyond the target of Maternal Mortality Ratio of 139 by 2015 and have reached 130!! I congratulate the ministry and the states for their joint efforts," said Union Health Minister JP Nadda, according to PTI.
Compared to 2013, there were 12,000 less maternal deaths in 2016. This means that every day, 30 more pregnant women were saved compared to 2013.
To simplify, the Sample Registration System categorizes states into three groups: Empowered Action Group, Southern states and others. The first group includes Bihar, Jharkhand, Madhya Pradesh, Chhattisgarh, Odisha, Rajasthan, Uttar Pradesh/Uttarakhand and Assam while the southern states are those of Andhra Pradesh, Telangana, Karnataka, Kerala and Tamil Nadu.
The reports further stated that the decline has been most significant in the Empowered Action Group (EAG) states of Bihar, Chhattisgarh, Jharkhand, Madhya Pradesh, Orissa, Rajasthan, Uttaranchal and Uttar Pradesh where the ratio came down from 246 to 188.
Source : UPI
Among all the states in the country, Uttar Pradesh has seen the sharpest drop in MMR as from 285 it dropped to 201 deaths per one lakh live births. Along with UP, Assam also recorded a sharp dip in the MMR ratio. However, Assam still remains the state with the highest MMR ratio of 237.
Notably, Kerala continued to shine in the new assessment where the SRS recorded an MMR ratio of 46 as against 81 in 2007- 09. On a national level, the southern states continued to perform better than the rest where the average recorded MMR is 77, which is close to the country's Sustainable Development Goal of reducing the MMR to 70 by 2030.
These statistics evidently prove that the healthcare system in India has improved across the country. This also shows that there is an increased level of health awareness amongst the citizens. However, it goes without saying that there is an immense scope for improvement surrounding maternal care and we collectively have to achieve this.