Stay safe, ignore alarming news-spreaders
by Dr. Kishore Madhwani
March 29 2021, 12:00 am
Estimated Reading Time: 10 mins, 10 secs
An update by Dr Kishore Madhwani on the pandemic situation in India and globally
As Corona positive cases increase across the globe, our only weapons today are double masking, vaccinations and responsible behavior.
It has been one year since WHO declared COVID-19 as a pandemic, which resulted in confirmed 118 million cases and 2.6 million fatalities globally. As cases rise across the world and India, the governing authorities are facing the challenge of grappling the crisis exacerbated by the emergence of COVID variants, and complacency in using basic protective measures by citizens globally.
So why are fresh COVID-19 cases on the rise?
Global Situation:
In the U.S., vacationers flocked to Florida for the spring break festival defying CDC guidance. Amid the spring break crowds, there was flouting of COVID restrictions resulting in 100 arrests and two officers being injured. Migrants from Mexico have been crossing borders to be housed at Texas, raising the question of safety of keeping them all in closed gatherings - 50 individuals.
Three-fourths of the current cases in France are attributed to the U.K. Mutant strain leading to the overwhelming of hospital beds. The Prime Minister Jesan Castex announced another intense lockdown for four weeks as the increase in number of cases indicate that the country is experiencing a third wave. In Brazil, the Healthcare systems are overburdened because of the P1 variant, scarce supplies of vaccines as well as the pausing of the Astrazeneca vaccination.
The slowing down of vaccination drives has been a contributing factor in the increase of cases. Reason: more than a dozen countries in the European Union have paused or restricted the use of Oxford University (Astrazeneca/Covisheild of SII) vaccine following reports of 30 cases of rare brain blood clots (after administering millions of injections), which sent scientists and governments scrambling to determine if there was a link.
The European Union and the WHO have now declared that Astrazeneca vaccine is Safe and Effective. The incidence of such cases, in the general population, is nearly the same compared to the cases of individuals who have received COVID-19 vaccine.
Hence, the benefits of the vaccine far outweigh the risks. The Greifswald University Hospital explained that the vaccine in extremely rare cases induces a powerful immune response, which is responsible for generating specific antibodies that trigger blood clot formation in the brain. Hence vaccine recipients who show symptoms like headache, dizziness, impaired vision, three to four days after vaccination should immediately consult their personal physicians as this can be quickly diagnosed by a blood test and CT scan.
It would be worthwhile mentioning here that these blood clots could trigger a heart attack (and lead to a cardiac arrest) in individuals having underlying undiagnosed coronary artery disease blocks in the arteries). Hence it is prudent for all individuals to consult their personal physicians for vaccination fitness before taking COVID-19 vaccinations to ensure efficient control of cardio-vascular, metabolic, endocrinal and allergy related risk factors for a smooth uneventful vaccine experience.
Another controversy circulating in media against the vaccine drive is the reporting of the Coronavirus infection in a few fully vaccinated individuals. These are called 'breakthrough' infections, which have been observed in the U.S. and Mumbai too. But these have been very mild infections and are epidemiologically expected. It would be worthwhile to mention here that the higher the rate of virus transmission or if there are more variants of the virus in rapid circulation, higher are the chances of breakthrough infections. Currently, these breakthrough infections are being tracked to trace any pattern related to where or in whom these infections are occurring.
The Indian Situation
India, over the past five days, has seen the sharpest surge in COVID-19 infections in the last 10 months, with the seven-day rolling average of daily cases rising to over 39%. The Karnataka Health Minister Dr K Sudhakar on last Sunday said the second wave of Coronavirus had begun, seeking people's cooperation in containing spreading the virus.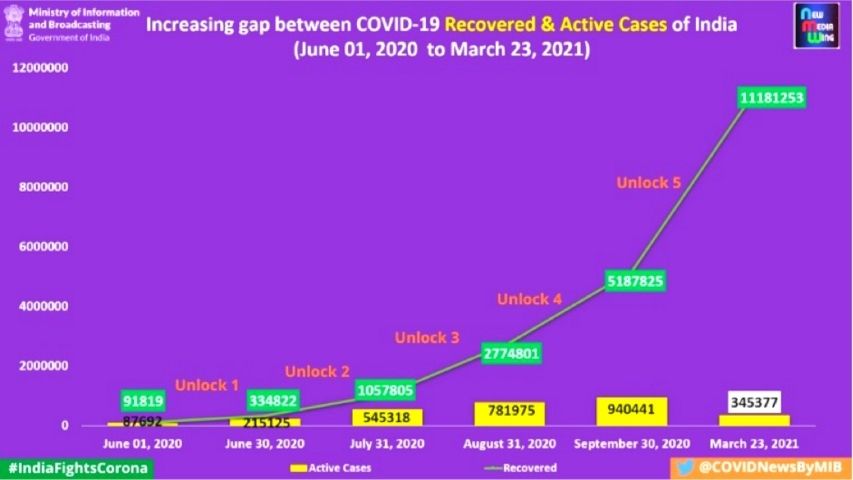 India's total active caseload is rising after touching its lowest mark in mid-February. It stood at 3.45 lakh (3,45,377) on last Wednesday.
As India witnesses the sharpest COVID spike in nearly four months, a second wave of COVID-19 is far more clearer now, as daily new cases have almost quadrupled from 10986 (February 8) to 40,715 new cases and counting, taking the country's total cases to over 1.16 crores, next only to the U.S. Maharashtra, Punjab, Gujarat, Chhattisgarh, Karnataka and Tamil Nadu have reported a rise in daily new cases, accounting for 81% of the overall rise.
Maharashtra on Monday 22 March recorded as many as 24,600 new Coronavirus cases, the highest one-day spike since last March 2020 when the first case of Coronavirus infection was detected.
In Maharashtra, Pune leads with more than 5000 cases followed by Mumbai reporting more than 3000 new cases per day. The Additional Municipal Commissioner of Pune city, Pavan Salve, has said the carefree attitude of people and overcrowding at public places were among the few reasons behind the spike. He stated, "After cases went down in January and early February, people started attending marriages and crowding markets and public places. This is the main reason behind the sudden big spike in cases this month."
Dr Shashank Joshi, Member National COVID-19 Task Force and Dean of Indian College of Physicians said that the Gram Panchayat elections in Amravati, Yavatmal, Akola, Vidarbha region, including Nagpur, resulted in complacency by local residents leading to the sudden surge.
A total of 795 cases of U.K., Brazil and South Africa variants, which are highly infectious (but causing less severe cases) has overwhelmed the local hospitals. In Punjab, of the 2299 cases reported, 81% of the samples are of the U.K. variant.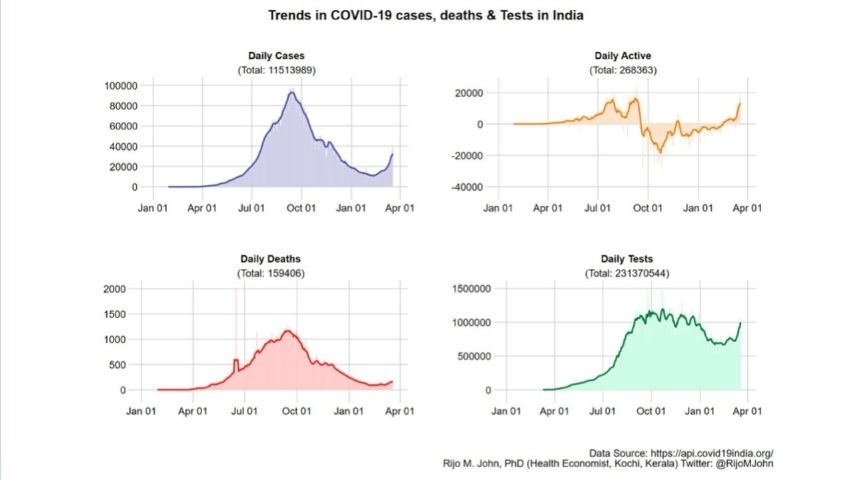 In Maharashtra, Monday the 22 March, took the state's caseload to 23,96,340, while the death toll jumped to 53,138 with 58 new fatalities.
Measures taken by State Municipal Corporations and the Health Ministry:
Tamil Nadu has shut all schools. Lockdowns were imposed in Bhopal, Jabalpur and Indore. Night curfews were imposed in cities with COVID spikes. Maharashtra combats with stricter precautions: cinema halls open to only 50% capacity whereas in many other parts of India, the functioning to full capacity.
In Nagpur, schools and markets have been shut down till March 31. In Mumbai, the BMC aims to vaccinate one lakh beneficiaries daily to speed up the vaccination and reduce severe infections and deaths.
The Municipal Corporation of Greater Mumbai has issued a directive to malls to ensure from 22 March, that their visitors should compulsorily have a negative COVID report (RTPCR Test) for entry, or else a Rapid Antigen Test should be carried out at the entrance of the shopping mall. Results of the Rapid Antigen Test will be available in a very short time at the entrance itself. This will definitely lead to a safer shopping experience for customers. The asymptomatic positive carriers will be detected at entry point, informed to the authorities and isolated.
The advice is to avoid elevators, shop for essentials, use food counters for takeaways and follow COVID appropriate behavior - SMS V3 C3. This rapid Antigen testing will also be carried out randomly at railway stations and crowded marketplaces. Marshalls have been appointed all over the city to ensure masks are worn by the citizens in public places and fines imposed..
State governments with a large rural spread, including Madhya Pradesh, Chhattisgarh, Jharkhand, Uttar Pradesh, Rajasthan, Odisha and Maharashtra are focusing to vaccinate rural areas. They have chalked out detailed plans to energise primary health centres, map polling stations to nearest wellness centres and employ a cohort or camp-like approach to register and inoculate senior citizens and persons with comorbidities in the 45-59 age group and also over 45 with no co-morbidities.
Silver Lining
Total vaccinated in India: 450, 65, 998
The centre has asked Serum Institute of India (SII) to manufacture another 100 million doses of the Covishield vaccine as it plans to ramp up vaccination across the country. The Centre increased the interval between two doses of Covishield to 6-8 weeks following recommendations by the National Technical Advisory Group on Immunization and the National Expert Group on Vaccine Administration for Covid-19. It has been found that protection is enhanced if the second dose of Covishield is administered between 6-8 weeks. This will also help in covering a larger population with the first dose of vaccine. From 1st April 2021, vaccination will be available for citizens above 45 years without co-morbidities.
Maharashtra has now allowed more hospitals (with more than 20-plus beds) to carry out vaccination drives to curb the spread of the virus. Maharashtra has vaccinated 45 lakh people so far, every day 3 lakh people are being vaccinated. In Mumbai, the MCGM plans to inoculate one lakh beneficiaries every day.
Breakthrough Oral Vaccine
There has been an announcement of an oral capsule vaccine (multi-component re-combinant protein base) for COVID-19 manufactured by Oramed and Premas Biotech, which could be a game-changer for defeating COVID-19. The advantages of this vaccine are:
Far-reaching implications for the ease of wide-scale distribution and administration anytime, anywhere.
Better for protection against COVID-19 variants due to triple antigen targeting that has shown efficacy after a single dose.
After a single dose of the COVID-19 capsule, efficacy was evident through antibody production in a pilot animal study - since the vaccine promoted both systemic immunity through Immunoglobulin-G(IgG), the most common antibody in blood and bodily fluids that protects against viral infections, and Immunoglobulin-A(IgA), which protects the respiratory and gastrointestinal tracts against infection.
Vaccine candidate creates triple protection against the SARS CoV-2 virus Spike, Membrane, and Envelope targets. The vaccine candidate is also safe, efficacious and well-tolerated at normal to high doses, and generates high litres of neutralizing antibodies. The vaccine is highly scalable and can be manufactured on large scale and can be administered by anyone anywhere. While the ease of administration is critical today to accelerate inoculation rates, an oral vaccine could become even more valuable in the likelihood that a COVID-19 vaccine may be required annually or biannually like the standard flu shot.
Potential game-changer - Rapid one minute test: more sensitive than conventional RTPCR
There has been an announcement of a one-minute rapid diagnostic test based on a path-breaking technology, which can drastically improve diagnostics and care for COVID-19 patients. This technology is very promising particularly because of the speed of diagnosis in just 60 seconds per patient as well its accuracy . The test has a sensitivity of 93 per cent and specificity of 95 per cent, with machine-learning algorithm. This kind of rapid diagnosis has the potential to be a game-changer. Breathonix, a spin-off company from the National University of Singapore (NUS), has developed this test. UAE Ministry is carrying out a trial of this test to assess its accuracy and feasibility as an easy-to-use breath test to detect COVID-19 within a minute.
In the test, a person only needs to blow into a disposable mouthpiece connected to a high-precision breath sampler. The exhaled breath is collected into a breath sampler and fed into a mass spectrometer for measurement. A machine-learning software analyses the volatile organic compound (VOC) profile and generates the result in less than a minute. If more clinical research studies confirm its accuracy, this could be a revolutionary breakthrough.
Let me end on the note that only speeding up vaccinations with maximum coverage in local areas along with double masking, an important weapon of responsible COVID appropriate behaviour (SMS V3) are our only best bets against the virus.
SMS V3 means - Sanitisation, Mask wearing, Social distancing along with ensuring Vigilance to detect and act fast, follow Ventilation principles and take precautions when going out of home.
Avoid close conversations, restrict to 5 minutes (wear mask and face shield, in case you have to closely interact.
Avoid closed gatherings of 50 individuals.
Avoid closed confined spaces with poor or nil ventilation
To easily master the COVID Appropriate Behaviours: SMS V3 - kindly watch my YouTube video with the link provided below:
To say it simply in Hinglish: Corona Kaabu Karne Ke Liye - Nazdeekiyan Nahin, Lekin Do Gaz ki Doori, Do Naqaab, Swachhta, Saawdhani Zaroori Hain.