"Young People are not future leaders, they are Leaders already!" says Muhammad Yunus
by Yash Saboo
October 20 2017, 9:27 am
Estimated Reading Time: 3 mins, 15 secs
"The capitalist system is a machine which sucks up wealth from the bottom to send it to the top" - Muhammad Yunus
Muhammad Yunus is a Bangladeshi social entrepreneur, banker, economist, and civil society leader who was awarded the Nobel Peace Prize for founding the Grameen Bank and pioneering the concepts of microcredit and microfinance. He has transformed the lives of millions of the poorest people around the world. In the 1970s he was working as a professor at the University of Chittagong in his native Bangladesh when he realised how small loans could make a disproportionately massive impact on people stuck in poverty.
He lent $42 of his own money to craft workers, pioneering the concept of microcredit. The Grameen Bank (meaning village bank) was established to provide investment to people whom mainstream banks traditionally avoid, basically spreading a little more soil for seeds to grow in. Most remarkably, loans are given entirely based on trust, with an almost 100 per cent repayment rate.
In economic theory, Yunus says, wealth distribution is described as a champagne glass: A long thin stem (representing everyone from the very poor to the nearly rich) supports a large cup where wealth accumulates in the hands of few very rich.
Yunus has recently written a new book, 'A World of Three Zeros: The New Economics of Zero Poverty, Zero Unemployment, and Zero Net Carbon Emissions'.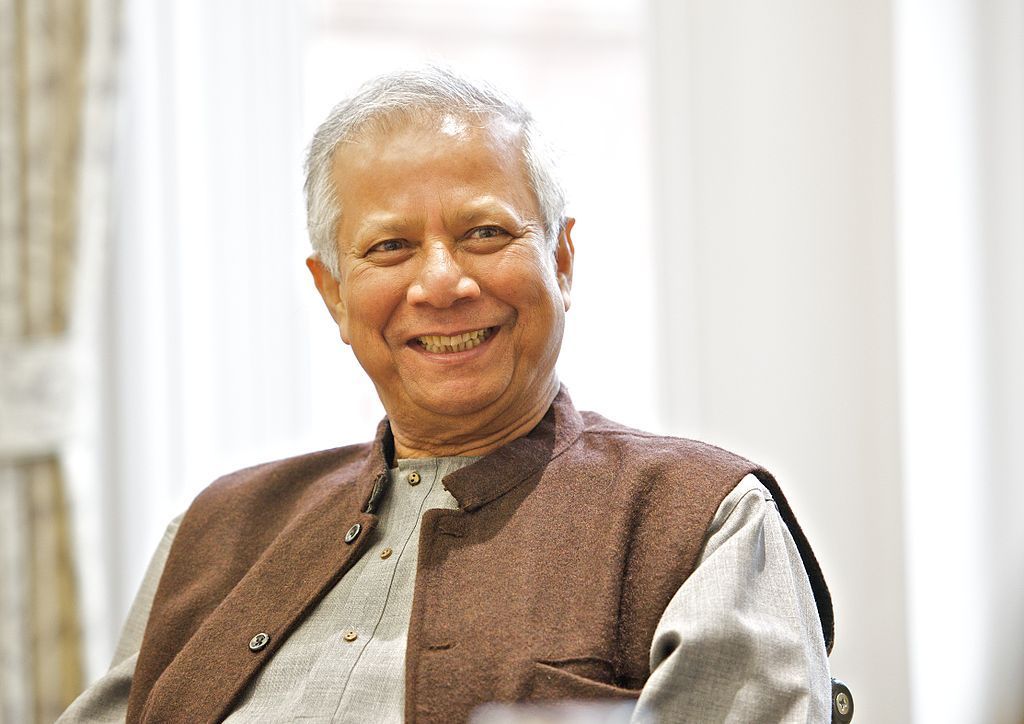 In A World of Three Zeros,Yunus describes the new civilization emerging from the economic experiments his work has helped to inspire. He explains how global companies like McCain, Renault, Essilor, and Danone got involved with this new economic model through their own social action groups, describes the ingenious new financial tools now funding social businesses, and sketches the legal and regulatory changes needed to jumpstart the next wave of socially driven innovations. And he invites young people, business, and political leaders, and ordinary citizens to join the movement and help create the better world we all dream of.
Yunus believes that wealth concentration is the root of all problems. In the book, he cites an Oxfam report that says that eight people own more wealth than the bottom 50 percent of the world. Recently, a report said that now it's just five people. There are two things to be concerned about: the concentration of wealth and the increasing speed of this concentration. People didn't notice it when 5,000 people or 50,000 people owned more wealth than the bottom half of the world. Now it's five people. In a year or two it will be just one person. This is the speed at which it is happening.
Yunus, who has seen social businesses flourish, thanks to microfinance loans, rests his vision of a new system on two core principles. The first is that people are born to be entrepreneurs, but this nature gets constrained in a system that teaches them to be merely job-seekers, limiting job creation to a privileged few. The second is that some people would fulfil that natural inclination by starting businesses that don't have wealth accumulation as their only goal, if only they thought doing so were an acceptable measure of success.
"The difference between older generations and this generation is that they have the tremendous power of technology at their fingertips. But the system doesn't tell them what to do with that, it only tells you to find the best job in the best company so your life is done. That's very unattractive for young people with so much power", says Yunus.
He adds, "They are looking for things to do and being an entrepreneur is an option for them. They can create social businesses too. In that case they use their talent, their creative power and technology to solve a problem. They feel they are not future leaders, they are leaders already!"