Abuli Mamaji is Nikhil Pherwani's Ahaan
by Vinta Nanda
March 24 2021, 12:00 am
Estimated Reading Time: 5 mins, 29 secs
Vinta Nanda writes: For once a film centered on a person differently abled is not about the so-called normally-abled characters being the ones to make life better for him.
Ahaan, the protagonist with Down syndrome, is the catalyst here – the young man deconstructs a problem faced by his neighbor who is struggling with internal challenges that threaten his relationship with his wife.
No really, what's refreshing here is, that the filmmaker turns the mirror around for society, which is inhabited by normal people, to stare into it and give meaning and relevance to their own lives. The lens, true to itself and in keeping with the warm and sensitive narrative, is that of the protagonist who disregards flaws in others and goes about his life with an innocence that - I felt while I was watching the film - we all need to rediscover within ourselves.
Directed and written by Nikhil Pherwani, the films cast includes Abuli Mamaji as Ahaan and Arif Zakaria, Niharika Singh, Rajit Kapur, Plabita Borthakur, Shilpa Mehta, Kaizad Kotwal, Sonali Sachdev and Haresh Raut.
Ahaan, a 25-year young man with Down syndrome, is endearing & free spirited. He desires to lead a normal life - one that is financially independent and beyond the shadow of his parents. Ozzy, a self-indulgent person in mid 40's suffers from OCD. His high-handedness and unwillingness to have a child, estranges him from his wife.
Ozzy makes attempts to win her back by using Ahaan's help. In the process he develops a bond with him. Ahaan unknowingly brings out a more humane side of Ozzy, thus saving his marriage. And Ozzy then, takes upon him, the challenge to fulfill Ahaan's dream by opening up a path for him to lead an independent life.
I had a quick chat with the director of this wonderful film the other day. I was fascinated by the approach he has taken and keen to know what brought him to adopt it. His answers to my questions were simple and straightforward – almost as if Ahaans spirit of innocence resided inside him as well. What a lovely conversation it was!
Over to Nikhil Pherwani then:
How did the idea strike you to make Ahaan? And how did you proceed with the project thereafter?
I've always observed how differently abled individuals are treated differently, sometimes even less than human. This made me ponder about a few things – What goes on in the life of a young adult with intellectual disability? How do their parents cope with uncertainty about their child's future? What happens to them once their parents and immediate family members are gone? Are they capable of leading an independent life? Intrigued and bothered by these thoughts, I met people with intellectual disabilities and also their parents to understand their worries. The research helped me understand their world better and I knew without reservation that I must make a film exploring a humane story. We wanted to say a lot but we didn't want to make the narrative crowded.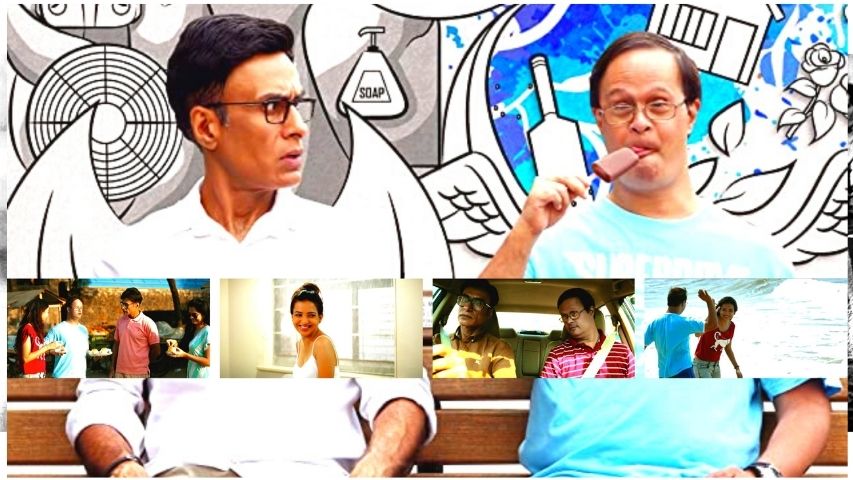 Why did you cast a person with Down syndrome, instead of an actor to play the part?
I felt this would be the most authentic way to portray a person with a condition. This would be the only way to be true to character. Also if I am making a film on a condition, I thought it's only right to have representation.
Were you not afraid to make a film that is different from the rest of those in the market fiercely competitive? Isn't it expected that formula driven projects get monetized?
I actually wasn't. I feel as filmmaker, it's my responsibility to tell a story, rather then worry about the economics. This story was from the heart and not a formula film. All it took was clarity – the need to tell a story like that and the positive impact it would have in society.
Tell me a bit about the process that you followed, from finding the funds to casting and then the production etc.
For research purpose, I was visiting Special children institutes run by NGOs and it was at Shraddha Charitable Trust, where I met Abuli. His energy and enthusiasm made me explore casting him in the titular role. After a couple of workshops and test shoots with actors, I knew Abuli would be best suited for the part.
Now about you - where are you from? Tell me about your background and what brought you to filmmaking?
I am very much from here. Born in Mumbai, I started out directing non-fiction TV shows. I wanted to be able to create maximum value through my work. I realized this would be possible through cinema where I could tell stories, which need to be told.
I assisted Amole Gupte on Stanley ka Dabba and Madhur Bhandarkar on Dil Toh Baccha Hai Ji. Post this I directed a short film where I played multiple roles – Director, Cinematographer, Editor - that gave me the confidence to move on to making a feature film.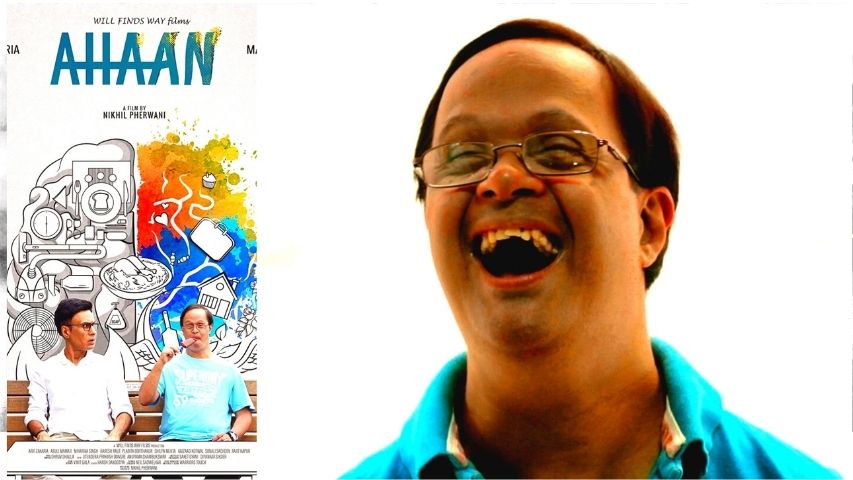 How have you grown in the business and what were some of the challenges you have faced?
I haven't grown up in the business. My family has no connection with the film business. Challenges many: This idea originated in 2013 and usually producers are afraid to back subjects on disability. But I knew my story is a humane story, with humor and warmth and didn't see it as a typical disability film.
What are your plans for the future? Also plans for Ahaan?
I am open to all kinds of subjects and stories. Looking at transitioning from one feature to another, hopefully soon. Right now we are in the midst of our theatrical run, with the lead actor Abuli enjoying all the attention - post screening, even before the credits finish, he makes way to the stage to give a speech. After all it's his dream come true.
Share some anecdotes from the making of the film - about the lead actor and other things?
With Abuli there were many. One instance: We were all set to go for a take, it was the golden hour and just as I called action, Abuli says, 'One sec haan I want to go to the toilet'. So we had to take a break and wait for 10 minutes while the light was running out.