Bareilly Kaifiyat that throbs in the Bone, Pulse and Heartbeat of a Doctor: Dr Brijeshwar Singh
by Aparajita Krishna
June 26 2018, 6:07 pm
Estimated Reading Time: 23 mins, 53 secs
On April 24 2016 while being car-driven from Delhi to Bareilly I was already in Bareilly Kaifiyat (State of Mind). Driver Roop Singh was an expert on the wheels and a fabulous tourist guide. An ambulance was patrolling the roads, sumptuous dhabas lined up the way and exquisite cane moodas, furniture, manja-kites lay displayed for sale. Written behind a tempo was 'Mohabbat Ek Dhoka Hai'! Who cares! My Bareilly mohabbat had begun.
A prominent district of Uttar Pradesh, Bareilly, is strategically located right between Delhi and Lucknow. Situated in the Rohilkhand region, it is the eighth largest metropolitan city of Uttar Pradesh and gets counted amongst the nine majority Muslim districts of the state. Also known as 'Bans Bareilly' it takes its name after the two princes, Bansaldev and Baraldev, the sons of Jagat Singh Katehriya, who founded the city in 1537. This Bareilly of a historical past now lives and projects two defined looks. Bareilly College Campus, Bareilly Club, Bareilly Cantonment and Civil Lines showcase the best of heritage structure, the most updated facilities and a very impressive, smart citizenry. Hello, Priyanka Chopra was born at Bareilly and is said to have studied till class 9 in Army Public School. Disha Patani is the new generation actress hailing from here, as is singer Kavita Seth. Old Bareilly is the township of inheritance and legacy. It tells its own past and present.
Bareilly was one of the centers of the Indian Mutiny of 1857 and a historical-political vantage point. It has a very sizeable Muslim citizenry that has historically been living alongside the Hindu populace. The town has assimilated in its DNA the commingling of cultures, the Ganga-Jamuni tehzeeb (culture), and yet there have been flashpoints of inter-faith communal unrest and intra-faith and caste conflicts. 'Lynch mob cow vigilantism' was one of the incidents reported in June 2018. Salim Qureshi alias Munna, a meat shop owner at Bareilly, was picked up by two UP policemen on June 14, 2018, taken to a wedding hall and beaten. He succumbed to his injuries at AIIMS (Delhi) on June 22 2018.
Source : Dr Brijeshwar Singh and his wife Dr Garima Singh
I had entered Bareilly on 25 April 2016 at 3.10 scorching afternoon at the invite of Bareilly's most respected doctor couple. Dr Brijeshwar Singh (Orthopedic Surgeon, M.S. Ortho) is the Chief of Trauma Unit and Managing Director of Shri Siddhi Vinayak Hospital - a multispecialty hospital at Bareilly. He has attended workshops and several advance and Trauma-Master-Courses both nationally and internationally. Dr Garima Singh, his wife, is a leading gynecologist and obstetrician. My visit was prescribed for reasons other than the medical. No doubt Bareilly is a medical hub, no doubt Dr Brijeshwar Singh (just forty-nine) is one of North India's most reputed orthopedic surgeons, no doubt he has given the town a very blessed multispecialty hospital, but I was on my way to meet the man who has given Bareilly town its theatre-heart and an artistic and cultural shape, bone, sinews and ligaments.
As a theatre rasik and patron, he has since 2007 nurtured Hindi theatre. Dr. Singh says, "The play 'Tumhari Amrita' (with Shabana Azmi and Farooq Sheikh) became a very special chapter in my life and propelled me towards embracing theatre more pro-actively. My first tryst with 'Tumhari Amrita' was on a day in 1998 at New Delhi. I saw the play many times over. My exposure to theatre at Delhi and my interactions with Delhi's theatre fraternity kept on shaping my aesthetics. It was the mesmerizing effect of 'Tumhari Amrita' that propelled me towards starting my own theatre group and festival in 2007. 'Rang Vinayak Rang Mandal, Bareilly' was set up in 2007 as a cultural wing of NGO 'Daya Drishti' to nurture creativity and social duty. In our first theatre festival, 'Rang Vinayak Rang Utsav Theatre Festival 2007', we invited two plays from the National School of Drama."
Since then 'Rang Vinayak Rang Mandal', a theatre repertory company of actors, directors, writers, has been holding its annual theatre festival (Windermere Theatre Festival) that has seen the all-India participation of most noted theatre groups and plays. For a year round cultural activity, the doctor built the 'Windermere Studio Theatre' (200 sitting capacity) and 'Jhurmuth Open Air Theatre'. Plays, festivals, workshops (adults and children), and events, both in-house and from all over India get staged on a regular basis. Café Windermere adds to the aroma. If Bareilly is today on the theatre map of India, then it is this one man's passion that has been the driving force. This rangmanch rasik doctor has put his money and passion into giving Bareilly a theatre infrastructure, artiste-repertory and a very theatre literate audience.
It is very difficult to straightjacket-define or rather cast this orthopedic doc in one cast. A man of boundless energy and passion his 'Daya Drishti Charitable Trust' set up in 2006 looks with an eye of empathy while rendering very commendable medical treatment to the under-privileged. This includes free blood transfusion twice a month to the thalassemia afflicted children, free ophthalmic consultation and cataract surgery, rehabilitation of spine injured patients or paraplegics, blood donation camps twice a year. The 'Daya Drishti Foundation' has through theatre workshops and interactions helped raise awareness about thalassemia, a disease affecting countless Indian children. The charitable initiative 'CARS' (casualty & accident relief services) stations ambulances on the highways and at strategic sites of Bareilly in association with the police. This earned for the doctor the UP Ratan Award in 2008. Citizen Dr Brijeshwar Singh was also made 'A Voter Icon' of Bareilly in the election campaign. As part of 'SMART CITY, SMART CITIZEN' initiative, he has encouraged school children to be the ambassadors and drivers of social change and habits so as to foster harmony by undertaking cleanliness and social responsibility drive. "There can be no smart city without social responsibility." To nurture a taste for theatre amongst the school children his theatre group offers schools a quota of seats in the audience and an ensured participation throughout the festival as also participation in plays and theatre workshops that are conducted throughout the year.
Source : 8th Windermere Theatre Festival
My own tryst and rendezvous with Bareilly had perchance begun with Bareilly resident Shivani Rekhi approaching me via Facebook link in December 2013, to help access for their upcoming 'Rang Vinayak's 8th Windermere Theatre Festival' the staging of the play 'Atmakatha' written by Mahesh Elkunchwar and being produced by Kolkata's imminent theatre group 'Padatik'. It was seeing the return on stage of veteran actor Kulbhushan Kharbanda. While the play got staged at Bareilly on 17 January 2014, my own connect with the strangers who I had not yet met kept getting further bonded over Facebook, emails and phone connect.
One thing led to another and Dr Brijeshwar Singh and I finally met in person in Mumbai on 22 February 2014 at 5.30 p.m. I was already privy to Dr-theatre-man's inner and outer world. Then in April 2014 Shivani Rekhi approached me to help mentor Dr Brijeshwar Singh's book in the making - 'In & Out of Theatres' (Heart-warming Vignettes beyond the Operation Theatre). It was a book of medical cases, characters, the doctor's own riveting life account and the inner and outer world of his medical practice and artistic theatre nurturing. His own health bulletin informed that as a child he was afflicted with attention deficit syndrome. His childhood health encountered rheumatic arthritis which in a way countered and corrected his hyperactive syndrome and set him on the journey to become a doctor of a distinct make.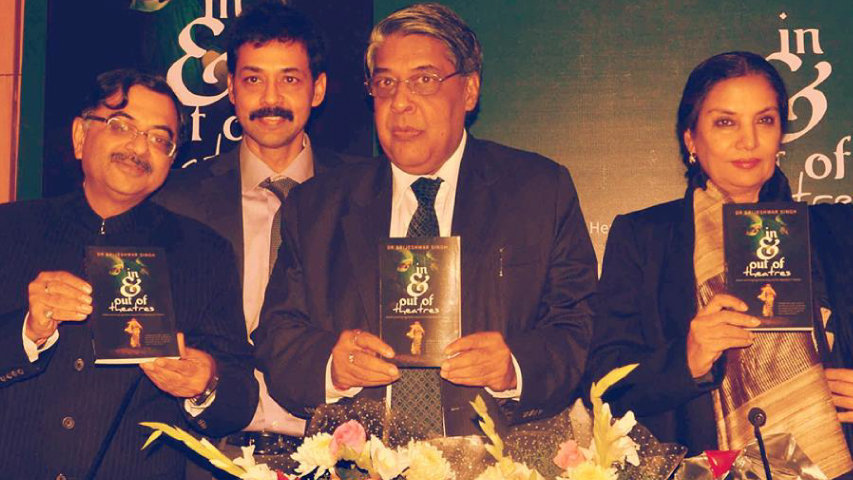 Source : Brijeshwars Book Release with Shabana Azmi,Tarun Vijay and Prof. Purushottam Agrawal 2016
The book was released on 23 December 2014 at the India International Centre, New Delhi. Ms Shabana Azmi (actress & social activist) was the chief guest and among the guest of honours were Dr P K Dave (former Director of AIIMS), Mr Tarun Vijay (Member of Parliament), Mr Shishir Priyadarshi (Director WTO) and special Guests were Mr Santosh Gangwar (Minister of State (Independent Charge) for Textiles) and Professor Purushottam Agrawal (writer, academic). It was launched at Kolkatta in September 2015 at a function graced by Mr Om Puri, Ms Chetna Jalan and Dr Kalyan Kumar Sarkar. The book tells the story of this philosophical doctor-man and that of his patients' case-kahani. It also talks of 'Small Town, Big Theatre' and the future map. The book and the man got glowing appraisals.
"Dr Brijeshwar Singh is a doctor with the spirit of an artist and his boundless commitment to both the worlds shines through the book." (Shabana Azmi, actor & social activist)
"These are stories that have been written from the heart and must be read from the heart" (Shishir Priyadarshi, Director, World Trade Organisation, Geneva)
"His spirit of commitment and child-like humility touches one's heart as one travels into his world through the pages of 'straight from the heart' vignettes."(Arundhati Nag, Actor and Theatre Personality)
"In my very first interaction with Dr Brijeshwar Singh I was struck and amazed by his enthusiasm. He came across as a simple person who was mad after theatre. After dinner he, very matter of fact, informed that he has to now go attend to an operation till 4 a.m. Wooh! How does he manage to keep switching roles in a jiffy! The next day we saw the Windermere Theatre. What a space he has built and with what care and attention to all the stage needs! Atmakatha was seeing the return to stage of veteran actor Kulbhushan Kharbanda. The show on 17 January 2014 was packed with over-flowing audience who saw it with rapt attention. What a treat for actors! We observed and interacted with Dr Singh's theatre repertory and witnessed his passion and madness for theatre. All together it was a memorable experience." (Chetna Jalan, Kathak dancer, actor, artistic director/managing trustee—Padatik Theatre, Padatik Dance Centre)
"In our country, we seldom encounter the real experiences a doctor goes through every day. Dr Brijeshwar Singh is able to tell stories that sound like fiction, but is nevertheless the truth. I hope you enjoy these short stories as much as I have." (Manav Kaul, Theatre director, playwright, actor and film-maker)
"In & Out of Theatres by Dr Brijeshwar Singh is not an easy book to read.... I strongly believe that every doctor should read this book to learn to be a real doctor, someone who not only treats and hopes to cure but who cares even when he knows there might not be a ready or easy cure.... I would like to add that every patient should also read the book to gain solace from the fact that doctors who care do exist. But I'm afraid it might enhance their pain at not being treated by a doctor like Brijeshwar Singh. I know it does mine. The question of empathy or the lack of it is very relevant. As is this book. Nothing expresses its power better than that it has made me talk about myself and my loss so candidly after more than 20 years. Thank you, Dr Brijeshwar Singh."(Mridula Garg, writer)
Talking about his book and his multitasking in life the doctor said, "My debut book 'In & Out of Theatres' talks of the inner and outer world of the doctor in me. Beyond the OT and my medical practice I am an ardent theatre lover. The stage at my Windermere Auditorium is my favourite space. I remain off-stage, but am adept at being 'In & Out of Theatres.' For me, medical practice and theatre practice are both self-healing acts. It is a common sight to find me, a doctor in the white apron, shuttle between my worlds: add limb to a patient in my OT, then switch over to the light and sound on the stage and also do some social work. My medical staff and team have got acclimatized to watching the plays and cultural events in the day time and then walking straight into the OT for the surgery."
This constantly in & out of theatres doctor is credited to have performed the maximum number of orthopedic surgeries which he carries out only amidst the 'tranquility and calmness of the night'.
The doctor husband-colleague acknowledges his doctor-wife to be the stable backbone of his profession and passion. His sons Anirudh and Abhimanyu Singh are now youngsters set on their course in life.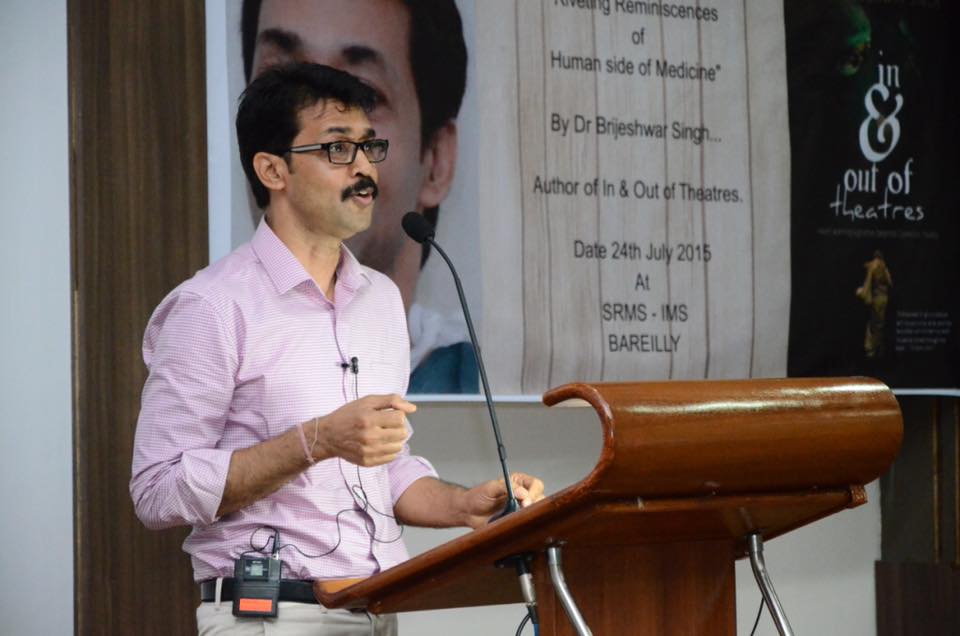 Source : Addressing students at SRMS-IMS,Bareilly
The doctor-man can be seen addressing medical conferences, workshops and giving talks all over India in medical colleges, management and engineering institutes as also across the world. Simultaneously he would be attending a seminar at the National School of Drama (Delhi) to speak on 'The role of a theatre promoter, impresario, in the movement of Indian theatre and advancement of society.' Next he would be talking to school students. For him culture is fundamentally an attitude to life, a way of responding to the world. "I also strongly believe that without the culture of sahitya (literature), sangeet (music) and kala (arts) man would be mere animal even if without horns and tails. As a doctor I know how important mind-health is. It needs professional and creative stimulus. While my medical practice is the elixir of my life, it is also some source of pain and depression. Promoting theatre is my tonic of vitality. Perhaps, it was to assuage the borrowed tension of the medical profession that I consciously and passionately became a theatre activist and a creative arts enthusiast."
For him medicine is also humanities. He is incapable of being detached from his patients and cases. A patient's death or any death troubles him. An experienced doctor of his caliber is automated to switch-on, switch off, but the theatre-man-artiste perhaps jostles with the orthopedic surgeon in him. Even his religiosity seems more of a philosophy. He has read literature as his syllabus of life. The acclaimed Hindi literary writer Shivani (Gaura Pant Shivani) he personally knew. His association with Mridula Garg, the noted short story writer, journalist, often finds a mention.
Source : Mridula Garg,Sanjana Kapoor with Dr Brijeshwar Singh
On 25 April 2016, my first halt at Bareilly was at Dr Brijeshwar Singh's and wife Dr Garima Singh's hospital Shri Siddhi Vinayak Hospital (SSVH) at Civil Lines. Among the over-flowing patients were three police referral gun-shot cases with bullet hit in the head and abdomen. "As a Trauma Surgeon it is routine for us to clinically attend to critical gun-shot or stab injury cases as also the accident victims. While as a doctor we are duty-bound to address cases of gun-shot and stab injuries, as a citizen we have to be on the side of the law to give court-evidence." A daily patient roll-call informed 150 for OPD and 15 for OT.
I was then taken to their beautiful abode 'Windermere' (at the junction of Civil Lines and Bareilly Cantt) that houses along with the residence the Windermere Indoor Theatre Auditorium, Small Open-air Theatre space, Lavazza Caffe, Windermere Yoga & Meditation Centre and a Beauty Salon.
In course of my brief stay I too was constantly in and out of theatres. My Bareilly tourism of a few days summarized to me centuries. My tourist guides were the wonderful young actors Danish Ahmed Khan and Asmita Shri. While my place of stay was the 'Army Officers Mess, Bareilly Cantt', I toured free-footed across all the corners of Bareilly. The out of jail sight of Bareilly Central Jail evoked such a revolutionary past. It had once housed rebellious inmates who shaped India's struggle for freedom. In the 'Banaras Shadyantra Case' Krantikaari Damodar Swaroop Seth and Rajasthan's Pratap Singh Baarhath were kept imprisoned here and martyred. It was in Bareilly Central Jail that the famous 'Kakori Case/Kaand' revolutionaries blew the bugle of the historical hunger strike/bhook-hartaal that gave a clarion call to the nation. Jawaharlal Nehru was also one of its most notable prisoners. Inside this very same prison the great writer and political-citizen Yashpal's marriage was conducted. The town had risen in solidarity to follow Mahatma Gandhi's leadership.
On the cultural-literary front Pundit Radheshyam Kathavachak's rendition of the Ramayan and his own contribution and participation during the early years of the Parsi Theatre nurtured the soil on which Bareilly Theatre would grow through the decades. It is said that Munshi Premchand would frequent Bareilly to watch Pundit Radheshyam Kathavachak's plays. The Bareilly archives speak of poet Harivansh Rai Bachchan's association with the town. It is said that he first met his wife Teji Bachchan here and it was at Bareilly that their engagement took place. Urdu poetry and literature has taken such flights here. Urdu's celebrated afsaana nigaar Ismat Chugtai has spent some of her years here. She was the first Principal of Islamiya Girls School. Bareilly College campus, a heritage British period construction, was established in 1837. In 1857 it saw its professor Qutubshah get banished from his land. The young revolutionary college student Jaimigreen was served the death sentence and hanged here. The reputed Communist leader Com. Shiv Singh was a citizen of Bareilly for years. His presence and participation gave the town's progressive movement a thrust and direction. Bareilly town, famous for its soorma, maanjha and jhumke, has also got itself sung and stamped in countless folk songs and Hindi film music. The noted Urdu poet Wasim Barelvi carried the place in his name. It is said that Kundan Lal Saigal wanting to become a singer left home in Jammu and spent eight years doing all sorts of jobs in the cities of North India including Bareilly, while picking up music seemingly from everywhere.
I kept walking through the lanes of Bareilly. My heart and steps went in search of the Zari Kaarigars (people who work with a type of gold thread used decoratively on Indian clothing) of Bareilly in particular. On 26 April 2016 I met some who were working on the embroidery amidst a most challenged rozgaari. Here is a sample sound-bite:
Source : Zari Kaarigar (Flickr)
Danish's question to a zari kaarigar: "Kya milla tumhe iss peshe se?" (What did you get out of this occupation?)
Zari Kaarigar: "Koi aayega toh iss apne chutar (ass) pe jo theth (blisters) pade hain wo dhika denge aur kahenge 'Ye mila humein baithe baithe!" (When someone comes asking I will show him the blisters on my ass and tell him 'this is what I got sitting on my bums day in day out').
We proceeded through the Bareilly by-lanes to the zari work retail shops and the wholesale market—Rabri Tola. In the bazaar all thirsts get quenched by 'Goodwill Lassi Centre' type lassi shops. The young owner Feroz hosted us with rooh-afza lassi malai maar ke and refused to take money. My guest appearance ko mehmaan nawazi, "Bahar se aane wale mehmaan hote hain." (People who come from outside are guests). He was also Danish's childhood cricket partner. My curiosity searched for the zariwaalas/zariworkers who were missing from Sailani Bazaar where most shops were shut. Feroz remarked 'Roozgaar gaya jab se Modi sarkaar aayi' (They have lost their work since the time Modi government came). At Feroz's home there used to be a zari kaarkhana. Now we were drinking lassi there. Even till ten years back Bareilly's zari work was greatly reputed and patronized.
Our walk through the zari bazaar lanes found most shops closed, but we did chance upon a few zari kaarigars. At gully 'Gola Khan Ki Masjid' only one zari shop was open and with just four male kaarigars around. Kaarigar Rashish Ali was working on parrot green hand work embroidery, zardozi. Most of the hand zari work had got replaced by mechanized/machine embroidery. 'Haath mein kaam ki jagah machine. Haath ki embroidery ka design machine copy kar leti' (Machine has taken over the hand work). The neglect of this pushtaini/ancestral skill over decades had rendered families unemployed. 'Khadi revival par kaam kiya gaya, zari kaarigari par nahi' (They worked on the revival of Khadi, but not on zari embroidery industry). It was a very wise comment and cut across political party lines. I got further informed that the situation of zari workers is far worse than of mistri-mazdoor (labourers). For an eight hour shift a zari kaarigar gets Rs 120/- . Machines have left the intricacies of hand-skill far behind and time-economy is money for the thekedaar (contractor). Many zari kaarigars now sell vegetables on thela. We met the Zari thekedaar. He was a smart, articulate man and instead accused the zari kaarigars of being disunited to their cause. It seemed that it suited the thekedaars to let zari kaarigari languish. A zari worker told my ears, "Thekedaron ne zubaan bund kara di. Hamari aankh upar nahi uth-ti embroidery se." (These contractors have sealed our mouths. Our eyes dare not lift up from the embroidery work). So the unemployed zari kaarigars instead while away their time smoking beedis that burn their jigar and snuff out their life. Though the zari artisans are now mostly men I also saw two young girls working on a beautiful yellow/white zari-fabric work. There was some kind of sadness in their mood. The issue is not simplistic and is as intricate as the beautiful zari/zardosi work that the zari kaarigars embroider.
Source : Zari Kaarigar girls
We took leave to see how kites fly via the hands of the manja-kaarigars of Bareilly who rub the manja (abrasive string) thread in crushed glass pieces. Their cut and blistered palms make their own fate lines.
Source : Manja Kaarigar bruised hands
My tour through the lanes and by-lanes of Bareilly also took me to the gun-shops lined up at Junction Road that sell guns, pistols and rifles in show-cases.
In complete variance was my wonder at the religious sites wherein an inherent syncretism is part of the culture and resonates in the air and mood. The dargahs, mausoleums, temples (four Shiv temples), churches co-exist and also define the architectural, cultural landscape of the place. 'The Barelvi Movement' takes its name from the town of its origin, Bareilly. On 26 April 2016 at around 8 p.m., I was taken to the revered 'Khanqah-E-Aalia-Niyazia Dargah' located in Bareilly's Barra Bazaar. Here mausiki, singing, sufiana qalam get rendered by artistes. Birju Maharaj, A R Rehman and many others have visited it to pay their obeisance. Today sitting there was Ustad Mujahid Hussain Khan Niazi who sang for us. I must confess that unintentionally and unsuitable to the occasion I was wearing a pant and shirt. But what humbled me and lifted my spirits was a complete absence of any disagreeable emotion or sentiment to my attire. The Maulavi Sahib and the dargah citizens were completely unmindful of the unsuitability of my attire. On 27 April 2016 I visited Bareilly's 'Dargah-e-Aala Hazrat.' Bareilly remains world renowned for the 'Aala Hazrat Imam Ahmed Raza Khan Fazil-e-Barelvi's Dargah' which till today is referred to as 'Bareilly Shareef.' I also visited St. Alphonsis Church and St. Stephens Church.
A visit to Shahdana Bazaar in old Bareilly and to Maidan-Line offers one the nazara (sight) of Bareilly's famous wood work/lakri karobaar. Bareilly's cane work is also a big industry. The 'Barra Bazaar' (market) of Bareilly was widely renowned even in the Mughal period.
Bareilly abounds with doctors and its medical infrastructure has consistently been on an upward trajectory. But the challenges are endemic. The Bareilly Mental Asylum/Hospital (Mansik Chikitsalaya) is one of the three major mental hospitals of Uttar Pradesh. It itself is afflicted with poignant cases of old inmates being dumped and deserted by their family members who then abscond and thereafter remain missing. An article 'Mind the Treatment Gap' in The Hindu, April 11, 2017 would give the shocking news of a 350 patient roll-call hospital with additional 200 patients daily OPD being attended to by just one psychiatrist.
That apart on 28 April 2016, I had a very empowering interaction with Bareilly citizenry and 'Rang Vinayak Rang Mandal' members inside the Windermere auditorium. I was presented the book 'Bareilly' (ek collage) written by Sudhir Vidyarthi Saheb. It chronicles Bareilly historically and culturally.
The protagonist of my note, Dr Brijeshwar Singh, is himself a very progressive cultural being. His political-party affinity I would not know, but his cultural compassion and work ethics spells out a most inclusive heart-driven citizenship. His public notes and guest-lectures speak his heart and mind. On 8 July 2016 he was in Srinagar putting up at 'Vivanta Hotel by Taj' at the beautiful, picturesque Dal Lake. He says, "While taking a walk of the beautiful landscape at round 5 p.m. I noticed unusual activity by paramilitary force/CAPF. There was so much security of police and army. I found the atmosphere getting strained. I asked an auto-driver "Kya hua? Kuch hua kya?' Auto-driver: 'Aaj hamara bachcha shaheed ho gaya.' That is how I got the news of Burhan Wani's death. I was shocked at the emotion. I myself got very disturbed by the news of the death and the grief that I saw around me. That day in his death he raised questions for me to ask myself. He was also a brilliant student who was a passionate cricketer and very popular on the social media. His death along with his accomplices saw an outpouring of Kashmir's grief. This new insurgency in Kashmir was very worrying. Maybe it is the doctor in me who was roaming the streets of Srinagar that day. Or maybe the theatre-man that resides in me added to my feeling of empathy and worry. I am a doctor and a creative nurturer. Medical and artistic humanism can assuage feelings and bridge the gap. Art and creativity can serve as cultural therapy! As a Trauma Surgeon I will say 'Unke hidden trauma ko hum samjhen'. On 9 July I took a small step to address, as scheduled, the young students, interns, doctors, faculty members in the audience at 'Government Medical College Auditorium, Jammu'. I expressed my feeling that the young Kashmir has to be embraced, not further alienated. I recalled a quote that I had chanced upon—'Theatre should disturb the comfortable and comfort the disturbed.'"
His notes to himself and his public dialogues also tell "doctors at the receiving end - a Social Malady. Instances of violence against doctors and health-care institutions are getting reported with such frequency that in itself it seems a manifestation of a malaise."
Source : Inauguration of the Windermere Theatre Festival 2016
A fitting note to conclude this sharing would be to quote Sanjana Kapoor, the noted theatre personality, who having attended the Bareilly theatre festival in 2017 wrote in The Week an article (The Festive Season of Theatre). In relation to 'Rang Vinayak Rang Mandal' she said, "Unlike 30 years ago when theatre festivals were few and far between, today I am spoilt for choice of which festival to attend across the length and breadth of our country. I have just returned from celebrating the inauguration of the 11th Windermere Theatre Festival in Bareilly, where I finally got to meet Dr Brijeshwar Singh, the wonderful, unassuming orthopaedic surgeon whose love for theatre prompted him to spend over a decade bringing theatre that he loved to Bareilly. The momentum of his junoon gradually propelled him to build a theatre above his new home, and thus Windermere came into being. Rang Vinayak Rang Mandal, his in-house theatre group, inaugurated the festival with a marvelous production based on Ismat Chughtai's life and work—'Kaghazi Hai Pairahan', directed by the talented young Lav Tomar and brought to life by over forty energetic performers in the magical confines of the black box theatre."