Catching the moment
by Khalid Mohamed
May 7 2021, 12:00 am
Estimated Reading Time: 9 mins, 29 secs
Khalid Mohamed discusses the fast-changing dynamics of image-making today with the eminent New Delhi-based still photographer, Prerna Jain
Her images, catching life on the lam, posted by her on various social media, have a certain humanism about them. Unlike a majority of professional photographers, she isn't wary of them being 'borrowed' by those who care a whit about copyright issues. The avowed purpose is to share the myriad everyday shades of the milieu she may find herself in at any given point of time.
That approach, in fact, hurtles me back to a quote from the book Understanding A Photograph (2013) by the British critic-painter-poet-novelist, John Berger, "The camera isolates, preserves and presents a moment taken from a continuum. The only decision (the still photographer) can take is as regards the moment chosen to isolate. Yet this apparent limitation gives the photograph its unique power. The immediate relation between what is present and what is absent is particular to each photograph: it may be that of the ice to sun, of grief to tragedy, of a smile to pleasure, of a body to love, of a winning race-horse to the race it has run."
Curious to know more about Prerna Jain's estimable body of work, I struck contact with the New Delhi based photographer who lives in Greater Kailash with her businessman husband. The 59-year-old photographer's father used to work with the public sector and her mother is a homemaker. Ms Jain's two daughters are both self-employed, one in Melbourne and the other in London. Over then to a emailer Q&A with Ms Jain:
What inspired you to opt for photography as a profession? Did you have any other career options in mind?
It was entirely unplanned. Many years ago I was travelling with a borrowed camera and came across a photographer in Udaipur who had an impressive DSLR. I asked him for advice about my camera's settings. He told me that I would have to figure it out myself. I was a bit taken aback. So, when I returned from the trip I enrolled for classes in DSLR photography. It was only then that I discovered how much there was to learn, and how right that photographer was to tell me to discover the settings for myself. Since that day, over a decade ago, I have never looked back.
As for other career options, I have been an artist all my life. I have been involved with various arts (drawing, painting, sculpting and more). Hence photography was just a natural addition to that list. I continue to dabble in other art forms even now.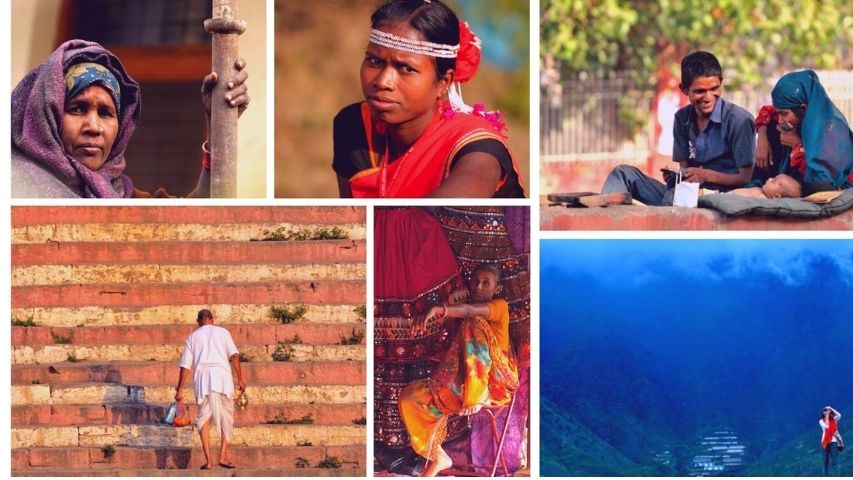 Your photographs are varied - street photography, women of Delhi and birds. Any reason?
To be honest, I just photograph whatever catches my eye at any particular moment. Life is full of surprises, I never have to look far to find something that grabs my interest. It could be a butterfly, a snail, a caterpillar or a flower if I am in my garden. When I'm out on the streets, I see sights like a baby in its grandmother's lap in the car next to me, or monkeys playing on rope swings near a banana seller. I have found that I am much more present in all sorts of environments when I have a camera in my hand to help me focus.
For example, I had never observed how long a squirrel's tongue was in the past - but I photographed a squirrel losing its balance, and its long red tongue was extended all the way out of its tiny mouth. I have learnt about birds and their natural behaviour, photographing them at reserves and also around my house. It is beautiful to imagine stories behind the sights I see - like a barbet wooing its partner with a big orange fruit in its beak.
Your photos have been mainly seen on social media and at some exhibitions so far. How do you plan to get to the next level?
I have exhibited my work at a number of solo exhibitions and jointly with other photographers. I share my work extensively on social media. My aim is to share my work with a wide audience and extend its reach.
So far, my photographs have been published in various newspapers, magazines and websites in India as well as internationally. The Guardian, Daily Mirror, The Times, The Hindu, Better Photography, Hindustan Times, Asian Age and the BBC website, to name a few.
I have also published My Feathered Friends, a coffee table book about birds, and intend to publish more compilations of my work on different subjects, such as street photography and macros (images in close-ups of small subjects).
Which equipment do you use and why?
I use a Nikon D810 camera. For macros I use Nikon105 lens, for bird photography a Nikon 500 prime and Nikon 200-400, for landscapes 24-70. My favourite all-purpose lens is Nikon 70-200 because of its versatility and sharpness.
Which photographers have been your major influences?
I adore Raghu Rai and Steve McCurry's street photography. Their images capture human struggles and joys evocatively. Raghu Rai was one of my earliest influences. Wildlife photography by Radhika Ramaswamy inspires me.
Do you attempt news coverage in Delhi? Ever thought of becoming a news photo-journalist?
I think I often do the work of a photo-journalist, whether or not I use that formal title. I don't always cover all major contemporary events and incidents, but I have been present for and captured different moods and phases of Delhi's public life, and occasionally also other cities and villages of India for over a decade.
Which photographs have been a challenge to capture?
Taking pictures in crowded areas is a challenge for me, not because I am intimidated by crowds, but because composing a shot in a crowd can be daunting. When there is too much happening in one frame, it can be difficult to make creative choices about how to make it all make sense. It is often quite a feat to capture multiple elements in one shot in a way that does justice to them all.
Since everyone is a photographer nowadays, with smartphones, is the image-making in its purest form deteriorating?
Yes, in one sense, but not really. There are some wonderful moments being recorded because of the convenience of phone photography. For photo-journalism it can be very beneficial. Phone cameras can be easily camouflaged while the size of DSLRs can be detrimental to capturing candid moments.
Phone cameras have come a long way quality-wise, but DSLR photography remains unparalleled in versatility for photographers who know what they are doing. So in that sense, phone photography is not really competing with DSLR photography. It has just created more space for more types of photographs, and I think the more the merrier.
The cushiest way for a professional photographer is to shoot weddings and wedding promos. Ever thought of trying that to make ends meet at times?
Not really. I value being able to shoot what I love. Commissioned work has to submit to the whims and fancies of the client, which feels like a potential threat to my creative freedom - commerce and aesthetics don't always go hand in hand. And I prefer not to lay that stress on what is otherwise a very creatively satisfying outlet for me.
As a woman photographer, do you find any obstacles - meaning the male domination in almost every profession?
Women in most professions undoubtedly have to face many obstacles on account of male domination and patriarchal systems. I have the luxury of choosing my own work and engaging in photography on my own terms most of the time. So I have not come across many of those obstacles myself, but this does not take away from the very real obstacles and biases faced by other women photographers. On the flipside though, being a middle-aged woman has occasionally proved to be beneficial to me. Perhaps because people don't always expect to see a middle-aged woman with a big DSLR in hand! I remember covering the Republic Day parade once, and the policemen on duty were more polite towards me than towards my male counterparts there. At a theoretical level this could be seen as 'soft misogyny', but at an experiential level, on that day, it made me feel comfortable and safe.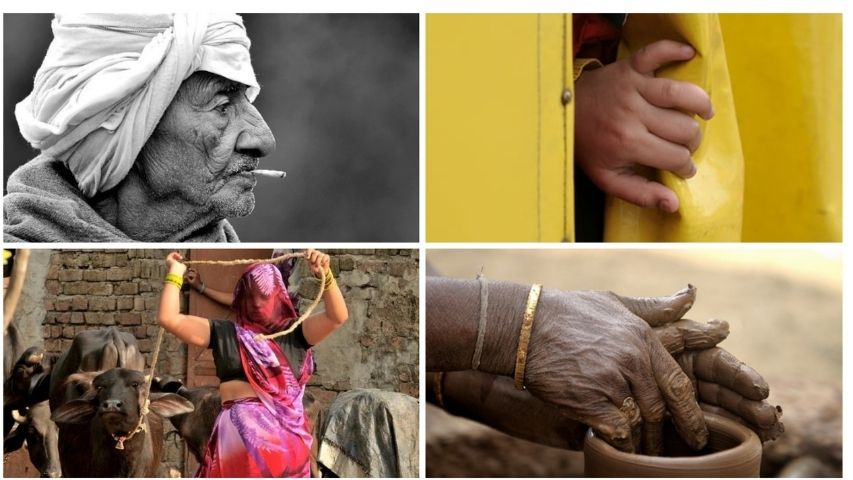 Is photography being recognised as an art form - by the galleries and by the viewers in India yet?
Photography is recognized as an art form among many people, especially within the arts community. But outside the community there are varying views about its place. For instance, I am not sure people are willing to pay the same kind of money for photography as art, as they would pay for perhaps paintings or sculpture or other, more traditional, art forms.
This is not universal though, and hopefully we will see photography also being valued more as time goes on.
What's your take on glamour photography?
Glamour photography is amazing. I highly appreciate the creativity and the patience of fashion photographers - of Munish Khanna, the late Prabhudda Dasgupta and Suresh Natarajan to name a few. It is a huge challenge to do the prep work, to plan shoots, to find ways to create distinctive work while working with models who have already featured in so much other work. I have dabbled in this form a little, but it is not what I am naturally most drawn to.
Can you relate backstories behind some of your photographs?
I like to imagine backstories for most of my photographs. If I'm photographing animals or birds, I like to anthropomorphize. If I'm photographing people, I try to imagine uplifting interpretations of expressions and positions. Like, once I was clicking pictures in a small village in Rajasthan. A woman, whose face was veiled, held a rope that controlled a buffalo. This to me was an image of power, I imagined an empowered woman's look in her eyes behind the veil.
Another example, a very exciting one for me was when a peahen chose to raise her four chicks in my garden for about a week. I had never seen this sort of thing up close before, and that whole week was a week of happy observation and learning for me. I clicked more than a thousand pictures of the family! It was great fun imagining what was happening with this family's dynamics: mother peahen scolding her little chick or a naughty chick coming out from under its mother's feathers while she was asleep.
Ever thought of turning to video photography or making films - a short or even a feature?
I have honestly never considered it. I enjoy still photography a lot, and feel there is a lot more to achieve with this before switching to a more ambitious medium. Having said that, I do write short stories about the everyday lives of women, and I would love to see some of them be made into short films, by someone else even if not by me!