Iron in the soul
by Khalid Mohamed
February 14 2020, 3:50 pm
Estimated Reading Time: 5 mins, 21 secs
"Meet Manohar Mhatre, the eminent artist who was with the legendary Progressive Art Group, but has never hankered after fame or money" - Khalid Mohamed
In a chunky carton under his bed, there are hundreds of paintings, sketches and drawings he has created ever since he was a school boy in Alibaug. The 89-year-old artist Manohar Mhatre shows them off bashfully, laughing that he never saw any reason to hawk them or display them since decades at the galleries because "organising exhibitions is as complicated and exhausting as organising a wedding reception."
The one-of-a-kind artist, devoid of any instinct for maintaining a bank account or earning the reputation as a master in his own right, lives with his frail wife Nalini in a micro-room of a Worli chawl. Mhatre is wiry-framed, doesn't quite finish buttoning up his bush-shirt, moves in slow-mo steps, and is fairly amused that he's being interviewed – on the eve of his first solo exhibition from February 7 to 26 at the upscale Nine Fish Art Gallery in Central Mumbai, curated by Gourmoni Das.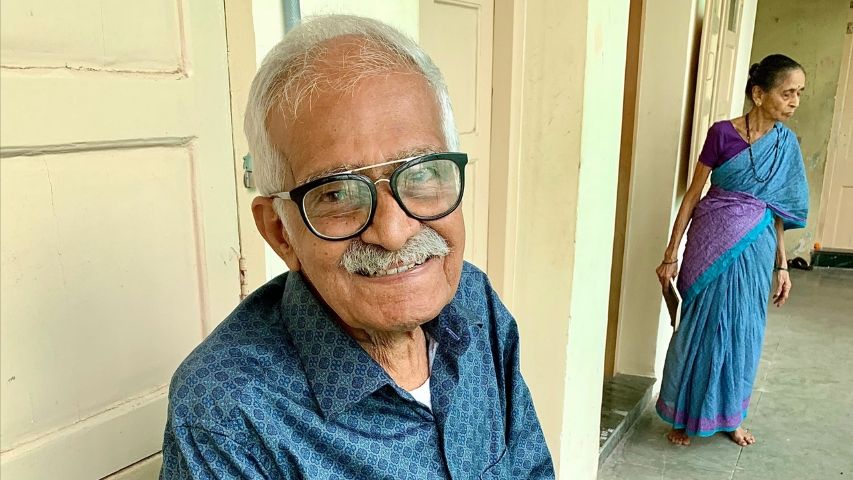 "They sought me out, so I was okay with it," the artist narrates, under a lightly whirring ceiling fan. "If someone actually buys my artworks, what can I say? It'll be an ecouragement for an old man like me who still paints every day, although brushes, acrylics, oils, canvases and even drawing paper have become so expensive. Art I'm afraid isn't the poor common man's medium anymore."
Chuckling at his remarks, Mhatre strives to make me comfortable, asks me if I was born in the month of October, and if I'm 55 years old. He's wrong on both counts to which he responds, "See, I always make mistakes."
His overriding mistake, perhaps, was never to pitch himself as one of the active members of the Progressive Arts Group which started in 1947. The group included such luminaries as M.F.Husain, S. H. Raza, Akbar Padamsee, Tyeb Mehta and F.N. Souza. Mhatre, while being privy to the zeitgeist of the era-defining, rule-breaking art movement, chose to become a disciple of the legendary V.S.Gaitonde.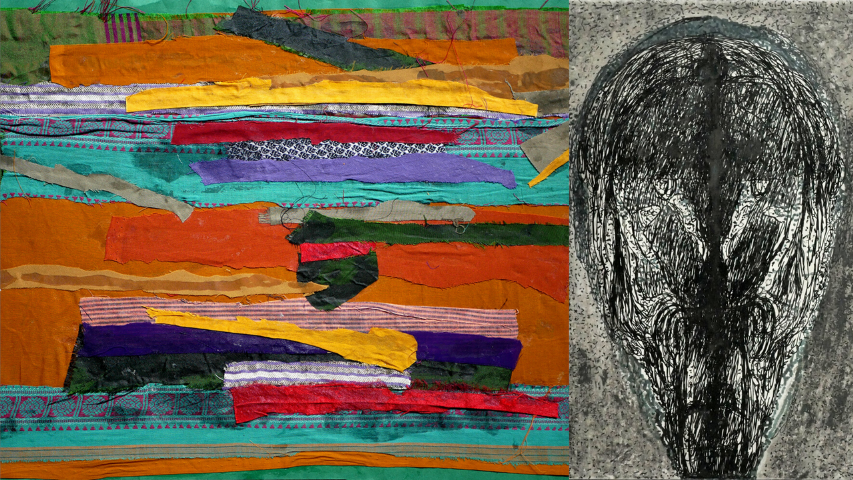 As time moved on, while many of the artists became superstars, he preferred to remain in the shadows. Why? To that he smiles shyly, "Maybe because I didn't have leadership qualities . Moreover, I wasn't a patch on Gaitonde sir. I was happy to learn at his feet – the colours orange and blue were his favourites. Although he was influenced by Paul Klee, he evolved his own distinctive style and language."
Mhatre emphasises that his own hundreds of portraits and abstracts aren't a slavish imitation of Gaitonde's. "Don't even compare me to my guru," he pleads. "If there is one lesson I learnt is that an artist must be original and never succumb to commercial dictates. Most people may say abstracts look easy and don't understand them, even laugh at them as a splash of random colours. Let me tell you that they're the most difficult idiom of art. Figurative and realistic paintings are so much easier. Abstracts takes the artist within his inner self. If you don't look inside your soul, you can only make pretty pictures."
The self-marginalised Mhatre is not the sort who'll grouse. At most, he shrugs, "There was much more awareness of real art during the 1940s and '50s. In Mumbai, there were only the Arists' Centre, then the Jehangir Art Gallery, the Chemould and Pundoles. Now the Kala Ghoda area itself has as many as 35 galleries. There are more galleries in Mumbai than there's art of any aesthetic value."
As a child he would draw pencil sketches of Mahatma Gandhi and eventually found a job at the central government's Textile Design Centre. For two decades, he was posted in various cities including Chennai, Vijayawada and Jaipur. On retirement, he chose to move with his family to Mumbai. His pension of approximately Rs 30,000 a month has compelled him to live frugally.
The Mhatres' two daughters are married. One of them is a software engineer working in London. Whenever she visits Mumbai, she carries paints, pencils and brushes for him "because she knows there's still some life left in my fingers."
He declares himself as irrevocably apolitical. The notion of using art to make statements on the socio-political conditions around him, has never struck him. Neither did he aspire to become a name to reckon with, pointing out that he would be awestruck by the stardom achieved by M.F. Husain. "But if you ask me," Mhatre states. "Husain saab's earlier works, particularly during the 1950s were his best ever. His later artworks are excellent also but not in the same league. Perhaps once he became famous, publicity started mattering a lot to him. By comparison, Gaitonde's later canvases were far superior to his earlier artworks."
Question: Has he ever dreamt of a cushier life and far more recognition? He looks at me as if I'm talking Greek and then laughs out loud, "Of course not! My wife does nag me at times, for not being ambitious. She keeps telling me why can't we live in house with two rooms at least. Bada ghar ho, ya chhota ghar ho, it doesn't make a difference to me. In any case, it's far too late to change now. And she agrees, and whenever no one's looking gives me a warm hug. We're a contented old couple. Don't we look happy to you?"
That they do. And by way of a parting shot, he jibes, "Look you may have come to my place in a car or taxi. If you had come in a bus or train, kya faraq padta?"
Now, here's an artist with a will of iron. Even as the chawl is in a crumbling condition, he asserts money and fame can't buy you a loving wife or happiness.