My city, my friend
by Khalid Mohamed
December 21 2020, 12:00 am
Estimated Reading Time: 12 mins, 40 secs
Khalid Mohamed in a chat fest with Harshad Rajadhyaksha, Chief Creative Officer at the Ogilvy ad agency, on his passion for street photography and more
Without any trumpet blasts, he has been displaying his evocative photographs on social media. As bashful as a bridegroom-to-be, Harshad Rajadhyaksha (no kin to the late camera whiz Gautam Rajadhyaksha), he hasn't sought a wider viewership, not yet at least, for his vignettes of city life.
A Santa Cruz (East) resident, he's single who refuses to say that he'd rather mingle. Double tasking as advertising professional and as a photographer appears to be a passion, which resurfaces constantly.
Because of his workload, he's into creating campaigns round the clock, and rues that he barely manages to snatch six hours of sleep, that's if he's lucky.
So, how do I pin down this quintessential busybody? Not a mission impossible as it turns out. A Facebook friend request later, an interview suggested and we get talking – not face-to-face alas since the pandemic prevents that ideal form of interview currently.
Through email and phone calls (on the WhatsApp line since a penny pinched is the order of these days of mounting inflation), we chat. According to him I remind him of his friend, Kainaz Karmakar, which I guardedly accept as a compliment.
His set of selected images, here, speaks for themselves, of course. To learn a bit more about the man behind the camera, I ask right away:
Hello, I came across your Mumbai photographs and captions - nearly a thousand of them - by chance. Why didn't you think of compiling them in a book?
I have been capturing these moments for over five years now. Right from the first few months when these captioned pictures started resonating with people, several friends and strangers alike have been writing in to say that I should make them into a book.
I certainly see a book, with selected moments coming together, but that would happen sometime down the years. The series is still very much alive and being added to. Whenever I am sure that I have stopped the series, I might look at a compilation.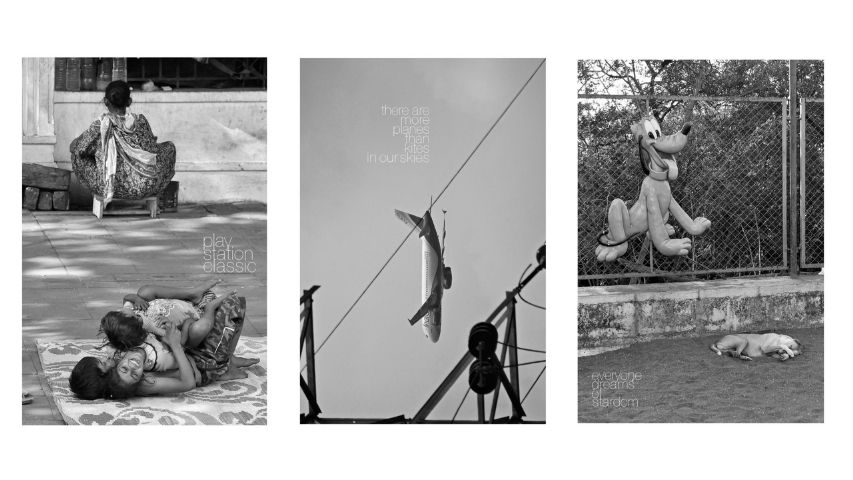 Could you elaborate on your relationship with the city... can its many facets ever be truly covered?
I've thought of my city, my Bombay, my Mumbai, my Bambai as a living, breathing friend I could spend time with ever since I was a little boy. I could converse with the majestic VT station, feel the racing pulse of the local trains, be able to scrape the sky with the skyline seen from Girgaum Chowpatty, hear the throbbing heartbeat of Crawford Market in its bustling energy and feel the warm embrace of Fort walking down its proud old lanes.
I wasn't a lonely child without human friends. Yet Bombay was always that much of a buddy to me. I also refer to my photo series as 'an unplanned tribute to an unplanned city'. Its many facets are ever evolving. I believe every aspect of it can never truly be covered by anyone.
You are an established ad honcho as the term goes - Chief Creative Officer of the Ogilvy firm and formerly with Leo Burnett. What does the 'creative' part entail?
Being 'creative' in life simply means doing things differently, in a surprising way, to get better results. When a parent is finding unusual ways to get a reluctant child to eat, that's the parent being creative. In our profession of advertising, as with any creative profession, we simply hone this way of thinking into our daily skill sets, so the message for brands and services that we communicate lands in as unique a way as possible. Only then will the consumers remember our brands message over dozens of others coming their way on any given day.
Most ad people have told me that they get stifled by their work… and seek a creative outlet. Did this ever happen to you? Besides photography, are there other creative areas, which attract you?
I have wanted to do what I do ever since I was in late high school. I was fascinated by advertising, ideation, pursued it, started working in this profession as an intern while being a student at the J.J. School of Applied Art, and on graduating in 1997, I took it up as my full-time occupation. I have worked for 23 years since without a sabbatical.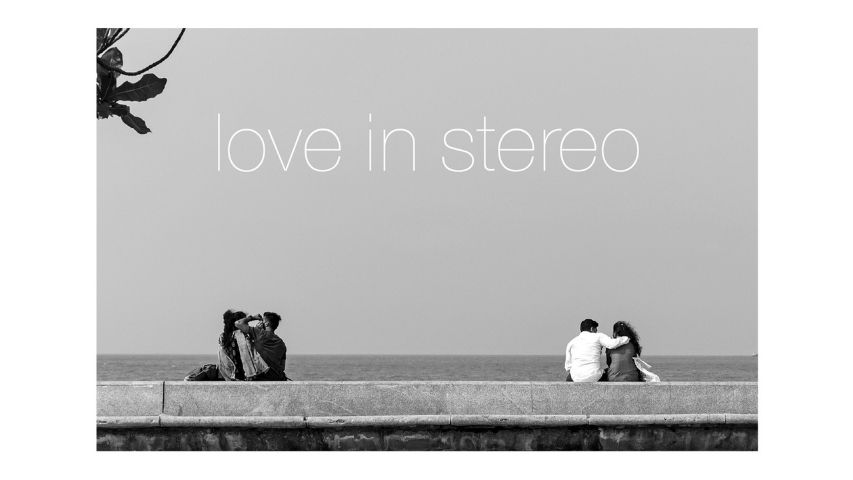 But equally needed for my work is a certain pullout time - to go back to the life outside. Move around. Meet people. Observe life and its many habits. Observe behavior - because until I enrich myself with the wealth of human insights, my work cannot remain fresh or relevant. That is where endeavors like my photography excursions help immensely.
I am not thinking of work when I shoot. I just keep my eyes and my mind open, and go observing and finding moments. Playing a little game in my head, re-looking at those simple everyday moments through words that can often reinterpret them.
Besides my photography, I love watching movies whenever time permits (and now, whenever easing of pandemic will). I have not studied anything about music, but am immensely moved by it and enjoy spending time with both Western classical and Hindustani classical music.
Films… can you name your desert-island films, from top of the mind?
Let me try (pause) Braveheart, Batman Rises, Tezaab, The Sound of Music; The Silence of the Lambs, Schindler's List and Bicycle Thieves.
No Ingmar Bergmans or Francois Truffauts?
I'm afraid not, I haven't ventured into that zone.
To understand your mind, so to speak, can you name some of your favorite authors and books?
John Grisham, Stephen King, Salman Rushdie's Midnight's Children, Khushwant Singh's Train to Pakistan. Of late, my patience threshold has been low perhaps because of the pandemic, so haven't read much lately.
Advertising back in the last millennium would be described as a consumerist profession, hyping products, which one didn't believe in. It was like selling your soul. Has this stigma altered?
I think that old perception has changed. There are safeguards in place in most professional companies to verify the claims of the brands we advertise. It is essential that we first believe in the brands we are giving voice to. Only then can we effectively convince the consumer to buy in. And it's a must to put our money where our mouth is. We advertising professionals are also consumers of most of the products we advertise to the world.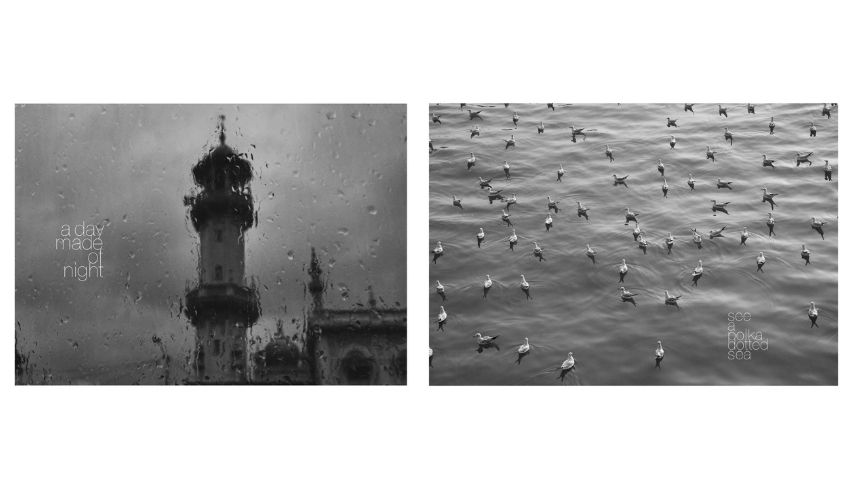 What do you think of present-day ads, especially the ones made for TV?
I think television is still a rather strong medium for our country, despite the numerous digital avenues gaining in reach and impact. We are still a nation that responds well to cinematic storytelling. That's evident from some of the consistently great advertising we have seen in this medium over the past 25 years or so. We have gotten better all around, in both the quality of our ideas as well as execution.
Some of our TVCs from India have gone on to be recognised on the world stage. Though, the kind of budgets that the west can spend on TV commercials is still somewhat beyond our grasp.
Yet there have been no iconic ads on the lines of those created once upon a time for VICCO Vajradanti or the Nirma ad for example.
I wouldn't agree with that. Ads today are super-slick, and to cite just one example of effectiveness, if I may, I would surely cite Ogilvy's Fevicol campaign.
Since print ads are on the decline, which domains are you looking at?
The learning curve right now is how to best serve the digital space, be it on cell phones, apps, online platforms and other areas like Google home and Alexa voice assistants which are opening up. Back in the 1970s and '80s it was a transition from print to television, and now it's towards a whole new world of digital space.
How much creative freedom do you have or does one have to 'cater' to clients essentially.
I'm fortunate to have worked in environments that have put creativity at the heart of their offerings. The creative work is after all, our product. And the entire industry has to strive to keep that product fresh, unshackled and brilliant. I have also been extremely lucky to have some of the best client partners one could wish for.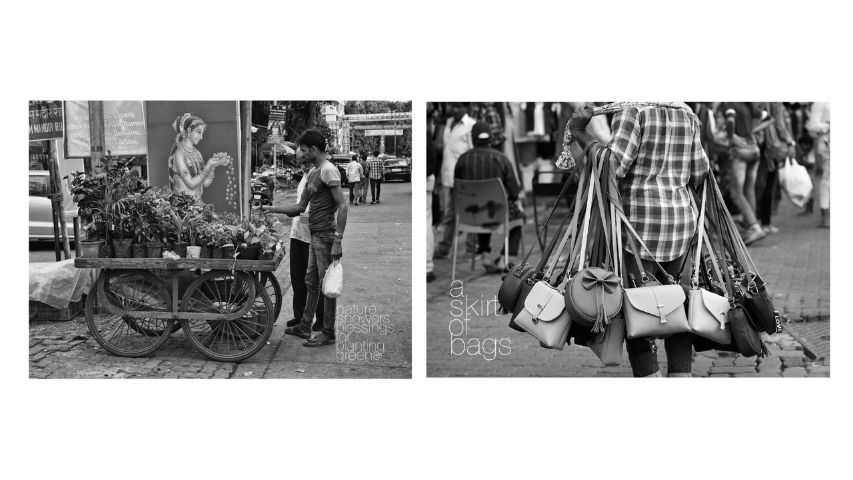 Are copywriting and images up to the mark? Who have been your gurus in this profession?
Copywriting and Art Direction (which deal with the images part along with design and typography) are the central pillars on which the broader creative structure rests. Mediums will keep changing, but the core skills of weaving idea-magic with words and visual experiences will always be the core of this profession.
India has had a wealth of copywriters and art directors. Across my years in advertising, I have seen and learnt from the magic created by Vikas Gaitonde, Vivek Kamath, Alok Nanda, Rekha Nigam, B. Ramnathkar, Agnello Dias and of course, Piyush Pandey.
You studied at an art school. Did you ever dream of becoming a painter?
I was a student at the Sir J.J. Institute of Applied Art, which is the sister institute of the Sir J.J. School of Fine Arts, based on the same lovely campus at VT. While we had the same foundation course and were taught painting up to a basic level, we specialized in applying art for communication. So the dream was to always create communication for advertising.
Why the increasing dependence on Bollywood stars for advertising?
This has been an age-old formula since the pre-Independence era of advertising. Simple logic says that stars get you instant attention, so your ad is noticed. But in our current over-saturated era of star endorsements, the reality is anything but simple. That's the reason why people will often remember seeing the celebrity play a certain character, but not necessarily remember the brand they were endorsing.
While some clients may believe signing up a Bollywood star is a shortcut for noticeability, it's vital to utilize the star in such a way that the brand is enhanced and not overshadowed by the star.
Which are the five all-time most effective ad campaigns? Which ones of yours are you particularly satisfied with?
I do not have effective numbers of campaigns readily available. As far as my work goes, my work partner Kainaz Karmakar and I co-lead all our campaigns. While we captain the innings there are numerous talents who are playing brilliant knocks.
If I were to pick a few projects that we are particularly satisfied with, they would include the journey on Red Label Tea (Swaad Apnepan Ka), the #EndAcidSale campaign, the Savlon Healthy Hands Chalk Sticks program and the recent Savlon 'Artist' work for World Hand Washing Day.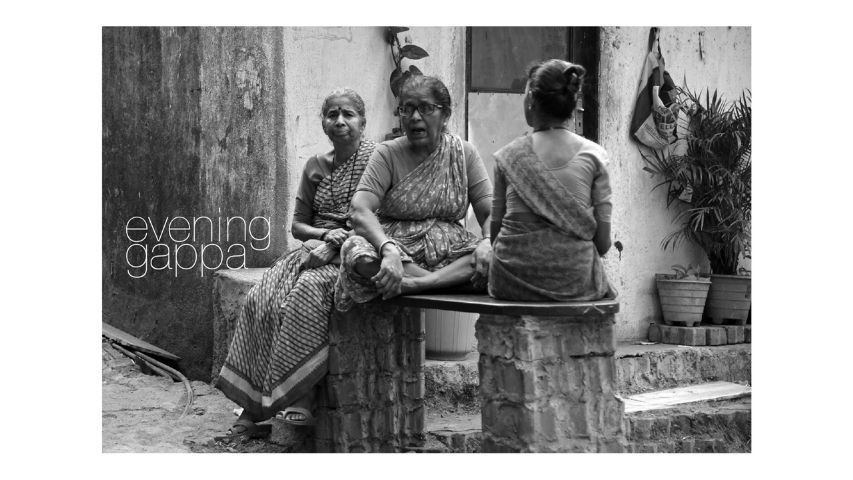 To return to the street side photos of Mumbai, what was its impetus and what kind of equipment did you use.
I love capturing life through my pictures whenever and wherever I travel. I have brought back moments in thousands from cities across the world. I would look forward to the thrill of my next trip, look forward to the excitement of not knowing what new pictures, life there would present.
And one afternoon it struck me that for the city I love, I hardly have anything captured from life around me in Mumbai. It was like a classic case of 'ghar ki murgi daal barabar'. From that evening on, I started keeping a camera along - sometimes on the way to work meetings and sometimes on Sundays, simply with the intent of going on a walk in some pocket of the city and taking in life as it unfolds.
The captioning bit was perhaps an urge based on my advertising habit of marrying words and visuals, to bring forth a completely unexpected interpretation. It seemed to work well with people who started following the album.
When I started the series back in 2015, I had a crop-frame Canon 550D. Later I got myself my beloved Nikon D750 full frame DSLR with its 24-120mm kit lens, which has partnered me most on this journey. At times, on my walks I also use my smaller fixed-lens Fuji X100T. But on more than one occasion, when an unmissable moment has presented itself, my iPhone camera is what I have depended on too.
Are there any photographers who have influenced you, Indian or international?
I really look up to the work of Henri Cartier-Bresson, Raghu Rai and Steve McCurry. Their work has taught me to look at moments that define life.
With so many ad-wallahs, right from Shyam Benegal to Shoojit Sircar, acknowledged as fine filmmakers, do you see yourself making a film some day?
I love the medium of film. So many of our scripts for ad films are brought to life by brilliant filmmakers, including Shoojit whom I have had the pleasure of working with. But no, I haven't felt the urge to get into filmmaking myself. Ideating and scripting are exciting enough. Also, I don't think I have the required expertise. I do give my inputs to numerous filmmakers whom we partner with, but I'd rather leave the making to them.
Photography is still a nascent form of art in India - what can be done to make it acceptable as a form of art, the way painting is?
A part of this conditioning has already happened, but I agree it is still quite in a small way. For that perception to change, more and more photography needs to be seen sharing a place of pride alongside paintings. When in the galleries where art hangs also display photography regularly, when organizations that display art on their walls also give some space to photography, this acceptance can start increasing.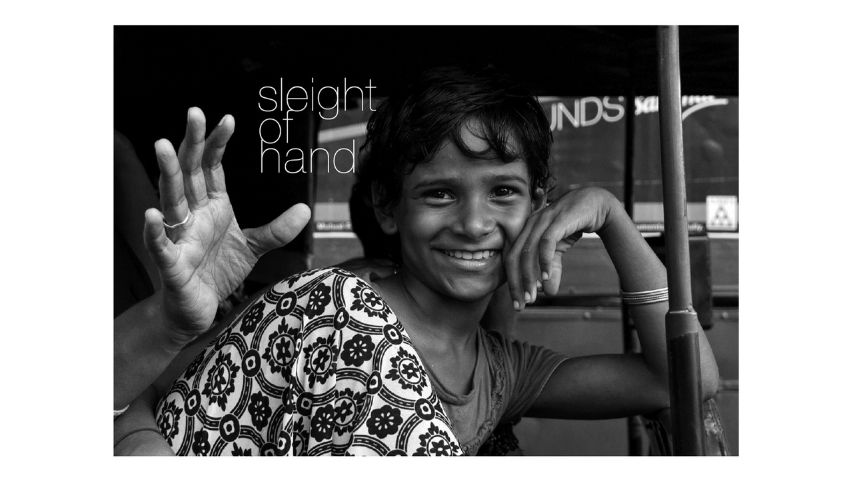 Going by your photography, do you dream in black and white? Do you find black-and-white a more effective medium than color?
The thousands of my pictures from across the world that I mentioned are in color. I made this series about Mumbai black-and-white on a whim. But in hindsight, I believe that subconsciously I had a reason.
I believe black-and-white freezes a moment in time far longer than I believe color does. It accelerates nostalgia. It makes it difficult for a black-and-white picture to be discarded. Although our mind tells us that a moment in color is easier to recreate, the one in black-and-white is irreplaceable.
Lastly, do you dream in color or black-and-white? Any nightmares?
My dreams are always in color. As for nightmares, I don't have any - I can only remember one in which the 12-storey building I live in suddenly came to life and started walking in great big strides.