Of Optics and Opportunism
by Reema Moudgil
July 31 2019, 5:54 pm
Estimated Reading Time: 10 mins, 16 secs
"We are not to empathise anymore with human pain if it inconveniences entrenched power structures and the politics of privilege. Every atrocity must be filtered through the prism of caste, religion, region, cause and effect and protestors must never ask for accountability. That is if an atrocity is reported widely at all in the first place," writes Reema Moudgil
Before we get to the Unnao story, here is an overview of the news cycle in the past few weeks. On 17 July, 2019, ten tribals were gunned down in Ghorawal, Sonbhadra, Uttar Pradesh over a land 'dispute.' A 64-year-old retired Army captain was beaten to death last Saturday in Uttar Pradesh's Amethi district . At least six people committed suicide in Assam in 13 days due to issues relating to National Register of Citizens (NRC), the final list of which will be published on 31 July. Twenty five people (branded as foreigners) have so far died in the "detention camps" in Assam.
According to data, say news reports, 57 cases of suicide relating to citizenship have been reported in various police stations across the state since the start of the process of NRC in 2016. Add to this list, numerous instances of lynchings , rapes and the attempt to paint any outrage against such incidents as "politically motivated" and "selective" and you will see a pattern emerging.
We are not to empathise anymore with human pain if it inconveniences entrenched power structures and the politics of privilege. Every atrocity must be filtered through the prism of caste, religion, region, cause and effect and protestors must never ask for accountability. That is if an atrocity is reported widely at all in the first place.
Take the Unnao rape case. It is not a new story. Neither is the fact sheet that shows that the victim and her family have been systematically persecuted since 2017. The victim was just 17 on 4 June 2017 when the "alleged" crime took place. When the victim's statement was recorded on 22 June 2017; the police did not allow her to name her assailant.
Two separate chargesheets have since then been filed. The first CBI chargesheet on 11 July 2018, named Kuldeep Singh Sengar, a Bhartiya Janata Party Member of the Legislative Assembly from Uttar Pradesh, as an accused.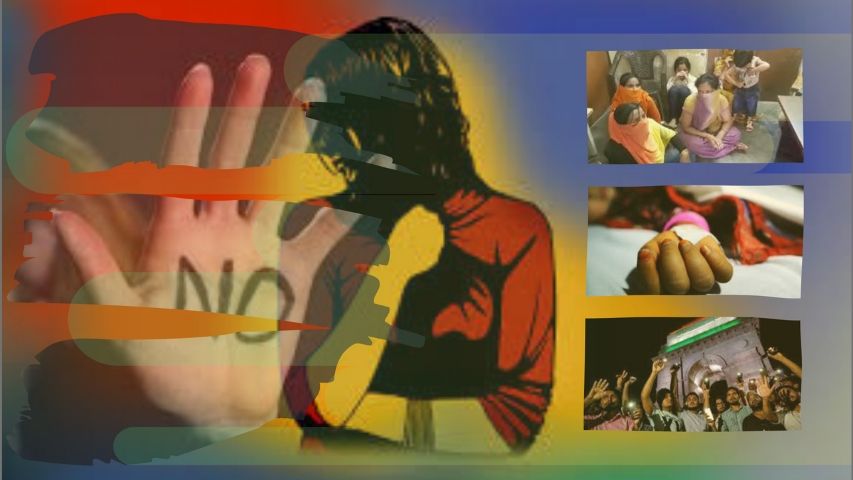 The second chargesheet was filed on 13 July 2018 and named Sengar and his brother, three policemen and five other people for allegedly framing the Unnao rape survivor's father. Who incidentally died in judicial custody.
The young girl even attempted to immolate herself in front of the residence of Yogi Adityanath, the Chief Minister of Uttar Pradesh, on 8 April 2018. The incident attracted some media coverage but no widespread national outrage.
More was to follow. A key witness of the attack on the survivor's father died at his Unnao residence on August 18, 2018. Also note that the victim's uncle who had started a campaign for justice, was arrested on 21 November 2018 in an 18 year old gun-firing case. Does the pattern of persecuting a victim for a crime committed by someone else sound familiar? It does, because it now is. It is the new normal because we have allowed it to be.
It was only on 28 July 2019, when a truck rammed into the car of the rape victim in the worst tradition of bad Hindi cinema, that we actually took notice. We took notice because the "accident" injured the victim and her lawyer seriously, and killed her two aunts.
And even after this, the protest held on India Gate on July 29, had a few disrupters trying to make sure that the event was not "politicised" .
So what kind of stories exactly must not be connected with politics or political leaders? And must not attract the protest of the civil society and the much reviled intellectuals? Or given extensive media coverage? And just what kind of stuff CAN be politicised? And who benefits when certain stories remain underreported and certain others are over reported? And who except us loses in the bargain when optics and opportunism become more important than facts in the news cycle?
What is most troublesome however is the crisis of empathy we as a nation seem to be experiencing. Because it is our detachment that emboldens and perpetuates and normalises violence. We are now being encouraged openly and subliminally to only show anger when the victims are like us. To fight over what divides us rather than for what unites us.
That leads us to another question. What if we refused to be distracted from stories of persecution and violence unfolding across the country? What if we did not heed screaming news anchors who want us to pivot and ask for accountability not from law makers and law enforcers but from those who protest and stand in solidarity with victims?
There is no doubt that without citizens who care for each other, a country cannot remain peaceful, or just or democratic for long.
We are as much accountable for the well-being of each other as those who are supposed to govern us.
What happened in Unnao, in the lynching fields across the country, is currently unfolding in Assam, is under our watch and it indicates that we as a nation are not just in a law and order crisis but in a moral crisis. And this is not the first time we have failed to notice those who exist on the margins of our consciousness.
A story was published in Unboxed Writers in 2016 about similar cases that fell through the cracks of media reportage and the 24 hour news cycle. Cases about victims who we could not stand up for and cannot now even remember the names of.
Remember the Dalit girl being dragged through the streets of Muktsar in 2016? And Pushpa and Murti, the Dalit teenaged girls in Badaun in 2014 whose rape and hanging was referred to by the shocked Western media as India's Mango tree case? A case that was dismissed by the then CBI director Ranjit Sinha with this statement, "Our probe found that the two girls had committed suicide and weren't murdered." The 'probe' also claimed that the girls had not been "sexually assaulted or raped" and cited the authority of the Centre for DNA Fingerprinting and Diagnostics (CDFD) in Hyderabad, to establish this 'fact.' And the North-Eastern girl who was picked up with stunning impunity in a Bangalore and while being molested, was told, "you are a whore?"
And there was the Tanzanian girl who was stripped by a mob in Bangalore in 2016. Remember the victims of the Nithari murders? Remember the name of even one of the children who were killed? Or the names of the Shopian victims in Kashmir?
What is the point of these disjointed questions? That in India, crimes are more brazen if the victims come without a blanket of financial and social privilege. And our responses to crimes are decided by just how close to the bone they are. Can you imagine the outrage if the Muktsar victim had not been a dalit? If the Badaun girls were daughters of a powerful village elder? If the Shopian girls were daughters of a well-placed government official? If what happened and continues to happen to North-Eastern girls in India routinely happened to Indian women in other countries where the locals may have racist ideas about how we look or smell or dress or speak ? "Go back to where you came from," now is a globally recognised insult hurled at anyone who is in a minority.
So yes, our reactions to a crime are very much determined by which rung of the power hegemony in society we are sitting pretty on.
What happened to Jisha, the law student in Kerala in 2016 or now in Unnao, whether we believe it or not, is neither unique nor unprecedented in India. Brutal rapes of women in conflict hit regions like the North-East, in Kashmir, in the many remote Indias that seem to have fallen off the map of our collective consciousness are everyday occurrences. And we don't hear of them because we are not supposed to.
The Nirbhaya case would not have hit the headlines either or captured our media spaces or our horrified imagination because she was from a family that had known no privilege.
She lived in a lower middle class area of the national capital and her father had to sell his only asset, a little piece of land to fund her dreams. What made news was not that she was raped but how she was raped. The entrails and the rod became a symbol of unspeakable courage and cowardice and the assertion of brute power over a woman who had dared to fight back. Like one of the rapists told documentary maker Leslee Udwin, "If only she had not fought back..." And because the details of the rape were so widely shared, they reached also those who were titillated by the possibilities of inflicting the same kind of brute power on a woman. The same, "Let us teach her a lesson," symbolism was repeated with Jisha. When An Uber driver in Delhi raped a woman in 2014 , he threatened that he would do to her what was done to Nirbhaya.
Rape is a complex crime that has gender questions and most importantly, the idea of power and subjugation wrapped up in it. The notions of power can come from caste, from just the fact of having male genitals. In the news in 2016 was also Sonali Murmu, a 30-year-old married student who was found dead near a college gate in Jharkhand, with her hands cut off. The main suspect was a stalker she had known from school. Someone who could not hear and accept a loud and clear, 'No.'
This inability to let a "lesser being," exercise the right to life , dignity and equality is what rape or any kind of violence is all about. And Jisha's rape and murder and what happened in Unnao was about the assertion of entitlement and power . Why did we not respond to the crimes the way we responded to Nirbhaya? Because the media was slow in picking up the facts like it always is when the story is not an instant click bait and has unfolded in far off places like Nithari or Muktsar or Shopian.
The idea of "otherness" and distance extends not just to gender violence but to the disdain that a young student leader attracts when he challenges the constructs of caste and power-based politics. It extends to a Rohith Vemula who did not have the clout to fight back administrative bullying. It extends to the crack down on inclusive universities like JNU, to FTII, to any educational institution that resists the imposition of caste and religion coloured diktats. Doctored videos are circulated and customised phrases like "tukde tukde gang" and more (all ending with the term "gang" again in the worst tradition of bad Hindi films) are coined to discredit dissent.
The optics of power extend to the way our religious gurus and our politicians woo as well as represent the privileged. To the way a Soni Sori is hounded for fighting for tribal rights in Bastar.
It is good though that caste is now occupying an important place in our social and political discourse. And that we are seeing the plight of night soil cleaners, the sewage workers, the garbage collectors in our news streams but that is obviously not enough.
The question is how things can change for the better.
And if there can ever be any justice for Jisha. Or Somali Murmu. Or Pushpa and Murti. Or Thangjam Manorama Devi. Or the three Latawa sisters who hung themselves driven by their parents' relentless desire to have sons in Chandigarh more than a decade ago. Or for Ruchika Girhotra. And the Unnao survivor. Or any of the nameless victims of violence engendered by power in any form.
Maybe, things would change if we stopped facilitating and condoning the misuse of power. If we began to notice just how we enjoy with impunity the privileges that come with caste, money or entitlement of one kind or another. Because when we start becoming accountable for what we see and ignore, it will become increasingly difficult for the mainstream media and its brokers to distract us from the stories that really matter.