Rishi Kapoor: He defined 'Bollywood Art'
by Vinta Nanda
April 30 2020, 2:22 pm
Estimated Reading Time: 7 mins, 21 secs
I write this tribute to Rishi Kapoor. A legend, a hero, the actor unparalleled and a person who was way beyond amazing – Vinta Nanda
Bobby, when it was released in 1972, hailed what we call Bollywood Art today. It was that moment in time when the hero of Indian Cinema became larger than life overnight and it also coincided with capitalism starting to replace socialism in India.
Raj Kapoor who directed and produced the film Bobby, had taken the most difficult curve of his career; with Bobby he had transcended a creative metaphor in his own unparalleled repertoire.
The film went on to become a huge hit and Rishi Kapoor became the face of Indian Cinema's contemporary vocabulary.
Dabooji, Chintuji and Chimpu as the three brothers are lovingly called by the whole industry, meant the world to many who're a part of the family called the business of entertainment. They have touched every life they encountered in meaningful ways. The words 'love' and 'affection' cannot be better used than when spoken in context to the three of them.
It was way back in the 1990's when I had once received a call from Rishi Kapoor's Chief Assistant Director of Aa Ab Laut Chalein.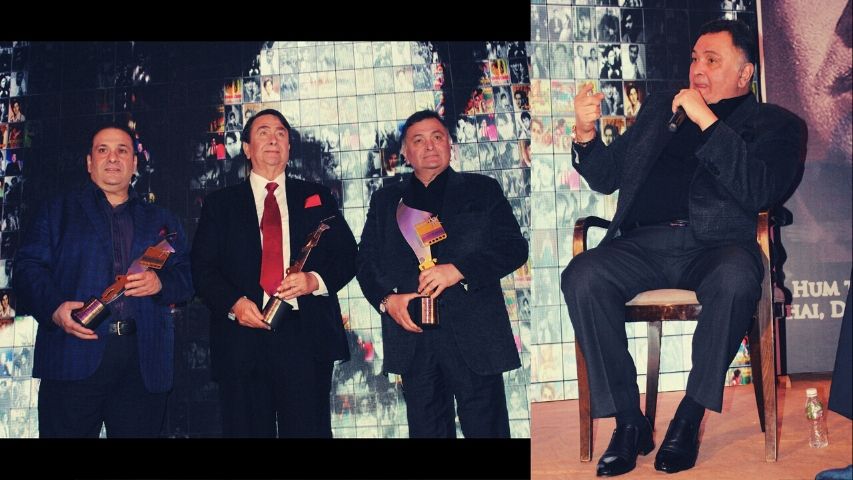 Here below is how the conversation went:
Deval: Hello, am I speaking to Vinta Nanda?
Me: Yes…
Deval: Rishi Kapoor Saab would like to speak to you… (And he passed the phone to Rishi Kapoor while I was like, whom are you kidding'?)
Rishi Kapoor: Hello… this is Rishi Kapoor here…
Me: Chutiya mat banaao… kaun bol raha hai (Don't F… with me, tell me who is speaking?)"
Rishi Kapoor: This is Rishi Kapoor here…
And I put the phone off…
A few minutes later Deval called me again and said that this was not a joke and Rishi Kapoor wants to meet me for real. I was still in a state of disbelief but Deval Raiji managed to convince me to drop by at Krishna Raj, Pali Hill Mumbai the next day and have lunch with Rishi and Neetu Kapoor.
With Neetu Kapoor playing hostess to perfection, I had lunch with both of them the next day and until this day that we now mourn his passing away, it still seems like a situation unreal to me. Because in my mind and in my heart, I was having lunch in a dream house with two people who had taught me how to sing and dance from the movies, which they had made together. The love stories Neetu and Rishi Kapoor made before they fell in love and got married to each other were the stories that nudged behaviors of my generation in particular, on how to conduct our own real life love stories.
What followed that lunch were several meetings at RK Studios, where the three brothers had their offices. Our discussions were powerful and a deep friendship with all of them has remained ever since.
It was in the year 2018 when I wanted to launch the Raj Kapoor Awards for Excellence in Indian Cinema. No, I did not want it to be mega television show with mindless cacophonic music and dance. I wanted that it should be a Pulitzer-esq piece because in my understanding of cinema, Raj Kapoor was more a social commentator who captured Indian society changing over a period of over 50 years, than a filmmaker who had just entertained us. When I spoke to Dabbuji and Chimpu about it, they were both happy to come along with me but they told me categorically, "You will have to convince Rishi Kapoor on your own and if he says yes, then we're on!"
So the next step was to call Rishi Kapoor and ask him to give me an appointment to see him. He asked me to meet him the next day, this time in a stunning apartment because Krishna Raj, the majestic bungalow that they lived in earlier, was under renovation.
Rishi Kapoor asked me why I wanted to establish an award in the name of his father Raj Kapoor?
I told him that, Raj Kapoor, the quintessential showman of post independent India, is a rare filmmaker in the history of Indian Cinema to have placed mainstream and popular entertainment in contemporary social contexts. I told him that I wanted that we should institute and award in Raj Kapoor's name because he was a filmmaker who was making films from virtually the official birth of India onwards, when the violence of partition marked the translation from British raj to democracy, and because it's clear that undercurrents in his work often measured the changes, both economic and social, in Indian society. Also that at the same time, RK Films was a commercial enterprise, intent on box-office success. I told Rishi Kapoor, that in my understanding of things, Raj Kapoor transcended the artificial line between commercial and art cinema long before anyone in India had even spoken about the divide and what is perhaps unparalleled to date is that he made it work at the box-office.
Rishi Kapoor listened to me, captivated by what I was saying all the while that I spoke and just as I finished with my diatribe he said to me, "Tu aur Raman ab saath nahin ho (Are you and Raman not together anymore?)"
Raman Kumar was my business partner and close friend for twenty years. A married man, Raman and I were never able to conduct our personal relationship with each other as freely as we should have; therefore it wore out and ended in a bad way rendering both of us paupers because all decisions while parting ways in business were made emotionally and thus catastrophically irrational.
Here I thought Rishi Kapoor was listening to what I was saying and there he was, concerned only with how my personal life had been unfolding in those years that we hadn't met each other. Was I selling too hard, I thought to myself.
I was obviously stunned to silence and then he burst out laughing.
He said, "Tu ye event akeli karegi (Will you do this event on your own?)"
I nodded my head and he smiled.
There was a longish silence and just as I was about to get up to leave the room, Rishi Kapoor said, "Wait, I want to show you something". He pulled out his phone and showed me a picture of himself in the film Mulk, a film that was due for release soon after.
He said to me, "What do you think of this look?"
I said, "Wow!"
Then he said, "Why aren't you writing?"
I said: "Because nobody gives me work anymore."
He said, "Why? You're a good writer. You wrote Tara. I still remember it. It was superb".
I said: "Everyone believes that I slept with Raman Kumar so I got credit for writing Tara. They think I didn't write it and that it was he who wrote it."
He said, "Why don't you write a film?"
I said, "Who will do a film with me after the box-office disaster that was called White Noise?"
He said, "I will do a film with you. Do you have a subject?"
I said, "For you? No…"
He said, "I want to play Khushwant Singh. I have always been very intrigued with him as a person. Will you write a script in which I can play Khushwant Singh?"
I said, "Yes of course I will. Give me six months to come back to you with a draft".
So he said, "Done. Okay now you can go. See you at the awards. Don't forget to send me the details."
I left his house; he came to the doorstep to leave me.
I was in a daze. I was launching the Raj Kapoor Awards and Rishi Kapoor had given me his permission.
The film script for him that I worked on was not meant to be because by the time I had a draft ready to share with Rishi Kapoor, he was diagnosed with Cancer and undergoing treatment in New York.
However, here is the recording of the inauguration of Raj Kapoor Awards for Excellence in Entertainment held in March 2018 - a night never to be forgotten, a night when the three brothers Randhir Kapoor, Rishi Kapoor and Rajiv Kapoor had this absolutely riveting conversation with Shekhar Gupta about their father, the legend Raj Kapoor.