SO MANY STORIES TO TELL: RITA MEHER
by Vinta Nanda
November 2 2023, 12:00 am
Estimated Reading Time: 13 mins, 1 sec
To each one of you who is dreaming big, here's a story that will confirm that everything is possible. Rita Meher, festival director of Tasveer, the world's biggest South Asian Film Festival, unplugged in an interview with Vinta Nanda.
When you go to Tasveer.org, to learn about Tasveer South Asian Film Festival (TSAFF) Seattle, the words that strike you are: "Tasveer inspires social change through thought-provoking South Asian films, art, and storytelling. This unique film festival envisions an informed and just society where storytelling leads to truth-telling and in the process, individuals are entertained, transformed, healed, and empowered".
Then you are drawn to the numbers: 200+ artists served, 43% films directed by women, 700 hours streamed on TasveerTV and 58 single events.
The aftermath of the 2001 9/11 attacks that shook the world, left South Asians feeling the weight of fear, racism, hate and crimes that were on the rise against them. Troubled by the stereotyped and highly prejudicial images of South Asians in the mainstream media at the time, Farah Nousheen and Rita Meher decided to change the narrative.
Their quest for better representation led to the founding of Tasveer (meaning 'picture' in Hindi and Urdu) in March 2002, in Seattle. And their aim was to recast the harmful labels by providing a glimpse into the lives of South Asians through film, art, and storytelling.
Rita Meher has been managing Tasveer since 2007 and is the Executive Director of the organization in Seattle, Washington. Farah Nousheen continues to be an active ally from Albuquerque, New Mexico, where she now lives with her son.
Tasveer has grown to be one of the biggest platforms in lending a voice and an ear to inspire social change in the larger Seattle community. Through the Tasveer South Asian Film Festival, Aaina and Yoni ki Baat, Tasveer South Asian LitFest, the organization continues to incorporate visual and narrative art to reflect and highlight the issues faced by the community.
And, I'm proud to add two of my films, White Noise (2005), and #SHOUT (2023), to the list of selected films at the prestigious festival.
I've known Rita through a close friend, Preeti Shridhar, for a while. But I met this fascinating, unassuming and powerful woman in person for the first time while she's here in Mumbai and attending the MAMI film festival.
Before I get into this conversation with her, I must mention that Seattle has become the first city in the world to criminalize caste-based discrimination. And, Rita is the first person to have come forward as an Adivasi ST person to testify. She came out about how she had to hide her identity. She tells me that she has spoken about her identity for the first time after many years in the US because she feels safe talking about it now. In earlier days, discrimination against the Dalits, Bahujan Samaj, Adivasi (DBA) communities was as discernable in the US as it is in India.
She says that when 9/11 happened in 2001, it was a confusing time. There was a lot of hate and xenophobia towards South Asians and Asians. She also experienced hate slurs while walking down the street in Seattle. It was in one of those moments when everything changed for her. When she was yelled at and told to 'go back to her F…. country,' it set her thinking.
She thought that moving to the US and making it her home would set her free from the casteism she faced in India, and here she was, at the receiving end of another angst. It was a monumental time, she tells me, and to process that, Rita picked up a camera along with her best friend Farah and made her debut film called, 'Where do I belong?'
She made another short film called 'Citizen 101' soon after. However, to understand and process why she felt the intense need to tell her stories, it became necessary that she show her films to diverse audiences and have conversations around them. So, Farah and Rita decided to set up a platform where thought provoking films on issues of social justice could be screened and discussions could be had. Their goal and mission were to use film and storytelling as tools to have conversations.
They wanted to give a name to this platform, one which connoted films, images, and that's how Tasveer was born. They could sense there was a need to showcase South Asian cinema and they were right, because Tasveer was able to draw audiences effortlessly. They of course also had detractors who asked them 'why they show rona-dhona'. But Rita and Farah weren't deterred. Rita says to critics asking her why they only highlighted injustice, and accuse them of showing the bad side of South Asia, that 'if there is a need for escapist and meaningless entertainment, there is also a need for serious honest films, which will make them think'.
She tells me, with a broad smile on her face, "There are numerous ways for them to see Bollywood films - I am offering films they will not have access to through the mainstream, so that's that!"
I want to know where Rita Meher is from, about her years growing up, what drives her? She tells me that her parents belonged to Odisha, and hailed from a very small village there. Hers is an Adivasi family. Her father joined the Indian Air Force, and her childhood was spent in different parts of India because he was transferred to different cities every three odd years. I ask her if she's a Central School product, and she laughs, 'Oh my God, yes!'
Her family is liberal and she considered the world to be her oyster because with each move her family made, she made new friends and experienced a new world. "Wherever your home is, that's where your heart is", she tells me with a warm smile on her face.
After high school, Rita went to JNU because she wanted to do something different. When I ask her if it was her activism that took her to JNU, she says (as though thinking aloud), "At that time I didn't feel the need to do something big, or anything that would be impactful and change the world. I wasn't thinking of activism or any such thing. But I knew I wanted to do something in life that I love, not just for the sake of a job. My heart was in the arts - there was thinking and imagining to do – and I also had a deep desire to travel the world. So, when I heard that there was a need for translators because there was a big international community in New Delhi, I decided to become one. I thought it would be a capability that could take me to a foreign country. I asked around what the best paying job for a translator was and discovered a need for Japanese translators. That's how I chose Japanese as the language to learn. English to Japanese was most in demand in those days".
Rita wasn't as enchanted by European countries as she was by Asian countries. She was one among seven people selected from the all-Indian exam to learn Japanese at JNU, so she signed up and had a whole lot of fun learning the language. Thereafter she got a scholarship to go to Japan, to a city called Tochigi, as a coordinator for International Relations.
Rita lived in Tochigi for four years. She met her ex-boyfriend, later her first husband, there. He happened to be from Seattle and when he had to go home, she trailed along without much of a plan. At first, she found Seattle boring. She thought it wasn't working out and didn't like living in the US. She went back to Japan after the relationship ended, heartbroken, not realizing that Seattle had grown on her by then.
She was 23 years old when she returned to Seattle. An Indian girl, a translator from Japanese to English was hardly something that could get her work. So, she did odd jobs. She had to make a living so she went to community college and did a computer course. That's where she met her best friend Farah Nosheen – a queer Muslim woman from Hyderabad, India. They became the best of friends. At the first lunch they went out they told each other their life stories and became inseparable. "It seemed", Rita says, "As though we were destined to meet. As though I spent so much money to do the course just to meet Farah".
It was in the couple of months after Rita and Farah met, that 9/11 happened. It was a life altering time for the whole world and especially for Rita. "It was a period of time when I didn't know where I belonged. I was getting yelled at on the street, I wasn't yet healed from the heartbreak, and it came together like a jumble of life-altering moments. Farah told me to process what I was experiencing through writing or some artistic expression. She was making a documentary film from a Muslim woman's perspective called "Nazra". I started making my first film alongside, and both of us helped each other. I had never used a camera before so I was starting from scratch, literally from the point of putting my requirements on a bulletin board – I would need a cinematographer, sound recordist, have to arrange for props, meet actors etc. It was a fiction story so I needed a script as well".
When Rita told me about how she gave parts to all the brown Asian actors that came to meet her we both were in splits. The very first woman who walked in to meet her became the protagonist. "I didn't have much money so everyone worked for 100 dollars, credit and a copy of the film they could use as a showreel," she grinned.
When both Farah's and Rita's films were ready, they wondered what to do next. They discussed a platform to showcase their films and to gather like-minded filmmakers facing similar dilemmas as theirs. Rita said, "There was a lot of islamophobia and xenophobia during the years so Farah was able to curate a large number of films made by Muslim filmmakers. Although Seattle is a progressive place, there is another side to it as well. We named the platform Tasveer and that's how it took off".
Farah moved on after a few years and Rita decided to shut down Tasveer. She picked it up again in 2013 by which time she was an established TV producer with TV stations in Seattle.
"It was quite a journey" she says. "From JNU to Japan, US, back to Japan, back to US, setting up Tasveer, becoming a producer and editor and so on…when you join the dots you also realize that this is how it was meant to be. I was a video vendor, money was not a problem by then, I was travelling and doing all the things I wanted to and I also had a job at Microsoft. I walked out one afternoon in March 2012 and said I will never go back to another corporate job. Tasveer was always in my heart and had never left me. Farah now lives in New Mexico – she returned to school and pursued Gender studies. She left Seattle in 2009 but continues to be on the Tasveer board. We talk every day and go back and forth from Seattle to New Mexico. We meet each other as often as we can".
Rita formed Tasveer as a non-profit organization in 2013 once she was sure it was her life's purpose. She started with paying herself 500 dollars a month and called herself the executive director. By this time Rita was married again. She has a 16-year-old son Rishabh and her husband Brandon McIntosh is a musician. He specializes in, of all things, Indian classical music.
"When I thought I was done with white men, here comes Brandon who was more Indian at heart than I was. He'd lived and spent a lot of time in Kolkata to learn Indian classical music. He was fascinated by the Sarod and followed the sound to India. His Masters degree was in music composition and when he first heard the Sarod, he felt he needed to travel to India. He became a student of Buddhadeb Dasgupta. Now Brandon teaches Indian classical music in Seattle. He's been doing that for 20 years," Rita tells me. Brandon and Rita met in 2003 at a club. "He convinced me that he was very Indian", she smiles. "He speaks fluent Bangla and is everything desi. We help each other. We don't interfere in each other's work - I help him during his concerts and he does the same when I'm hosting the festival".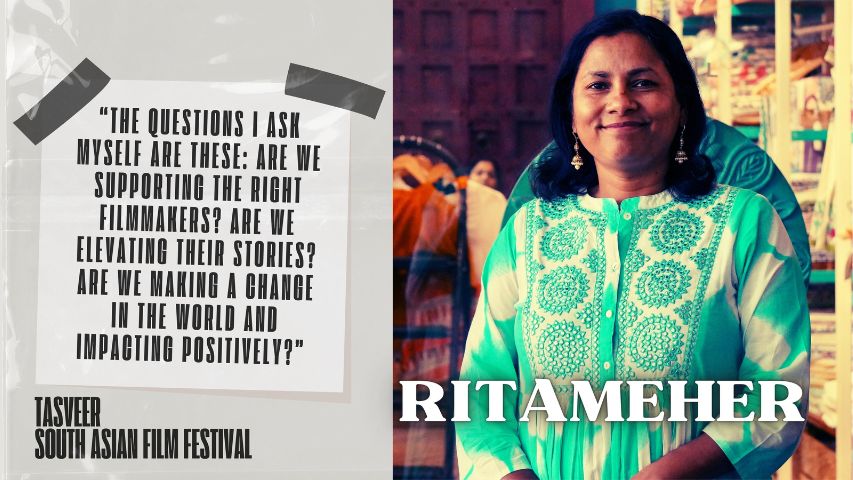 I ask Rita where Tasveer is going and she says, "While Tasveer continues to grow year after year, my interest is in staying true to its mission and not getting bothered with the huge status it is gaining. The questions I ask myself are these: Are we supporting the right filmmakers? Are we elevating their stories? Are we making a change in the world and impacting positively? Even if we can move one person to think in a positive way, our work is done. I am not into box-office and house-full boards. My focus is on curating films, stories of underrepresented South Asian communities and filmmakers and bringing them to the mainstream. I have nothing against celebrities and big names, but I don't want to get caught up with the mechanics of bringing them on board through the complex web of agents and managers because we'll be left with no time to do anything of consequence. But I must add here, that great actors like Shabana Azmi, Kalki Koechlin, Deepti Naval have already been to Tasveer. They've come to us on back of their films, e.g., Goldfish - the films haven't come to the us on their backs. I cherish having screened Anand Patwardhan's film Reason (all four parts) even after there was so much pressure on me to not do so. There are people in Seattle who still ask who among the big names will I be bringing and I tell them the filmmakers will be there".
As a pioneer in showcasing South Asian cinema to the world, Tasveer has grown to having a fund set up for filmmakers whose voices aren't heard. Tasveer's partnership with Netflix is another step in the direction and will help the platform give agency to out-of-the-box, parallel cinema.
With Tasveer becoming Oscar qualifying today, the only South Asian film festival to be so, Rita and team are able to help filmmakers cut the chase. Earlier films had to be screened at festivals like Tribeca or Sundance, win awards there for the Academy to notice them, but not any longer.