The Changing Face of the Shopping Paradiso, London's Oxford Street
by Khalid Mohamed
June 1 2018, 4:44 pm
Estimated Reading Time: 6 mins, 27 secs
If it's London, it's Oxford Street, that manic shopping centre where the stilleto-heeled trot by starving musicians, one of whom asks me, "Where I'm from?"
"Mumbai", I said, which prompted the rheumy-eyed nonagenarian to strike up R. D. Burman's tune of chura liye hai tumne jo dil ko on a spiffy accordion. He cradles his ticket-to-a-meal as if it were a new-born baby.
Forwarding a metal plate for the few coins I can spare, the musician beams that he's Armenian. "Namaste, namaste, salaam salaam," he flashes a toothless smile. Meanwhile, the throng carrying kilos-heavy shopping bags is getting to me; I'm sweating prfousely in the cool mid-May weather of 12 degrees C.
Source : Street musician strikes up an R.D.Burman tune I PC: Vatsal Shah
Why am I on the street anyway? For one, to check if it has altered in any which way since the eight years I was last there. And second, to affirm if it's still the great leveller, where brown sugared eyes gaze lazily at buyaholics.
Accompanied by the sharp-eyed photographer, Vatsal Shah from Mumbai, currently studying the intricacies of still camera shoots in the Queen's City, I sense that the number of Indians milling around the area of luxury goods has reduced perceptibly.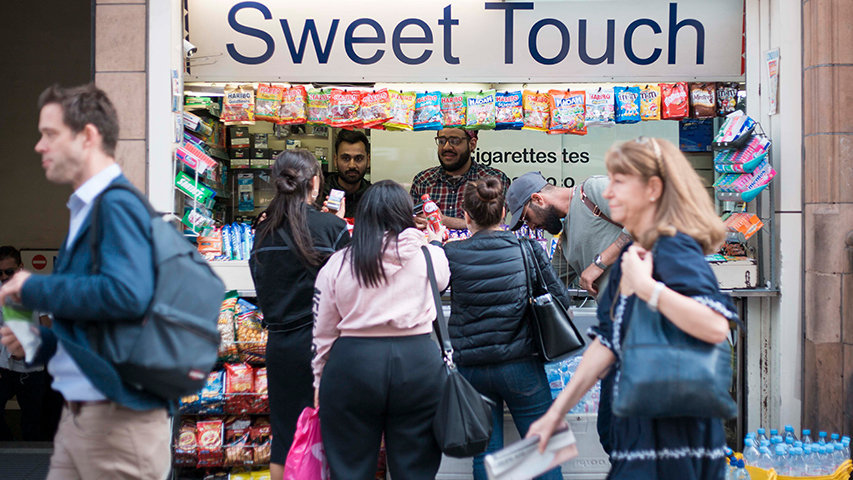 Source : Shop on the main street I PC: Vatsal Shah
A general store - Sweet Touch - by the tube station appears to be managed by a trio of brothers. I switch to Hindi to ask for a chocolate bar. They balk, "No Hindi, we are Egyptians." Oh oh, right, it's just that the tanned siblings look straight out of the Punjab wheatfields. My bad.
Neither can I sight as I used to, A to B-grade Bollywood celebrities or hello-darling society princesses stepping out for shopping megathons out of limousines and the now prohibitively expensive black cabs. Los Angeles' Rodeo Drive, the Ibn Battuta and Marina malls of Dubai, the Siam Paragon mall of Bangkok, I surmise, are their preferred destinations.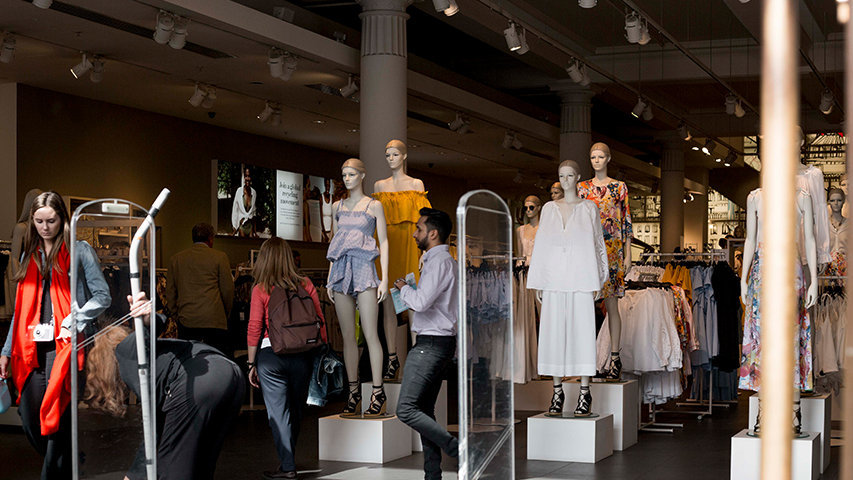 Source : What's in store? I PC: Vatsal Shah
In any case if it's Oxford Street for you, it's best to travel through the London traffic snarls in an Uber or mini-taxi nowadays. That's if you're wary of negotiating through steep escalators of the tube stations or leaping on to the jumbo red buses, which brake and hiss through a line-up of stops. No bus ticket on cash, you need an Octopus smarcard or plastic money that'll make a gizmo at the entrance go green happy.
Cabs, buses and an occasional tuk tuk zip and zap round O-street around the clock. For long, there has been a proposal to make the shopping hub exclusive for pedestrians. In fact, an experiment of pedestrian-only days in recent years, doubled the footfalls, jumping from half-a-million to a million people a day, upping the shopping revenue dramatically.
But the question is: will this 'for pedestrians only' ideal ever happen on a permanent basis? As many as three years ago, an article in The Guardian had raised this point, wondering where the Department of Transport would divert all the buses and cabs which bustle way up and down the iconic street.
Optimistically though, it was still felt that "none of it is unfeasible, none of it is impossible. It's a political decision." Ah, sounds so familiar to the Mumbaikar ear.
Incidentally, once known as Oxford Road it was named Oxford Street in the 18th century. Since time immemorial the road was used for hanging prisoners. No ghosts persist, even if high levels of pollution do.
Commercial rates are way high, said to be at 1,000 sterling pounds per square foot, pricing out retailers fallen on lean days. Advance in technology has led to the extinction of the Virgin megastrore. If the HMV music paradiso still exists, it escapes my scouring.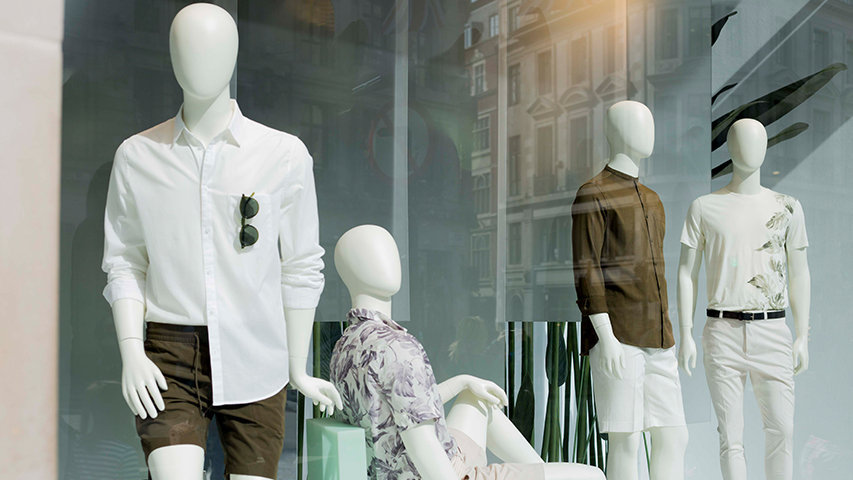 Source : A whiter shade of pale I PC: Vatsal Shah
The good ole John Lewis, Marks and Spencers and Selfridges live on. Truly, the art deco elevators of Selfridges are a must-experience. The one which I head to unwittingly though, is manned by a willowy woman in black who nails me with a, "Do you have a reservation?" Huh, no, the raggedy me squawks. Seems this one elevator is reserved for diners at a swishy Euro-cuisine restaurant.
"But why are you going to Oxford Street anyway?" my hosts had asked. "We'll take you to the cheaper stores at Bicester, where you'll get the same stuff (clothes, fragrances, travelling bags) at wholesale rates." It's another story that the ride to Bicester is an hour-plus away. Moreover, you have to get there by 9 a..m. to avoid the peak-hour jostling shoppers.
Apart from the copper-toned elevators, the window displays at Selfridges are a must-gape-at. An unicorn dressed in fluffy fabrics, the Rolling Stone's iconic tongue and space age paraphernalia indicate that there's is a team of artists behid the scenes, seducing the window-shopper to splurge.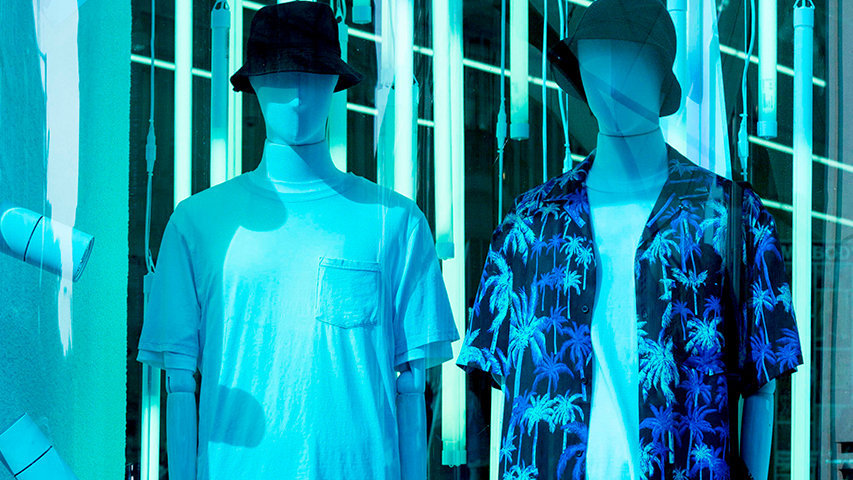 Source : Hats en vogue I PC: Vatsal Shah
All the store windows, big and small, assert that floral prints and pastel colours are en vogue for the summer season which is just setting in. I'm tempted to buy a shirt printed with orange ice-cream lollies but desist. I'd look weird, besides the price tags are way beyond my forex allowance.
Photographs of trim Asian models at a spa centre, guarantee body-shaping and tension-relieving massages, if you're in mood for the cheesey.
Source : Spa spotting I PC: Vatsal Shah
And if I'm craving for Indian food, I have to think twice if not thrice. Dishoom, an Irani-style restaurant at the not-too-far-off Covent Garden, has received ecstatic reviews. The menu includes 'Kejriwal' (not to be confused with Anand Kejriwal, please) of two fried eggs served on chilli cheese toast. As it happens, it's been named after the favourite tuck-in served at Mumbai's Willingdon Club. Dare I venture towards the protein delight? Or wait to do a Willingdon back home? I opt for the latter option.
While in London, eat as the Londoners do, then. After all, even at the Selfridges cafetaria, bhel puri and biryani are priced way over the cakes, bakes and pies at the other counters.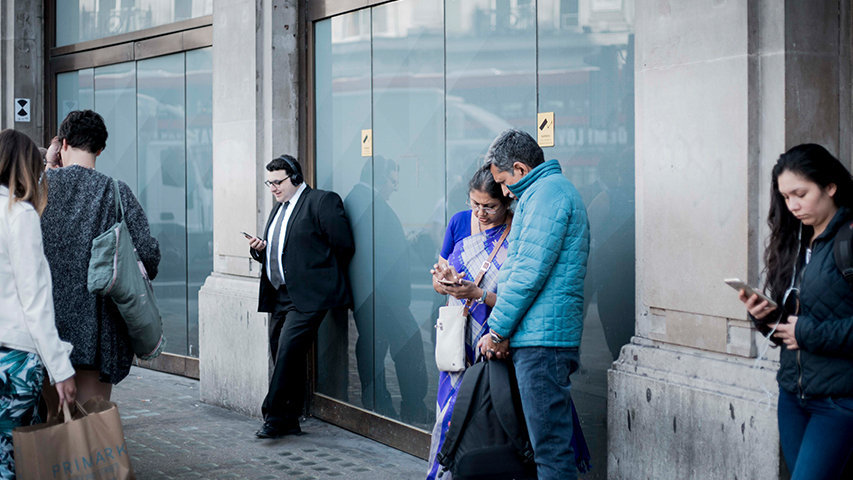 Source : An Indian couple on Oxford Street I PC: Vatsal Shah
One day out on Oxford Street confirms my suspicion that the number of Indians I'd once sighted there has reduced drastically. At most, I can see an elderly couple taking a respite by the kerbside and a young dude Googling away for directions on his cellphone.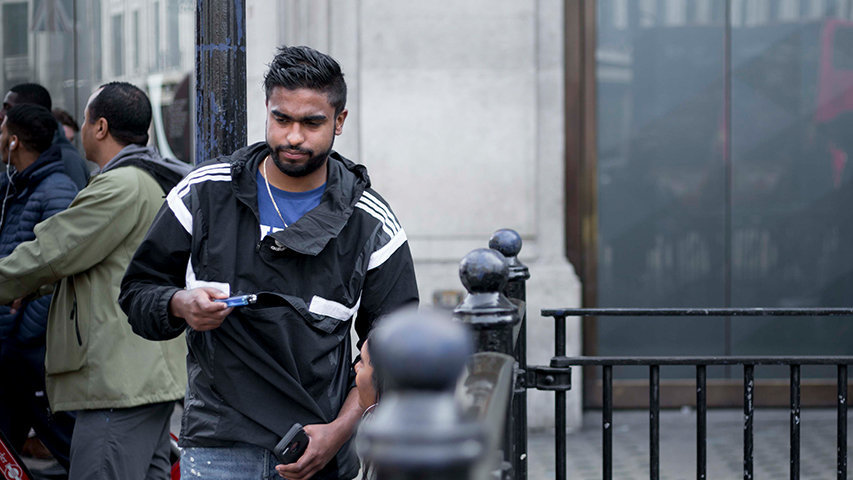 Source : Taking a pause I PC: Vatsal Shah
For better or for worse, the shopping hub, changeth right before my eyes. Would I ever return there? Yes absolutely.
After all, even if I don't find the right fits or the hunger-squelching snacks, and designer labels can be picked up today at the malls back home, there are still so many surprises in store.
Like a British woman in the bus reading a paperpack titled The Strange Disappearance of a Bollywood Star (wow, who could be the inspiration for this?) by Vaseem Khan.
Or the surprising encounter with a street musician paying tribute to R.D. Burman's Chura liye hai tumne jo dil ko - for just a few pence.