The Other Dilip Kumar
by Rinki Roy Bhattacharya
December 11 2017, 12:30 pm
Estimated Reading Time: 5 mins, 1 sec
As the car heaves uphill from the Khar end, I notice a high blue scaffolding covering that familiar old place. A sign board is clearly visible outside. Despite the small font, you cannot miss the following notice: "This property belongs to DILIP KUMAR. YUSUF KHAN." Pasted along with the promoter's name.
A recent High court order restoring ownership of the premise to the celebrated star couple Dilip Kumar- Saira Banu - brought some media attention. That corner house where Dilip Kumar once resided with his six sisters and brother Ahsan Khan used to overflow with life. I was a frequent visitor. And I have to add that I nearly got married in Yusuf bhai's home! His sisters Fareeda and Saeeda had secretly organised the wedding, called a Pandit but the bride failed to turn up…but that is a story for another day.
That old place is a heap of rubble today – passing by it, I rekindle images from the charmed times, revisit the overhanging balcony and with my inner eye, savour that enigmatic smile and fill my ears with Yusuf bhai's humming voice. Shutting out the massive blue scaffolding, I allow myself to be lured back to that era of pure romance.
'Lalee!' The endearing household nickname belongs to Indian screen's greatest tragedy King, doubtless the great romantic hero of all times- DILIP KUMAR. I too began calling him Yusuf Bhai, confident in the belief I was family. Indeed, I was. Family. His sisters Fowzia and Fareeda were classmates in Sophia college. We shared the car pool. Not to forget, Yusuf bhai was my father's favourite male star.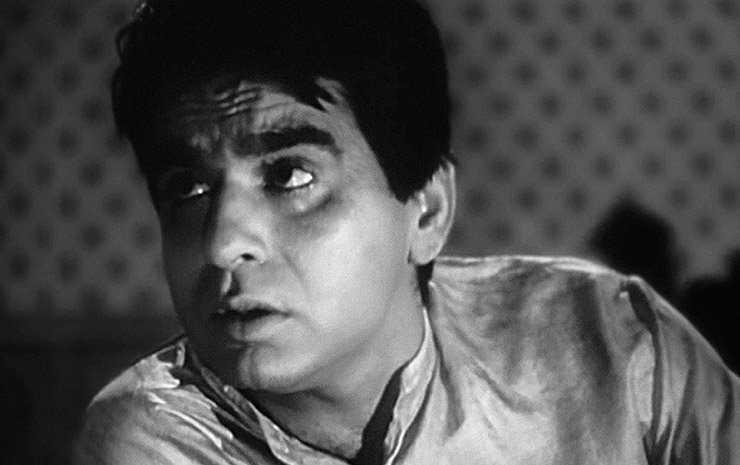 How can I forget that welcome tray of steaming afternoon tea and flaky khari biscuits? Those lazy evenings with Fowzia, sitting in the Juliet balcony in their Pali Hill villa pretending to study Logic. Even with Fowzia beside me, my heart missed beats! Ears were strained for his footsteps, eyes thirsty for a glimpse. At times, the Gods seemed kind. If he passed by the hall, peer at us, smile before vanishing like a mirage- ready to swoon in ecstasy, the pit of my stomach did somersaults.
Then one morning I was visiting my father's film set with overseas friends in the Mohan studio. After watching the shooting for a while we got terribly bored and decided to leave. Walking towards the car park, I encountered a strange creature whose face was earthy red and large pearly earrings hung from his lobes. Dressed in a yellow and blue jazzy satin garment the bizarre figure sat atop a mound in the studio compound. Suddenly I heard someone give a loud shout:
"Hey, hey, you little girl – here… HERE?''
All at once the apparition sprang to life. I looked around to find who was being summoned thus? To my utter surprise, the creature was looking at me?! I approached the colourful figure with faltering, uncertain steps. At a distance of ten feet, I quickly realised that the scary creature was Yusuf bhai in disguise.
No sooner had he greeted me with an affectionate pat, an earnest AD appeared from nowhere to report that the lighting was complete on Mughal E Azam's floor.
And before I realised, Yusuf bhai had whisked me off with a tug into the sound stage. Inside the film set, lights glittered from a million sources. A trellised alcove decorated with paper flower climbers presented a pretty backdrop. Against which reclined the incomparable Madhubala in an alluring pose. She looked ethereal! Enchanting! The pigeons restlessly flapping around her were the only real things. And what do you know? Accidentally – thanks to Yusuf bhai - I became an eye witness to the most enduring romantic scene from K. Asif's MUGHAL E AZAM when Salim and Anarkali are locked in embrace defying Emperor Akbar's stern warning.
I remember clearly the one-time Yusuf bhai was invited home for dinner. I stood behind the rustling curtains. Afraid if I came out, my secret would spill over. Maa's sensational Bangla dinner was served in immaculate style. The mutton korma was outstanding, the mustard fish memorable, the payesh divine! What amazed Yusuf bhai most however were the purees. Or luchis as we say in Bangla. Each puree served was a perfect fluffy shape of creamy complexion. Relishing these extra ordinary culinary inventions, Yusuf bhai asked mother in earnest:
"Bhabi jee aap is puree me hawa kaise bharti hai?" (How do you fill the purees with air?)
Ma, naturally amused, chuckled in delight. Soon this story became her favourite dinner time repartee – how the great star Dilip kumar had asked her the secret recipe of filling air into the humble purees!
Unknown to the family, my one-sided romance progressed unchecked. I did crazy things. Hummed Suhana safar out of tune and at the risk of repeating myself, I admit hiding a black and white portrait of Dilip Kumar as DEVDAS behind the bedroom door. I memorised the number of his sky-blue Impala… if I saw it cruise past on Bandra roads, I was ready to run into it!! On visits to their Pali hill place, I waited breathlessly to catch a glimpse of my romantic hero.
Those gilded days have evaporated, of course, quite like ether… leaving behind a gentle fragrance. Memories of growing up pangs, innocent unfulfilled romantic aspirations and the mood for love still invade my being.
As another Saal mubarak dawns in the life of our beloved star, the king of romance – I silently pray for him, renew my respect.
Inshalla Yusuf bhai Salaam! You shall cross another year – and yet another…. and another to live eternally in our memory.