The Religion, Caste & Poverty Discussion
by HUMRA QURAISHI
June 18 2022, 12:00 am
Estimated Reading Time: 6 mins, 34 secs
In continuation of what she's written earlier, Humra Quraishi is focusing on the young in context to the horrific communal violence spreading across India.
Have you ever wondered how students, from disadvantaged minority communities, focus studies when the homes of their community members are ruthlessly bulldozed, when those among them wearing head scarfs and skull caps are targeted, when scores of them get booked, arrested and thrashed mercilessly by the cops for holding protests? I, for one, can't imagine the extent of this brutality. Isn't it going to leave a massive impact on young psyches?
Going by the poisonous atmosphere that prevails today, more students from lower middle classes and modest backgrounds will be opting out from mainstream education. No, it is not that they don't favor mainstream education. They too, like the others, want to study, get jobs and earn to live a life with dignity, but the biased system interferes with their aspirations and short changes them. They are displaced from their ancestral roots because of the rioting and they fear the land mafia operated by politicians on behalf of their masters – the corporations. Today, performing the surya namaskar and singing Vande Mataram has become compulsory in educational institutions. Can we imagine the impact of these orders on the psyche of the young minority communities?
And in these pandemic times, the hatred has multiplied. Here I'm quoting what Professor Azra Razzack, of the Dr K.R. Narayanan Centre for Dalit and Minority Studies, Jamia Millia Islamia New Delhi, said, "When schools re-open, it would be after a long and incessant exposure that children have had to prejudice and hatred. The hate generated against following anti-CAA protests, the prejudiced narrative around Muslim loyalty and their being held responsible for the spread of the Coronavirus, because of the Tablighi Jamaat story, has further increased the othering process. Having been negatively influenced over the past months by the rhetoric in the media, it would not be surprising that when schools re-open children's attitude to those from the Muslim community would be problematic. Perhaps 'Corona' would be the new abuse word used to replace "Paki" with, or both may be used together. The singling out of the Muslim children with 'hey mullah' may now be replaced with calling them out as 'hey Tablighi'. We need to be alert to the impact of all this negativity on the psyche of all children alike. Schools and teachers therefore need to be better prepared to address this issue. Organizing workshops for teachers on building sensitivity too is essential".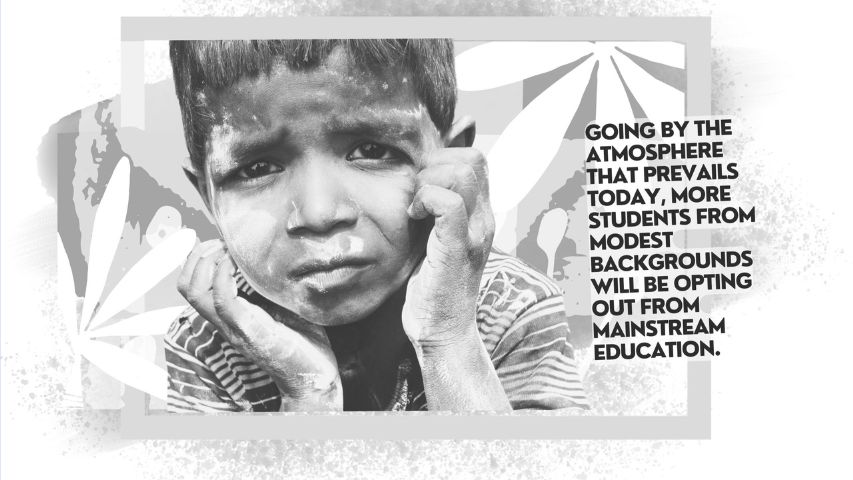 And here's what Associate Research Fellow, Environment and Production Technology Division (EPTD), International Food Policy Research Institute (IFPRI) New Delhi, Muzna Fatima Alvi said, "Much of the discussion on learning gaps due to unequal access to technology during COVID has focussed on poverty. What we need to recognize is that poverty is inextricably linked to religious and caste identity. We know from large-scale household survey data on education, that Muslim, Dalit and tribal children are much less likely to own or know how to operate computers and cell phones, they are more dependent on mid-day meals and other school feeding programs. More importantly, due to the intergenerational nature of educational deprivation, these children's parents are also less likely to be educated, and thus less able to provide and support home-based learning. So the poverty discussion cannot, and should not be de-linked with caste, tribe and religion, when discussing the current challenges to children's learning".
One should not be under the impression that in these 'developed' times the elitist public schools could be 'safe' for the Muslim students. In the recent past, there's been one news report upon another of the blatant harassment faced by Muslim students. One of the most shocking incidents was of the Kanpur based teenager, Arsh Mohammad, who tried killing himself after his school teachers not just taunted and ridiculed him in front of his fellow students but even "searched for a gun" in his school bag. Mind you, all this took place in the premises of one of the branches of the Delhi Public School in Kanpur. With social, economic, survival hurdles coming in the way, we could be seeing lesser numbers of Muslim children (lesser the population ratio) going to the so-called elite public schools in the country. An unfortunate reality of the day, but a reality alright!
I am also reminded of what the well-known obstetrician who was earlier, in 1992, an activist in Delhi's Seelampur, treating Muslims injured in police firing, Dr. Puneet Bedi had told me. He had said, "Tragically, today Muslims are kept out from all spheres. You wouldn't believe but till my school days (Mother's International School, New Delhi) I hadn't met a single Muslim child or family. In school there were two Parsi brothers, Adil and Nausher, in my class, and for years I thought they were Muslims! Much later, in the medical college, there were three Muslim students in my class but my first big exposure to the community was in December 1992 when several of us doctors and activists decided to reach out to the injured Muslims in Delhi's Seelampur colonies - the Janata Mazdoor Colony and the Welcome Colony. These were hundred percent Muslim populated colonies, housing Muslims who had been earlier uprooted during the Emergency from the Turkman Gate areas. I can't describe what poverty we saw in those Muslim bastis of Seelampur. I have travelled all over the country but I hadn't before seen such poverty."
Bedi had further detailed, "Today I would rate the condition of Muslims as grim because the discrimination against them is getting blatant by the day. They are surviving in kharaab haal! Earlier the discrimination against them was subtle but now it's all out in the open. If any fellow tells me there is no discrimination against the Muslims, I would say that fellow is lying - bilkul jhoot bol raha hai! I can see for myself what the Muslims face. They are not getting rooms on rent. No jobs, no place to stay! Even in South Delhi colonies, only a very small percentage of Muslims are residing. Why? Because even if they happen to be owners of apartments they can be hounded out in one way or another! One such incident took place only a couple of years ago. I know this Muslim family that was living in its own apartment in Saket. But each time bearded relatives or 'Muslim attired' or 'Muslim looking' friends visited them, neighbours would lodge complaints with the cops that all sorts of Muslim characters are visiting their area! This family got so fed up that they decided to sell their apartment and move to the Muslim dominated Jasola, which is close to the Jamia Nagar locality."
Dr. Bedi continued, "One day I picked up the directory of the Hauz Khas residential colony, where I reside, and out of the 3,000 houses/kothis in the area, only 3 were with Muslim names. And out these 3, only one was a full-fledged Muslim, the other 2 were married to Hindus. Maybe a few Muslim families reside in Hauz Khas as tenants but not as owners of properties. It is ironic that before the partition almost all the South Delhi colonies and South Delhi villages were owned by Muslims. In fact, Hauz Khas, Shahpur Jat, Green Park, Greater Kailash were all evacuee properties, which were later acquired by the Jats."