This Mercurial Man Amit Khanna: Man of 2020
by Vinta Nanda
January 1 2020, 12:27 pm
Estimated Reading Time: 23 mins, 18 secs
I send him a list of questions by mail and request him to take his time to answer them and I also added to my note, that it'll be great if I am able to publish this piece on the 1st of January 2020. Why? Because I believe, as will many others, that he is not just the man of the year, but I will go on to call him the man of this decade, which we are leaving behind us, as we get into the year 2020 – the man who at the end of having spent fifty years in the business of media and entertainment, can give any past and present media honcho in the world, a run for his money where it comes to understanding the business and articulating it in a vocabulary that is acceptable to several generations of creative communities, which have graced his universe since he started his career in 1969.
So he tells me that he will answer my questions and assures me that he will also meet my deadline. But then he sends me a message a couple of days later asking me to call him up at a stipulated time the next day. I dare not be late. I've known him for years now, also worked with him closely and am well acquainted with the consequences of being late on Amit Khanna.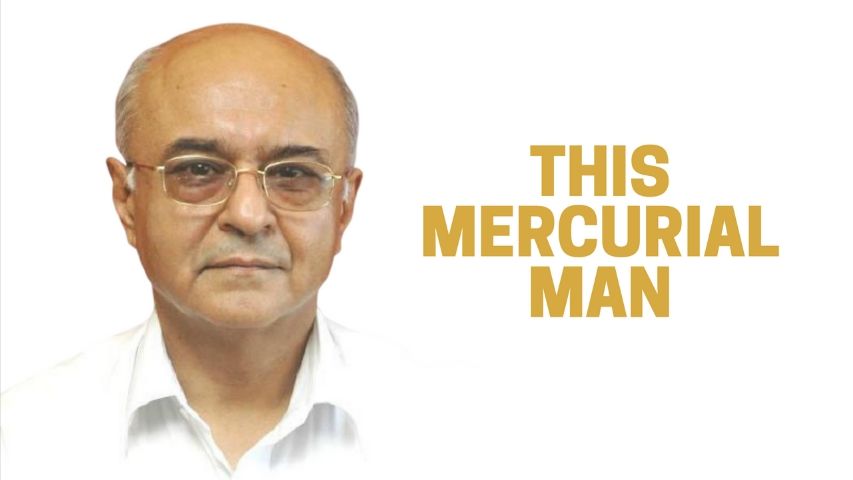 I call him at the dot and he doesn't answer. I'm like, wow! But a moment later I receive a call back from him and he tells me that he wasn't able to take my call because his phone didn't ring.
I'm relieved and he goes on to mourn about problems that have befallen the mobile phone syndicate in India and explains to me the present status of Spectrum, which he tells me, is in short supply.
I say, 'Uh-huh', and he goes on to inform me about how when we move from 2G to 3G and 4G, additional Spectrum is required and none of the mobile companies had obviously thought this out carefully, when they were pricing cheap to lap up huge numbers of customers, that people by and large, once they get used to paying little, are hard nuts to crack when you increase the rates; so it has now become a vicious circle. He complains that we Indians are not only complacent but also suspicious of change and don't adapt to it as easily as the rest of the (developed) world does.
When he is assured that I'm suitably informed about why there are so many problems with mobile connections in the country, he also lets me know, that we should do this interview on phone because he had given writing answers to my questions a chance, but his response when he read it back to himself, sounded synthetic to him.
I put him on speakerphone and begin to type as he continues to talk. I start by asking him when it was that he felt success in his bones for the first time?
Shouldn't I know that Amit would dismiss the word 'success' because it is irrelevant to him?
Instead he says, "I was fortunate you know, because I never had to struggle. I got involved with the business of entertainment when I was still in college. Dev Saab is the man who got me to Mumbai. He took me straight to the studio from the airport when I first arrived in Bombay, so I never really experienced anything like having to hang around in studios to get noticed for my first job and stuff like that. Nor did I spend any nights at railway stations and post offices".
He says all this in such a dry tone that it makes me feel that we're already at the end of the interview. I get the drift. I'm not going to get romantic stories of long trials, which he might have been confronted with or challenges that he would have had to face, out of him for sure.
However, my silence compels him to continue talking and he tells me that Dev Saab first met him in Delhi, when he was still a student graduating at St Stephens College and offered him a job in Bombay. Amit couldn't have left Delhi without finishing his studies but Dev Saab was impressed with him. He had also opened an office for the distribution of his films in Delhi and insisted that Amit work there for the time being. That is how he got involved with Navketan and the year was 1969. It was there that he started to learn about the business and interestingly, through the distribution route. While he was working at the office and also graduating, Amit was involved with the establishment of Yuvvani and dabbled with theatre as well. He did the lighting for the play Akhri Shama with Balraj Sahni in the lead role and MS Satyu directed the play. At that time he was also editing a magazine popular with youth that was called Tempus.
As a matter of fact, another friend of Amit's, Ajay Kaushish, owned a cinema hall called Sheela – veterans will remember it to be one of the most popular ones of yore – and he was going to the US for higher studies. Ajay requested Amit to help his mother with running of the theatre while he was going to be away. Amit therefore also gathered experience in the exhibition part of the business before he finally graduated and made his way to Bombay. Amit informs me and very excitedly, that Sheela was the first theatre in India with an inbuilt 70mm screen. I quite remember that time when 70mm screens came to being and my first experience of seeing a film on the larger than 35mm screen, so I share his thrill with him.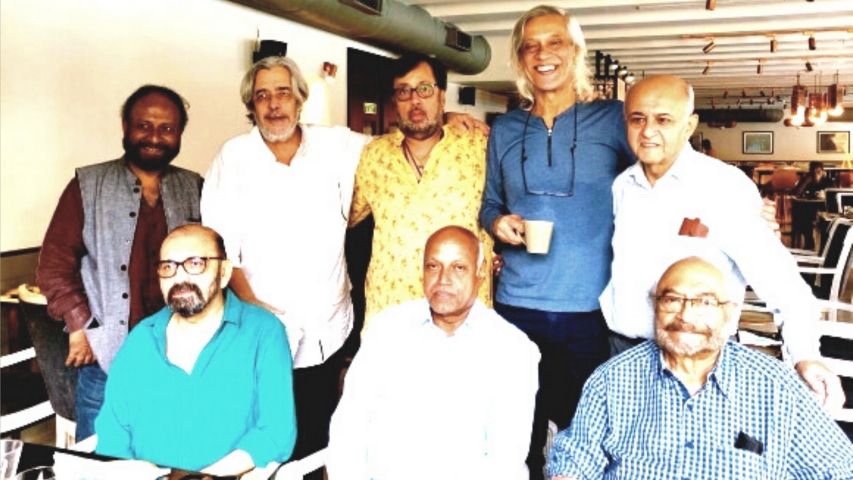 Then Amit tells me, that his predecessors in Navketan were stalwarts like Yash Johar and Yash Kohli. It was soon after that when Amit became a producer at very early stages of his career when he was only 22 years old. "I became an Executive Producer and didn't have to struggle at all", he continues. "Besides all the stalwarts from Dev Saabs generation like Chetan Saab, Vijay Anand, Raj Khosla, Basu Bhattacharya, Basu Chatterjee, Rahul Rawail, Actors: Amitabh Bachchan and Rajesh Khanna as well as leading ladies like Zeenat Aman and Parveen Babi, whom I met and befriended, I also met guys who were the new spirit of a renaissance taking place with storytelling and Cinema art form. Those were heady times and filmmakers like Mahesh Bhatt, Mukul Anand and Tinu Anand were riding the wave of change. They, as well as the art cinema tribe, which included Shyam Benegal, Govind Nihalani, Robin Dharamraj, Gautam Ghosh, Mani Kaul and Kumar Shahani became my friends. We were driven folk and I became popular with everybody because I had an insatiable thirst for knowledge – you won't believe it", he goes on to tell me, "When I received the first big sum of money as payment way back in the 1970's, instead of going and buying myself a car or investing in property like most others would've done, I went and bought the whole set of Encyclopedia Britannica – which was a rather expensive library to own at the time – I even bought myself a computer as early as in the year 1982, when nobody had heard of its existence, for a whole two lakhs rupees; and people thought I must be crazy because I could have booked myself an apartment with that kind of money".
I can well believe all of that because Amit Khanna is a repository of information, knowledge and what can be termed as foretold, even today. If anybody wants to figure out what's going on with the times at any given stage of life, he's the only 'go-to' guy that our industry has till date.
He tells me that there were just a few boys in the business those days, who spoke English well and they were noticeably popular because the industry was slowly growing and becoming inclusive of several disciplines of specializations. Amit remembers how when the famous Khushwant Singh interviewed Dev Saab, he quoted him in his piece and those were also the days in which, if a journalist like him mentioned you, you had arrived.
I'm curious to know more about the film industry of those times. He obliges me with his thoughts. He tells me that until the early 1970's, the Producers Guild of India had only 13 producers as its members. He says, "The original founding members were averse to including anybody new to the club. But it became necessary for them to exchange views with new generations of filmmakers, so Yash Chopra, Raj Tilak and others, including I was accorded membership to the guild. In the first year itself, when I was barely twenty-four years old, I was made its treasurer and that started a whole new chapter of my life. I was soon introduced to the board of the Film and Television Institute of India (FTII), I became a member of the board of the Satyajit Ray Institute and when the Government of India started the Film Import Selection Committee, I was also made a part of it along with eight to ten other people from the industry. There were several other committees that I was invited to become a part of and soon I started to be quoted in mainstream media across India as well as abroad – I became an unofficial spokesperson for the industry of entertainment from 1975 onwards. All these things when they happened to me, probably must have given me the confidence as well as brought me to realization that I was succeeding".
That said I wanted to know about his work in the creative fields, because I remember when I stepped into the industry in the mid 1980's, Amit Khanna was a huge entity, completely contrary to his persona, which is still gentle and unassuming. He tells me that he worked with documentary filmmakers as well. Being a lyricist, he was familiar with the music industry and the way it worked. The first song he wrote way back in 1975 was the very famous Chalte Chalte, and it became an instant hit. From hard nationalistic and powerful revolutionary songs, music in the film industry was taking an interesting turn and a ballad like Chalte Chalte was the first of its kind to make its way to the top of the charts - also Jab Chhaye Mera Jadoo of Lootmaar, which he had also written alongside. Amit reminds me that radio in those days was the most powerful medium for entertainment and communications. People would listen to film songs, which were played all day long. Hosts of radio shows would introduce songs with details of the films they belonged to and talk about the lyricists, composers and singers as well. Chalte Chalte would play throughout the day, everyday, and it wasn't until he was mobbed in Patna one day, when he was visiting there and some people recognized him, that he realized how popular the song was and how famous he too had become. He went on to write the lyrics of many more popular songs like Utthe Sab Ke Kadam in the film Baton Baton Mein and Dev Saab's Des Pardes came close at its heels. He remembers Main Akela Apni Dhun Mein Chala, as one of the major milestones of his career as a lyricist. "CBS was the first alternative music company that emerged besides the convention of HMV Records. Ratan Tata was also the first independent Chairman of CBS and he commissioned me to make India's first music video with Nazia and Zoheb Hassan", Amit tells me.
The conversation becomes fluid and Amit is so lucid by now, that I start to feel like I'm not really doing a good job of taking this interview. I begin to get a bit nervous because I'm like, how can there be no drama in his life? I want it, is what I feel, so I ask him if he never faced difficult times?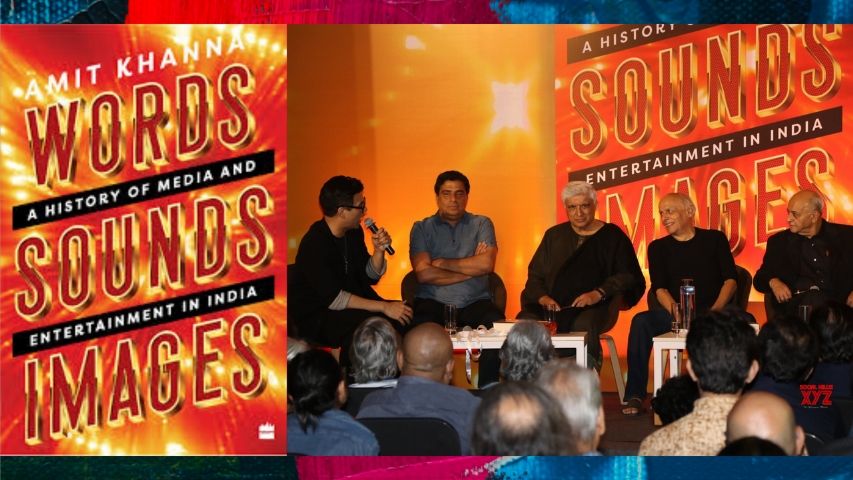 Amit tells me that he hardly had any difficult times. He's so unconcerned, unflappable – almost apathetic towards struggle because he simply rejects anything that can be called arduous, demanding or challenging. This is the man I know so why am I wanting to see his failures, I ask myself? I don't give up and ask him yet again to talk to me about hard times, so he says; "You see there was no institutional finance in those times. I started producing Man Pasand but it waited for three years to be made because Dev Saab was making Lootmaar at the time and it was priority". He doesn't reveal any problem that he faced for having to wait for so long to complete his first venture as a producer. Instead he tells me this; "It wasn't so unusual in those days for a film to take three years in the making". I'm typing and I stay silent, compelling him to go on.
Amit surprises me by not getting irritated, because I know him well to be tuned into his impatience when he is probed to speak beyond what he feels is enough said. He continues, "My second film Naya Jhonny, fell into a series of problems. I had signed Surinder Suri as the director – he was a gold medalist from FTII – and Manmohan Singh as the Cinematographer. It was a big film. I had decided to shoot the outdoors for the film in Sri Lanka and just when I was supposed to go there for its production, the Tamil problem started and Hema Malini, the lead actor of my film, was threatened. My schedule was scrapped and I suffered losses of about Rupees 30 to 40 Lakhs, which was a big amount in those times. The film never got completed so it wasn't ever released. I had to start from scratch all over again and was fortunate to get a music video to make for CBS – the one with Zoheb and Nazia Hassan – who were sensations at that time". He says all this, just like that?
No wait, there's more coming because here's a man who has started from scratch many times over but doesn't look at it any differently than having taken a learning curve, while at the same time having made many more friends and expanded his horizons. He continues, "Doordarshan was coming up and they were asking people to get involved with the network in the early 1980's. It was in the year 1984 when Ramesh Sippy called me. He had just started making his film Sagar and I went to meet him on his sets at Madh Island in Bombay. He told me that we should do some work in television together. That led to us making a number of pilots for television, and Buniyaad was what emerged from that process. I then released my film Shesh in the year 1988, which I wrote and directed. It was critically acclaimed and I went on to make my next film Antt with Smita Patil. This one was avant-garde and it was much talked about because it had a unique story about a journalist who falls in love with a prisoner on death row when she goes to interview him. She goes on to appeal to the courts of law and to get married to the prisoner before he is to be hanged. The film was over seventy percent complete when Smita became pregnant and requested me to allow her to work on the rest of the film after she had delivered her baby. Prateik Babbar was born a few months later but we lost Smita soon after that. Here again I fell to losses and had to start again so I co-wrote Saaransh, made a few documentaries – one with Kaifi Azmi and Shabana Azmi on communal harmony - and I did a program for Doordarshan, which became one of the biggest mass communications efforts to be designed ever. It was a program devised by Mukul Sharma, who was then the editor of the magazine Science Today. It was a show based on a concept similar to 'six degrees of separation' and each week we would identify a target and give five clues to audiences over the next five days. These clues would play out for thirty seconds before and after the English news, which in those times captivated large mass audiences. I had created a whole infrastructure for the program, to produce and broadcast it in real time, because at the end of each week, when the target was identified, it used to be a huge moment, which would lose its value if it weren't to be telecast live. Time magazine wrote about it and we used to get thousands of letters a day in response to this program. It was actually this infrastructure that I had created, which I later used to start Plus Channel. The first program that was produced by us in Plus Channel was a Food Show, with the very famous Malini Bisen hosting it. Business Plus and People Plus followed. We also started running a daily business news program on Doordarshan".
I was eager to know if there is anything, which keeps Amit awake at night and here is what he told me, "From my childhood I have been an inquisitive person. I read a lot because I remain insatiable when it comes to knowledge. I've always spent all my money on gaining knowledge and if there is anything that keeps me awake at night, it is my habit of reading".
And, what is it that might be something I don't know about you, I found myself asking him to which he replied, "I'm also a foodie by the way. I like cooking. I can cook almost all cuisines, although I would like to cook more often than I do? I watch theatre. I go to music concerts. I love meeting people. I like to meet people from different walks of life, those who're apart from the media and entertainment industry. I read a lot. I have read various genres of books, from Shakespeare, Dickens, Shaw, Tolstoy and Gorky – from Tagore to Premchand and Krishen Chander, Kant to Coelho, to Kotler and Trout, Marx to Adam Smith, Asimov, Koestler, Mohan Rakesh to Tendulkar - I read seven to eight newspapers and technical journals", the list goes on as he continues speaking.
"Nowadays I also read a lot of diverse stuff online. I watch and admire world cinema – Truffaut, Goddard, John Ford, Fellini, Kubrick, Scorsese, Guru Dutt and Spielberg. Actually I often tell people that I'm like a sponge so I absorb everything. It does take time to filter all that I inhale, but I keep on pouring more into myself and it is endless. I like it that way because this is who I am. I like poetry so I read a lot of it and I also write a lot of poetry. I like to read about politics and economics as well".
So amidst all of that and his busy schedules he has managed to write a 5000 year old history of media and entertainment in India?
We'll get to that a bit later as for now I'm still seeking more on his thoughts about ethical practices in the business of media and entertainment in India. "They've changed a lot", he says to me. "Things are much better than they were fifty years ago. Even when it comes to gender – things are far better than what they used to be. How do we treat our workers? – That is something that concerns me but I must say we have taken strides there too. The industry is greatly fragmented so it is difficult to apply standards and practices that work for everyone. It is a lonely place I must admit that, and you have to fight your battles on your own. I would like to do something to alter things faster and am constantly contributing to discussions about how we can be more united as a fraternity, but things move slowly because there's so much change taking place simultaneously and the industry is growing at breakneck speed".
Without my asking him the question, he tells me, "Things with censorship have also improved I would say. Do you know that the book Sons and Lovers, was banned during Nehru's times? Nehru, according to me, was far more tyrannical than Modi is, if I may say so, but then times too were very different', he muses.
"Do you know that Bhawani Junction, the film, was banned from being produced in India? Even the film Nine hours to Rama – the last nine hours of Gandhi's life – had to be shot in Pakistan? – It is still not possible to see it in India?" Hmmm, we're moving into territory where we greatly differ and my arguments with Amit are legendary, but this is not the time for me to do the talking so I keep listening to him without opposing him.
"Elite thinkers should not fall for Social Media in the way that they do. We're not an evolved society as a whole so trolling is bound to happen. When people talk about polarization I tell them that it can only happen when there are two poles. For people to be divided there have to be two sides and I understand that".
But then when Amit said to me, that he is against the protests that are going on over the Citizens Amendment Bill and NRC, we did stumble into an argument. I couldn't stop myself from telling him that it is voice, which cannot be muzzled just because the government thinks otherwise or ideologies differ?
Amit goes on to explain to me that he is neutral and doesn't belong to any side. I asked him why he doesn't belong to any side and to which he says in a simple tone, "Because I understand both sides". But I'm unable to understand Amit's position because the binary is clearly between what is right and what is wrong isn't it?
"I talk to my friends frequently", he says, "And they often ask me why I always defend Modi. I tell them that they have a visceral hatred for Modi and BJP. I tell them that I'm not asking you to like Modi so why should you ask me to dislike him or for that matter stop appreciating some of his policies? Last year I went to the World Hindu Congress (WHC). The head of WHC – Swami Vigyananand – ex IIT Karagpur – he came to me and invited me to the Congress. He was most open to me talking from a non-Hindutva standpoint. He did not tell me not to say anything against what they stand for? Most of the attendees were supporters of Hindutva but nobody objected to my disagreement with their ideological stand? They were fine with what I had to say. I'm not anybody's supporter".
I am still insistent about the fact that the Hindutva ideology is primitive and doesn't apply to a modern multi-cultural world, which we now inhabit. What do you perceive a Hindu Rashtra to look like? Why muzzle voice, why stymie dissent?
Amit is unrelenting and says, "Look here, in 1955 the Cabinet passed a resolution that there can be no foreign investment in news media. It remains unchanged today despite the fact that there have been several and successive governments at the center since then. None of them has had the courage to change it. Why? Everybody wants to control the news media. You tell me, is it the government's job to run media? Why does it run commercial television through covert means? Why are all fiction shows on Indian television running the same old stories over and over again? The only media that the government can run legitimately is Public Television, but then that too they don't run in India in the way that it is done in the West. Let's face it, all governments will do as they please and promote ideologies to suit them. You criticize the BJP for populating institutions with RSS ideologues today but why were you silent when the same institutions were filled with Left leaning people prior to 2014? Let me tell you, that I am a rational and independent minded person and I will not condemn or praise anything just because you would like to hear me say those things".
I remind myself that I am taking Amit's interview and therefore I am only a listener today, so I turn away from the topic on which I do have a lot to say to him as in counter. I want to know about the process of research for the amazing book he has written and released a couple of weeks ago.
"I've done three to four years of research with a research team. One way for me would have been to quote from several existing sources but then there would have been a huge bibliography, which was unnecessary. To make it more reader friendly I collected a lot of material from existing sources, studied it and distilled all of it".
Wasn't it an exhaustive process, I ask him?
"No doubt it was a very exhaustive process and I can't say that I didn't have moments in which I felt like giving up. I also had moments in which I would feel like this would never end, so at one point I decided that it should come to a close and that is how I have released the book in 2019".
So what comes next is my last question to Amit?
"Now there are a series of events lined up to promote the book – in UK, Norway, in the US, in Canada – and they will all happen as 2020 unfolds. I will keep writing articles, reading more and participating in industry matters. I don't have plans worked out for what I should be doing next, but I'm sure something will come up as it always does. I learnt one thing from Dev Saab at the very early stages of my life and it was that, you finish one thing and move on."
Buy your copy of:
Words. Sounds. Images: A History of Media and Entertainment in India by Amit Khanna at - https://www.amazon.in/Words-Sounds-Images-History-Entertainment/dp/9353573513/ref=sr_1_1?qid=1577787538&refinements=p_27%3AAmit+Khanna&s=books&sr=1-1
Update yourself about his work and life on his website - www.amitkhanna.in
Follow Amit Khanna on Twitter @amitkhanna