Two different occasions: Conversations with B Jayashree & Jyoti Subhash
by Aparajita Krishna
March 26 2021, 12:00 am
Estimated Reading Time: 15 mins, 16 secs
Aparajita Krishna recalls conversations with theatre veterans B Jayashree and Jyoti Subhash, both mega-talents in the times that were adverse for women in their field of art.
National School of Drama's very reputed alumni, B Jayashree and Jyoti Subhash of 1973 batch, were batchmates and friends. Decades later I would meet them separately and together. We would talk of their student years and the present. That student-present was years away from today but very topical to our present. They have built a formidable reputation as theatre actors. Here is our conversation in parts.
B Jayashree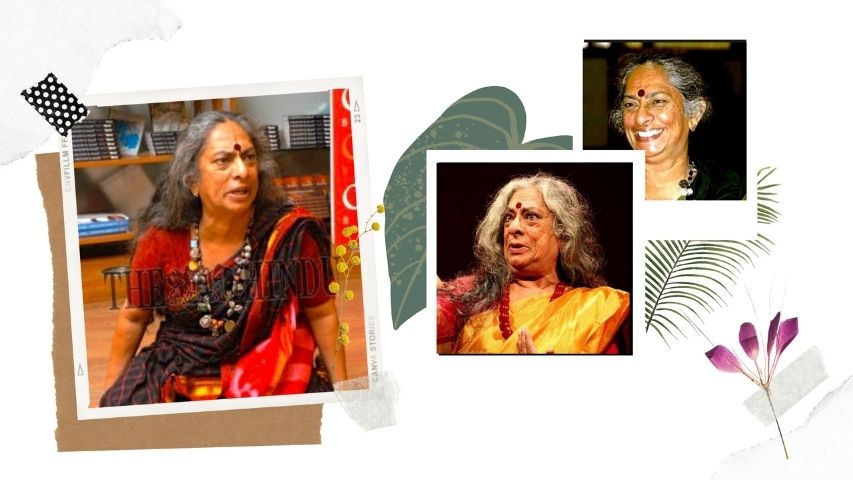 Her grandfather was the noted theatre director Gubbi Veeranna, who founded the Gubbi Veeranna Nataka Company. Bangalore based veteran theatre actor, director, singer B Jayashree was trained under Mr. Ebrahim Alkazi. As a thespian today of Kannada theatre, film and television industry she has worked with notable theatre personalities like B V Karanth. She is the creative director of Spandana Theatre. A Sangeet Natak Akademi Award recipient and of the Padmashri she has been a Rajya Sabha member. Here is an excerpt of my talk with her conducted in the year 2007, at Mumbai.
"Gubbi Shrichannbasuveshwara Swami Natak Mandali, is a professional theatre company. A very big name! Shrichannbasuveshwara Swami is the name of our family god. It is in Gubbi, the village (in Karnataka) where my grandfather was born and brought up. It is near Bangalore but closer to Tungur".
Your family theatre tradition started with your great grandfather.
Yes. Our family name is Gubbiverana. Verana is the name of my grandfather and Gubbi is the name of the place.
B in B Jayashree stands for?
B is my father's name - Basavraj and also Bangalore.
Your birth and growing up was amidst theatre.
Yes.
When did you start theatre acting?
When I was four years old. The company was there at that time. My mother was also acting in it – my grandmother, father, my grandfather and mother's sister - the whole family. We would travel a lot. This was in the 1950s.
You later joined the NSD (National School of Drama, New Delhi).
NSD was the first time I set foot outside my native place.
What brought you to think about joining the NSD?
In theatre there was Karanthji (B V Karanth) and Shriranga was also there. Sharirangaji is a great playwright. He had seen my work in Bangalore. He knew of my background. He felt instead of staying put there I should go to NSD. 'She must have formal training,' is what they thought - I never thought of it for myself. Circumstances made me do this.
You applied for the NSD in 1970.
Ya.
You went through an entrance test? You were in the same batch as Naseeruddin Shah, Om Puri, Jyoti Deshpande and others.
Mine was very sudden. Everyone else' interviews were over. Not mine. Because by the time I reached the NSD the interviews were over. Toh Shrirangaji recommended me to Karanthji. Karanthji spoke to Alkazisaab. Alkazisaab said, 'Just a day left. We have finished the interviews. Let her come. I will take her interview.' Toh I went into Alkazi Saheb's room. That time I didn't even know that he was Alkazi Saheb. I just went with my uncle and they gave me a paragraph from a book. I did not know the English language then, so I read it with great difficulty. Toh they said, 'Okay you leave her here. We will see.' That's all. I just did not know what was happening. I had stepped out of an environment from where I had not even crossed the threshold of the house to get matchboxes from a shop. I had immediately jumped from there into the capital city of India.
And into an urban city environment - very brave choice?
Yes. I would be shocked. Where am I going? How to adjust to these new circumstances? And that I have to finish a three yearlong course! I shouldn't fail!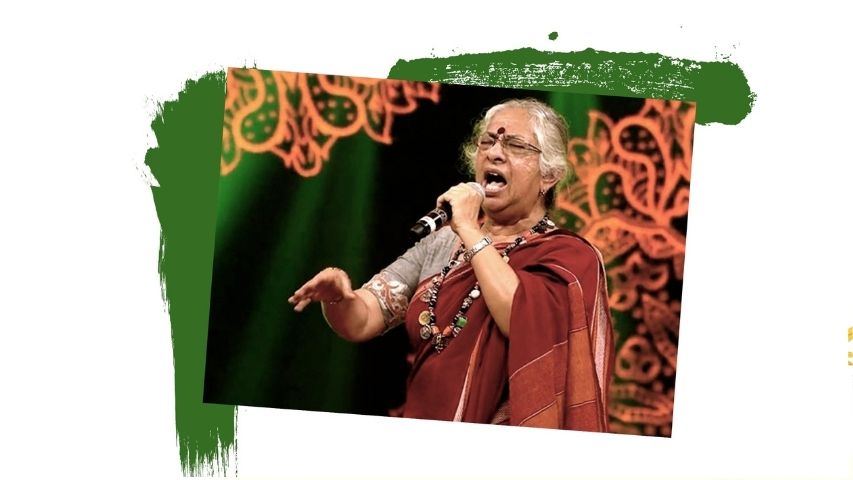 Who was sponsoring you? Did you get the scholarship?
Karnataka government.
You came with a big advantage that professional theatre was already your discipline.
Ya.
The India of then was not that of todays. To come from a small town was to come from a small town. Boundaries were more drawn. Now a lot of bridges have been built.
Yes, yes! We (from small places) would huddle together in fright. How to talk when I don't know Hindi? I was not fluent because my theatre was totally different.
Did you have formal education?
That's what. You will get shocked to hear. When I was in the company an incident occurred. We were at Mangalore where ships are made. We went to the dockyard to see the ships. My grandfather and Alkazi Sahib were similar. They would inform and instruct us about the places we visited. The whole company people would be taken along.
So the captain there asked me something in English. I was not able to answer it. I just laughed and went and sat next to my Amma. My sister was also with us during her summer vacation. She heard what the captain asked and promptly replied. And then she fired me. 'If you cannot reply even your name in English how will you do theatre?'
That was a lesson.
Yes. I always remember this incident. Then I went to Bangalore and I told my grandpa that I want to study. I must have a formal education. He asked me to give him one year's time because he was doing a play just for me. He told me to finish that and by then he will find a replacement for me and I can go. Afterwards he kept his promise and I came to Bangalore. For six months I studied English in the convent. From there when I came out, for another six months I studied Kannada and passed out from the 7th standard, which was followed by Corporation School, where I finished my SSLC. After that I went to college in Bangalore, Maharanis College. The language of teaching was Kannada.
And you finished your graduation.
No I didn't. NSD is my graduation. I had just done pre-university. From there I went to NSD. I was 23 years old I think.
Hostel had come up at the NSD?
No. For us everything was a first experience. There was no hostel. I would stay at the Kathak Kendra after initially staying with Karanthji and Premaji. Then the hostel came up at the NSD but there wasn't any arrangement for food. We would get bread etc. to eat.
Do elaborate on Alkazi Sahib's contribution towards molding you. He was a teacher who would also take over in the formation of the person. How was Alkazi Saheb as a teacher? Was he partial?
Don't know (she laughed). We have taken so much from him. So whether he was partial or not is not important. He showed us the way.
Without your knowing he would rid you off your own inferiority complexes. If the actor was thickheaded he would shout, "What is this you are doing? You stupid. You can't understand? Why do you come here to act?"
One would be shaken up. The weakness or inferiority quality would go away. Toh isliye, I respect him like anything - like anything! He did not mean to hurt anyone. He was like a lion you know. At the same time Alkazi Sahib was full of knowledge. He was very observant. I had come from the company theatre background, no doubt, but at that time there was no formal training, no director. Main characters would do the blocking. There would be no lights. We would perform at night with mashaals.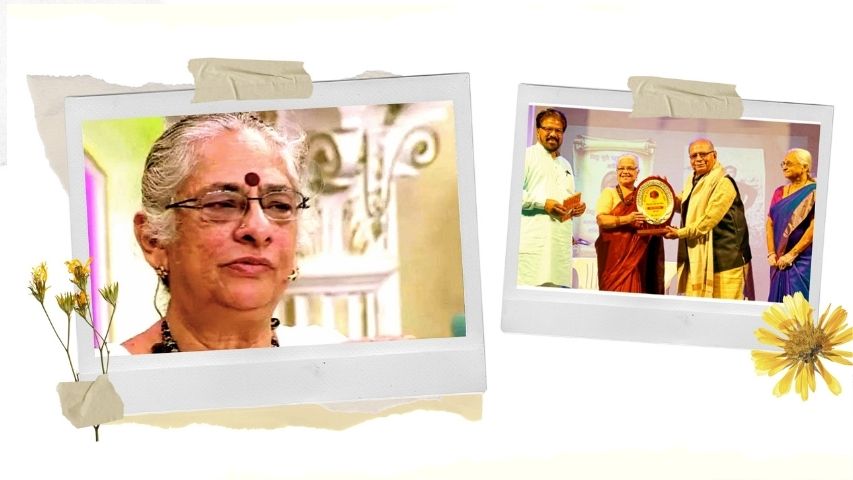 Mashaal! Lovely.
Everything was broad. Make-up was very heavy. We would throw the make-up on our face. Such thick makeup we used to put. We were raw. There was no director, no light and no mike. We would set-up our own theatre. Tent. Our aim was to reach the four-anna ticket paying audience. Reach, reach and reach. The first row is negligible because they are invitees. Whenever they felt like it, they would come, whenever they wanted to leave, they used to go. They were not interested.
So your performance was geared to the last man in the last row.
To the common person – the only projection we knew. But the polishing of my craft, I learnt at the NSD.
But the company theatre approach was radically different from Mr. Alkazi's approach?
Yes. Yes.
Two diametrically different theatre approaches have enriched you.
Yes. That (at home ground) was practical and NSD was theoretical. More modernized. At the NSD I did too few roles - wahi toh problem hai - I did backstage, costume, carrying trunks around. The one significant role that I did was in Georg Büchner's Danton's Death. But I don't have any regrets. Theatre is teamwork so I have learnt all the other aspects. Whatever role I wanted to do at the NSD, I was fortunate to get the opportunity of doing it at Bangalore with groups. 1973 was the final year at the NSD. I never joined the repertory.
Your marriage was?
In 1974 – the very next year, but that marriage broke.
He was in Bangalore. He saw my performances and liked it. Maybe he will encourage me, I thought. Then after marriage he said, 'No you should not do theatre'. Oh my god! Forget it! I said, 'Everything will be finished.' He used to put taala on the house and go out. So I was always in jail.
So brave of you to end that marriage - but it would not have been so easy doing so.
I came out of it with a child. I was leading my own life and it was very difficult. Then I entered the theatre again. I did Gorky's 'Mother', with a totally different group. Then one Mr. Anand Raju - he had a group - wanted a director. They came and asked me to direct a play for them. I said fine. I directed Ghasiram Kotwal for them. Like that, friendship grew with him. He was already married but had lost his wife a couple of years earlier. We are still together. I had one daughter from my first husband and he had two daughters. Between the two of us, we had three daughters and we adopted one more.
Lovely. Now what are your activities about?
I do theatre. I direct plays and act in Bangalore. It is not actually a repertory but an amateur theatre. We are not paying anybody. Every year we do plays. We practice, rehearse for 3-4 months and then do shows. This goes on for 6 months. We perform in Karnataka, we have been to Delhi, Calcutta and we have traveled to foreign countries also with our productions.
And you have directed these plays.
Ya.
Wonderful. Are you happy having chosen theatre as a career option?
I am very happy - very happy.
It must have been a momentous choice for your generation of actors.
Nobody was ready to do theatre because it is very difficult. You don't become an actor immediately (snaps her fingers). They don't want to do so much hard work.
You are doing films in Karnataka?
Not many - I have done some, about 4-5 films. Working in films does not allow me to do theatre. Kuch challenge hona chahiye; I specialized in acting.
Roles challenge this veteran as much as she challenges the roles.
Jyoti Subhash
Jyoti Subhash (nee Deshpande), a very experienced and acclaimed theatre actor of Marathi, Hindi stage and films and television graduated from the National School of Drama (Delhi) in 1973. To the Marathi film audience she is specially known for her works in Marathi films like Nital (2006), Valu (2008), Gabhricha Paus (2009), Gandha (2009), Vihir (2010), Deool (2011), Masala (2012), Fandry (2013), Sairat (2016) and for Hindi films like Aiyyaa (2012), Gully Boy (2019), Ghost Stories (2020).
She also featured in telefilms Rukmavati Ki Haveli (1991) and in Jazeere (1992). She translated the Marathi play Raste originally written by Govind Purushottam Deshpande to Hindi as titled Raaste. She is mother of actress Amruta Subhash, who has in the present garnered popularity with shows such as Sacred Games, Bombay Begums and others - the duo have co-acted in many films and plays.
I had met Jyoti Deshpande (Jyoti Subhash) in the year 2007 at Pune.
In 1970 for a girl to opt for theatre training and theater as a career option was not a common choice. You had thought of it as your profession.
Yes
So you had to be a person of another make.
Yes. I had then done some theatre with people who were progressive, were with social movements. Before joining NSD I was doing theater with Nilu Phule. He was my first director. We were doing political tamashas. Our motto was to educate people through entertainment. The group's name was 'Rashtra Seva Dal.' They were socialists. They had a branch called 'Kala Pathak'. It would go everywhere in Maharashtra. We would do our plays. We used to sing and dance. With this background I went to the NSD.
Mr Alkazi has been a teacher-mentor to you all.
Ya. Mr Alkazi ke paas koi straightforward koi baat ja ke kahe toh he used to appreciate that.
You have especially recalled the play 'The Lesson' out of your NSD repertoire, which included among many plays -'Ibaragi, Three Sisters. You and Om Puri had co-acted in The Lesson. How do you recall it?
That was a wonderful experience. I got to do this play with both Naseer and Om. It was not double casting, but it was a classroom production for Bhanu Bharati - his diploma production. First Naseer did the role of the professor. After passing out of the NSD we joined the repertory company. So Mr. Alkazi decided to have public shows of this play. Naseer had come down to Pune one year earlier than Om. Om did the role for the repertory. We did some 25 shows or more of that play. Om was very good. Naseer had done the same role of an elderly professor and all these guys were very young men playing roles of older people.
In The Lesson you got a lot of praise.
Ya. I thoroughly enjoyed doing that role. I could see that people liked it. So that gives you confidence na. It was a difficult role that Om and Naseer were playing - because it was not their age.
It was a play wherein they are trying to groom your character.
Ya. So I was playing as a student. My job was easier. But people used to like me.
Pygmalion kind of a thing, right?
Ya but in an absurd manner - it was an absurd play. So the professor is trying to inflict a burden of knowledge on the young girl. She starts becoming lifeless due to that pressure of knowledge. A giggling girl of the start of the play is at the end dead. Symbolically. He takes a symbolic knife in his hand. Knowledge in a way kills.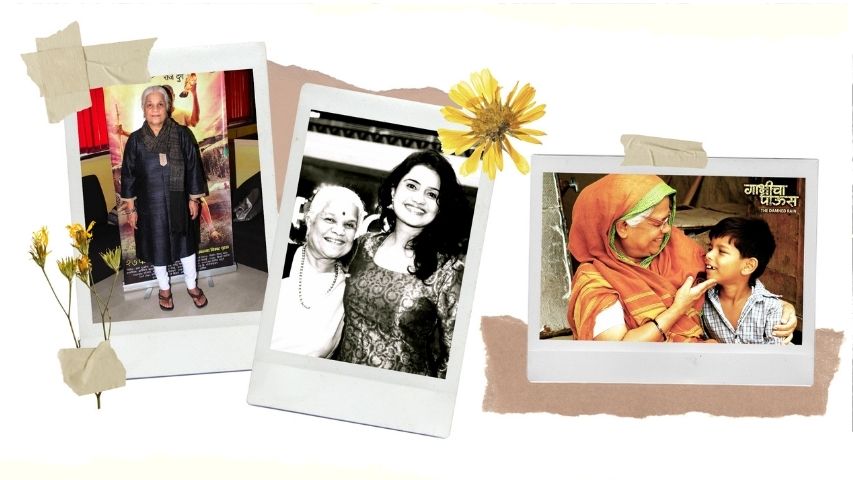 Dominance with knowledge…
Ya, my job was easier and that's why people thought I was better.
Then the play Ibaragi…
The play had a lot of dance movements. Kabuki play. These people, even Naseer to some extent, had a sense of rhythm - Om Puri, not at all. But Om worked very hard on movements – the same with Raj Babbar.
B Jayshree and myself were dancers. So the director used to tell us to teach these people. We would try and teach Raj Babbar also. He was junior to me. We were in the third year and he was in the second year. After completing one year at the NSD repertory I also came down to Pune. I got married to Subhash. Then again he got transferred. In between for ten years of my life I was not doing anything. No theatre. I was just running behind my husband. (Laughs) – it was altogether a different world.
Jyotiji what are your present activities?
I am doing some films. I had been doing some serials, but now I have restricted my work to films. Until recently I was doing some experimental theatre and some commercial theatre as well. We had formed a group called Chaitanyaved. My daughter (actor Amruta Subhash) and I started with reading out some good Marathi stories. That is how it started. Then we went on to do Marathi sant poetry. Looking at it from socio-literary point of view. Then we did GPD's (Govind P Deshpande) plays.
Mr. Govind Deshpande (Professor, noted playwright and film writer) is your brother.
Ya. He is the eldest of us. We did his play Antim Divas. The last play was 'Music System', which Vijay Kenkre directed. Then I was reading a book based on the diary of a Brazilian woman, a rag picker. I was reading the Marathi translation of that book and that inspired me to write something. The spirit of that character I had adapted, and also the whole situation and placed it in Marathi milieu.
I did some commercial plays. I have worked with Mahesh Elkunchwar, Sai Paranjpe and Dr. Sriram Lagoo. But I am not a regular commercial actor. I've done some serials with Shyam Benegal and with Gulzarji. Then I did some teleplays with Govind Nihalani - very selective work. I have been in Pune for 15-18 yrs.
Actors like you did not think of a strategized career.
Speaking for myself one did not do anything as per a plan, never thought it out.
So it may have been, but her repute as a theatre veteran remains solid. And her daughter Amruta Subhash has taken the legacy further in both artistic and popular appeal.