WHEN THEATRE MARRIES CINEMA
by Piroj Wadia
March 19 2015, 6:21 pm
Estimated Reading Time: 8 mins, 44 secs
As I sat watching a CinePlay screening of the play sometimes, in a preview theatre, I was tad perplexed. Am I watching a play or am I watching a movie? Some months back, I had seen Vikram Kapadia?? anthology comedy Bombay Talkies in much the same way, and was indeed a happy camper as every time the play was staged in SoBo, I had another commitment. I had resigned myself to not watching this one play as I had missed countless others, including Mahabanoo Mody-Kotwal and Naseeruddin Shah in A Whole in the Head.
Entertainment entrepreneur Subodh Maskara and his wife actor-director Nandita Das produced, directed and acted in their first theatrical production together: Between The Lines. Post which, they were inspired to create a cinematic version of the play, which would appeal to audiences just like a live play.
Indian audiences in the metros aren?? strangers to theatre films. Theatre goers in Mumbai often watch screenings of National Theatre Live at the National Centre for the Performing Arts (NCPA). And now we have our own hybrid of theatre and cinema in the CinePlay initiative. This new genre of entertainment will take theatre to not just other cities, but towns as well. CinePlay creates a new viewing experience for audiences and expands the reach of stories contained in theatre.
What are the criteria for a play to be converted into a CinePlay, one might wonder? ??inePlay constantly strives at maintaining the highest quality of not only choosing its content, but at the same time its production and distribution quality. While the aim is to document and archive to a large extent as many stories from theatre as possible, the creative team looks at stories that translate well into the format of CinePlay, in order to be able to present you with the best experience and content possible,??avers Subodh Maskara.
CinePlays are shot in a studio, ??uch like a film. It is shot over a span of a few days, allowing us to ensure the highest quality and give to each story the requisite sets and detail in being able to tell it best. With an elaborate camera, light and production set up, CinePlays weave elements of cinema to create a new experience,??adds Maskara.
In the mid 1970s, the late Jennifer Kapoor curated a festival of American Theatre Films for the USIS/American Cultural Center as part of cultural events leading up to the US Bicentennial celebrations in India. These films were screened at the now defunct Akashwani Theatre, Bombay?? hot house for the emerging art cinema. The American Film Theatre was a series of film adaptations of stage plays and the festival in Bombay opened with Jean Genet?? The Maids. The film starred Glenda Jackson as Solange and Susannah York as Claire. Before it was filmed for the American Film Theatre, the play had run at the Greenwich Theatre, London, with the same cast. The director, Christopher Miles planned a 12 day shoot with a single camera, which could track anywhere over the set with the cinematographer Douglas Slocombe.The camera was often static, but extravagant settings were an eyeful for the viewer.
Two more such films were standouts: the Maxmillian Schell helmed The Man in the Glass Booth and the Topol starrer Galileo. The Man in the Glass Booth was supposedly inspired by the kidnap and trial of the German Nazi SS- Lieutenant Colonel Adolf Eichmann, who was one of the prime organizers of the Holocaust. Galileo was a play by the 20th century German dramatist Bertolt Brecht, which dealt with the latter life of Galileo Galilei, who was then persecuted by the Roman Catholic Church for the promulgation of his scientific discoveries. All three had brilliant actors in crucial roles. I was fortunate to have seen this melding of theatre and cinema.
Indian theatre too has had it glory days and long running plays, which weren?? ever captured. Often when a particular play was being talked about, out-of-towners were known to visit Bombay on weekends to catch the show. Producers would travel with their plays to other cities and towns, but it wasn?? always feasible, because of the lack of production infrastructure and finances, yet they conceded to requests. Once the play showed profits and demands came in from other centres, producers were known to get a travelling set fabricated. If a well received, long running play lost one actor the production would need to shut down as is the case of the iconic Tumhari Amrita. Word has it that there is a video recording of a show which is being restored. If that is the case it would be a fortuitous first; as there would be a record of one of Indian theatre?? classics.
Chiefly thanks to technology as we now have it, and visionary application, CinePlay is going about archiving iconic plays, allowing future generations to experience unforgettable stories and performances. Thanks to this imitative, audiences are able to see the classic Adhe Adhure by Mohan Rakesh, the first modern Hindi playwright. It isn?? often that a play written and performed over 40 years ago still appears relevant. Resurrected by Prime Time Theatre Company's director- actress Lillete Dubey, it shows it relevance in terms of interpersonal relationships, and socio-economic challenges.
Set in the late sixties ??hen socialist India was ridden with industrial strikes. Mahendra (played by Mohan Agashe, who also portrays three other characters with undisputed finesse), is a mere shadow; the aged patriarch?? house and family are now the domain of his young wife Savitri. She holds the purse strings, has her own aspirations that keep her going and the husband out of the house. There is more trouble in the family -- a run-away elder daughter Binny, who returns home after a strife ridden relationship with her husband, a son who is a drifter, and an adolescent school going daughter, who likes reading Casanova stories and indulges in dirty talk with friends.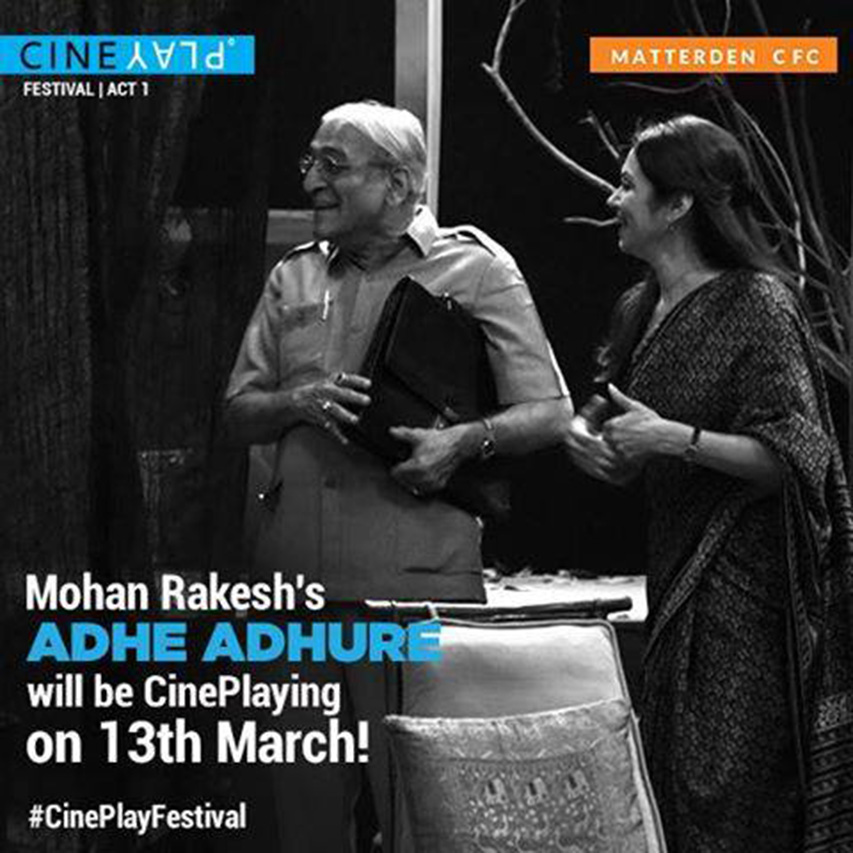 The family is perennially in a state of emotional turmoil, as one crisis leads to the next one. What?? the root cause of Savitri's diatribe against her husband, Binny's marital relationship, and other issues are kept under the rug. What emerges in the second half of the play are shocking revelations.
The meticulously designed set reflects the d?cor of the sixties, as much as the degeneration of a house. An apt setting one might say for dysfunctional family.
Savitri may be ultra modern, but her ordeal is an old story. Lillete Dubey?? Savitri comes out with her complexities and despair. Ira Dubey gives a power packed performance as the daughter caught in the turmoil of her own marriage and her family. Mohan Agashe has the triple honour as he makes himself comfortable playing all three characters. The shabby and dark interiors complement the worn out relationships in the family. Kudos to the set and lighting design. The script sets us thinking about Mohan Rakesh having written it 40 years back, it is still relevant. Truly an iconic play.
On the other side of the coin is sometimes, an example of the new writing that is being staged? Choosing it for a CinePlay version, it is pertinent as an archive of the emerging new writing for theatre and encourages excellence in young writers. It couldn?? have been more heart tugging and close to reality. Young professionals, today, see-saw between familial pressures, job pressures and peer group expectations.
The story of Paramjit Duggal, isn?? exclusive only to him. It focusses on events of three days of his life. It portrays the pressures - real or perceived - that young professionals deal with at home, office and love life, and the subsequent, profound understanding he achieves, albeit, after his death.
Paramjit isn?? too happy in the mornings with his parents??nagging. At the office, he has to contend with deadlines, a hyperventilating boss and an insecure colleague. At day?? end, he chills out with his friends and girlfriend, sharing a heady mix of alcohol and drugs; the girlfriend too has her demands. Paramjit's life is a roller coaster ride, with substance induced highs and crashing lows. The next morning, it?? the same old story.
One night, the heady mix still bubbling in him, Paramjit vents his anger and frustration on an auto rickshaw driver, because of a disagreement over the fare, which leads to a full blown fight, culminating in a tragedy.
The play crackles with humour and lines, which have the audience in splits after every few seconds; but towards the end it leaves one tinged with sadness. The futility of Paramjit?? life and death dawns on the audience towards the latter part of a well crafted, superbly enacted, powerful performance by a group of young, extremely talented and mature actors.
Writers Adhir Bhat and Bobby Nagra have turned in a superbly written script which evokes laughter in large measures in the beginning and then heart rending pathos. Director Adhaar Khurana has handled each aspect of the script with dexterity ??careful not to let it go out of hand for even a second. The performances are exacting, especially Karan Pandit who shows remarkable intensity as Paramjit Duggal, the fast talking disorder (so true of go-getters) comes naturally to him. Sometimes has all the ingredients of just a simple comedy, which gradually turns the bend to pathos.
Often despite its overall excellence, a play has a limited run for more than one reason, which may range from financial constraints to unavailability of the cast, etc. for tour bookings. Fortunately, there is a CinePlay version which can be accessed widely. Sometimes, which closes the ongoing CinePlay Festival is certainly recommended for its overall excellence ??writing, direction and performances.
The CinePlay festival opened with Between The Lines, a contemporary CinePlay set in urban India. Maya and Shekhar, are well-educated and affluent couple find themselves caught between modernity and tradition. They have been married to each other for 10 years. Shekhar is a high-profile criminal lawyer, while Maya balances work and life, drafting routine contracts for a law firm. But destiny has other plans, they end up arguing on opposite sides of a criminal trial, resulting in unexpected consequences for their personal and professional lives. Co-written by Nandita Das and Divya Jagdale, Between The Lines has been appreciated widely and the CinePlay version has travelled to Indian cities and overseas.
CinePlay screenings have been held in various cities across India -- like Delhi, Hyderabad, Mumbai, Indore, Bangalore; and the world -- Washington, Chicago and New York.