Where art thou?
by Khalid Mohamed
March 10 2021, 12:00 am
Estimated Reading Time: 7 mins, 8 secs
Khalid Mohamed in conversation about the limitless forms of art with the 23-year-old artist, Adyot Rajadhyaksha, who debuted at a group show at the Jehangir Art gallery last week.
His room in a Juhu apartment is quite a studio by itself. Innumerable paintings, sketches, drawings, the works cram the room from which he emerges, as if still preoccupied by images and colours swirling on his mind.
I met Adyot Rajadhayaksha a couple of years ago at a fried fish and curry lunch hosted by his congenial parents: the well-regarded eye surgeon Anup and noted physio-therapist Harshada. After that we lost touch till last week, when two of his canvases were featured in a group show at the prestigious Jehangir Art Gallery - organised by Sahayog - where artists from across the nation aspire to exhibit their work some day.
The wiry, somewhat bashful multi-media artist has made it to the hallowed gallery at the age of 23, an achievement he's pretty proud about but doesn't say that in so many words.
I thought it would be a tug-of-war of sorts to coax him into expostulating about his art, which is as youthful as it is redolent with bold, bright colours, controlled strokes and a style that's both eclectic and inventive.
Surprisingly the shy artist articulates his thoughts with clarity, only to pause occasionally for an ermmm, ummm and "just-give-me-half-a-minute." Over then to excerpts from an afternoon conversation with Adyot Rajadhyaksha: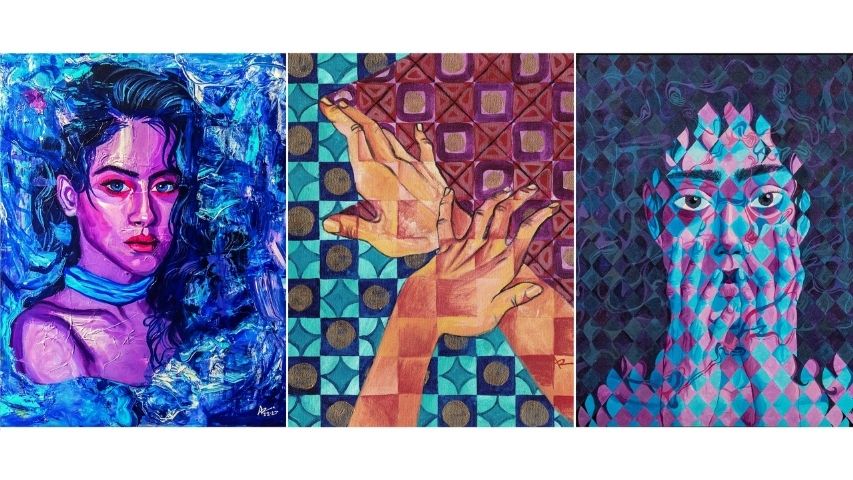 Your name is quite unusual. What does it mean?
According to Google the name causes you to be sensitive, idealistic, and a dreamer with imagination. You think about the deeper things in life and could be intrigued with the world beyond the finite. My mother told me that when they decided on my name, it was to resemble light, a source of brilliance. Don't know if I'm that at all, but then what's in a name?
What was the goal of the group show?
Sahayog works towards raising charity and provide a platform to artists of a spectrum of ages at the Jehangir Art gallery. At 23, I wasn't the youngest though, Nidhi who's about 16 or 17 was also there. And so were the works of the senior artists Samir Mondal and Milburn Cherian.
Why didn't you join the J.J. School of Arts?
I opted to graduate with a diploma from the Indian School of Design and Innovation at Parel. Simultaneously, I've done my B.A. too, since my mother felt it's a must to have a degree.
I'm often asked why I didn't do the four-year course in Fine Arts from the J.J.School of Arts. That's because, if I may say so, I'd learnt fine arts on my own - as a kid I was told that I was a natural, better than drawing than the other kids. I'd come up with original comic strips. I was hooked on the comic books of Tin Tin, Asterix and Ben10, the first exposure to storytelling through intricate and painstakingly conceived images. Subsequently I wanted to extend my capabilities towards communication design, photoshopping, illustration and animation.
At Jamnabai Narsee school's fourth grade and for the IBDP examinations, Varsha Pandit taught me art. She had allowed me to draw whatever I wanted to in class, unlike the other children who were assigned a specific subject. And Jaideep Shetty, my art teacher in school, taught me to paint.
How were you selected for the group show?
It was thanks to Satyendra Rane, the show's curator and a participating artist. He told me about it on February 4 and I had to get my two exhibits, Pratiroop, which means Pattern and Pravaha, which means Flow, ready by February 23. That meant I had to work faster than I usually do.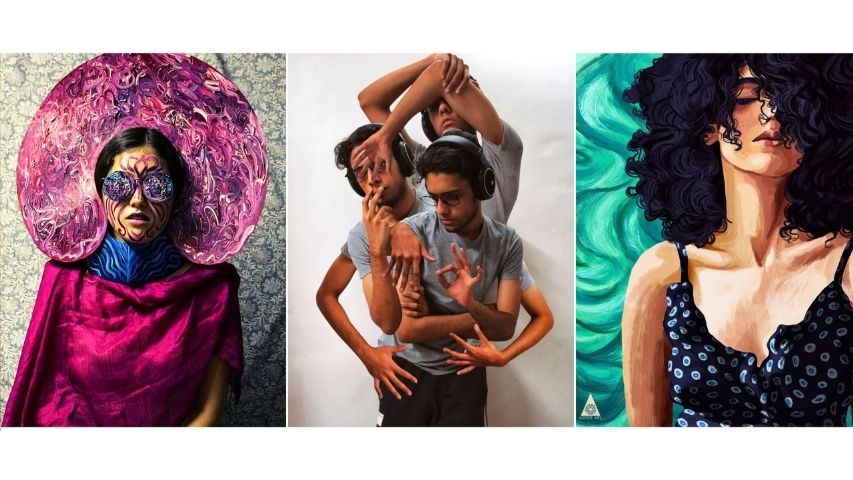 What was the impetus for you… you have a muse?
Ha! No muse at all, I don't even have a girlfriend right now. Guess the impetus was the imagination.
How would you describe your style of artworks?
I've been doing quite a lot of figurative work, as well as abstracts and geometricals. But I'm interested in moving to optical art, patterns and illusions, which create a movement in the viewer's eye. I'm still a student at the game, all artists are.
Formal painting has its allure also, as in portraits – and when you're doing someone's portrait, a likeness, a resemblance is expected. No one appreciates a portrait though if they don't look good, so it's a given that the better points and features have to be highlighted.
Which artists have influenced you?
(Pauses) Let me think, let me think. Of the 20th century artists, Picasso has been a major influence and Austria's figurative painter Egon Schielle, who was a protégé of Gustav Klimt. And this may sound cliched but Vincent Van Gogh's colour schemes are incomparable. Of the Indian artists who have been inspiring, there are S.H. Raza, Raqib Shaw and the illustrator and graphic designer Sajid Wajid Sheikh.
Plus during May 2016 when I was in Florence, the Guggenheim gallery had organised a show where I saw the masterpiece of the great painters up close – Salvador Dali, Jackson Pollock and Pablo Picasso. There could have been no better learning experience.
But where is pure art going? Isn't there too much of mixed media work involving photography, computer effects and other trendy elements?
If one doesn't possess traditional skills in what you call 'pure art', it wouldn't be possible to mix genres and attempt mixed media. I value both, classic art, as well as the experimental as long as the creativity is visible.
One has to evolve, I've tried digital collages. As for my photography, at best it's decent. I click photos, unexpected moments, a sudden visual composition I relate to on the streets, especially while travelling - like shots of a person against the wall textures of Italy. And when there's a lunar eclipse, it's thrilling to zoom into the moon.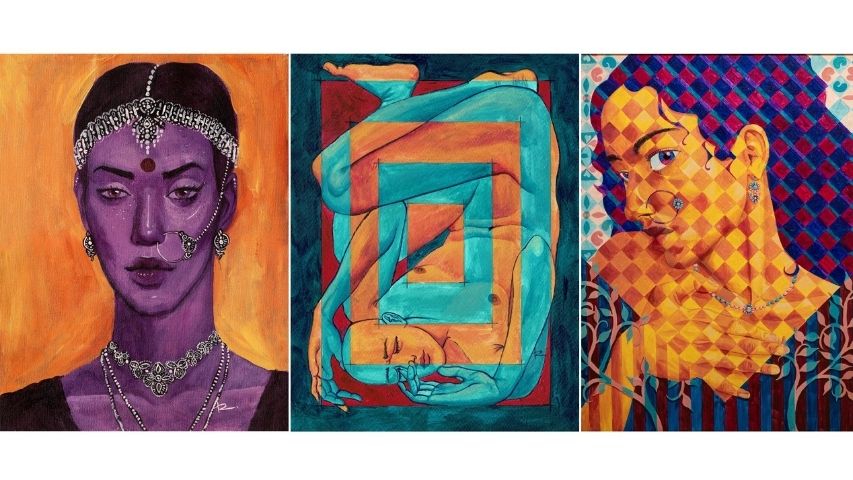 Tell me, did you parents approve of your decision to become an artist?
Without a second thought. They have always been supportive of letting their children follow their dreams. My brother Rohan, elder to me by four years, is an award-winning musician. He also did his B.A. since our mum has insisted on us getting a degree. Our parents have introduced us to the arts and music ever since we were kids.
Because of the pandemic and the ongoing slump in the art market, could you sell either of your two art works at the group show?
I couldn't but in general very few were picked up at the show. That hasn't been discouraging though. It was an opportunity to meet artists and network. Artist Asif Shaikh, in fact, gave me a piece of valuable advice – that I should be more patient instead of hopping from one style to another - and work on a series of at least six to seven grid paintings like the ones I had exhibited.
See, fine art doesn't fetch a new artist much money. During the pandemic, I lucked out – I created animated doodles for the Still Awesome series on YouTube, and the title sequences for Kabeer Khurana's show Suttabaazi. Animation and illustrations keep one going… ideally, of course I'd just paint and draw all day. Guess at this point I'm just not idealistic enough.
What next now?
My life goal is art. That's all I can say about the future, and dream about a solo show at the Jehangir Art Gallery when I've a substantial body of work to display.
Lastly, Adyot, how would you describe yourself?
Do I have to? Okay let me try… I'm an introverted guy who likes to soak in as much information as I can. I love to learn about things from diverse fields - literature, astronomy, psychology and so much more. So, right now I'm like a Jack of all trades but a master of only one.