Alibabas galore…
by Dhruv Somani
December 27 2020, 12:00 am
Estimated Reading Time: 9 mins, 30 secs
Film historian Dhruv Somani flashbacks to the plethora of Bollywood movies, which were once fascinated by the adventures of Alibaba and the 40 Thieves.
Since time immemorial, Bollywood has nurtured a fascination for fantasy, the roots tracing back right to the silent era. Be it dream sequences or super heroic action, a chunk of films have favored escapism into dream-like adventures. In fact, research into the past reveals that the tale of Alibaba and the 40 Thieves from the Arabian Nights has been re-told several times over on our screen. In recent decades though, there has an extinction of this genre altogether.
Indeed, the widely adored story of Alibaba and the 40 Thieves has been a springboard for entertainment packed with romance, action, fear, jealousy and revenge. As a matter of fact, filmmakers and TV producers, across the world, have essayed the tale time and again, frequently fashioned also as animation features for kids.
For this Sunday, then, let's foray into the mythical drama of a poor woodcutter who discovers the secret of a thieves' den, and enters with the magic phrase "Open Sesame" (Khulja Sim Sim). The thieves try to exterminate Ali Baba but together with his loyal slave girl, they infallibly foil the baddies' evil intentions. Consequently, Ali Baba's son marries her, the woodcutter keeps the treasure and the family lives blissfully ever after.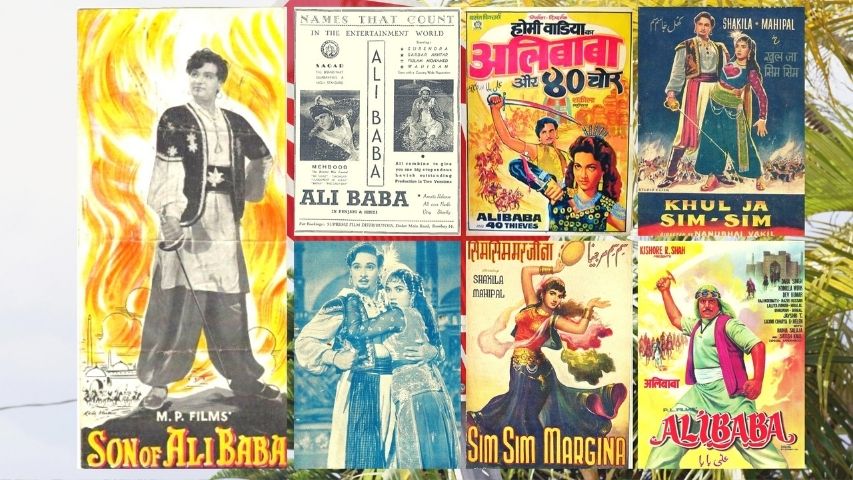 Alibaba Aur Chalis Chor (1932)
This was the first Alibaba film directed by J.J. Madan starring Jahanara, Kajjan, Patience Cooper, Mohammed Nawab, Mukhtar Begum and Sorabji Kerawala. Although the talkies had already arrived with Alam Ara a year ago, this silent picture became quite popular, particularly with children.
Alibaba (1940)
Directed by Mehboob Khan, who went on to become a legend with such classics as Andaz, Amar and Mother India, here was a bilingual effort in Punjabi and Hindi produced by the Sagar Movietone studio. The music score was by Anil Biswas while the acting crew comprised of Surendra, Sardar Akhtar, Ghulam Mohammed, Wahidanbai, Jagdish Kupal, Ishrat Jaan and Amirjaan. The plot was largely familiar but in this case Alibaba's son romances princess Marjina.
Accompanied by the slave girl Zabba, they chance upon a magical cave, which is the secret den to store the stolen wealth - a glittering treasure of jewels and much more - by the gang of thieves. Actor Surendra played the double role, that of Alibaba and his son. It was declared a hit immediately on its release.
Alibaba And the 40 Thieves (1954)
Directed by Homi Wadia, this one was a Basant Film presentation under the banner of Wadia Brothers. The story and the screenplay were by J.B.H. Wadia while Chand Pandit and Tahir Lucknavi jointly penned the dialogue. The art direction was by the iconic Babubhai Mistry while Chitragupta and S.N. Tripathi scored the music. Chitragupta had earlier worked as an assistant to Tripathi on several mythological films before branching out eventually as an independent music director.
Mahipal, Shakila, B.M. Vyas, S.N. Tripathi, Sharda, Lalita Kumari, Shalini, Dalpat and Helen were cast in this version revolving around Akhtar who combats pirates and goons in an effort to reach Baghdad in time to meet his sick father Alibaba before its too late. Sadly, Alibaba passes away without telling his son about the hidden treasure. It's up to Akhtar now to find the hidden treasure. Needless to add, the emotionally suffused adventure was a commercial success.
Son of Alibaba (1955)
Directed by Majnu and produced by Darshan, this action-crammed film starred Mahipal, Chitra, Chandrashekhar, Maruti, Shaikh, Manju and Shamim Chaudha. Old wine served in a new bottle, it depicted the plucky Alibaba in the quest of the treasure. So, he plans to kidnap Behram the nephew of the Suleman (the leader of the 40 thieves) and exterminate Akhtar who is holds the key to the booty.
For a twist in the tale, a dancer named Zubeida, cons Alibaba into revealing the whereabouts of the stashed booty. Not to worry, the hero finally wins the day, and scores a commercial success at the box office. After all, it was a time when cinema emphasized that crime doesn't pay.
Khul Ja Sim Sim (1956)
From the banner of Golden Movies came this sumptuously mounted effort starring Mahipal, Shakila, Hiralal, Maruti, Krishna Kumari, Niranjan Sharma and Helen. Directed by Nanubhai Vakil and produced by M.R. Bhakri, the music was composed by Hansraj Behl.
In this instance, Alibaba discovers the secret treasure, which he hoards and uses for his own pleasure. But greed doesn't last long; a cursed glass of wine burns and disfigures him. This film did well at the ticket counters followed by a sequel.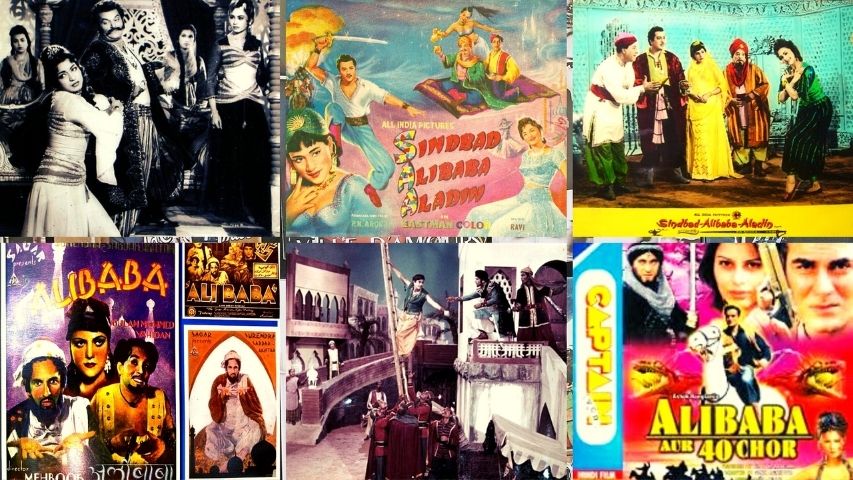 Sim Sim Marjina (1958)
The sequel repeated most of the earlier cast: Mahipal, Shakila, Tiwari, Hiralal, Maruti, Niranjan Sharma, and Helen. The focus was Alibaba who continues his adventures with Marjina while the evil Khakan believes her to be responsible for his brother's death. But Alibaba has quite a few tricks up his sleeve to prevent the revengeful mission. By this juncture, Alibaba had become such a brave heart in the audience's eye that yet another whopper hit was guaranteed.
Aik Tha Alibaba (1963)
Produced by Rajkumar Kohli's Shankar Movies and directed by Harbans this one showcased the famed wrestler Dara Singh as Alibaba supported by Nishi, Tiwari, Hiralal, Ramsingh, Maruti, Kanchanmala, Naazi, Prakash, Tiger Joginder Singh and Helen.
Here his brother Qasim and his scheming wife throw the honest-to-goodness woodcutter, Alibaba, out of his house. Reason: they're apprehensive about a reprisal since the hero has rescued Marjina, daughter of the despotic Amiu Zaman. Love blooms. The caravan is attacked by a gang of looters, which is led by Diler Dilsher, who kills the despot and kidnaps Marjina.
Alibaba in search of his beloved discovers the treasure but wait, his brother and the wily sister-in-law harbour other plans. Obviously by this time, it had become essential to add to and subtract elements from the original Arabian Nights fable, for that touch of novelty.
Sindbad Alibaba Aladdin (1965)
Directed by P.N. Arora this fantasy headlined Pradeep Kumar, Agha, Bhagwan, Sayeeda Khan, Helen, Minoo Mumtaz, Shyam Kumar, Ulhas, S. Bannerjee, Rajan Haskar, Polson and Tun Tun. The music was by Ravi.
The screenplay revolved around three valiant heroes teaming up to retrieve a magic lamp, a carpet and sword for a Sultan whom they are secretly plotting against. Next, they meet a beautiful genie, an enigmatic princess and a terrifying giant monster. Special effects by the Tsuburaya Special Effects Company in Japan proved to be the delicious icing on the cake.
Alibaba Aur 40 Chor (1966)
Homi Wadia returned yet with another take on the fun-filled exploits of Alibaba, enacted by Sanjeev Kumar. The bevy of co-stars included L. Vijaylakshmi, Tabassum, David, Indira, Veena, Kamal Mehra, S.N. Tripathi, B.M. Vyas, Madhumati, Laxmi Chhaya and Aruna Irani etc. Wadia zoomed in on Marjina after her family is robbed and killed by a posse of bandits.
Disguised as a dancer. Marjina meets Alibaba who has been charged with false allegations and thrown out of the house by his brother Qasim and his wife. Now, one fine day, Alibaba eavesdrops on the bandits, saying the magic words "Khul Ja Sim Sim" which opens a hidden door on a mountainside. Alibaba manages to pilfer the wealth but the 'chors' are now hot on his heels. Quaint and simple, this Wadia production met with just-about moderate commercial success.
Alibaba (1976)
Produced by Pyarelal Sharma and directed by Mohammad Hussein, Dara Singh as Alibaba and Komilla Virk as princess Farzana were in the lead roles supported by Radha Saluja, Dev Kumar, Helen, Rajendranath, Laxmi Chhaya, Maruti, Birbal, Satyadeep, Nazir Hussain, Lalita Pawar, Hiralal, Shah Agha and Jayshree T. The music was by Hansraj Behl. The plot was a bit déjà vu. By now, a fatigue level had set in among the audience on the heroics of Alibaba, unless it had an extra zing in the narrative.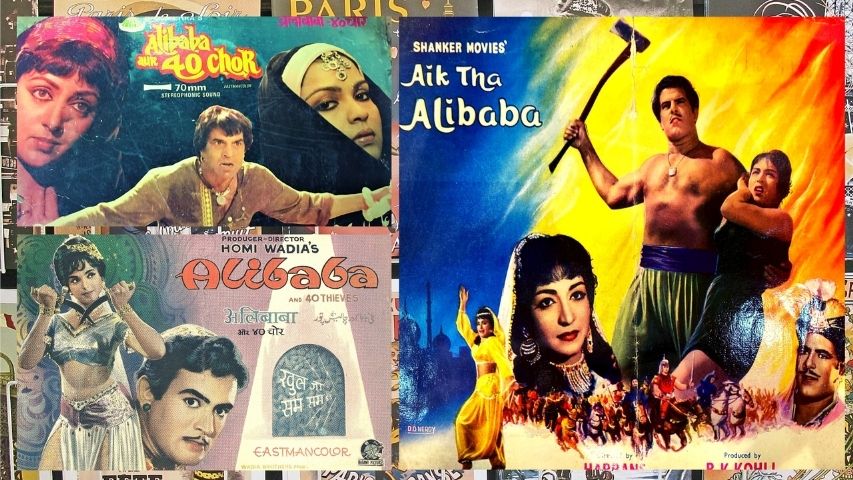 Alibaba Marjina (1977)
Directed by Kedar Kapoor and starring Prem Krishen (son of Premnath and Bina Rai), the ensemble cast featured Tamanna, Madhu Malhotra, Paintal, Amrish Puri, D.K. Sapru, Sharad Saxena, Birbal, Urmila Bhatt, Jagdeep, Pinchoo Kapoor and Shakti Kapoor.
The dramaturgy began with the Mughal rule in Persia where Alibaba leads an impoverished life with his brother Qasim and their mother. When princess Marjina is being auctioned at a slave market, he rescues her by borrowing whatever money he can from his brother. Qasim takes a wow from Alibaba that he would remain a slave for the rest of his life as a collateral for the borrowed money. Providence leads Alibaba to the treasure trove in the cave, and by a turn of fate, reaches a happy ending.
Alibaba Aur 40 Chor (1980)
An Indo-Soviet joint collaboration directed by Latif Faiziyev for the Russian and Umesh Mehra captained the Indian version. It featured the uber popular Dharmendra, Hema Malini and Zeenat Aman in the company of Prem Chopra, Madan Puri, Pinchoo Kapoor, Macmohan along with Russian artistes including Elena Sanayeva as the intriguing Simsim.
A spectacular adventure shot in the Kirgis mountains of Uzbekistan in the ancient cities of Samarkand and Bukhara, the entertainment quotient was enhanced by R.D. Burman's fabulous music score.
The plot did take quite a few dramatic licenses. Abu Hassan and his gang of thieves spark a ruckus in Gulabad and its neighboring towns by looting caravans and destroying the dam after which the locals are forced to pay a hefty price for water.
Meanwhile, Alibaba is hell-bent on fulfilling the dreams of his father Yousuf who was killed by Abu Hassan. Alibaba takes it upon himself to rebuild the dam with the help of princess Marjina. Fatima who is on vendetta mission against her father's killer Abu Hassan also helps him.
The opus toted tremendous busines in India as well as Russia. Zeenat Aman as Fatima gained a huge fan following. Not surprisingly for their next collaboration with the Mehras, the Soviets refused to collaborate till Zeenat Aman was added to the cast. Result: in the next Indo-Soviet tie-up, Sohini Mahiwal, the roles of Daku Zarina was specially written for Zeenat, who incidentally continues to be one of the most adored Bollywood actresses in Russia. By far, this endeavor was the most successful Alibaba film and is a personal favorite of mine. Believe it or not, I've seen this Alibaba aur 40 Chor, more than a 100 times over.
Alibaba Aur 40 Chor (2004)
Directed by Sunil Agnihotri and starring Arbaaz Khan, Pinky Hirwani, Divya Dwivedi, Ali Khan and Ram Mohan who played key roles in this colossal flop. Located in a village called Sonapur - it is shown to be constantly terrorized by bandit Zakali and his cohorts. Fortuitously, woodcutter Alibaba stumbles across Zakali's cave at Kali Pahadi, which is still inhabited by prehistoric dinosaurs.
Alibaba utters the magic password and enters the treasure cave. He distributes the wealth among the poor villagers but makes the mistake of telling his avaricious brother Qasim the password. However, tube light Qasim forgets the password and is killed by the bandits. They soon attack the village of Sonapur. Need I cringe more? That marked the end of Alibaba showing up on the big screen. Alas.