Days of qawwalis
by Dhruv Somani
March 7 2021, 12:00 am
Estimated Reading Time: 8 mins, 30 secs
Film historian Dhruv Somani asks why have the qawwalis, once a big draw in the Bollywood movies, have gone with the wind today?
Once, the qawwali maintained a sacrosanct place in yesteryear's film music. A mystic tradition known for more than 500 years, the form gained momentum in Hindi cinema in the 1930s ever since the advent of the talkies.
The first qawwali - Nazariya Taane Hai Teer Kamaan - was recorded for Barrister's Wife in 1935. During the same year a qawwali was heard in Talaash-e-Haque sung by Jaddan Bai (Nargis Dutt's mother).
The qawwali is a presentation of the authentic Sufi spiritual song, which conveys the divinity of the Almighty. In its purest form it's considered as a religious experience for both the listener and the performer. Mehfils would begin towards the evening and last till the early hours of the morning. The great prolific poet Amir Khusrau who passed away in the 14th century, was addressed as the founding father of the qawwali genre since he debuted in this style to mark the death of his spiritual guide Nizamuddin Aulia.
A qawwali meant words worthy of remembrance praising the Almighty, but with changing times it switched to freeform lyrics in Bollywood cinema. The qawwali ideally featured the harmonium and the tabla as the main musical instruments, along with the signature cyclic clapping of hands in sync with the performance. The qawwals usually wore a short jacket under a kurta pajama along with a shimmering topi. While classical music placed emphasis on ragas and taals, a qawwali placed greater emphasis on the poetic text and rhythm. Initially, the qawwali was performed only by men but progressed to include women.
Muslim socials of the 1950s especially forwarded the genre, making it an integral part of the mainstream. Today, it is a near-extinct genre. The plotlines have become more urban and the advent of MTV and the disco-culture have given precedence and moved to hip-hop and rap. Largely, qawwalis in the movies have become as rare as a blue moon.
Here's remembering, then, this lost component of film music. I have tried to cover most of the memorable qawwalis but pardon me if I may have missed out on a few.
The 1940s and '50s
The immensely popular Aahen Na Bhari Shiqwe Na Kiye rendered by Zohrabai Ambalewalli, Noor Jahan and Kalyani, composed by Hafeez Khan featured in Zeenat (1945). Phir Aah Dil Se Nikli Tapka Lahu Jigar Se composed by Naushad and sung again by Zohrabai Ambalewalli in Mela (1949) also became a craze.
During the '50s one of the most memorable qawwalis: Humen Toh Loot Liya, was recorded by composer Pransukh Nayak for Mehboob Khan's Al Hilal (1958) and Datta Naik wielded the baton for Aaj Kyun Humse Parda Hai, rendered by Mohammed Rafi backed by a male chorus for B.R. Chopra's Sadhana (1958).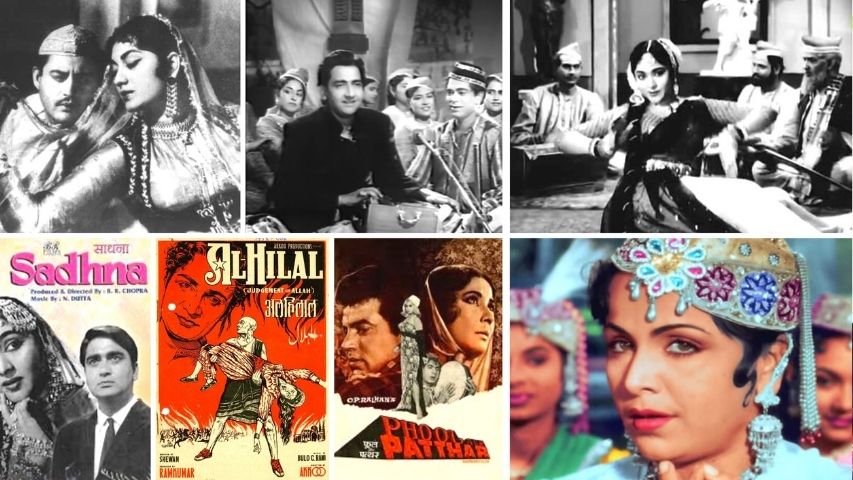 The 1960s
By the 1960s, qawwalis were in full form. The one composed by Roshan for Barsat Ki Raat (1960) starring Bharat Bhooshan, Madhubala and Shyama. Na Toh Caravan Ki Talaash Hai sung by Asha Bhosle, Sudha Malhotra, Mohammed Rafi and Manna Dey topped the charts.
Naushad's score for K. Asif's magnum opus Mughal-e-Azam (1960) is outstanding. One of its jewels is Teri Mehfil Mein Kismat Aazmakar Hum Bhi Dekhenge, playbacked by Shamshad Begum and Lata Mangeshkar, who launch into a poetic verbal war. It was pictured on Madhubala and Nigar Sultana. It continues to be a touchstone of the genre.
The same year, the quintessential Muslim social, Chaudhvin Ka Chand, starring Guru Dutt and Waheeda Rehman, showcased the qawwali Sharma Ke Agar Yun Pardanasheen, tuned by Ravi and sung by Shamshad Begum and Asha Bhosle.
The Mughal period drama, Taj Mahal, starring Pradeep Kumar and Bina Rai became a major hit for its songs by Roshan - Chandi Ka Badan sung by Asha Bhosle, Mohammed Rafi, Meena Kapoor and Manna Dey, besides of course the imperishable romantic paean Jo Waada Kiya Woh Nibhaana Padega, a duet by Lata Mangeshkar-Mohammed Rafi.
Mere Dil Ke Andar, was rendered by Mohammed Rafi for O.P. Ralhan's Phool Aur Patthar (1966). Other remarkable qawwalis of that era include Tum Meri Tasweer from Kala Samandur (1962) starring Jairaj and Chitra, but its mass appeal couldn't fuel the box office.
The romantic musical directed by C.S. Rawal, Dil Hi To Hai (1963) starring Raj Kapoor and Nutan, featured Nigahen Milane Ko Jee Chahta Hai sung by Asha Bhosle who has contributed overwhelmingly to this genre.
The qawwali in the flop film Jab Se Tumhe Dekha Hai (1963), though not a very popular one for its musical beats, still merits mention since it presented two of the Kapoor Brothers, Shammi and Shashi, in the same frame.
The 1970s
My favorite decade of the '70s can easily be called the golden decade of the qawwalis, starting off with Zaalim Meri Sharab Mein - in Sunil Dutt's Reshma Aur Shera (1971), composed by Jaidev, rendered by Manna Dey and pictured on character actor Sudhir.
I.S. Johar's 5 Rifles (1974), directed by I.S. Johar, may have tanked but is still recalled for Jhoom Barabar Jhoom Sharaabi sung by Aziz Nazan.
The appeal of Manoj Kumar's Roti Kapada Aur Makaan (1974) was enhanced by Laxmikant-Pyarelal's composition Mehengai Maar Gayi rendered by Narendra Chanchal, Lata Mangeshkar, Mukesh and Jani Babu Qawwal.
M.S. Sathyu's masterpiece, Garam Hawa (1975), gave us Maula Salim Chishti by Aziz Ahmed Khan Warsi of the Warsi brothers.
In a breezier mode, Nasir Husain's Hum Kisise Kum Naheen (1977) was highlighted by the R.D. Burman track Hai Agar Dushman pictured on Rishi Kapoor and Zeenat Aman, and is replayed extensively to date.
During the same year Manmohan Desai's mega-entertainer with music by Laxmikant-Pyarelal, Amar Akbar Anthony, with Rishi Kapoor playing Akbar whooped it up in the widely lauded Sirdi Wale Sai Baba and Purdah Hai Purdah. The latter was particularly notable for its zingy choreography and Rishi Kapoor's agile moves.
The little-known Charandas (1977) directed by B.S. Thapa, starring Vikram opposite Lakshmi again after the success of Julie, believe it or not had Amitabh Bachchan and Dharmendra jousting to the Rajesh Roshan number, Dekh Lo Ishq Ka Martabba sung by Aziz Nazan and K.J. Yesudas.
The same year Manmohan Desai created a qawwali sequence for Mere Dil Jhoom Zara composed by Laxmikant-Pyarelal, with a twist in the performance with Shabana Azmi and Neetu Singh in Parvarish, who brandished revolvers no less in their hands.
Towards the end of the decade, Kalyanji-Anandji's Aaj Faisla Ho Jayega Tu Nahin Ya Hum Nahin was seen in Karmayogi (1978) as a face-off between the Ajit and Rekha, in the midst of which Raaj Kumar intervenes to defeat the villain.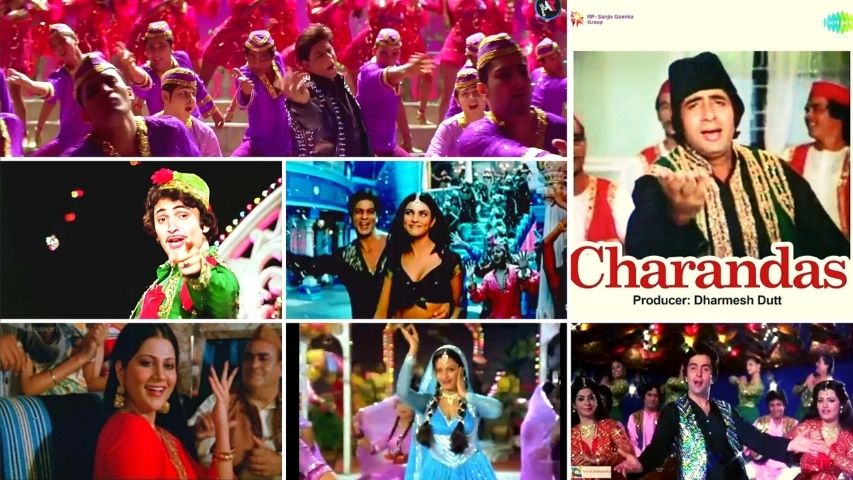 The 1980s
The decade began with director B.R. Chopra's multi-starrer The Burning Train with R.D. Burman's qawwali, Pal Do Pal Ka Saath Hamara, shot on Asha Sachdev, Jeetendra, Neetu Singh, Padmini Kapila several character actors as passengers on the ill-fated train just before it catches fire. This qawwali remains popular till this day as confirmed by the yesteryear actress Asha Sachdev.
Atmaram's suspense-laden Khanjar (1980) with music by Nitin Mangesh, can be recalled for the Aziz Nazan-rendered Lo Hum Aa Gaye Hain Phir Tere Dar Par which appears at a crucial juncture of the movie, starring Navin Nischal and Reena Roy.
Next came the big one, Nasir Husain's Zamane Ko Dikhana Hai (1981), in which the qawwali king Rishi Kapoor energized R.D. Burman's Pari Ho Aasmani Tum, which fused disco beats to appeal to the youth generation.
The gambit was to make something traditional adapt to the times of the disco with Dil Lena Khel Hai Dildar Ka, which began with the words from the opening credits of Nasir Husain Films' Kya Ishq Ne Samjha Hai, Kya Ishq Ne Jaana Hai? Hum Khaaq Nasheenon Ki Thokar Mein Zamana Hai, sung by Shailendra Singh and Asha Bhosle.
Ramanathan's Dial 100 (1982), an action-comedy with Vinod Mehra and Bindiya Goswami staged a qawwali with Asrani and Jagdeep in disguise, as they lip-synced to the lyrics Allah Tauba Hai Tauba Hai.
A year earlier, Arujun Hingorani's Kaatilon Ke Katil was notable for the Kalyanji-Anand track Main Woh Chanda Nahin, sung by Hemlata and Anwar pictured on Dharmendra and Zeenat who played Jameela Banu.
Towards the end of the decade, a face-off was seen between the parties of the groom and bride - Dulhe Raja Ki Soorat Dekho - filmed on Aruna Irani and Jaishree T. from Ghar Ghar Ki Kahani (1988).
The 1990s
The '90s witnessed a steady decline of qawwalis with the domination of either action-packed movies of stories set overseas. The qawwali soon became a pretext for dance competitions. Nevertheless, one does remember the popular song, which began as a qawwali and then became a song of a cry to a beloved - Der Na Ho Jaaye - in R.K. banner's Henna (1991), the dance being performed with gusto by Ashwini Bhave.
The 2000s
Piya Haji Ali is a still-cherished incantation from Fiza (2000) and was sung by A.R. Rahman, Kadar Ghulam Mustafa and a chorus line. A similar song was featured in Govind Nihalani's Dev at the Haji Ali Durgah - Rang Deeni by Kailash Kher.
The most lavishly pictured qawwali in the millennium was seen in Farah Khan's Main Hoon Na (2004), with the super hit number Tumse Milke Dil Ka Hai Jo Haal shot on Shah Rukh Khan, Sushmita Sen, alongside Zayed Khan and Amrita Rao.
In Tees Maar Khan (2010), Farah Khan was back with Vishal-Shekhar's qawwali, Wallah re Wallah, shot on Akshay Kumar, Katrina Kaif and Salman Khan, which also became popular.
The next year brought Rockstar highlighted by A.R. Rahman's Kun Faya Kun. And five years ago Bajrangi Bhaijaan (2015) included the qawwali - Bhar Do Jholi Meri - originally composed by the Sabri Brothers but revamped in the voice of Adnan Sami.