Desperately Seeking Kim
by Dhruv Somani
March 28 2021, 12:00 am
Estimated Reading Time: 11 mins, 17 secs
Film historian Dhruv Somani, tracks down Kim who had vanished from the Bollywood scene, for an exclusive, freewheeling chat-fest.
Kim Yashpal dropped her second name, left her home in Beirut and jetted to Bombay at the outset, as she wished to learn Kathak, and trained in the dance form with her guru Gopi Krishna after which Bollywood happened by chance.
At a party she met Shashi Kapoor who introduced her to the affable producer N.N. Sippy. He instantly signed her as the heroine of his upcoming mystery thriller, Phir Wahi Raat (1980), opposite superstar Rajesh Khanna. She is to the camera born, still is, and many consider her an artist way ahead of her times.
It took almost six months to track down Kim who had vanished from the scene after an all-too-brief career. She was also subjected to misleading stories, one of them being that she didn't live in India anymore and had shifted to Kuwait. Some claimed that she was in the U.K. and had opted for a quiet life away from the madding crowd.
After concerted efforts, I discovered that she was in Mumbai. Conversing with her on the phone was a euphoric experience for me. Frankly, I've been a fan-boy of the undervalued Kim since years.
She still commands a huge, loyal fan following in India and also in Russia. I had to ask her to answer a shoal of unanswered questions about her career. Over to excerpts with the articulate La Kim:
After a stint in modeling, how did you enter film acting?
That's a misconception.
I never began with modeling. It's been a permanent grouse with me - why wasn't I ever offered modeling assignments yesterday or even today? In fact, I have this long-nurtured dream of doing a Johnson's Baby Powder ad, but I was always told that I don't have the required mother's face. As everyone knows, I entered films because I was involved with Danny Denzongpa at one point. He was directing Phir Wahi Raat for N.N. Sippy who found me suitable and I was selected as the leading lady.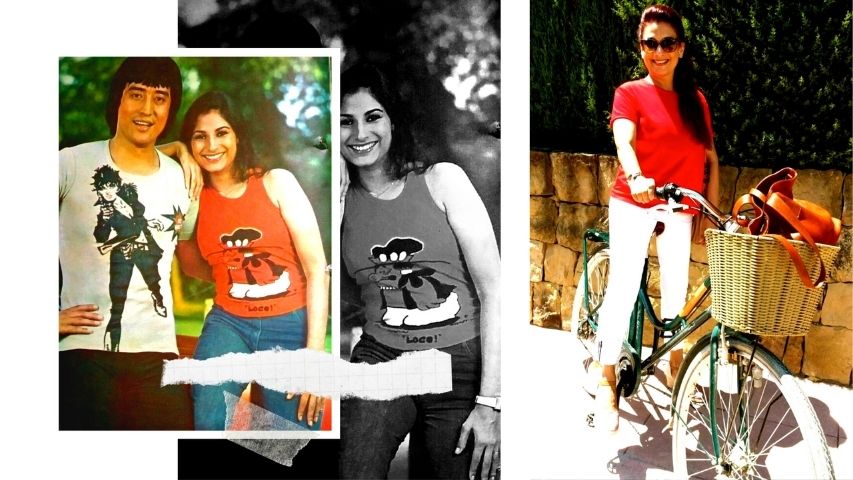 According to Google, you made your debut with Pehredar and not Phir Wahi Raat?
Certainly not! Phir Wahi Raat was the first film I signed but I faced the camera for Cinema Cinema (1979) directed by Krishna Shah. Pehredar came much later - it was a bilingual in Hindi and Bengali opposite Danny Denzongpa. The Bengali version Prohari was released, it did well but the Hindi version never saw the light of day.
How was it working with superstar Rajesh Khanna and quite a few senior artistes in Phir Wahi Raat?
We had a terrific time in Ooty. N.N. Sippy sir was as caring a producer as he was a lovely human being. Working with veterans like Shashikala, A.K. Hangal, Suresh Oberoi, Jagdeep and Lalita Pawar was a pleasure. Aruna Irani was so much fun to work with - she'd keep us in splits with her wise cracks. And Rajesh Khanna was unbelievable; he was very supportive as I was initially grappling with my Hindi. He would be patient and give me ample time to rehearse and mug up my lines. There was another lovely girl Tamanna, she was also very sweet, I believe she did two to three more movies but never got her due.
How was the experience of working in Bulandi (1981) next?
Director Esmayeel Shroff called me up and asked me if I would be interested in doing a role again opposite Danny Denzongpa along with Raaj Kumar and Asha Parekh. I grabbed the opportunity. I played Raaj Kumar's sister, and loved Asha Parekhji who is a beautiful person. We often laughed as both of us had these wonderful exits (smiles). Whenever Raaj Kumar and Danny appeared on the screen, the women had to make an exit. My song with Danny, Kaho Kahan Chale, became pretty popular.
Your biggest shot to stardom came with Manmohan Desai's multi-starrer Naseeb (1981), in which you performed to the famous Kabaddi song. And wore the My Fair Lady outfit in the climax.
What can I say about Naseeb? It was one of the most defining moments of my life when I actually got a call, asking me to meet Manmohan Desai. This is not happening was my instinctive reaction. We had a delightful conversation after which he sent me a message telling me I was on. I became a part of the project because Neetu Singh who had shot for two scenes already was getting married to Chintu (Rishi Kapoor) and dropped out. At the outset, I felt like a fish out of water on the sets, I was working for the first time with major stars. Manji's brief was that he wanted my character to be a fast-talking bubbly girl. "So just be yourself, but in Hindi," he said.
We shot the Kabbadi song at the height of summer in the month of May. Some of us had headaches by the end of the day and were so deeply sun-tanned, which took about three months to get back to normal. My white and black Eliza Doolittle outfit was Manji's brainwave; he felt I was the My Fair Lady type, a hoity-toity sort contrasted with Chintu who was given the Charlie Chaplin look. I had four fittings for the costume; it was so tight that when it was zipped up, I was stuck in it for the entire day. The hat must have weighed almost three and a half kilos since it had metal rims around it. It was really tough to dance, when action would be announced. None of that showed on the screen though, that the audience applauded the climax number. I had a super time working with everyone, including so many villains. And I struck up a close friendship with Reena Roy after the film.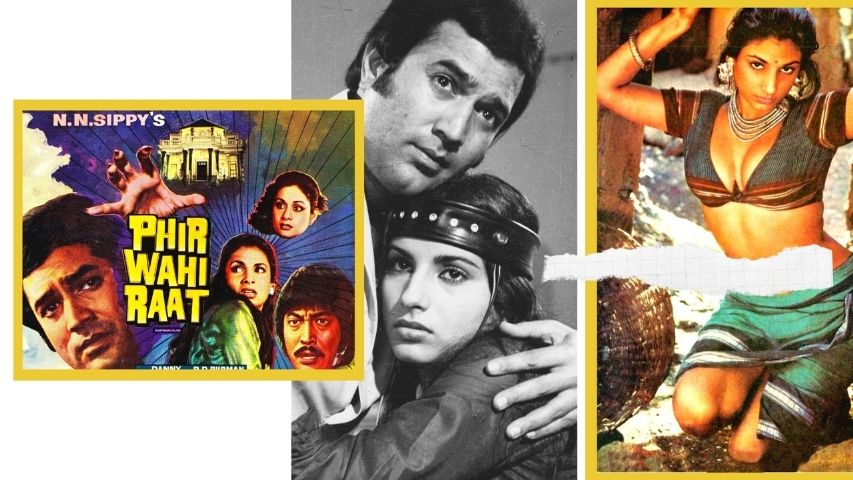 You're still known as the Jimmy Jimmy girl. Why didn't you cash in on the immense popularity of B. Subhash's Disco Dancer (1982)?
I didn't get any offers of substance after the success of Disco Dancer. No offers opposite Mithun Chakraborty for whatever the reasons were. I seemed to be going nowhere, I was being offered random roles in which I would have to do revealing scenes or dance numbers. B. Subhash did offer me Commando (1988), much later, opposite Mithun. I had full faith in the project but B. Subhash chick-chopped my role drastically. I still can't fathom why he offered me a role if it was to be edited to smithereens. I was extremely upset and disappointed with him.
How do you look back upon Sardar, Dilawar and Andar Baahar, which were all released in 1984?
Sardar was the home production of A. Salaam, I did the film opposite Raj Kiran but it failed miserably at the ticket counters. Dilawar I did to prove a point that I could fit into Indianised roles too… since I was usually shown wearing western clothes. But I was strongly criticized; I was taken to the cleaners.
As for Andar Baahaar, it was a gamble. The role had grey shades - I thought how about taking a risk? Both my songs were chartbusters. Unfortunately, there was a controversy regarding the climax song Meri Aankhon Mein Zara Jhakon. The censors found it objectionable to show a single girl dancing around so many men in an outfit, which looked like a swimsuit. I was quite in sync with the character but the censor's didn't see it that way. I was applauded as people remembered me for the film but it was Moon Moon Sen who was the heroine and debuted in the film. Still, I was consoled by the fact that the reviews were good to me in a film, which essentially belonged to the boys Jackie Shroff, Anil Kapoor and Danny.
What's your take today on Deepak Bahry's Humse Hai Zamana (1983)?
I played the character of Sona and was coincidentally again paired with Danny. Deepak Bahry was a focused director. Mithun I had already worked with. Zeenat Aman was very open, grounded and patient, she never behaved like a big star and was always fine if I stumbled on some lengthy lines of dialogues. I thoroughly enjoyed her company.
I believe you also did some other films along with some song-and-dance numbers?
I did Gharwali Baharwali (1988) opposite Farouque Sheikh with whom I had a great time working in Hyderabad. Maha Shaktimaan (1985) is another one I did opposite Karan Shah. And you're right. I did some other films and songs in Maa Kasam (1985), Ek Hi Maqsad (1988), Gunahon Ka Devta (1990), Baaghi (1990) and finally Balwan and Muskuraahat in 1992. I also did a film in the South, Krishna Nee Begane Baro, opposite Vishnu Vardhan, which was the Kannada remake of Souten. I essayed the role done by Tina Munim in the original.
Were there any projects you were keen on but they didn't happen?
Yes, I was offered Insaaf Ka Tarazu by B.R. Chopra and Ek Duuje Ke Liye too but had to let go of them because I had already signed Phir Wahi Raat with N.N. Sippy and he wanted it to be my first release. The catch was that other filmmakers too wanted a first release, which wasn't doable. Even though I had not signed any contract with N.N. Sippy it was a verbal agreement, which I stood by.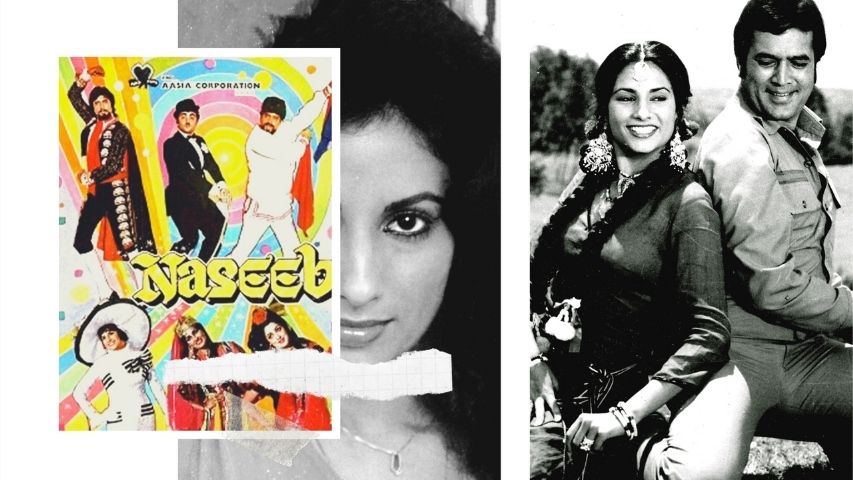 Who were your friends in the film industry? Are you in touch with them now?
Most of my friends were from outside the industry. The exceptions were Sinha family with whom I have kept in touch ever since Naseeb. I would also visit Amrita Singh at times. I guess I wasn't a party girl and only attended the ones where I had to go, so my circle of friends was limited. I had become good friends with Parveen after an initial animosity, which we trashed down and cleared the air. She was a wonderful person and the only one to send me a perfume and a record as a gift for my birthday.
Generally, Danny Denzongpa is blamed for the failure of your career. Are you in touch with him today?
See, there's a lot of talk and speculation, people can say what they want to. All I want to say is that it takes two hands to clap. I wasn't a child who didn't know where we were going. I don't think it is fair to blame him at all. I haven't spoken to Danny since we parted, though we have shot a couple of times together. We have exchanged pleasantries and gone our different ways.
You were often compared with Dimple Kapadia. It was felt that you were perfect to fit into her mold when she had quit after Bobby (1973).
I was compared a lot to Dimple but honestly there was no resemblance at all. I knew Dimple because she too was learning dance from Gopi Krishna during Bobby. Maybe photographs clicked at certain angles made us look similar. Apart from that, I'd don't see anything that's common.
Why are you so inaccessible, leading to the impression that you are not in India?
I am very much in India for almost 7-8 months a year. Besides that, I travel to Europe to be with a friend of mine. We do charity work for children and animals, which keep me occupied and happy. I have also completed four exams of classical dance and am a qualified dance teacher.
I longed to accomplish my dream of dancing with my guru Gopiji on stage, which I did when I played his Radha in one of the shows. The second was to do a jugalbandi with him, which I couldn't since he passed away. But I was fortunate to do my tatkar (intricate footwork) with him during practice sessions.
Would you like to return to work? The OTT channels have opened so many doors for opportunities. What kind of work would you like to do today?
Honestly, I have wanted to do a modeling assignment since ages and would love to do ads and endorsements. I still want to do that one photograph for an ad with a wow effect, like modeling for jewelry. I would love to do a crossover or a Hinglish film, which would be more up my alley. I am open to doing whatever comes my way provided it is exciting and not clichéd - since most roles start off very well but fade out into practically nothing.
Why aren't you on social media?
I am a very private person; I wouldn't like my life to be under a constant gaze. In all fairness, the artistes today have made their lives far too public. During my time, we had an inner circle. Things never went out to the outer circle without our knowledge. Nowadays, even if you go out for a walk it makes news (laughs) - but since you've brought it up I'll surely consider it.
Here's hoping you make a comeback soon.
Thanks. Better late than never!!