Pause for a cause
by Khalid Mohamed
December 25 2020, 12:00 am
Estimated Reading Time: 7 mins, 3 secs
Khalid Mohamed thumbs up the cautionary Unpaused, checks out the complicated crime thriller and gives up on a dithering bid to take over Casino: My Game, My Rules
UNPAUSED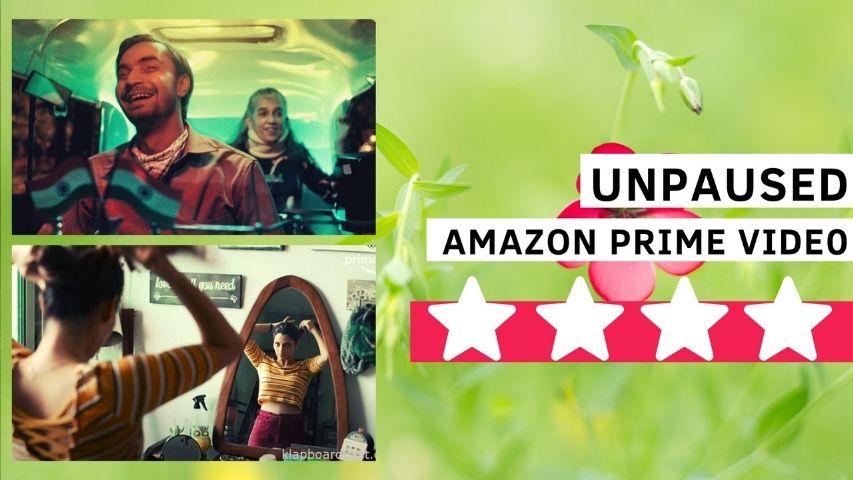 Here's an invitation to pause with a cause. Ironically titled Unpaused, this anthology of five short stories related to the dread of the Coronavirus, at the outset prompts you to wonder - whether to watch or not to watch. Bracing yourself to be cool, calm and collected, if that's possible, the series gratifyingly turns out to be that much-required human voice at a point when so many of us are seeking relief in streaming the OTT platforms.
Alternately zanily humorous and compassionately serious, to be sure there's an unevenness and flicker of self-indulgence in the storytelling and techno-quality of the package. Yet, the acting crew is consistently inspired, the top honours for once being grabbed by the women, who assert that they're the gender, which keeps the world sane-'n'-sorted in the event of a beyond-belief global crisis. Whether this aspect was meditated or accidental doesn't matter. It's just that the women depicted here emphasise, loud and crystal clear, that they will not permit their lives - or of the males around them - to shatter.
Over then to the curiously-named director-duo Raj and D.K.'s futuristic Glitch in which a 'hypo' (Gulshan Devaiah) is about to go berserk, circa 2030.
Cripplingly dependent on his Alexa-kind of device and vibgyor fluids in the fridge, he keeps striking up blind dates on a weirdo app. Zap, at long last, meets up with a lab scientist (Saiyami Kher), who's more fluttery-muttery than a butterfly. A fail-safe vaccine is still to be discovered. Mush ado about something now: It's only thanks to her, that he… err… is assured that there's a ring of truth to that romantic blarney of falling in "love at first sight". So okay, dude, banish that fright which attacks you day-'n'-night.
Next: Nikkhil Advani's Apartment with echoes strains of the #MeToo movement, elects to focus on the wife (Richa Chadda) who must take a call on the accusations levelled against her journalist husband (Sumit Vyas), charged with sexual harassment. If that's an allusion to the allegations against M.J. Akbar, it's quite cleverly done. Alone in her high-rise home, she contemplates suicide, her several bids being nipped in the nick of time by a Peeping Tom of a neighbour quite hammily enacted by Ishwak Singh. Fortuitously, Advani focuses majorly on the emotional tumult of the woman, whose conflict of values must reach a closure. Sketchily scripted alas, this is the weakest offering in the quintet.
As it happens actor-turned-director Tannishtha Chatterjee's Rat-a-tat is an outstanding study of two women of contrasts – Lillete Dubey is the pernickety senior-citizen who's touchy about Hindi pronunciation, handles her own meals and relishes her privacy in her old-worldly home. Enter Rinku Rajguru (whom you might remember from Sairat), an assistant film technician, who has moved into an adjoining room and is petrified on sighting a rat. Despite her misgivings, the old lady, in the tradition of 36 Chowringhee Lane, strikes a bond with the young woman, allowing her to move in. Ever so warmly, they engage in time-pass conversations, disclosing home-truths, besides stressing that linguistic and age disparities are redundant. Marvellously scripted, here's a sparkler which restores your faith in generosity.
Although implausibilities abound in Avinash Arun Dhaware's Vishaanu revolving around the plight of stranded migrant workers in Mumbai, its heart bleeds for a couple (Abhishek Bannerjee and Geetika Vaidya) and their child who have found shelter in an uber ritzy apartment. How now? Shades of the Oscar-winner Parasites probably. Snatching stolen moments of happiness, they record a sexy TikTok video, no less, but the long journey back to their village remains a looming question mark. An arduous walk, burdened with whatever they can carry, is perhaps the only option. The point is reality bites hard for the underprivileged.
In conclusion, there's Nitya Mehra's Chand Mubarak plea for secularism through the account of a hyper-tense ageing woman (Ratna Pathak-Shah) who suspects the motives of the Muslim autorickshaw driver (Shardul Bharadwaj). That's when late at night he takes a short-cut to a medical store. On discovering that her anxiety was unfounded, she steadily begins to treat him like a surrogate son. The finale is as realistic and touching as it gets.
That's quite a motley bunch of stories, which could have floundered if any of the roles were miscast. Lillete Dubey, Richa Chadda, Saiyami Kher and Geetika Vaidya are especially lifelike. Ratna Pathak-Shah is bankably first-rate, supported capably by the scene-stealing Shardul Bharadwaj.
There you are then. Do take a pause to stream into the uplifting Unpaused.
BLACK WIDOWS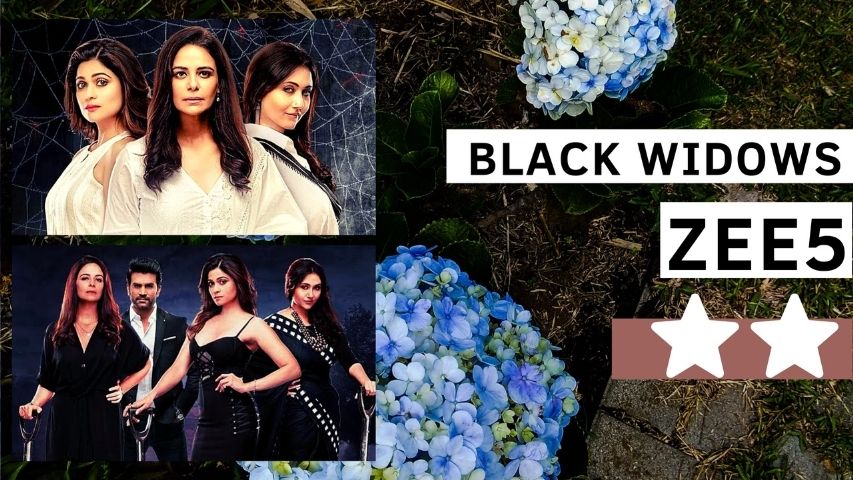 Re-baked from the Finnish series Muskat Lesket (2014), this gaga saga is about three Revengewood Wives – Mona Singh (restrained, shukriya so much), Swastika Chatterjee, (fond of going "Eff, Eff, Eff Off" as if its's the only cuss phrase she's aquainted with) and Shamita Shetty (sterotyped as a Bimbolina). Alack, the outcome is about as thrilling as watching a ceiling fan whirring.
The plot thickens and sickens as soon as they blow up their creepoid husbands, in a sailboat, a task easier achieved than cracking an akhrot. In a walnut then, the killer wives are in for a busier time than bees in a hive. Jive, ladies, jive!
For starters, bounce-'n'-flounce they go at one of those glossy-mossy resorts. So far, so hum-de-hum, tra-la-la and all that jazzmatazz. Then from the Mossy Mahal they're in some city in a state of dire self-pity. By the way, one of the husbands hasn't quite been dispatched to the pearly gates. Hence, he's back to hubble, bubble, toil and trouble – searching for a sexy pen drive secreted in a teddy bear's tum tum. No khushi, only glum. Meanwhile, there's a senior cop who's going yumpety-yum-yum at the prospect of finding a lootcase containing Rs 2 crore. Such a cheapster, I tell you. Boo.
More cops fetch up, the male one crawling into the bed covers of Lady Eff Eff, while his female partner reveals a secret lust for samosas with dollops of chutney. There's also a muttony allusion to three kilos of diced meat, enticing you to switch to the Master Chef, for way superior recipes than the ones adumbrated here. Burp re burp.
And yo, dear Raima Sen arrives in corporate suits (ill-fitting, alas) and makes much chatter-clatter about taking over a pharmaceutical factory, frequently threatening to virus the entire nation with presumably, nauseous gaaas. Khalaas! Right yawn.
Admittedly director Birsa Dasgupta has an eye for outdoor visuals (there comes another drone shot of Mossy Mahal!) but he could have prevented the script from going all over the place like a giant amoeba. The performances are competent enough, and if you do relish women screaming, "Eff! Eff! Eff you!", then this 12-episoder has been obviously designed for your squeam-'n'-squirm pleasure.
THE CASINO – MY GAME, MY RULES
It's X'mas but I couldn't locate any new cheer potion. Haplessly, then there I was, surrendering myself to a tall tale of a psychologically-wired young man who has inherited the grandest casino on Mother Earth, outside of Martin Scorsese's forays into roulette and taash-patta country. If there was a slot machine in the desi series, for the cash-challenged, I couldn't see it. Such killjoys really.
Next: The poshy-posh casino becomes a tug-of-war between Psycho-wired and his dad's mistress Rehana, a Mona Darling of sorts. Follows a quasi-sex scene, a seminar on terribly antsy faces, flashes of a fancy pret-a-porter wardrobe and this is presumbaly located in Nepal.
Directed by Hardik Gajjar and Tushar Bhatia, it's touted to introduce actors Karanvir Bohra and Mandana Karimi on the digital domain. Bully for them! Yet for some odd reason, I seriously believe that Santa won't leave too many accolades for them in their Christmas stockings.