Short-changed in life
by Dhruv Somani
December 20 2020, 12:00 am
Estimated Reading Time: 9 mins, 19 secs
Film historian, Dhruv Somani, recollects the tragic story of the charismatic star Priya Rajvansh, who if she were alive would have turned 84 on December 30th
Her journey down the tracks of Bollywood was heartbreaking in sync with the roles she portrayed. She appeared only in seven films exclusively for her mentor and guide Chatan Anand.
A tall statuesque woman, from a royal lineage, Priya Rajvansh was the classic head-turner. Born on December 30th, 1936, if she were alive, she would have turned 84. Her original name was Veera Sunder Singh and her father worked for the Imperial Forest Office in Shimla. Growing up with brothers Kamaljit and Padamjit Singh, Priya studied at Auckland House where she was the school captain and then at the Convent of Jesus and Mary, Shimla.
She passed her intermediate from St. Bede's College in 1953 and moved to the Bhargava Municipal College. It was during this time that she gravitated towards acting and dramatics, participating in plays held at Shimla's well-known theatre Gaiety. Spotted by chief guest Balraj Sahni during one of her inter-collegiate plays, he requested her father to allow her to pursue dramatics since she seemed like she was born to act.
Consequently, she joined London's prestigious Royal Academy of Dramatic Arts (RADA). Since her father was on an UN assignment, he was posted in Britain's capital city. In fact, her photograph still adorns a wall of the acting school, as the only Indian student to have graduated from there at the time. While in London, her photographs were clicked by a local photographer and on the insistence of a close friend; she posted them to Raj Kapoor, Guru Dutt and Chetan Anand.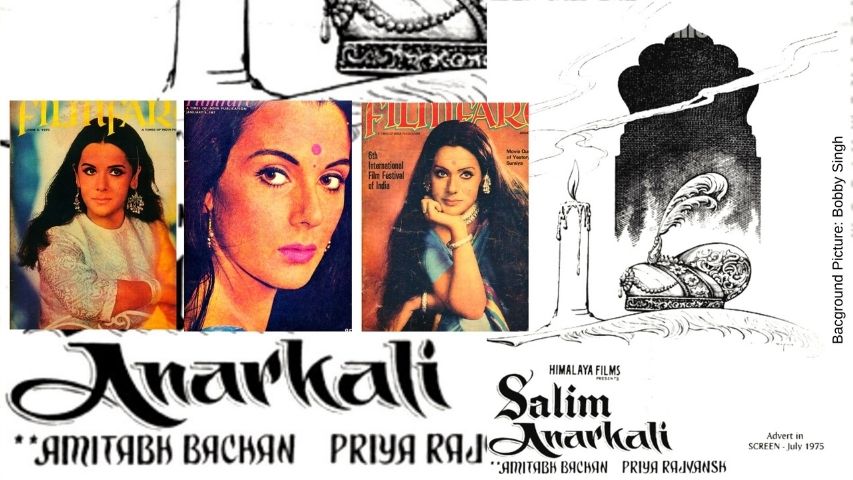 It was only Chetan Anand who contacted her via a telegram, inviting her to India for a screen test for his under-the-works musical love story Heer Raanjha. The director, known for his top-quality films like Neecha Nagar (winner of the Grand Prix Award at the Cannes film festival in 1946), Taxi Driver and Funtoosh, personally went to the airport to receive her. One look at her and he knew he had found his Heer. Unfortunately, the ambitious project was taking a while to get off the ground. Hence he penciled her in for a lead role in Haqeeqat (1964).
The black-and-white war drama was screened at the film festival in Delhi, with President Dr. Radhakrishnan and Vijayalakshmi Pandit in attendance, as chief guests. When Priya entered the auditorium, packed with army Jawans, the President conversed with her about her experience at London's RADA. She was overwhelmed by the attention even while she was nervous about how the audience would react to Haqeeqat, since it was devoid of the mandatory commercial ingredients. The distributors in Bombay had described it as "a dry war documentary".
Subsequently, the film was released on December 30th, on her birthday. As the New Year was around the corner, the response to Haqeeqat gained momentum and was appreciated by audiences throughout the nation. The critics especially praised Madan Mohan's music score and remarked favorably on the credible performances by the ensemble cast.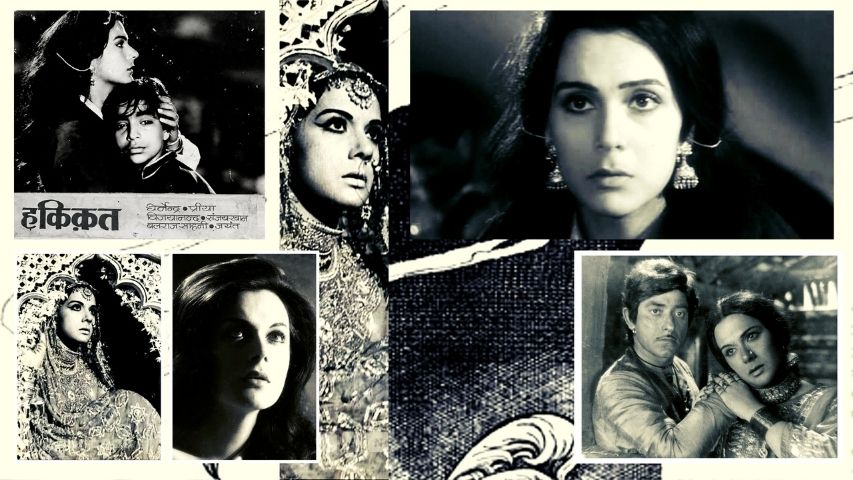 Quite inevitably, Priya Rajvansh was instantaneously submerged with film offers, including an actioner titled Hunterwalli, which she declined politely. She was excited beyond measure by an offer from Raj Kapoor conveyed to her by singer Mukesh. However, the showman snubbed her at a film party, leaving her baffled. Like it or not, rumors were rife within the trade that any film she would sign up for would have to be first approved by her mentor Chetan Anand. That didn't go down well with Raj Kapoor.
Similarly Satyajit Ray was keen to cast her but because she didn't have a secretary, it was assumed that her mentor would be supervising the details of her work with a hawk's eye. Her fate was sealed, the offers stopped coming. Both Dev Anand and Vijay Anand had wanted their elder brother to direct Guide (1965). However according to the grapevine of the times, there was a fall-out between the Anands. Reason: Chetan was adamant on casting Priya as Rosie. However, since Priya's dancing skills were zilch, Waheeda Rehman was considered to be the appropriate choice. Following the impasse, Vijay Anand stepped in as the director of Guide.
She was in a quandary exacerbated by the fact that Chetan Anand announced Aakhri Khat (1966) with Rajesh Khanna and Indrani Mukherjee in the lead roles since he was convinced that his discovery would be miscast as an impoverished mother. Moreover such an image, once established in the public mind, would prevent him from showcasing her in the lyrical Heer Raanjha.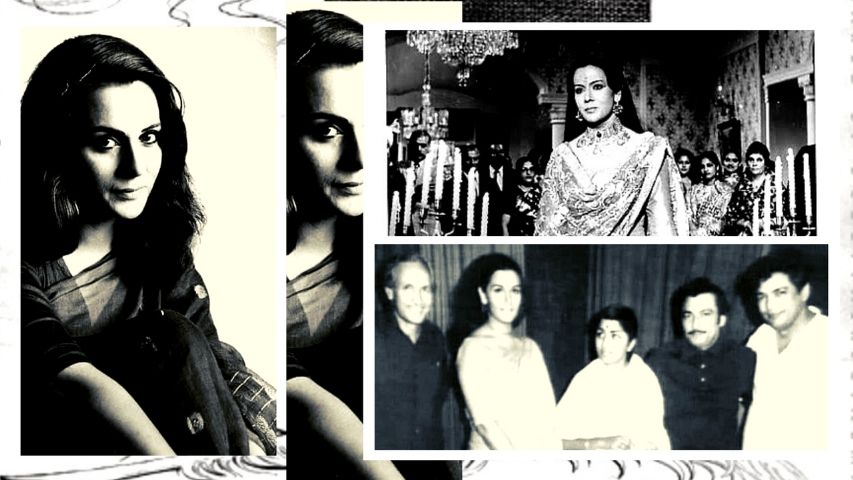 Patience paid, the love legend, written in verse by Kaifi Azmi, started being filmed with Raaj Kumar. Nearing its release, in 1970, the film proved too inordinately lengthy at a running time of over three hours. The mixed public reaction led to Heer Raanjha being trimmed by 40 minutes. The gambit worked, its songs composed by Madan Mohan topped the charts of the Binaca Geetmala. Declared a hit, its heroine was in the news again, almost five years after making her debut.
Meanwhile, Chetan Anand ideated other stories for his muse. He had already separated from his wife Uma. By the time Heer Raanjha was wrapped up, the director and Priya Rajvansh were considered to be inseparable. He was 16 years older but age wasn't a deterrent. Priya became an intrinsic part of both, his private and professional lives at the office of his production banner Himalaya Films. It is lore that she was involved in giving her inputs for his scripts, dialogue and set décor.
Unbeknownst to many, a grand historical opus, Salim Anarkali, was announced pairing Priya with Amitabh Bachchan. Ads were released in the trade papers, according to my friend film tracker Bobby Singh. For inexplicable reasons, the project was shelved.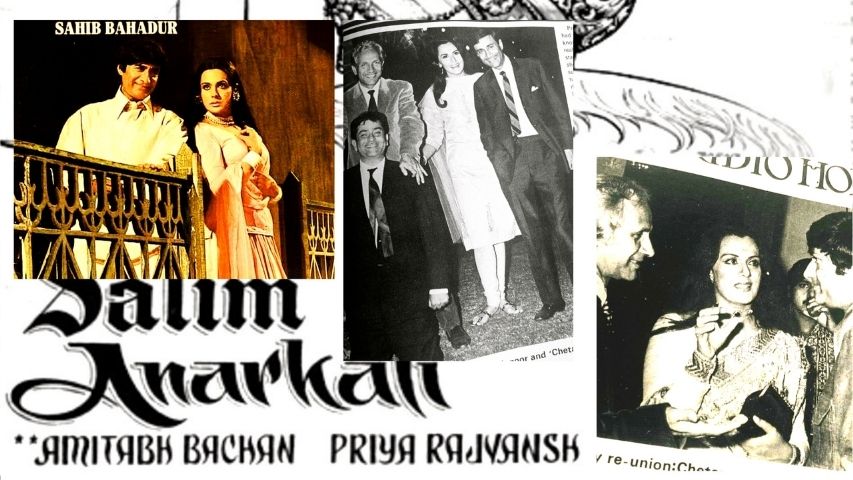 In 1973, Chetan Anand made Hanste Zakhm with Priya and the upcoming actor Navin Nischol. A very bold screenplay, about the travails of a sex-worker, was developed by Priya - without her taking credit; the concept was by Gulshan Nanda. Hanste Zakhm was a whopper hit and was acclaimed for its storyline, hard-hitting dialogue on the status of women, and of course for the phenomenal music by Madan Mohan.
The Himalaya banner produced Hindustan Ki Kasam (1973) with Raaj Kumar and Priya supported by Amjad Khan, Parikshit Sahni and Vijay Anand. The songs of the film became popular but it failed to recreate the magic of Haqeeqat at the box office. Unfazed, Chetan Anand directed yet another film with Dev Anand and his staple heroine Priya. A remake of his earlier film Afsar, which was titled Sahib Bahadur in 1977 - again embellished with a terrific music score, but turned out to be a colossal flop.
In 1980, Priya began scripting the multi-starrer Kudrat based on the theme of reincarnation. The acting crew comprised herself with Rajesh Khanna, Hema Malini, Vinod Khanna, Aruna Irani and Raaj Kumar. But there was trouble ahead. On seeing the rushes, Rajesh Khanna developed cold feet and wanted a key courtroom scene to be changed in his favor. The director turned down the then superstar's demands.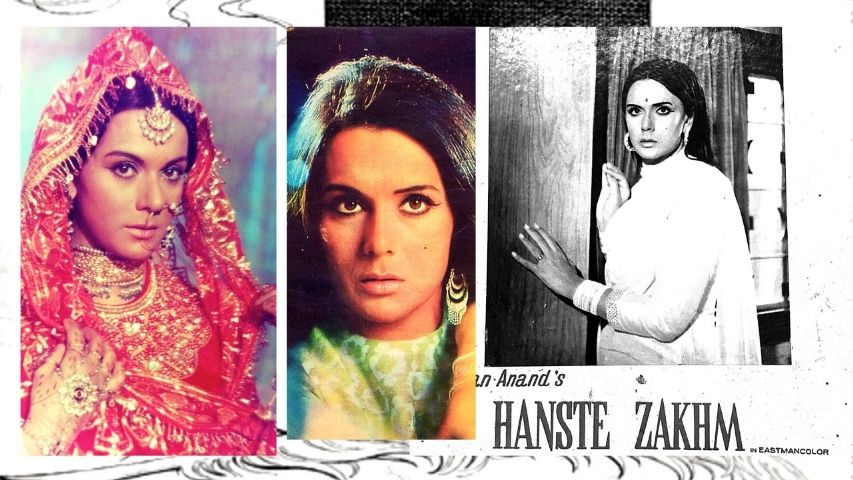 Rajesh Khanna lambasted Chetan Anand and Priya in print and hauled them to court where he won on a technical point. Finally, some scenes were altered and deleted to satisfy the superstar whereas Priya's scene-stealing scene was altered. R.D. Burman's music score for Kudrat was one of his best, the outstanding song Humen Tumse Pyaar Kitna was rendered in two versions by Parveen Sultana and Kishore Kumar. Despite its excellent technical sheen and a riveting courtroom confrontation, it was rejected at the ticket windows.
In 1985, Priya officially scripted Haathon Ki Lakeerein starring herself, Sanjeev Kumar, Jackie Shroff and Zeenat Aman. A sensitive subject about child adoption, it failed to make its mark at a juncture when video piracy had become rampant. Dejected, Priya focused on their production company's TV serial Param Vir Chakra (1988) and began to appear at public functions with her partner Chetan Anand.
They attended mushairas and award functions hand in hand. Apart from such occasions, she remained in her ivory tower, spending most of her time with her partner at The Shack, Chetan Anand's Juhu seaside bungalow at Ruia Park, which was designed by her into a beautiful home.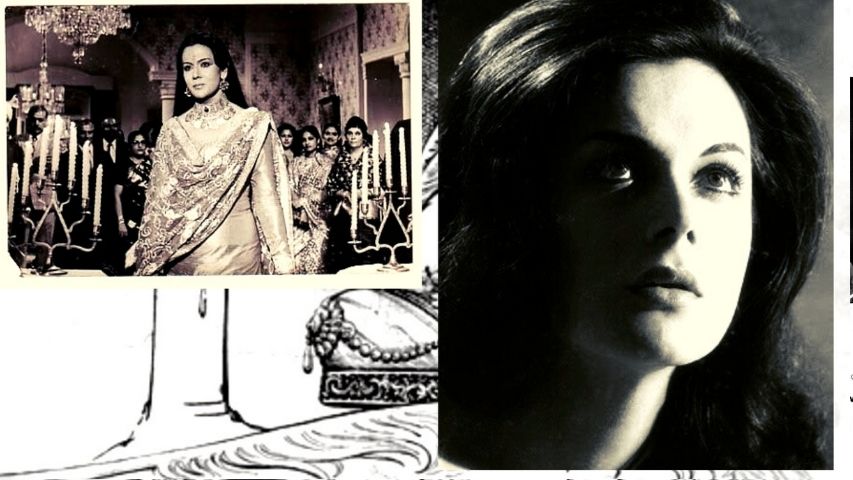 She'd have lunch with him and return to her house at Mangal Kiran building nearby, while his car would come back to pick her up for dinner. He would often buy her ice cream before dropping her off after dinner. They had a fabulous rapport but gradually he became frail and was totally dependent on her. When he fell sick, she nursed him day and night but was soon left lonely when he passed away in 1997.
Her equations with his sons Ketan and Vivek Anand had deteriorated drastically. Their father had left a substantial section of the bungalow to her. She'd often be scared and uneasy and would tell them to buy her share if they did not wish to sell the property. She wanted to meet her family in the U.K. and travel around the world. That was not to be as she was found dead on 27th March 2000, at the age of 64, in her bathroom.
Investigations indicated a cold-blooded murder. Two domestic helps and Ketan and Vivek Anand were the prime suspects. It was alleged that they had killed her over the property of their father, in which she had been willed a one-third share. Priya's hand-written letters to Vijay Anand were presented in court as evidence by the prosecution. The court convicted the suspects with a penalty of life imprisonment in 2001, but the four moved court in 2002 against the life term awarded to them by the trial court. The High Court granted them bail. And the tragic story rests there.
The seven films she did were all for Chetan Anand and his banner. Needless to lament, a woman of such loyalty, intelligence and elegance didn't deserve such an end. Ironically, she would die in all the successful films she had worked in.
Beautiful melodies are still fresh in people's hearts and minds: Zara Si Aahat from Haqeeqat, Tum Jo Mil Gaye Ho from Hanste Zakhm, Hai Tere Saath Meri Wafa from Hindustan Ki Kasam, Do Dil Toote Do Dil Haare and Milo Na Tum Toh Hum Ghabraye from Heer Raanjha and Mushkil Hai Jeena from Sahib Bahadur.
I'm sure she deserves much more of our regard. There's a lingering sense of loss we feel for Priya Rajvansh. This can never be articulated with a biopic, which several filmmakers have sought to. I wonder if her soul will ever rest in peace. Today, she is remembered through her films and her songs. The late Kaifi Azmi dedicated a book to her while her eyes have inspired numerous poems. A book called Priya Interrupted was written on her life by writer Subodh Lal but remains inaccessible.