Sightless in Bollywood
by Dhruv Somani
February 21 2021, 12:00 am
Estimated Reading Time: 7 mins, 9 secs
Film historian Dhruv Somani, recollects the B-town movies dealing with the theme of the sight-impaired.
Cinema has always been considered as a powerful medium to reflect our social norms. It has been proved time and again as a powerful source for influence and motivation for educating people and to bring about a conscious change in age-old beliefs and traditions.
Blindness is an issue, which had been widely misunderstood in our country due to the ongoing lack of awareness about disabilities. It has often linked with 'bad luck' and even blamed on the theory of karma. Blindness in Bollywood films has been primarily seen in two extreme forms: caricaturing or sympathy. But today, globalization and steps taken by several NGOs have broken the stereotypes.
One of the earliest takes on blindness was Jeevan Naiya (1936) by Bombay Talkies. Amar Akbar Anthony (1977) featured Nirupa Roy as the blind mother who regains her eyesight miraculously, while Vinod Khanna pretends to be blind in Parvarish (1977) and in the film Daulat (1982), he sings Moti Hoon Toh Baandh Ke Rakh Doon to woo Zeenat Aman.
Superstar Rajesh Khanna was an arrogant businessman in Dhanwaan (1981), who falls in love with an already-committed Reena Roy. But he loses his eyesight in a freak accident and is unable to find a donor even after offering a big chunk of his wealth. There's no option now but to mend his ways.
Asha Parekh was seen as blind in one of her most memorable performances in Chirag (1966), Moushumi Chatterjee was the sight-impaired girl of Anuraag (1972), Sanjay Dutt played the sightless fighter of Dushman (1988) and Amjad Khan of Chehre Pe Chehra (1981).
Raakhee Gulzar was seen blind opposite Amitabh Bachchan in Barsaat Ki Ek Raat (1981), and Kajol opposite Aamir Khan in Fanaa (2006). Shilpa Shirodkar played a blind rape victim in Bhrashtachar (1989) while Deepika Padukone played a blind dancer opposite Neil Nitin Mukesh who was a blindfolded street fighter from the gullies of Mumbai in Lafangey Parinday (2010). Shashi Kapoor was shown as a police inspector who becomes blind after a freak accident in Suhaag (1979), causing his friend Amitabh to takes over his position on duty.
Indeed several actors have enacted visually impaired characters. Here's checking out a bunch of them, remarkable for their performances.
Deedar (1951)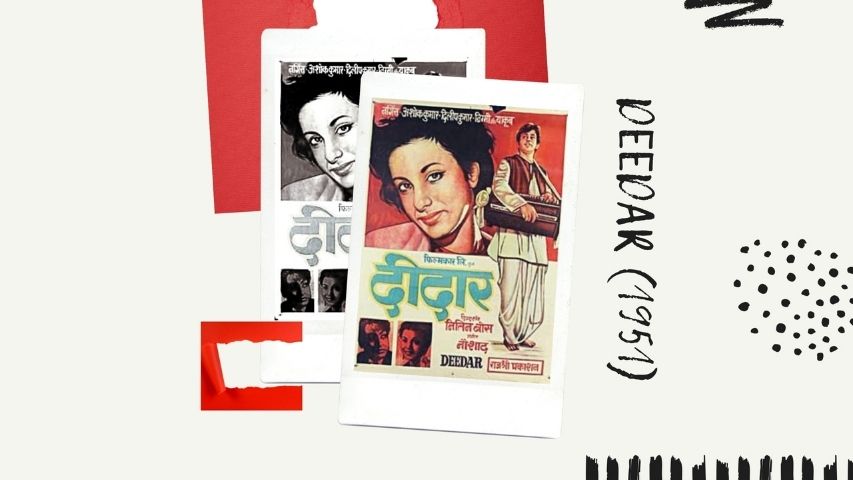 Dilip Kumar played a blind man, Shamu, in Deedar directed by Nitin Bose, which was a story of unrequited love. Ashok Kumar, Nargis, Nimmi, Tabassum and Tun Tun supported him in key roles. Deedar established Dilip Saab as the tragedy king of Bollywood. In fact, it's regarded as one of his most moving portrayals from his vast oeuvre.
Dosti (1964)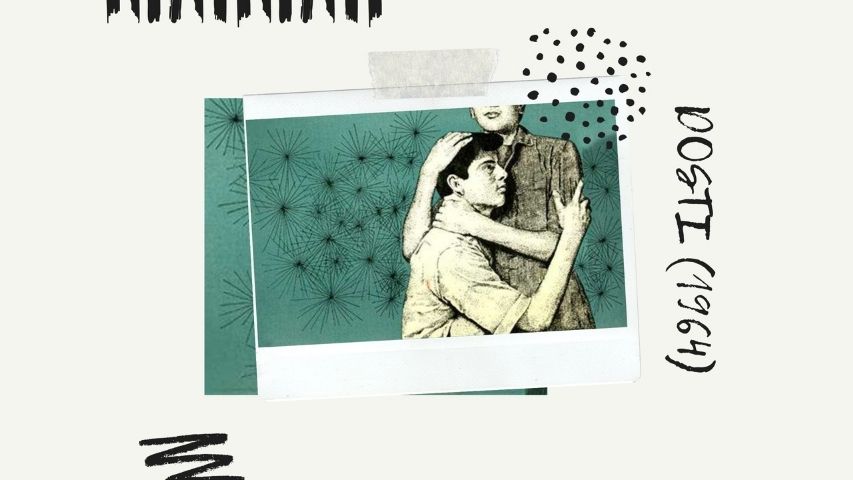 Directed by Satyen Bose and produced by Tarachand Barjatya, this small-budget tearjerker was a bumper surprise. It told the story of the friendship between two physically impaired-boys Mohan and Ramu. Mohan is blind while Ramu is physically handicapped. He's good at playing the harmonica while Mohan is a good singer. Together they collaborate to earn their living by singing on the streets. Dosti featured newcomers Sudhir Kumar and Sushil Kumar in leads, was enhanced by the music of Laxmikant-Pyarelal and went on to win six Filmfare Awards.
Jheel Ke Us Paar (1973)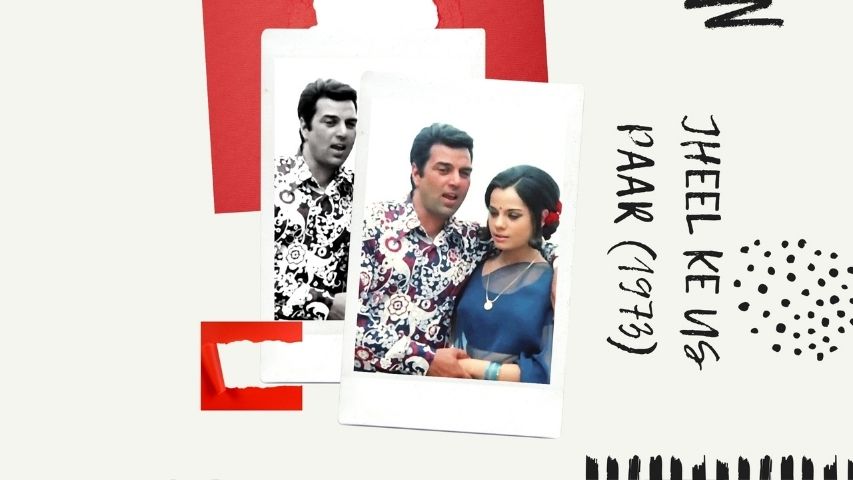 Directed by Bhappi Soni from a story by Gulshan Nanda, here was a winner at the ticket counters with Dharmendra opposite Mumtaz, who essayed the role of the blind girl Neelu. The acting crew included Yogeeta Bali, Prem Chopra, Pran, Ranjeet, Faryal, Veena and Shatrughan Sinha was in the role of Dr. Tandon. The plot revolved around Samir the only heir from an aristocratic family who falls in love with the village girl Neelu and is keen to get her eyesight restored after a surgery. However circumstances compel Neelu to pretend that she is still blind after a witnessing a cold-blooded murder for which Samir is wrongfully accused as the prime suspect. Mumtaz sizzled in the song Do Ghoont Mujhe Bhi Pilade Sharabi as the blind Neelu.
Sparsh (1980)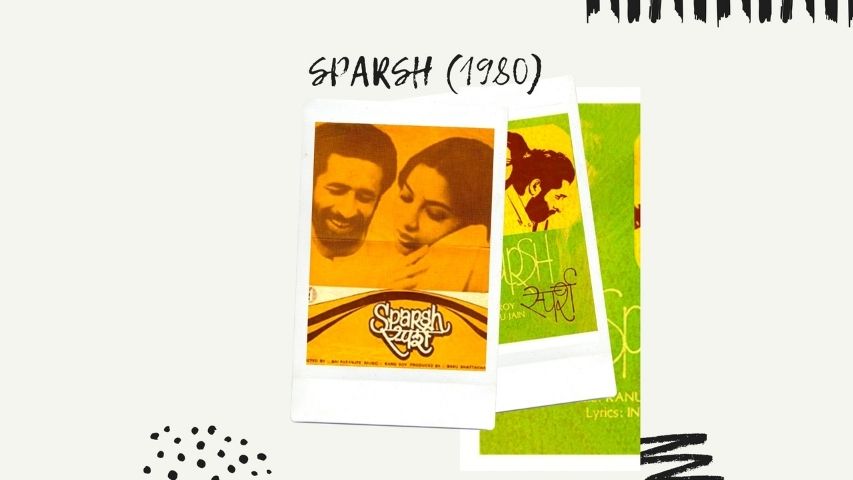 Directed by Sai Paranjpye, this slice-of-life film starred Naseeruddin Shah, Shabana Azmi, Om Puri and Sudha Malhotra. Naseer played Anirudh Parmar, a real-life upright and self-contained principal of a blind school. He is drawn towards the voice of the widowed Kavita Prasad. Anirudh is a self-sufficient proud man who doesn't want sympathy. His strengths, limitations and expectations were sensitively expressed, winning Naseer the Best Actor National Award.
Qatl (1986)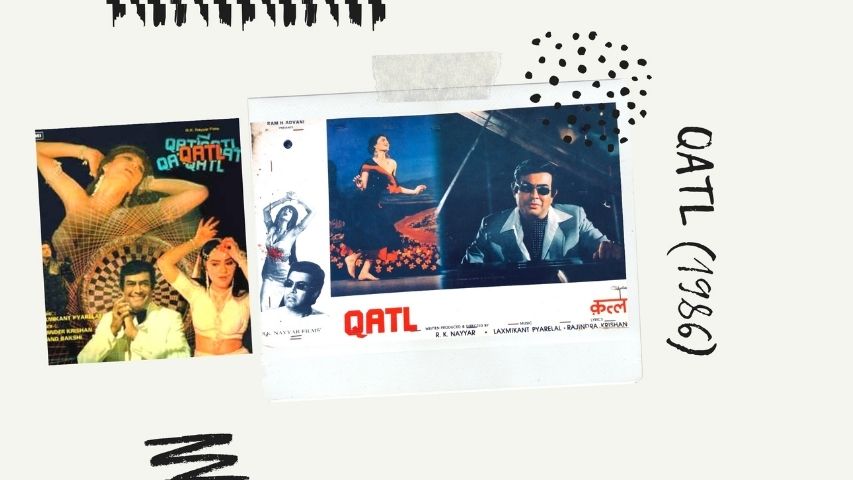 Starring Sanjeev Kumar, Sarika, Shatrughan Sinha, Marc Zuber, Ranjeeta and Ashok Kumar, R.K. Nayyar directed this brilliant, undervalued thriller. Adapted from the American T.V. film Broad Daylight (1971), the screenplay revolved around Rakesh who loses his eyesight in a freak accident while trying to save his wife Roshni during a stage performance. Next, he suspects his wife to be locked in an affair with his best friend Ranjeet. Sita nurses his broken heart. Meanwhile, he plans a unique revenge to murder his wife and her lover. This excellently crafted film was unfortunately released after the death of Sanjeev Kumar. By the way, the master actor had also played a blind singer Anand in Raj Khosla's Daasi (1981) along with Moushumi Chatterjee and Rekha.
Aankhen: (2002)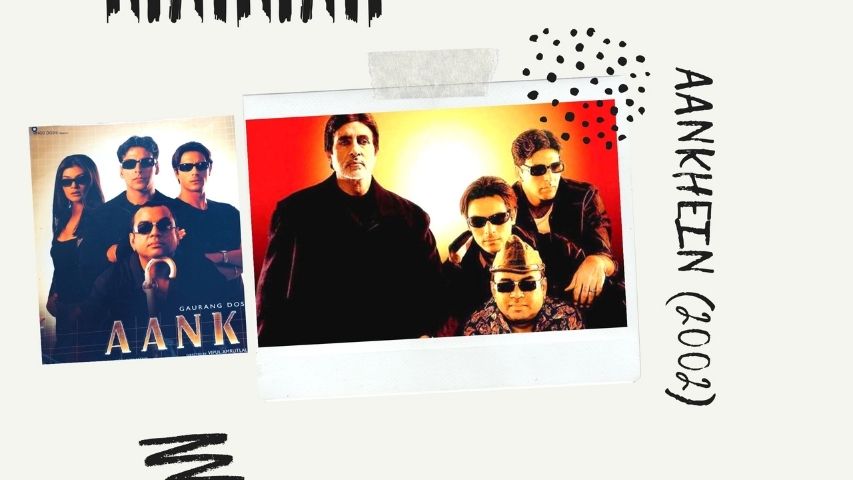 Vipul Amritlal Shah directed a heist thriller headlining Amitabh Bachchan, Akshay Kumar, Arjun Rampal, Sushmita Sen, Paresh Rawal and Bipasha Basu. It dealt with a short-tempered man named Vijay Singh Rajput who with his hard work and dedication has raised and nurtured Jefferson Bank. He has anger-management issues for which he is sacked. Motivated to wreak revenge, he blackmails Neha, a teacher in a blind school into training three blind men Vishwas, Arjun and Ilias to perform a bank heist. A sequel to the hit was announced but hasn't taken off yet.
Black (2005)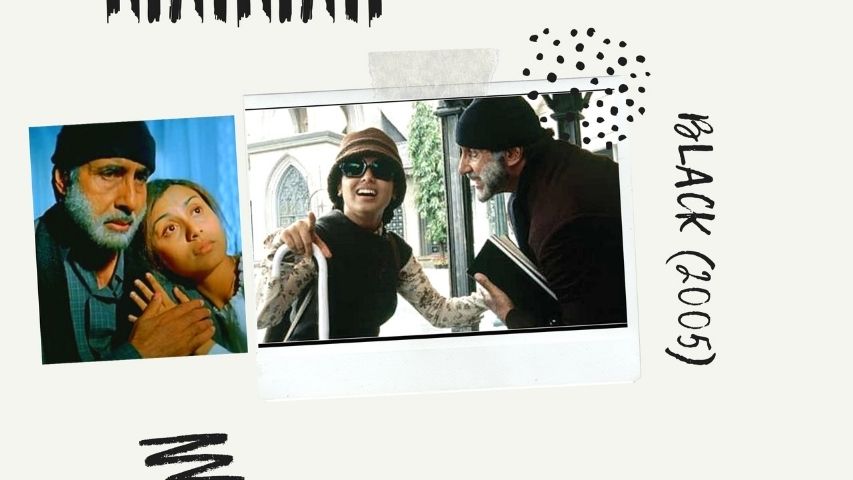 Inspired by Arthur Penn's The Miracle Worker (1982), here was a moving account of the story of Helen Keller. The fastidious Sanjay Leela Bhansali, who beautifully narrated this story of Michelle played by Rani Mukherji, directed the remake. The visuals and set décor were especially impressive. Rani played a deaf and blind girl who struggles in her everyday life but is subsequently helped by her tutor Debraj, Amitabh Bachchan, to pursue her dream of getting a degree. Black fetched Bachchan Sr the National Award for Best Actor.
Naina (2005)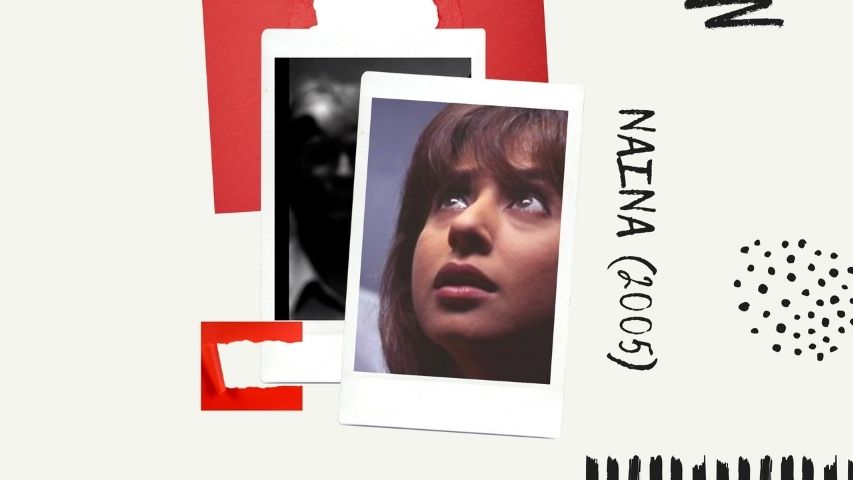 This was an adaptation, never credited, of the Korean horror film The Eye. Naina enacted by Urmila Matondkar, supported by Arjun Sawhney was quite a nail-biter. After a successful cornea transplant, Naina regains her eyesight but strangely begins to see ghosts and spirits. Filled with hair-raising twists and turns in the plot, it fared averagely at the ticket counters but Urmila's gutsy performance was unanimously praised.
Aahat (2010)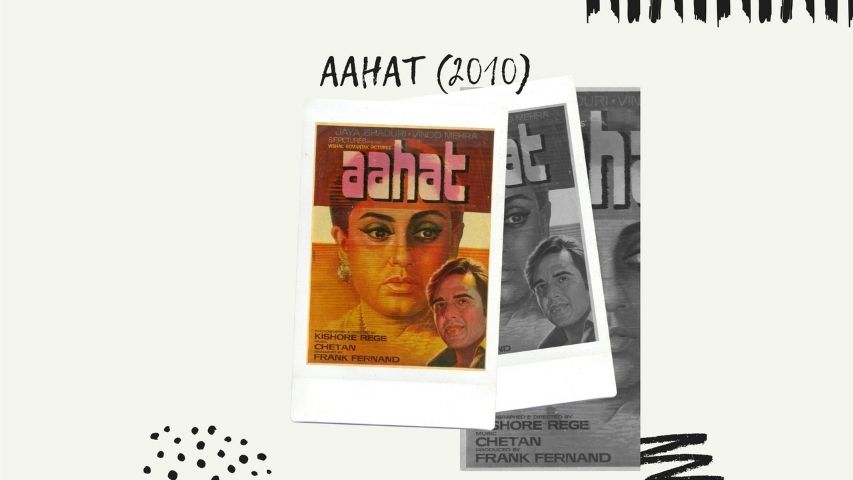 Director Gogi Anand's long- delayed Aahat starring Jaya Bhaduri (before her marriage to Amitabh Bachchan) featured as a blind girl opposite Vinod Mehra who played a cameraman, along with Amrish Puri playing the arch villain was finally released in a few theatres in Mumbai but went unnoticed. Aahat, which was made in the 1970s, was stuck on the shelves for almost 35 years. It was clearly inspired by the Audrey Hepburn film Wait Until Dark. Another film Bebassi was announced in 1986 starring Salma Agha, based on the same story, but was shelved midway.
Kaabil (2017)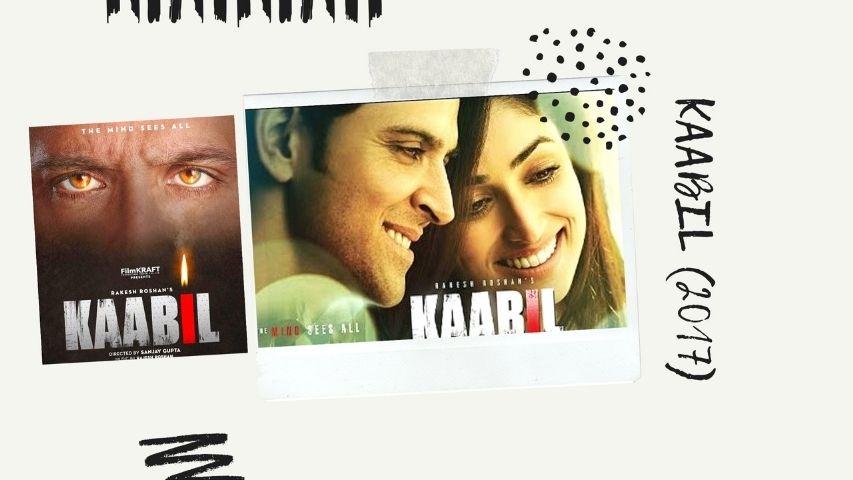 In director Sanjay Gupta's revenge drama starring Hrithik Roshan, Yami Gautam, Ronit Roy and Rohit Roy, the focus was on Rohan and his wife Supriya Batnagar who are sight-impaired and very happy together, until Supriya is brutally raped by Amit Shellar, brother of the local politician Madhavrao Shellar. Supriya, unable to bear the anguish, commits suicide while the shattered Rohan picks up the pieces of his life to plan an intricate revenge on the powerful brothers. The film performed pretty well commercially and Hrithik was showered with unconditional acclaim.
Andhadhun (2018)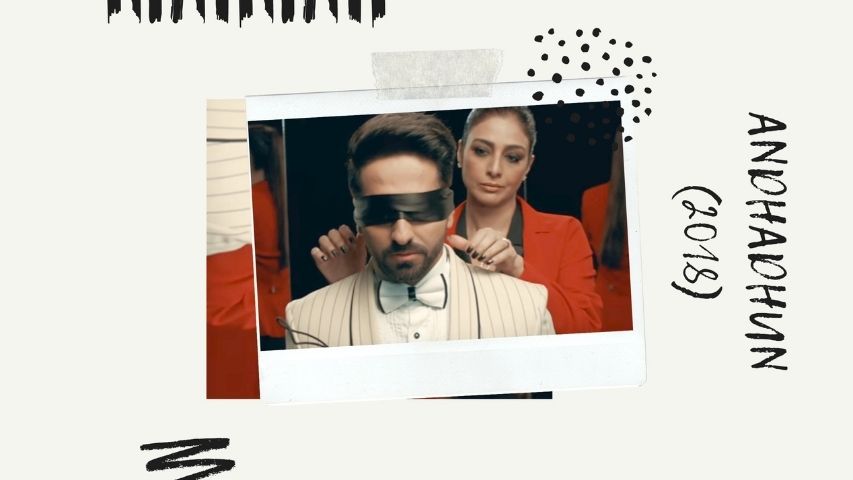 Directed by the king of thrillers known for Johnny Gaddar, Ek Haseena Thi and Badlapur, Sriram Raghavan crafted a clever murder mystery starring Ayushmann Khurrana, Tabu, Radhika Apte and Anil Dhawan, which kept you at the edge of your seat.
Andhadhun was a huge hit not only in India but worldwide and has a cult following. The story concerned pianist Akash who focuses on his music at Franco's Bar pretending to be a blind man but witnesses the murder of Pramod Sinha, after which his life goes awry. Running between nightmares, Akash must escape the evil designs Pramod's wife Simi and protect his girlfriend Sofie from harm. Quite easily, this stands out as one of the best thrillers of Bollywood cinema.