The narrative doesn't hit home: Tangra Blues
by Shantanu Ray Chaudhuri
April 20 2021, 12:00 am
Estimated Reading Time: 5 mins, 22 secs
Acclaimed documentary filmmaker Supriyo Sen's debut feature never quite hits the narrative highs, existing in the zone between good visual documentation and tepid storytelling – Shantanu Ray Chaudhury
Tangra is the repository of all the dirt and grime of Kolkata. The filth can be hidden, it can be swept off the vision, but it can never be cleaned,' says Sanjib Mandal (Parambrata Chattopadhyay), its battle-hardened inhabitant, to Joyee (Madhumita Sarcar), who hails from literally the other side of the track, is battling her own personal demons and who finds in the slumdog kids of Tangra - her neighbors, as she underlines a couple of times - a stab at redemption. It's the kind of place that taxi drivers won't venture into even if you offer them handsome tips. It's the kind of place that will never find a place in the 'India shining' story.
Tangra Blues holds up a mirror to this vision of hell and a few of its inhabitants seeking to claw their way out of it. As far as mirrors go, the reflection lacks clarity. The film kicks off in 2009 with a chase in the wastelands of Dhapa, in the vicinity of Tangra, that ends in a brutal murder. Cut to 2019 and the cityscape has altered - Kolkata is now a city of malls and arcades, though nothing much has changed in Tangra. It is here that we meet Sanjib Mandal, an ex-gangster who now strives to walk the straight and narrow, mentoring a clutch of adolescent slum boys and girls in music. This puts him in conflict with local land sharks, corrupt politicians and their goons who want to raze the shanties for a 'Kolkata shining' and who will stop at nothing, including bombing the children's local 'concerts', to achieve their means.
Enter Joyee, a composer, whose first film in Bombay has flopped, leaving her with a crisis of confidence - unable to pick up the pieces of her floundering self. A chance encounter with the children gives her a sense of purpose as she makes it her mission to take their music out there. In the process she will have to engage in a battle of wills with the cynical Sanjib, who is wary of 'fashionable do-gooders' like Joyee with little understanding of the underprivileged for whom they pick up the cudgels. He has ghosts of the past to bury, including long-festering issues with the local dada, Bapi, and his friend, Imran, with whom he has had a falling out. Imran, now, has his own gang.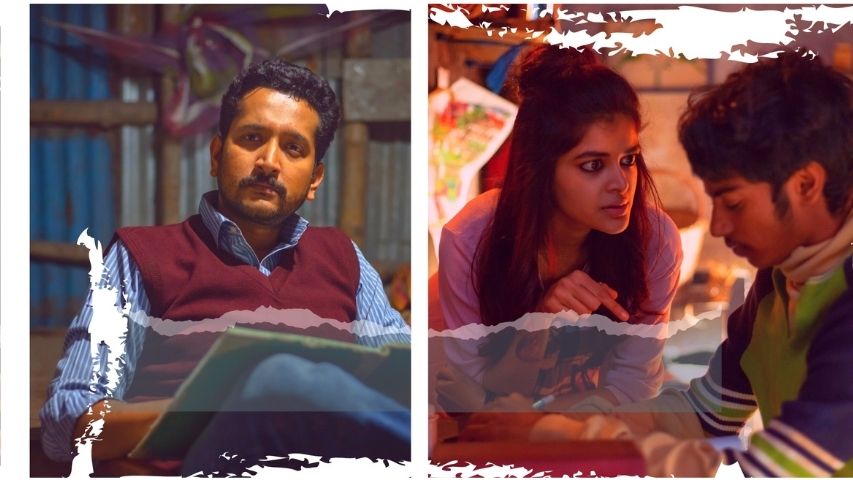 It's somewhat unfair that Tangra Blues will always be judged vis-à-vis Gully Boy. Inevitable, given the similarities in the terrain the films cover: a hellhole in the middle of a bustling, glittering megapolis, where music - more specifically rap - offers its marginalized inhabitants a way out, a chance at life. Unfair because of the history behind Tangra Blues, loosely based on the inspirational story of Sanjay Mondal who brought together a band of kids to create music with discarded cartons, rusted tin cans and broken bottles; basically music that came out of junk. The band went on to become a finalist at the television reality show, India's Got Talent, and played at the inaugural ceremony of Salman Khan's charity organization.
Parambrata was working on a film called Babar Naam Gandhiji, a number of actors that had been part of Sanjay Mondal's band. Meanwhile, National-award-winning documentary filmmaker Supriyo Sen was already at work on his film on the band, Waste Band, which eventually got made in 2019. The two began collaborating on a feature project, initially titled Wasteland, in 2015-16, well before Gully Boy was conceived.
Be that as it may, the comparisons with Gully Boy are not germane. What is important is how Tangra Blues holds up for itself. And on that score, I have a few reservations. Though Ranjan Palit's cinematography, undoubtedly the film's highpoint creates a vivid Tangra, and Parambrata is earnestly convincing as Sanjib Mandal, the film never soars.
For one, the basic tropes - life on the edge, lost souls looking for redemption and music providing a key to that - have been done to death. The screenplay needed more chutzpah to say something that came across as more than mere fait accompli, which the resolution ends up as. It is almost as if the filmmakers, having watched other films in the genre, know which buttons to press and are doing that on autopilot.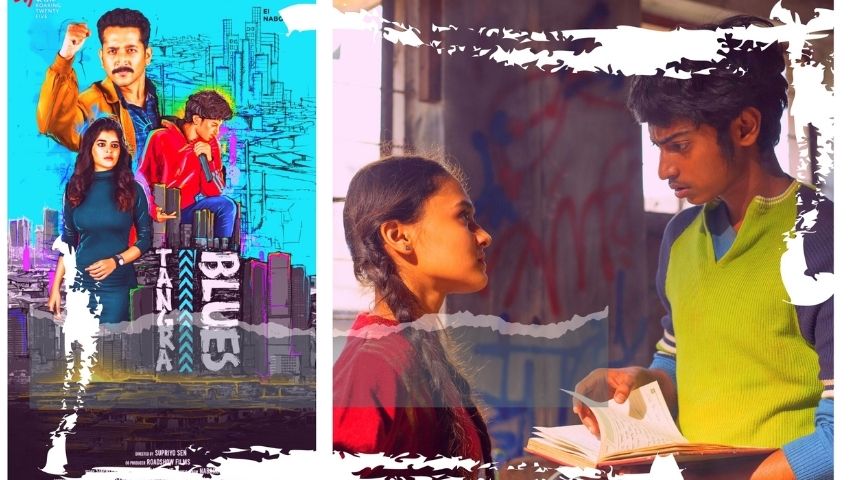 Two, the obstacles in the path of Sanjib and his band - the local thugs and realtors - are never threatening enough to provide an edge to the final conflict when it does come about. This also muddles the narrative, bringing in a host of issues - factories shutting down, trade union goondaism - none of which are given more than mere lip service. What these externalities also do is take away from the interiority of the protagonists' struggle.
Three, the leisurely narrative till about the halfway mark makes the music competition in the second half appear too rushed with little by way of build-up that could add some tension to the proceedings. Not to mention that the songs themselves are lacking in the raw energy or fire that we are expected to buy as burns in the anguished souls of their creators. The screenplay hits a few boulders in rapid succession - the star singer kid being kidnapped and turned against his mentor, Sanjeev's friend Imran having a change of heart with a schmaltzy line 'shab usul iman bhashiye ditey parbo na' (I cannot let go of all my principles) - and never recovers. And the climactic triumph against all odds with its 'to sir with love' moment is too pat and, in the end, unsatisfying.
Sanjay Mandal and his intrepid band make a fascinating story, more so the aftermath of their success, but not so much Tangra Blues - a large part of that in my reading stems from Supriyo Sen's handling, which is very good at recording the sights and sounds of Tangra, not surprising given his work in documentaries. But the narrative blues never hits home. Tangra Blues remains a missed opportunity, the unfairness of any comparison to Gully Boy notwithstanding.