The Unforgettable One
by Dhruv Somani
April 4 2021, 12:00 am
Estimated Reading Time: 8 mins, 5 secs
On her 72nd birth anniversary, film historian Dhruv Somani, looks back with affection at the most impactful films of Parveen Babi.
One of the most beautiful faces from the decade of the 1970s and '80s; Parveen Babi was also credited with the reputation of being an extremely moody and unpredictable star.
Her flourishing career in popular Hindi cinema brought her name, fame, success and money but along with these also came loneliness and anguish, which haunted her till her life went to shambles. The emptiness and despair drove her to attempt suicide and led her to the brink of losing her mental balance time and again. Every time she tried opting out of the pressure, which accompanies stardom and to lead a normal life, she would have to return to square one. Gloom and doom dogged her relentlessly.
'The Jazzy Jane from Junagadh', as the fanzines had nicknamed her, was the first Indian heroine to be featured on the cover of the prestigious Time magazine. She had commenced her career with B.R. Ishara's Charitra (1973), opposite cricketer Salim Durrani, followed by Kishore Sahu's Dhuen Ki Lakeer (1974), with Romesh Sharma. Released within six months of one another, both the films tanked at the ticket counters However, she was noticed and appreciated for her screen presence and was coveted by frontline filmmakers.
She passed away at the age of 55 on January 20, 2005. On April 4, which marks her 72nd birth anniversary, here's celebrating and remembering the memorable films of the gorgeous star, one of my favorite artistes and style icons.
Majboor (1974)
Directed by Ravi Tandon, it was written by Salim-Javed and was partly inspired by Hollywood's Cold Sweat and Zigzag. She was paired opposite Amitabh Bachchan (who had finally tasted success after 12 flop films) for the first time. The plot revolved around a sales executive, Ravi, who is detected with a brain tumor but that is the least of his concerns since he is also a prime suspect in a kidnapping and murder case. Parveen played the role of his rich girlfriend Neela. Majboor was a certified hit, making it Amitabh's big solo success of that year. Ravi Tandon repeated the pair in Khud-daar in 1982, which again proved to be a hit.
Deewaar (1975)
This Yash Chopra-directed film was a significant step forward in her career. This was her second outing opposite the upcoming superstar Amitabh Bachchan, for whom Deewaar reaffirmed his angry young man image. The Salim-Javed script was partly inspired by Mother India and Ganga Jamuna, both of which revolved around two brothers-turned-foes. Ravi (Shashi Kapoor) is a policeman while his elder brother Vijay (Amitabh Bachchan) is a gang leader. Neetu Singh essayed the part of Veera, the quintessential Hindi film heroine, while Parveen was seen as the unconventional Anita, in a red gown with high slits, sitting next to Vijay in a bar with a cigarette in one hand and a glass of alcohol in the other with the song, I'm Falling In Love With A Stranger, played in the background. Parveen breathed life into the role of a classy street-smart call girl. One wrong move could have made the role look cheap and sleazy.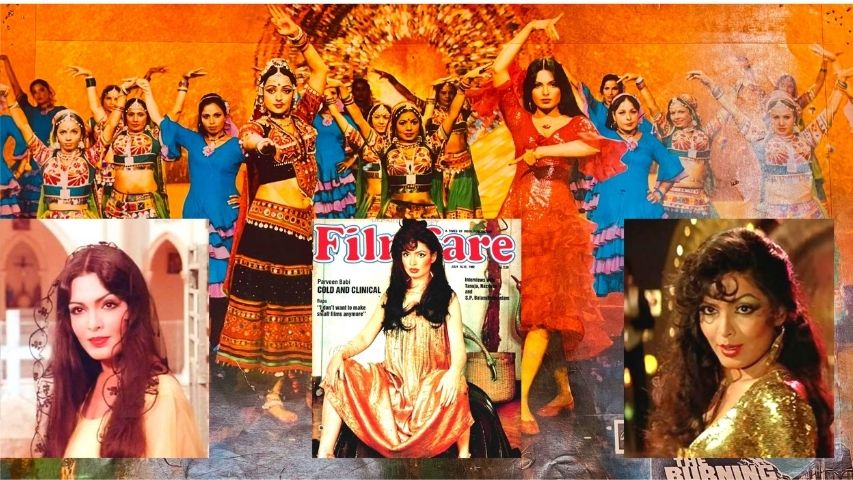 Amar Akbar Anthony (1977)
Manmohan Desai's cult multi-starrer Amar Akbar Anthony was offered to Parveen when her career was going through a lull after the failure of Dev Anand's Bullet (1976), Bhanwar and the film Mazdoor Zindabad, opposite Randhir Kapoor.
Parveen was cast as Jenny opposite Amitabh Bachchan who portrayed the crowd-pleaser Anthony. Apparently the first choice for his leading lady was Zeenat Aman who had demanded her market price after the hit Dharam-Veer but instead Desai cast Parveen who had personally approached him to be a part of one of the biggest productions of the time. Expectedly, the grand entertainer was a whopper hit, boosting Parveen's career immeasurably.
Kaala Patthar (1979)
Yash Chopra was fond of Parveen - for her sincerity and hard work. Initially, he wanted to cast her in Kabhi Kabhie (1976). But he felt that she and Rishi Kapoor did not make an ideal pair and instead penciled in Neetu Singh. Chopra later cast Parveen in Kaala Patthar, in the role of a press photographer Anita, opposite Shashi Kapoor. Though it was a brief part in a project with Amitabh Bachchan, Shatrughan Sinha, Raakhee Gulzar, Neetu Singh, Parikshit Sahni and Poonam Dhillon, Parveen was appreciated for her pairing with Shashi Kapoor in a light-hearted part. The film performed averagely at the box office. Next, Chopra was keen to cast her in Silsila but replaced her at the ninth hour with Rekha.
Suhaag (1979)
Directed by Manmohan Desai, here was a high-profile project for Parveen. She was opposite Shashi Kapoor and Amitabh Bachchan was paired opposite Rekha in the film. Amjad Khan and Nirupa Roy played key roles. She essayed the role of Rekha's younger sister Anu. Suhaag was the first film she had signed after she came back from a brief sabbatical she had taken abroad with Kabir Bedi. She called Manmohan Desai and asked him to cast her in any of his forthcoming films since she was keen to work again. Manji created a special role for her. But it's another story that he later replaced her with Reena Roy in Naseeb (1982), because she had started behaving erratically and the required dates for the shoot couldn't be secured.
The Burning Train (1980)
B.R. Chopra's disaster opus directed by his son Ravi Chopra, was conceived after the worldwide success of The Towering Inferno. Dharmendra, Vinod Khanna, Jeetendra, Vinod Mehra, Navin Nischol, Hema Malini, Parveen Babi, Neetu Singh, Asha Sachdev, Danny and Simi comprised the star crew. In the clearly male-dominated, action film, Parveen rocked in the jugalbandi dance number Meri Nazar Hai Tujhpe with Hema Malini. Incidentally, she did the maximum number of films with Hema Malini whom she was very fond of. B.R. Chopra's opus did face delays due to her illness. Her dubbing was delayed.
Kranti (1981)
Manoj Kumar's patriotic extravaganza Kranti was a multi-starrer in which Parveen was cast in an important role among the galaxy of Dilip Kumar, Manoj Kumar, Shashi Kapoor, Shatrughan Sinha, Hema Malini, Sarika and Prem Chopra. For the first time, she played the role of a village belle Surili, who under disguise is presented as Rajkumari Meenakshi in the palace. The ambitious venture was delayed for various reasons but also due to Parveen's absence from the city because of her mental illness. Manoj Kumar though very happy with her performance and her song Mara Thumka, is believed to have bumped off Parveen's character just before the interval due to her non-availability.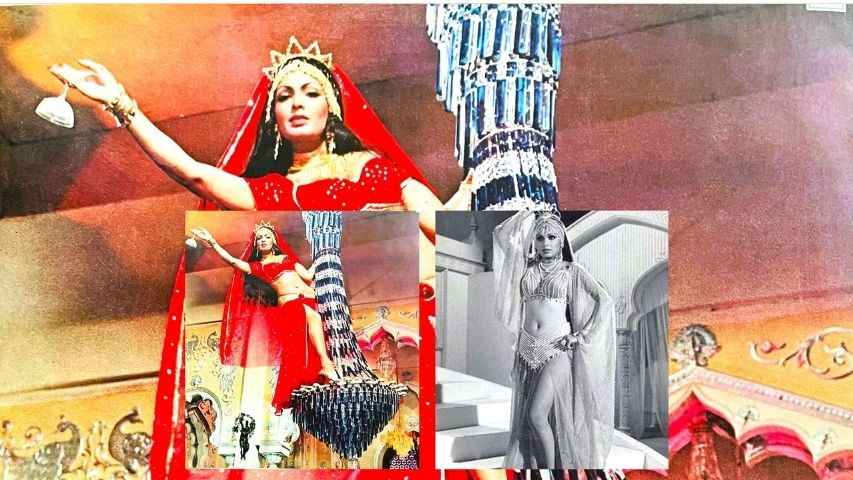 Namak Halaal (1982)
Towards the end of the 1970s, Parveen had become a huge star and was doing films with almost all the top directors, including Prakash Mehra who had heard about her dedication and professionalism and had signed her for three films simultaneously: Jwalamukhi, Namak Halaal and Laawaris, which were expected to release in quick succession. Parveen was to shoot for Jwalamukhi with Shatrughan Sinha, Kadar Khan and Bindu for the song Kabhi Humne Kisi Ko Phasa but couldn't report for the shoot due to a sudden attack. Days passed while Parveen continued to suffer and the producer-director began to lose his patience. Parveen was replaced in Laawaris with Zeenat Aman and in Jwalamukhi by Reena Roy. In Namak Halaal, Parveen was originally cast as Poonam (essayed by Smita Patil) opposite Amitabh Bachchan and Zeenat Aman was paired with Shashi Kapoor.
Eventually after Parveen returned, Mehra agreed to retain her and gave her the role of Nisha, while Zeenat's dates were allocated to Laawaris. Though seen in a brief role in Namak Halal, both her songs Jawani Jaaneman and Raat Baaki became chartbusters. Movie moghuls made a beeline to get her to sign on the dotted line once again.
Ashanti (1982)
Directed by Umesh Mehra, Ashanti, this actioner was inspired by the popular T.V. show Charlie's Angels. Rajesh Khanna, Mithun Chakraborty and Kanwaljeet were cast with Shabana Azmi, Parveen Babi and Zeenat Aman who played kickass combatants. The project also created a buzz because rivals Zeenat Aman and Parveen Babi were together in the same film for the first time. Parveen portrayed Sunita opposite Mithun Chakraborty who played the role of a local gangster Shankar Dada.
Towards the end of 1982 the only big-budget films Parveen was seen in were Ravi Tandon's Khud-Daar (1982) and Mahaan (1983). She did try to change her glamorous image and was appreciated in Arpan, Rang Birangi and Razia Sultan, all in 1983.
But other big films on her plate were jeopardized due to her sudden disappearance. Hence in the R.K banner's comedy Biwi-O-Biwi, she was replaced with Poonam Dhillon. Zeenat Aman replaced her in Amjad Khan's Ameer Aadmi Gareeb Aadmi - but a song shot on her by Amjad was retained. In Yeh Desh, again by Zeenat Aman replaced her. Other films like Deewana Tere Naam Ka had to be reshot with Vijayeeta Pandit playing her role, in Karam Yudh, Anita Raaj and in Ricky, Meenakshi Sheshadri were eventually cast for the roles that had been previously signed by her.
Her films as a leading lady, which released after she had quit Bollywood, were Sitamgar, Bond 303, Avinash, Telephone, Kanoon Meri Mutthi Mein, Bad Aur Badnam and Iraada.
To know more about this luminous star, I would recommend her biography penned by journalist Karishma Upadhyay, that offers rare insights and unknown facts about the unforgettable Parveen Babi.