The Woman in White
by Dhruv Somani
April 11 2021, 12:00 am
Estimated Reading Time: 6 mins, 58 secs
Film historian Dhruv Somani re-assesses Raj Khosla's iconic suspense-filled Woh Kaun Thi, produced by NN Sippy under his banner N N Sippy Productions - cherished to this day also for Madan Mohan's melodious music score.
Clearly, Raj Khosla was one of the most underrated directors of Hindi cinema. Born in Ludhiana, he came to Bombay to pursue a career as a singer and was employed as a staffer on All-India Radio.
He eventually became an assistant of Guru Dutt on Baazi (1951) and Aar Paar (1954), before directing his first film Milap (1955) with Dev Anand and Geeta Bali. Next, he helmed C.I.D (1956) - introducing Waheeda Rehman, which proved to be a big hit for his mentor Guru Dutt's production company.
Around 1958-59 director Shashi Bhushan and Niranjan, another assistant of Guru Dutt, began work on a project for Guru Dutt, starring Sunil Dutt and Waheeda Rehman (in her first ever double role), which would also mark the debut of Rahul Dev Burman as an independent music composer. An adaptation of Wilkie Collins' mystery thriller, The Woman in White, but Guru Dutt shelved it after some reels had been shot.
Guru Dutt had named the film Raaz. An advertisement of the film highlighting its progress on the back cover of the song booklet of Kaagaz Ke Phool (1959) indicated that Raaz was launched while Kaagaz Ke Phool (1959), the very first film to be shot in Cinemascope was still on the floors. During the shoot, a chagrined Sunil Dutt found himself out of Raaz. Guru Dutt had resolved to play the leading man himself. In fact, according to another assistant director of Guru Dutt, Shyam Kapoor, that's why years later in 1964, Sunil Dutt refused to take over Guru Dutt's role in Baharen Phir Bhi Aayengi (1966), after the latter passed away - the role was done by Dharmendra.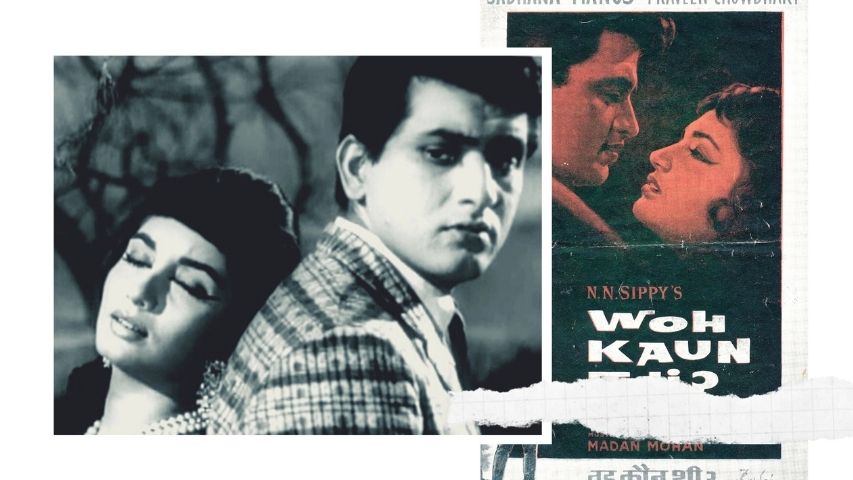 The cast of the ill-fated Raaz had also included Kum Kum and S. Nazir. R.D. Burman had even recorded a song, which was pictured on three nautch girls - Geeta Dutt, Asha Bhosle and Shamshad Begum rendered the song. Unhappy with the rushes, he had abandoned the project although 12 reels were already in the cans. Incidentally, Raaz was shot during snowfall in Shimla. Raj Khosla had served as the main assistant to Guru Dutt. The other assistants were Bhappi Soni and Pramod Chakravorty who went on to become successful directors in the future.
Guru Dutt didn't complete Raaz for reasons, which are still unknown. Raj Khosla was initially assigned to direct Guide (1965) but dropped out because of strained relations with Waheeda Rehman. Consequently, Khosla reworked on the subject of Raaz. Nimmi was considered for the role but she had to politely refuse since she was busy with Mere Mehboob (1964). As a result, Sadhana was finalized. Some say Wilkie Collins's The Woman in White inspired Woh Kaun Thi while some linked it to Alfred Hitchcock's masterpiece Vertigo. Ultimately, Raaz turned out to be the springboard for the black and white classic thriller Woh Kaun Thi. Manoj Kumar was signed as the lead actor.
Lore goes that he had recommended Sadhana as his co-star. The supporting ensemble included Helen, Prem Chopra, K.N. Singh, Parveen Choudhary, Ratnamala, Mridula and Dhumal. The outcome was the first of Raj Khosla's suspense trilogy followed by Mera Saaya (1966) and Anita (1967), all of them showcasing Sadhana as the mystery girl.
The plot of Woh Kaun Thi begins on a dark stormy night when Dr. Anand, after attending a medical call, comes across a mysterious woman being lashed by the rains in the wilderness. He offers her a lift, which she accepts on the condition that he would not ask her about her whereabouts. Dr. Anand notices that her finger is bleeding. Due to the thick fog Dr. Anand finds it difficult to drive but the mysterious lady tells him that she can see the road clearly and guides him towards a graveyard. On alighting there, she walks past a creaky gate that opens automatically. Next, she disappears into the mist.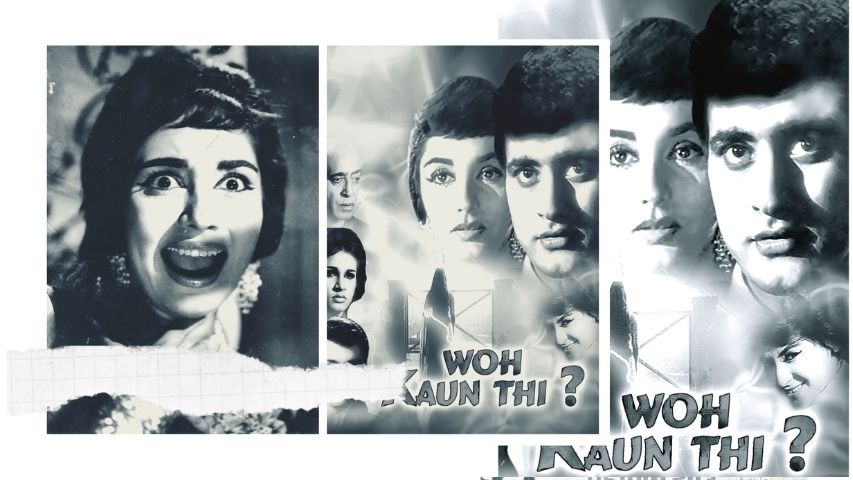 On another rainy night, Dr. Anand happens to meet her again. He has been called to attend to a woman lying lifeless on the bed in a dilapidated mansion. Her aged mother wails to save her but he tells her it's too late. When he comes out of the mansion, a policeman, who tells him that the mansion has been empty since years, questions him. The doctor is baffled and confused.
The plot thickens. Dr. Anand's fiancée, Seema, is murdered a few days before their wedding, which leaves him heartbroken. Yet on his mother's insistence, he agrees to get married to a girl called Sandhya chosen by his mother. On the wedding night, he is shocked to see that his bride is the same girl who had died in the ghostly mansion. Although the doctor is a man of science, he cannot make out the difference between fact and fiction.
Woh Kaun Thi also became a cult film for its melodious music composed by the maestro Madan Mohan. Indeed, there was something special about gothic films that inspired exceptional musical scores. Naina Barse Rimjhim Rimjhim remains one of the most endurable haunting melodies rendered by Lata Mangeshkar. There were other chartbusters too: Aap Kyun Roye, Shokh Nazar Ki Bijliyan, Chhod Kar Tere Pyar Ka Daman, and above all Lag Jaa Gale which the Lata Mangeshkar cited as one of her 10 all-time favorites at a 1967 function at Shanmukhanand Hall to celebrate 25 years of her film singing career.
By the way, Naina Barse Rimjhim Rimjhim was shot in the snow-capped mountains of Kufri with Sadhana lip-synching the song in a white sari as the mysterious woman who intrigues the doctor. Unbeknownst to many, Sadhana was lip-synching to Madan Mohan's voice since Lata Mangeshkar had not recorded the song due to her ill health. To ensure that the schedule was not cancelled, Madan Mohan had recorded the song in his own voice and told Raj Khosla to go ahead with the shooting while Lata Mangeshkar would later dub the song. The stargazers who had gathered to watch the shoot had laughed, wondering why Sadhana was singing in a man's voice.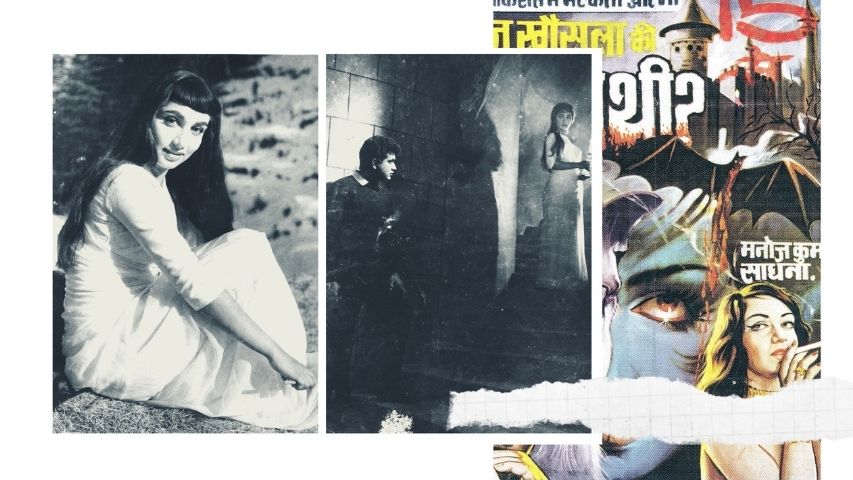 Coming to Lag Jaa Gale, it stands out as one of the most imperishable songs in Hindi cinema. In fact, it is often rendered in all popular singing competitions like Indian Idol. Raja Mehdi Ali Khan's lyrics suggest a sense of foreboding - of an impending separation of the lovers. The woman is unhappy for not being able to consummate her marriage with her husband while he can't figure out whether she is a ghost or a human being.
Sadhana's high cheekbones, strands of hair flying across her face and a delicate string of pearls on her neck make her look real and alive but there is a hint of deceit in those beautiful cold eyes. In the course of the song sequence, she manages to convince Dr. Anand that she is real. But just when he starts to believe her, the wipers of the car stop the moment she gets into the car.
Initially, Lag Jaa Gale was almost not included in the film. Raj Khosla had rejected the song after hearing it. It is believed that the music director Madan Mohan made frantic SOS calls to actor Manoj Kumar and it was only after a joint meeting and some more renditions that the director gave the song a go-ahead. He is known to have later laughed at his misjudgment.
Here was Madan Mohan's only commercial success in 1964, which was also his first silver jubilee hit. It is also believed that Manoj Kumar had ghost written some scenes in the script and was involved in creative departments from its screenplay and dialogue writing to the editing. He also designed the Woh Kaun Thi posters and it was his idea to focus on Sadhana's face since it would heighten the suspense.
On seeing the film, master film auteur Mehboob Khan referred to Raj Khosla as "The Alfred Hitchcock of India" and complimented Manoj Kumar as "The Indian Rock Hudson".