Those Guilty Pleasures
by Dhruv Somani
April 25 2021, 12:00 am
Estimated Reading Time: 8 mins, 14 secs
Film historian Dhruv Somani, writes on those traditional mandatory things we sorely miss in the movies today.
For the most part, New Age Bollywood has realized the importance of a tight script with modern, often slice-of-life storylines. This is in sharp contrast to the penchant for exaggeration, fantasy and melodrama.
Indeed, there was a time when a batch full of elements - call them tropes if you will - were mandatory. Whenever they were found missing at a film's trial show, they were added on after gauging the response of the preview audience, and at the insistence of the disappointed bankrollers aka producers.
I'm talking about those bygone decades from the last millennium - whenever a star-packed film was about to be released, there would be mass hysteria to watch it on the first-day-first-show itself. Advance booking was the only way to make it inside the auditorium, so there would be a near-battle to book the tickets. In fact, there used to be a popular black marketer for South Bombayites who had become the go-to source for tickets at the last minute. I can't help saying, those were the days of masti and magic at the movies. Clearly, that has gone with the wind from today's cinema.
Audience tastes have changed and so has the medium. Themes, which were considered to be sure-shot winners at the ticket counters, are history today. Without a shred of doubt, though, those so-called masala films were the ones, which I have grown up on and still enjoy seeing them once in a while.
Here's raising a toast, then, to some of those quirky things - the guilty pleasures we miss in today's B-town entertainment.
Implicit Belief in God
It was God and his idol - the ultimate source of strength and a ray of hope for the quintessential mothers of the beleaguered heroes. The bigger the idol was, the greater the impact. A divine force performed miracles, ensuring an ending underscoring humankind's faith in God. Examples: the atheist hero, Amitabh Bachchan finally believing in a higher force as in Deewaar (1979) and Nastik (1983).
The troubled mothers would light a diya in front of the idol in a temple. And as the diya flickered so did her pulse rate. If the flame of the diya went off, that would signify a bad omen or doom. At times the heinous villain would get killed with the weapon of the deity with the trident of Lord Shiva towards the climax, symbolizing divine justice.
Nothing was impossible. A blind mother, played by Nirupa Roy in Amar Akbar Anthony (1979) on visiting the shrine of the Shirdi Saibaba, could regain her eyesight. An ailing Ashok Kumar, in a coma, would suddenly get well and start marching to the beat of a patriotic song in Clerk (1989).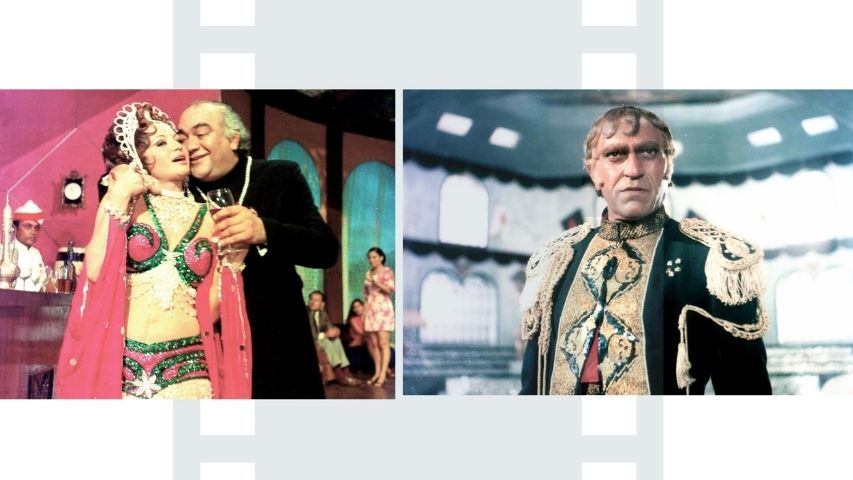 The Villain's Den
Almost every villain of the 1970's and '80s, possessed his own style quotient: Gabbar Singh in Sholay (1975), Dilawar in Muqaddar Ka Sikandar (1978), Shakaal in Yaadon Ki Baarat (1973) and Shaan (1981), not to forget Mogambo in Mr. India (1985) who went on to become cult figures. Oftentimes, villains would possess a lion, tiger, falcon or a crocodile. Gradually these became the pets of the heroes, as in Mr. Natwarlal (1979) and Nishana (1980).
Baddies would hang out in weird dens equipped with gadgetry, which would put Apple to shame. Evidence: Jewel Thief (1967), Azad (1978), Shalimar (1980), Shaan (1981) and Krodhi (1981), to name a few. Doors would open to Infra-red technology, paintings would move leading to secret pathways and death traps. At the press of a button, a glass-enclosed room would fill up with poisonous gas entrapping the hero's wailing sister or mother. Parvarish (1977) created a submarine of sorts as the villain's lair.
On another note, today we also miss daakus wearing dhotis and shirts with bullet belts strapped to their chests looting the beastly landlords as in Mother India (1957), Mera Gaon Mera Desh (1971), Bindiya Aur Bandook (1972), Khoon Aur Pani (1981) and Daku Hasina (1987) to name a random selection.
The Majestic Staircase
The staircase right in the middle of palatial homes, set up in studios, depicted the shaan-o-shaukat of the super-rich. Every time the hero or the heroine or their family members were called over on the pretext of taking their relationships forward, the moneybags subjected them to insults.
Upper class patriarchs were shown walking down rich velvet staircases, puffing a pipe or a cigar, to bribe the underprivileged in films like Bobby (1973) and Saagar (1985) in which Madhur Jaffrey traipses down the stairway to humiliate Saeed Jaffrey who played the father of Dimple Kapadia. Such homes were also seen in most of the Hindi films of the bygone days. And of course there was that staircase on which Renuka Shahane stumbled to her death in Hum Aapke Hain Koun.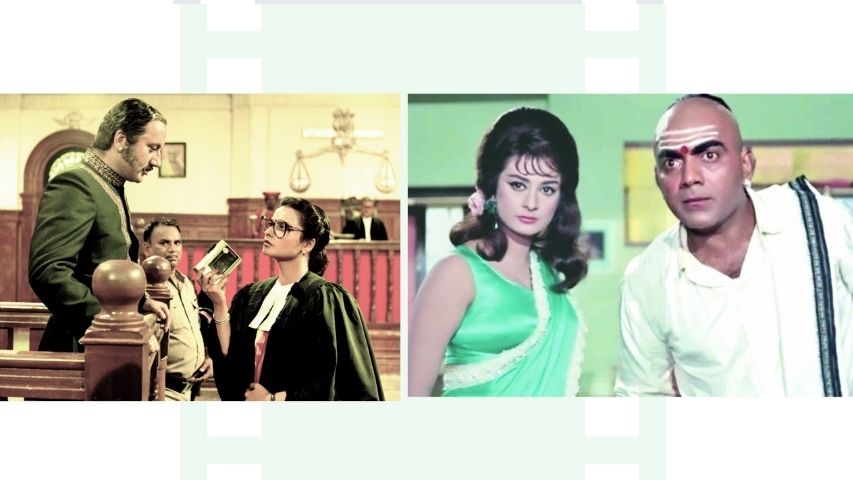 Lost and Found
Parents could be careless, misplacing their children in the Kumbh mela or a hospital. There could be a calamity like a storm or flood, a train accident, or an earthquake as in Waqt (1965). The villain would abduct kids sometimes.
Twins separated at birth became the pivots of Ram Aur Shyam (1967), Seeta Aur Geeta (1972) and Chaalbaaz (1989), while royalty separated at birth fetched up in Dharam Veer (1977), and Ajooba (1988). Separated siblings were at the core of the storylines of Johnny Mera Naam (1970), Yaadon Ki Baaraat (1973), Amar Akbar Anthony (1977) and Takkar (1979). But infallibly parents always managed to give the children some identification mark in form of tattoo, a locket or a pendant.
There could even be unique birthmarks to facilitate an all's-well family reunion, a device which was a favorite of Manmohan Desai's, whose work despite lacking logic were no-holds-barred entertainers.
The Courtrooms
Courtrooms packed with expressionless junior artistes along with worried family members of the accused have almost vanished. Intercuts to the blind folded Insaaf Ki Devi with a tarazu was a must in courtroom scenes.
The judge with a gavel would cry out loud, "Order! Order!" While pronouncing the judgment, there were those familiar lines, like "Taze Raatein Hind Dafaa 302 Ke Tahit Mulzim Ko Sazaye Maut Milti Hai - To be hanged until death" and the crushing of the nib of the pen as well. The shrill defense lawyers during the proceedings would shout "Objection milord" to be clammed up with, "Overruled!" as in Kanoon (1960), Ittefaq (1969), Dhund (1973), Insaaf Ka Tarazu (1980) and Kudrat (1981) to cite some prominent instances.
The courtroom would become the spot for a family reunion once the guilty was punished. Today's film courtrooms are much smaller in size and devoid of high drama.
The Wicked Mother-In-Laws and Vamps
The greedy mothers-in-law and vamps have been almost decimated. The audience would hoot when they were evil incarnate but whistled with glee whenever the saasu ma would apologize with a "Mujhe maaf kar do" towards the end, and whistle when the vamp would sacrifice her life for the hero.
There was a juncture when films would be considered incomplete without a cabaret number or tantalizing dance by Helen, Bindu, Padma Khanna or Aruna Irani, evidenced most memorably in Teesri Manzil (1966), Jewel Thief (1967), The Train (1970), Kati Patang (1971) and Mera Gaon Mera Desh.
As for those wicked mothers-in-law who would oppress the Cinderella-like heroines, Lalita Pawar, Shashikala, Manorama, Shyama and Nadira would enact them to the high hilt. Once Balaji's serial Kyunki Saas Bhi Kabhi Bahi Thi became a craze, the staple meanies migrated to the domain of television.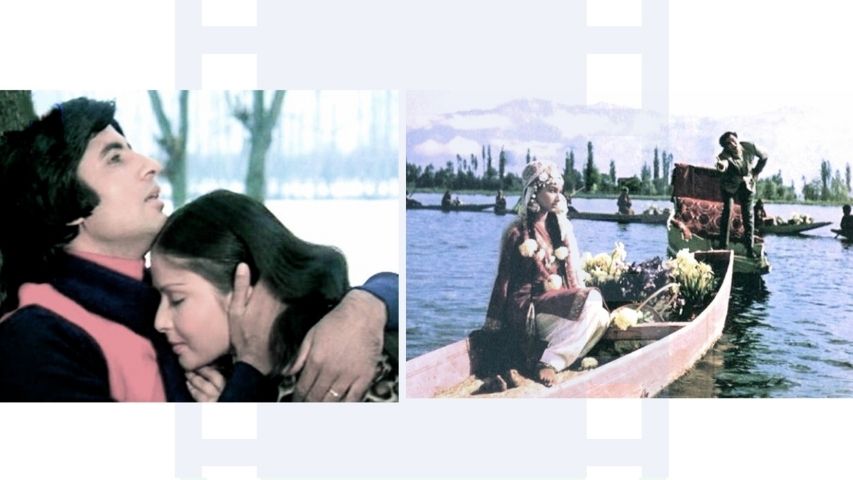 Kashmir
Scores of breezy romances would be shot in the sylvan vales and dales of Kashmir. That stopped when Kashmir was overrun with political strife in the late '80s. Ardent Kashmir lover Yash Chopra filmed Daag (1973), Kabhie Kabhi (1976), Noorie (1979), then, shifted to Switzerland and Holland for Silsila (1981) and Chandni (1989).
Kashmir, due to the film shootings, had become the No. 1 tourist spot and had its famous locations like The Betaab Valley (Betaab was shot there) and the Bobby cottage where the famous Chabi Kho Jaye song was shot with Rishi Kapoor and Dimple Kapadia.
The valley looked wondrous in Kashmir Ki Kali (1964), Jab Jab Phol Khile (1965) and Daag (1973). Muzaffar Ali's Zooni was stuck, because of the unrest, and remains incomplete. In more recent years, films shot under police surveillance were Jab Tak Hai Jaan (2012), Haider (2014), Highway (2014), Bajrangi Bhaijaan (2015), Fitoor (2016) and Raazi (2018).
The Comedy Track
Quite clearly, the new generation of character artistes is immensely gifted, but only a few of them like Sanjay Mishra and Pankaj Tripathi have revealed an innate sense of comedy. In the past, though, Kishore Kumar, Mehmood, Johnny Walker, Shubha Khote, Tun Tun, Agha, Mukri, Sundar, Asit Sen, Leela Mishra, Keshto Mukherjee and Rajendranath were a must for the rib-tickling comedy track. The 1990s did give us our share of some laugh-out-loud moments from Ashok Saraf, Laxmikant Berde, Guddi Maruti and of course above all, there was the uber popular Johnny Lever who added a dollop of humor to innumerable films, among them being Khiladi (1992), Baazigar (1993) and Judaai (1997).
The Ice-Maiden
The heroine would be pure as driven snow who kept her 'izzath' intact for the 'suhaag raat' scene. However, the arrival of Zeenat Aman and Parveen Babi with their bohemian lifestyles altered the scene. Earlier, the lead players were never shown kissing. Instead two flowers would be shown 'necking'.
Losing one's virginity was depicted with milk overflowing from the vessel on the stove. Plus stormy rain, thunder, waterfalls and rough waves would crash on the shore. 'Clothed sex' is passé now, giving way to explicit bedroom scenes, especially with the boom in the OTT channels, which have been multiplying like rabbits.
Times, they are changing. But to be honest, there are many of us who miss our guilty pleasures of yore.