TRAVELLING ON THE ROAD TO THE AMERICAN DREAM
by Vinta Nanda
October 10 2023, 12:00 am
Estimated Reading Time: 10 mins, 35 secs
Vidyut Latay's documentary film "Alien" is selected for screening at Tasveer South Asian Film Festival (TSAFF 23). I talk to her about it and her life in the US, says Vinta Nanda.
She comes from a middle-class Maharashtrian family where education and arts were equally encouraged, and she thrived in an environment at home where her brother and she were exposed to literature, singing (they are a family of singers), storytelling, and creativity.
Fascinated with the notion of creating a world of her own through the stories that she would create in her head, Vidyut gravitated towards gaining in-depth knowledge about writing and the storytelling process. The world of cinema always mesmerized her. Blown away by the sheer magnetic pull she felt towards a cinema screen, she wanted to be a storyteller for film and the audio/video medium.
However, it was a challenge, as coming from a middle-class family with no ties in the film industry, her parents insisted she first complete her formal education. After topping the university and receiving a gold medal in her Masters in Statistics from MS University Baroda, it became more difficult for her to convince her parents that she preferred to follow her creative dream over her academic/corporate aspirations. Her parents were, nonetheless, supportive, so she completed a communication studies program at the University of Pune.
She made a couple of short films and worked in the film and television industry of India at popular networks like Zee TV and the Times of India (Zoom TV), developing shows like Priya Tendulkar's talk show, Zimmedar Kaun, and other productions.
After moving to the US in 2006, Vidyut went back to education at San Francisco State University, and started working on her own films, soon after, instead of seeking a job with a media company.
The world of non-fiction fascinates her. She believes that documentaries are organic and so profoundly entrenched in deep research, that they have an uncanny ability to bring hidden, marginalized voices to the fore. Despite having worked in the fiction world, she was driven to the rawness and spontaneity of documentary. "But at the core", she says, "What I most enjoy is the process of storytelling in a compelling way, using the nuances of storytelling that I have learned while working in the fiction format".
I talk to her at length about her life, and about her documentary film "Aliens", which has been selected to be screened at the Tasveer South Asian Film Festival (TSAFF) Seattle, later this month.
First, tell us a bit about your journey as a storyteller, filmmaker?
Looking back at my life while growing up, I was the storyteller in my group of friends. I still have vivid memories of sitting with them and narrating the stories of films verbally that matched the exact duration of the film. For example, most Hindi movies I watched in my childhood were 3 hours long, and I remember telling the story of the film with every scene, every situation, even shot angles and direction details, with immaculate details. When I saw that people were interested, I started to experiment - I added my ideas and thoughts to an already established plot and film story and it worked amazingly well :-)
What compelled you to make Alien? What was the process like - from finding funds to the subjects, and making the film?
The first time I arrived in the US, on Feb 19 2006, at San Francisco International Airport, after deplaning my husband and I came to clear immigration and I saw two distinct lines where all the travelers were queuing up. I looked up, and there was one section that was labeled "US Citizens" - we didn't belong there because I was traveling on an H4 visa and my husband was traveling on an H-1B visa. I figured we were joining another queue, which was labeled as "Aliens". But I was in shock.
I remember that moment. I just froze. And I think my husband took a few steps ahead before realizing I was not walking with him. He wanted to know if I was alright. I asked him who the Aliens were, to which he said in a very matter-of-fact way, "That's us, immigrants".
I was upset throughout our journey from San Francisco to Santa Clara where we first started our lives together as a married couple. I would say that was the trigger for me. I was on an H4 visa, so, obviously, I couldn't work, and I soon realized I had also lost my identity by getting a dependent's visa.
I decided to work on a film about women who live on H4 visas. Very soon I realized that an H4 visa is just one component, or, for that matter, a symptom of the problem. I knew I needed to take a step back to tell the story of the broken immigration system that affects Indian immigrants the most. I paused the project, went back to a Masters' program in radio and television at the San Francisco State University on an F1 visa. I made an independent documentary about deaf people in India. I started working with documentary filmmakers in LA, and then eventually got my Green Card. And, in 2021 we got our citizenship.
However, my first experience as an immigrant in this country, the word Alien continued to haunt. My experience of living on an H4 visa, being privy to my husband's frustrations while we waited for our green cards, and witnessing thousands of stories around us, not only of the Indian diaspora but of other immigrants, made me feel I need to restart my work on the film.
So, in 2017 I started filming stories for the movie Alien - the documentary's title was suggested by my husband. He told me that since I was so disturbed by the word, I should use that as a title. I loved the idea! I connected with friends for stories, and through the non-profit 'Immigration Voice', I got in touch with many of its members who were ready to share their stories.
It was not easy, because talking about immigration is almost stigmatized; people are scared, anxious, and constantly worried about saying anything because it will jeopardize their immigration status in this country. However, after many interviews, I finally decided to go with five stories.
This is a self-funded documentary. I didn't get lucky in securing any substantial grants. While there was a lot of interest for immigration documentary films, funding organizations were not as excited as they would've been with stories about undocumented or illegal immigrants.
What's your story? How long have you been in the US and what was it that took you there?
I have been in the US since 2006. I married my college buddy, Ram Iyer, whom I met while studying at MS University in the statistics department. We got married after almost 8 years of graduating - he had already moved to the US three years before me, and was working in Silicon Valley.
I was not too motivated to move to the US. In fact, I was happy working in Mumbai in the media industry. I was enjoying my independent, single woman life in Mumbai. Media is culture-specific and I never imagined giving up my thriving career as an Executive Producer in television, and moving elsewhere. I mean there was a point in my life, that I could never for a moment imagine leaving Mumbai! I am in love with that city.
Well, love changed it all…Ram and I got married. So, it's been 17 years since I left India.
Where are you originally from? Where did you grow up and what were the key influences on your life?
I come from a middle Maharashtrian family. My father is a retired IIT Engineer, and my mother is a retired educator. I have a brother who is a Ph.D. in Geography, but he gave up his academic and corporate aspirations for professionally pursuing music and singing.
I was born in Durgapur, West Bengal, we have traveled and stayed at many places all over India. In fact, because of my father's job, we moved places very often, almost on average, every 2-3 years until we reached Baroda where I graduated from high school and got my Master's degree in Statistics. We are originally from Western Maharashtra and now my parents live in Pune.
Arts and formal education were equally valued and encouraged in our home. We are a family of singers! We all sing, Mom and dad were performers, and they were the first music teachers to both my brother and me. I trained in Hindustani Classical vocal for about 12 years. I wouldn't consider us materialistically super rich, but we never felt we were lacking; we had an immense wealth of literature, arts, music, and motivation to do something meaningful with our lives. In fact, the most common family ritual in our home was for the four of us to get together every evening, switch off the television set after dinner, and sing and play instruments! Those are vivid memories.
I was fascinated by some classic films and filmmakers that my dad introduced me to. My early influences have been Hrishikesh Mukherjee. According to me he personifies the notion "content is king"! His talent in bringing out the depth of human emotion and relationship dynamics is a visual treat. Bimal Roy (his cinematic language in the films Do Bhiga Zameen, Madhumati), Guru Dutt (his intensity as an artist - Kagaz Ke Phul, Saheb Biwi aur Ghulam are my all-time favorites), Sai Paranjpye (I love the simplicity of her films), Vijay Anand (Guide is my all-time favorite). And, in recent years, Farhan Akhtar, and Zoya Akhtar are my favorites.
While in LA, I have worked on documentary productions with the Hollywood producer and director Davis Guggenheim. I am influenced by his work and his ability to showcase hard-hitting social issues through human stories, and the emotional journeys of the characters in the film.
Do you see the American Dream becoming real for you?
I would say the typical American Dream as understood and popularized in the mainstream rhetoric was never really my dream. I came to this country because of marriage and love. So, in that sense my aspirations, and fulfillment, both at the personal and professional level, is something I have certainly been able to achieve here. But yes, when I see my kids, and I see the opportunities, privileges, facilities, freedom, safety and security they have in their lives, that definitely signifies the American dream for me and makes it real.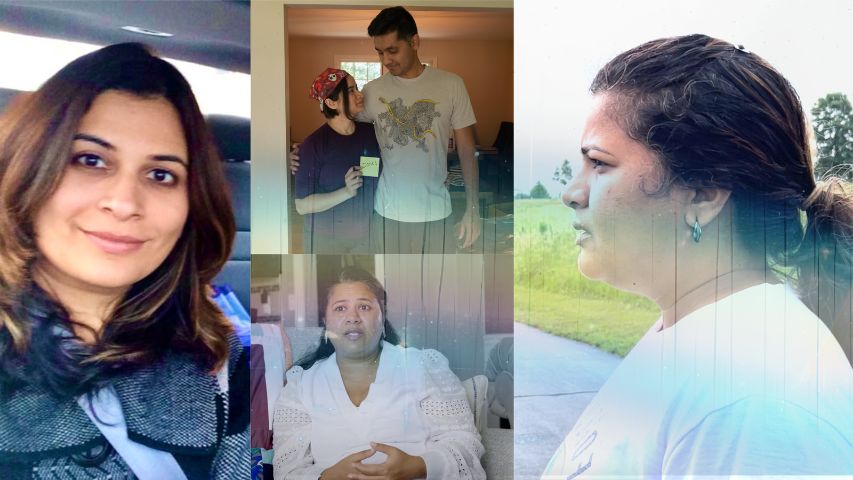 Where are you headed from here?
We have just begun our film festival journey. We recently won an award at the Madras Independent Film Festival. Alien has an offer from PBS to broadcast the film nationally on its broadcasting stations around the country in the US. We are still trying, and working hard, to get the film on a credible streaming platform. I am also in talks with several universities, nonprofits and corporations for screening the film for their students and communities/employees - whatever we can do to spread the word and inform and educate the people about the high-skilled immigration issue.
And, about being at TSAFF!
Screening at Tasveer is a dream come true! It is truly an honor and a privilege to be able to screen the film and participate in the panel discussion at the only 'Oscar Qualifying South Asian Film Festival' in the world. This is the first South Asian film festival in the US that we are showcasing the film in, and I couldn't have asked for a better launch for our film.
I'm grateful to Rita Meher, and her awesome team at Tasveer that has made this screening possible. I feel honored and blessed to be among such a talented group of fellow filmmakers whose films are showcasing at the festival. This is a true American dream for me. It gives us the ability and freedom to showcase our voice and stories to the entire world…
Tasveer screening link:
https://2023.tasveerfestival.org/schedule/64ecbaf2e8c852003946b38c
Instagram:
https://www.instagram.com/reel/Cx9L1t7vTxS/?igshid=NmQ4MjZlMjE5YQ%3D%3D
Twitter:
https://x.com/TasveerOrg/status/1709360292348796996?s=20
Film website: