True Review – The Hobbit: The Battle of the Five Armies
by Niharika Puri
December 13 2014, 3:21 pm
Estimated Reading Time: 2 mins, 21 secs
Critics Ratings: 3.5 Stars*
Cast: Ian McKellen, Martin Freeman, Richard Armitage, Luke Evans, Evangeline Lilly, Orlando Bloom, Lee Pace.
Direction: Peter Jackson.
Produced: Carolynne Cunningham, Zane Weiner, Fran Walsh.
Written: Jackson, Fran Walsh, Philippa Boyens.
Genre: Fantasy, Adventure.
Duration: 144 Mins.
After a lackluster start with An Unexpected Journey and a jumpstart with The Desolation of Smaug, the much-touted 'defining chapter' brings the trilogy to an action-packed, visually gob-smacking conclusion within the briefest running time of the series.
The Dwarves, having awakened the dragon Smaug, watch in horror as he wrecks havoc upon the hapless citizens of Lake Town for being intruded upon in his lair. While the dragon eventually gets his just desserts, the riches of The Lonely Mountain are an open invitation for different armies to march and plunder. Things would have been simple enough if it was not for the parallel tracks of romantic complications, tending to a devastated populace, running from the Orcs and that little detail about Gandalf (Ian McKellen) being held prisoner at Dol Guldur. Also, Dwarf king Thorin (Richard Armitage) may be losing his mind, blinded as he is by the gleaming gold in the vault.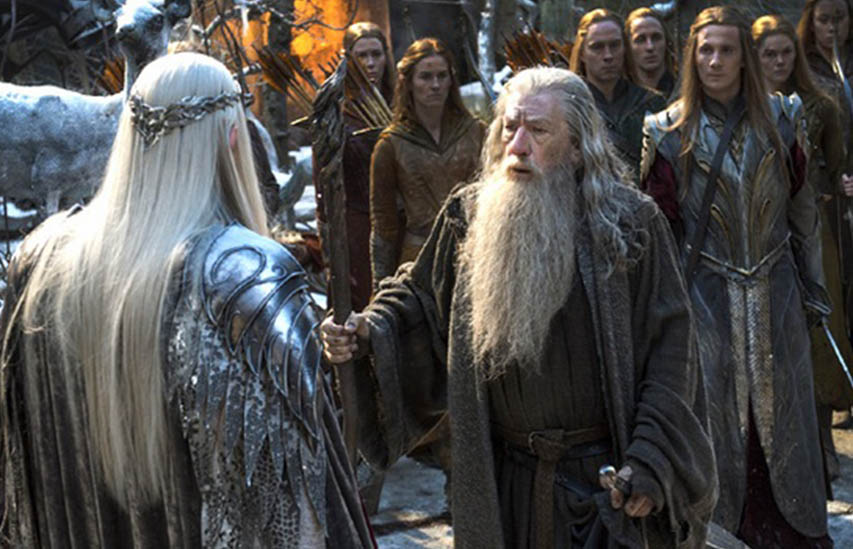 The final denouement follows the tail-end of the book, one that has been remarkably divided into three fan-serviceable adaptations. Instead of the usual montage of disparate travellers trudging through lush terrain, the film goes straight into the action and sustains the continuous loop even as it spares fleeting moments of character interludes in between.
The visuals are eye candy to keep even those who are not genre aficionados in their seats. Instead of jargonizing Tolkein's highly complex world of Orcs, Elves, Dwarves and Humans, the film focuses on the more universally accessible ideas of greed, betrayal and valour. Despite this, the various tribes, though fantastical, are created with exceptional realism. The charred Lake Town and the misty cliffs of the mountain make for a perfect set-up for the furious battle that rages between all clans possessing vested interests.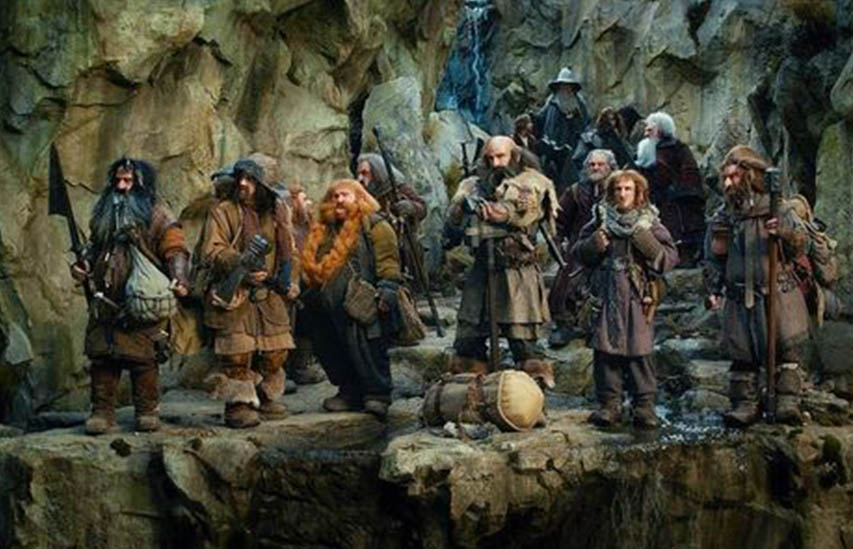 Gandalf fans may be disappointed with the lack of screen-time given to him. He does not have a great hand to play in the midst of the conflict. Although the events are seen mostly from Bilbo's perspective, the true heroes in the skirmish are Thorin and Legolas. They get the best fight sequences. Watch for Thorin's fight with Azog on thin ice and Legolas' face-off with Bolg on a crumbling, cobbled bridge.
The Battle of the Five Armies delivers on its promise of a scaling, engrossing epic. Despite little storytelling and progressing more by way of combative set pieces, the third installment gets darker but provides nostalgic fans with the rousing closure they needed. If you have followed the series, do not miss the paciest addition that completes the triumvirate.