Award winning illustrator, cartoonist, artist, animator and increasingly influential social and political columnist, Mumbai-based, Gautam Benegal, was published first in renowned filmmaker Satyajit Ray's children's magazine Sandesh, at age sixteen. Since then, Benegal has written and illustrated books both for children and adults, made animated films and held exhibitions of his art in India and overseas, to significant critical acclaim.
Gautam Benegal Graphic Designer, Painter, Writer, Animation, Corporate and Documentary Filmmaker
Related Articles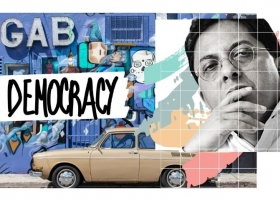 Gautam Benegal discusses the twin pronged strategy applied by the present union government to establish absolute dominance. Read More
"Relax buddy, that's not one of us. That's just a farmer."
Read More