Shantanu Ray Chaudhuri is a film buff and an editor. Books commissioned and edited by him have won the National Award for Best Book on Cinema twice and the inaugural MAMI (Mumbai Academy of Moving Images) Award for Best Writing on Cinema. In 2017, he was named Editor of the Year by the apex publishing body, Publishing Next. He has written for the online magazine Film Companion. He is a consultant, writer and editor for the newly launched film website Cinemaazi.com. He is the author of two books: Whims – A Book of Poems (published by Writers Workshop) and Icons from Bollywood (published by Penguin/Puffin).
Related Articles
The films of Satyajit Ray have provided us with iconic moments that celebrate the many hues of life, all shot w...
Read More
Acclaimed documentary filmmaker Supriyo Sen's debut feature never quite hits the narrative highs, existing in the zone between good visua...
Read More
It is to the credit of Subhrajit Mitra and his creative and technical team that Avijatrik manages to trace its own path, writes Shantan...
Read More
Running on the streaming platform Hoichoi, the first woman detective franchise in Bengali, Damayanti could have done with much less talk and mo...
Read More
Shantanu Ray Chaudhuri reviews Bengali streaming platform, Hoichoi's much-publicized psychological horror Mohomaya
...
Read More
The fascinating life of Hiralal Sen probably needed more visual flair, writes Shantanu Ray Chaudhuri
Read More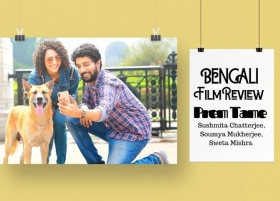 Shantanu Ray Chaudhuri writes that an inspired final act and a brilliant soundtrack cannot overcome the shortcomings of vapid ...
Read More
Well-known playwright, theatre activist/director, and film-maker/actor Bratya Basu's film is well-intentioned but suffers from a muddled ...
Read More
Originating from a conversation with his seven-year-old daughter, Suman Ghosh's new film is an ode to the city of Kolkata, writes Read More