Bombay Old Fashioned benefits the Light of Life Trust
by Ranjit Rodricks
May 2 2018, 7:00 pm
Estimated Reading Time: 4 mins, 9 secs
Back in the Nineties, before Bollywood became mainstream and took over every aspect of our lives, TV channels like MTV (India) and later, Channel V, played a huge role in promoting and launching desi singers, bands and musicians.
This genre was called Indi-pop and has since, died a tragic and agonizing death with the advent of social media and the popularity of Bollywood songs growing in leaps and bounds.
However, among those who regularly found their songs at the top of the charts, back in the day, was Anaida – a petite ingénue of Greek and Persian ancestry.
She was so famous as a singer, that she's actually performed live with Latin sensation Peter Andre in India and was also the first female Indi-pop singer to have her song "Good Day to Die" (which was sung in English) featured on the famed Buddha Bar music albums.
These days however, Anaida wears a different cap on her pretty head – that of a Chef.
Yes! From singing for her supper to cooking supper for others, Anaida's journey is as varied and exotic as her heritage.
She is a Partner and Chef at SodaBottleOpenerWala, a chain of Parsi / Irani restaurants based on the iconic Irani café's which once lent a dollop of flavour to the city of Mumbai.
However, not wanting to restrict herself to simply stirring the pot over a hot stove, Anaida has extended her efforts to philanthropy and has roped in many of her celebrity friends to participate in Bombay Old Fashioned – a project (all her idea) to "Create entertainment for betterment by connecting talented individuals and leveraging our combined efforts to make a difference to other individuals and society."
The first event in this series was an auction of photographs and caricatures to benefit young children who are supported by the Light of Life Trust.
Says Anaida, "Along with the SodaBottleOpenerWala team, we roped in photographer Palash Bose and a host of Mumbai icons to capture quintessential old Bombay elements that are going extinct. This resulted in super quirky images like supermodel Diandra Soares in a wedding gown coming out of a 'Kaali Peeli' Premiere Padmini taxi cab outside Mount Mary Church in Bandra; Actor and activist Rahul Bose in a formal suit at the roadside in Horniman Circle with an ear-cleaner guy cleaning his ear; Celebrity hair dresser Aalim Hakim getting a shave on a roadside barber's chair; Karate champion Sandhya Shetty with Malakambh artists; Rock singer Uday Benegal outside the iconic Rhythm House and Bollywood actor Freddy Daruwala in an old Irani cafe having bun maska and sipping tea."
Source:L to R - Palash Bose - Fashion Photographer, Hakim Aalim - Bollywood Hairstylist, Anaida - Chef Partner at SodaBottleOpenerWala Powai
Anaida also got cartoonist Abhijit Kini to do a host of funny caricatures based on Bombay icons like the postman, the dabbawalla, the beloved watchman and even known faces like Prahlad Kakkar and Alyque Padamsee.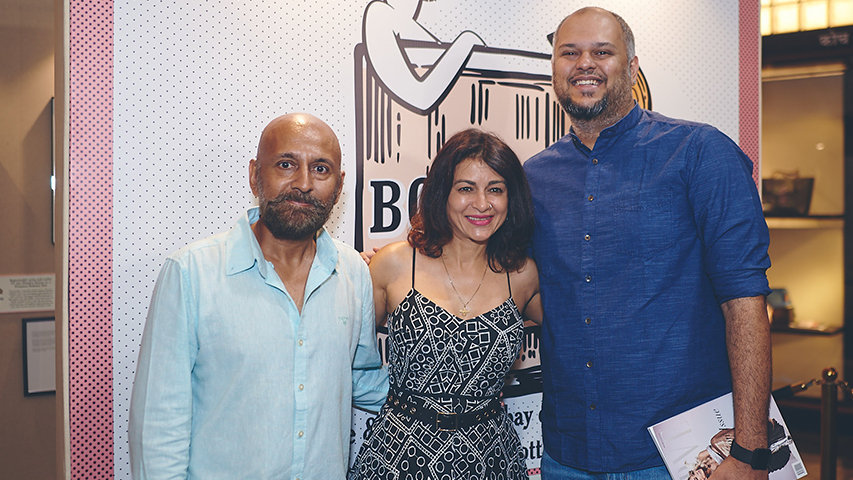 Source:L to R - Palash Bose - Fashion Photographer, Anaida - Chef Partner at SodaBottleOpenerWala Powai, Abhijeet Kini - Comic Artist
These photographs and caricatures are up for auction at the Palladium mall and "The entire proceeds goes to specific kids with specific needs, which we had chosen," says Anaida.
She adds, "These kids have already been overcoming struggles of life to achieve their dreams against all odds and this effort is to give them a push and help them take their life to the next level."
Sandhya Shetty – who is the proud winner of a gold medal in karate at the Commonwealth Games, tells us, "I had such a blast shooting for my picture at Shivaji Park in Mumbai. There were young school students who were practicing the art of malakhamb and I was photographed as a goddess who was bestowing more knowledge and blessings upon them. It was as though I was giving back a little of what I have received, as a sportsperson."
Source:L to R - Anaida - Chef Partner at SodaBottleOpenerWala Powai, Sandhya Shetty - Model and Commonwealth Karate Gold Medalist
Aalim Hakim – hairstylist to a host of Bollywood stars and cricketers, tells us, "The moment I was approached for this project, I was game. Not only was it about having fun by doing something different but it was for a charitable cause and I was happy to be a part of this wonderful project."
Aalim's photo was shot on a street in Bandra while Rahul Bose's picture was taken at Horniman Circle in South Bombay.
"There will be many more such events and projects in the months to come," reveals Anaida, adding, "And each one of them will benefit a charitable trust or NGO."
And that, ladies and gentleman, puts her back on the top of the charts!