Hijab: The divisive agenda 2022
by HUMRA QURAISHI
February 19 2022, 12:00 am
Estimated Reading Time: 7 mins, 13 secs
Humra Quraishi looks closely at the systematic way in which the Right-wing groups are deepening divisions between the Hindu and Muslim communities in India over the last eight years.
I recall my first time to Mumbai in 2006, I faced problems commuting. I was mostly taking the bus to go around and a couple of times I used the local train, but it was tough. I couldn't afford cabs so I had no other option. But with that, at least I could get to see, hear and experience the ground realities. It was whilst I was changing buses to reach Asghar Ali Engineer's Santa Cruz office, that I met two university students who were wearing the hijab. When they asked my name they looked somewhat taken aback. "But you don't look a Muslim," commented one of the girls. I replied, "I'm a Muslim but why should I look one… what's the need?"
Their response to my question made me pensive. One of them said, "Maybe it wasn't important before, but it is important in today's dangerous times - if you are troubled on the streets, somebody from the community will at least try to protect you. You know how communal some of the cops can get and won't bother to come to your rescue. Today it is important to show your identity like other minority communities are also doing. Why shy away from your identity?"
The next day, when commuting by bus from Colaba to Haji Ali, I spotted a small group of three, who looked like they were from my home state Uttar Pradesh. Unsure of the bus to take, that would cart me towards Haji Ali, I approached them, a man, his ageing mother and his wife. "Yes, yes… we will help you, we'll put you in the correct bus. Auntie, aap bhi hamare Uttar Pradesh se hain?" (Auntie, are you also from Uttar Pradesh?). I nodded. I asked him his name and his eyes conveyed anxiety - that look I have often noticed in the eyes of many young Muslims. "Why are you asking for …er, my name?" Why not, I asked in return. "Aslam," he answered to which I responded, Aslam what? My probing made him feel apprehensive, I could see.
I gave him assurance that it was safe to talk to me and he uttered his surname also adding that he'd been working in a Mumbai bakery several years. As we finally hopped into the Haji Ali bound bus, the conversation accelerated. He told me that Mumbai was not like it used to be before. "Today any dhamaka happens, the police go hunting for Muslims, right until at least one is detained. They may be let off later after questioning, but the name remains there, in the police records!"
I'm telling you these incidents to express the deep sense of insecurity that has gripped the Muslim community over the last many years, and it has been building up steadily. In 2006, the situation wasn't as alarming as is today. The community has witnessed the Babri masjid demolition, the Mumbai riots and the Gujarat pogrom but the ground realities, although resultant, weren't as grim as they stand today – it has actually come to Right-wing goons, in cahoots with some of the cops, openly taunting riot-affected Muslim women by saying, "Go to Pakistan! Get lost!"
Today, the big question that needs an answer is this: How do we ensure dignity and security for the minority communities, so that they can live at par with the majority groups? Even a terror accused Sanghi turned Member of the Parliament is making provocative statements and literally ordering Muslim women not to wear the hijab! All this in the times when the incumbent chief minister of the largest state in India is permanently donned in saffron robes? I say this: "Who dare tell me what to wear! It is my body, my choice, my circumstances, my likes and dislikes, my country and my right to survive here as a free citizen!"
So what if until yesterday I wore sleeveless blouses, and today I cover every little inch of my body? What is anybody's problem? Who are these people that have issues with the hijab or the burqa? I'm covering myself as per my wishes. What's the problem if I want to retain my identity? My identity is of significance, especially in these dark, turbulent times when it is getting more difficult to breathe, let alone be free. I realize that I have been pushed by this union government, run by a Right-wing party today, to the second class or third class category of citizenry, but even when I've been placed here, I am not being left to do as I want. Please, I beg you, allow me survive without hounding, harassing and threatening me to and without unleashing your mafias upon me!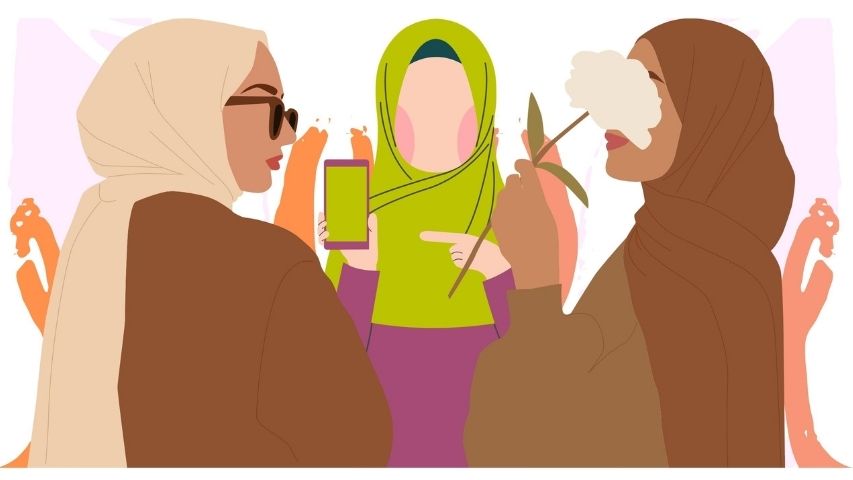 This controversy reeks of the Hindutva forces deliberately trying to disturb one of the minority communities of the country. Right from 2014, when the Right-Wing government came centrestage, the attacks on the Muslims have started. The lynching of Mohammad Akhlaq in Uttar Pradesh's Dadri paved way for more such barbaric killings. News reports of lynching had come from several places across India - from the outskirts of Delhi, the highways of Rajasthan, from the rural stretches of Mewat region Haryana and from the interiors of Jharkhand, where at least two Muslim cattle traders were killed and their bodies were hung from trees. One of the victims was a very young boy and was killed right there in the open. Yet we remained silent!
In the year 2016, Muslim men were thrashed - they were forced to eat cow dung and drink cow urine. The incident didn't take place in some deep forests, where it would go unnoticed, but in Haryana's district Faridabad, on the outskirts of the capital city, New Delhi. And during the summer of 2017, we saw the killing of 16 year old Muhammad Junaid, on the train taking him and his brothers to their village in Haryana, Ballabgarh. He was killed inside the train compartment, by fellow passengers, with 'beef eater' taunts hurled at his fractured skull.
And weeks after this Right-wing government took charge for its second term in 2019, attacks on the Muslim community grew. The worst was the killing of the 24 year old Muslim man, Tabrez Ansari, in Jharkhand. An orphan, he was visiting his ancestral village to get married but before he could get back to his place of work, Pune, he was lynched by a mob of goons after being forced to chant slogans like 'Jai Shri Ram… Jai Shri Hanuman'. They tied him to an electric pole and beat him the entire night. When the police came to the scene, instead of moving Tabrez to the nearest hospital, they put him behind bars. They did not arrest any of the perpetrators who had assaulted Tabrez. It is only much later, after he was declared dead and videos of those goons thrashing him went viral, that reactions did the rounds. Despite all the outrage there was no lessening of communal attacks after that brutal killing of Tabrez Ansari. Muslim men were forced to chant Hindutva slogans - there was little guarantee of their survival even after they chanted the slogans. In those videos that went viral, Tabrez was heard chanting 'Jai Shri Ram…' but he wasn't spared, still he was beaten to death!
It seems as though it is the turn of Muslim women now. Today they are targeted and threatened for covering their hair and are being forced to leave the educational institutions – they are being deprived of their basic fundamental right to education. It is becoming a hopeless situation and the controversy is strategically planned to divert the attention from all other disasters confronting us - from the failed economy, collapsing infrastructures to poor governance.
I have been a witness to several communally charged phases in recent years, but it has never before played itself out as brutally as today. With the political climate becoming more communally charged by the day, twisted notions of the 'other' are doing the rounds everywhere. Myths are manufactured and facts misrepresented to scar the image of the Indian Muslim.