The Popularity Of Yoga
by Monarose Sheila Pereira
June 21 2022, 12:00 am
Estimated Reading Time: 4 mins, 20 secs
To celebrate Yoga Day, Yoga professionals speak to Monarose Sheila Pereira and explain why Yoga has become so immensely popular.
Dr. Mickey Mehta, Fitness Guru
Yoga works on the principles of stretch to flow and contract to pump out the impurities and glow. With yoga, stretch to lengthen your life and contract to strengthen your life. Yoga teaches you how to harness the energies of the earth, fire, air, water and ether. Thereafter a true yogi transcends matter and becomes one with nature. Don't discuss disease, decay, despair and death. Discuss yoga for celebration, antigens, oxygen, nutrition and healing with meditation! Vinyasa yoga brings sheen on the veneer of our being. Yoga and Ayurveda provide a level of consciousness, which completes all needs of wellness!
Umesh Sharma, Yoga and Fitness Instructor
Yoga has become popular because it can be practiced by anyone. It does not require any equipment. So you do not have to go to a gym. You can do it anywhere whether you are at home or on holiday. It gives many health benefits. It exercises the whole body and all muscles. It also stretches the body and helps it to be flexible. However one needs a well-trained Yoga teacher to help you or you could injure yourself.
Rashida Painter, Yoga Instructor, Fitness Trainer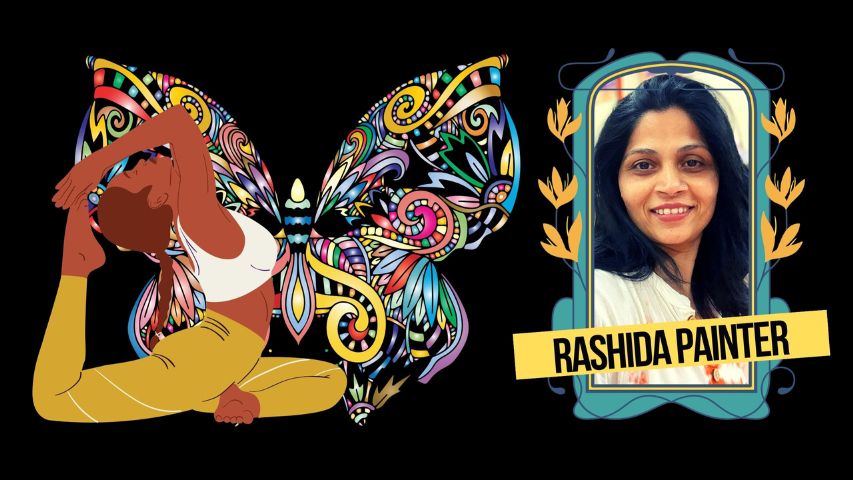 Yoga is famous all around the world due to its various health benefits as well as it has become more popular in the world due to celebrities practicing it .Be it a middle class person or a high class person, all believe in the benefits of yoga and know how crucial it is to follow a healthy lifestyle. Yoga will not only help you lose weight but also has many mental and emotional benefits, which make you happy inside out. Practicing yoga and following a healthy lifestyle is a slow and steady process but the benefits last long. Yoga helps to relax, breathe and balance a stress free life. Yoga opens the door to many possibilities in your life, be it physical, spiritually, emotional and helps us gain balance in life.
Yogesh Keswani, Fitness coach and Yoga teacher
Firstly, Yoga is a path towards enlightenment. The word "Yoga" in Sanskrit means "UNITY" or "UNION". It is unity or union of one's MIND, BODY and SOUL. Secondly, you can practice yoga anywhere. Unlike running where you need to take out time to build up endurance, yoga can be practiced anywhere. If you are tired working in an office sitting on a chair for long hours then you need to just do 10 minutes and do some chair yoga exercises and feel rejuvenated. Thirdly, yoga is relatively easy to learn and there are a wide variety of exercises to choose from. You can practice in groups or simply on your own. India has always been rich in culture and heritage and Yoga began in India 5000 or more years ago. Many saints, gurus have practiced yoga. Yoga's relationship with the western countries began in the19th century. Swami Vivekanand introduced yoga in 1893 at the World's parliament of Religion in Chicago, (according to the Wall Street Journal). Gradually, awareness of yoga spread across the world. Living in the 21st century, life has become robotic, especially in western countries. Exercising or meditating has become the need of the hour! Nothing can be a better option than practicing Yoga to achieve strength, stamina, flexibility, muscle endurance, inner peace resulting in good physical and emotional mental health.
Sidharth Naik, Yoga Teacher and Fitness Expert
Yoga is a great practice for both the body and the mind, it offers peace and mindfulness to its lovers and helps them get through daily stress. Yoga is a mirror to look at us from within. It can be practiced by all age groups and just about anywhere; it offers health benefits and many have said that yoga has cured them. These are the reasons why yoga has become popular; it has so much goodness to offer all people from various age groups. It is also easy to learn.
Meherzad N.Wadia, Wellness Therapist and Lifestyle Consultant
Yoga is popular because it is effective. When practiced carefully and consistently yoga improves our well being both subjectively and objectively. Yoga helps to reduce medical problems if done under supervision. Yoga improves your balance. Yoga makes you flexible. Yoga improves your concentration and it activates your subconscious mind. Yoga is the journey to connect our soul to the supreme power i.e. to the universe. All human beings can practice it and we must take advantage of its benefits. When Yoga is done with full faith it not only makes your body flexible and cleansed, but also strengthens your immunity. It is also a pathway to connect your soul to your divine power whom you worship. Practicing Yoga 2 to 3 days a week for 45 minutes to an hour is a must. If you have time restriction then 15 to 20 minutes everyday do the King of all exercises i.e. SURYA NAMASKAR and 10 min of basic meditation with full awareness. This gives you a tremendous advantage, which you can feel in a month by practicing consistently.