Winds of Change
by Ranjit Rodricks
April 16 2018, 4:56 pm
Estimated Reading Time: 4 mins, 56 secs
"Come gather 'round people
Wherever you roam
And admit that the waters
Around you have grown
And accept it that soon
You'll be drenched to the bone.
If your time to you
Is worth savin'
Then you better start swimmin'
Or you'll sink like a stone
For the times they are a-changin'."
Back in 1964, the iconic rock star Bob Dylan belted out these prophetic lines which now, in 2018, a full fifty-four years later, are hauntingly true about the way things are going in India. On the evening of Sunday, 15th April 2018, almost a thousand people thronged the sea facing amphitheatre at Carter Road in Bandra to protest and petition for a change in the legal system. The trigger?
The brutal rape and murder of a young eight-years-old girl in Kathua and the rape of another woman in Unnao.
These two ungodly acts have been so depraved that they have left the people of India in utter shock. And now, with no clarity on the justice being given to the victims and their families, the people of India want a drastic change to be made to ensure that the legal system is overhauled and that the strictest punishment is meted out to rapists so that men never dare to rape a woman again.
And they are willing to take to the streets to ensure it happens.
A week prior to the protest, social media was bombarded with messages which informed people that a peaceful protest would be held on the sea front and urged Indians to unite for speedy justice against rapes and murders.
The power of social media proved fruitful because a humongous crowd of people from all walks of life came out to make their voices heard and ensure that stringent laws are put in to place to curb the rising sexual crimes against women.
Little children holding placards, Bollywood and entertainment celebrities, fashion designers, bloggers, social media influencers, housewives, doctors, lawyers, college students and even Nuns from the nearby convents – everybody made their presence felt by cheering loudly, while speeches were being given and by holding up banners which condemned the rapists and those who tried to shield them.
Says Bollywood actress Amyra Dastur (who recently acted opposite Jackie Chan in Kung Fu Yoga), "The number of women at the protest - who were speaking and standing up for one and other simply based on the fact that we're all 'Daughters of India' - makes me believe that justice will be given to the innocent girls who are no longer with us. I hope this protest snowballs into more than just a stepping stone for our people, more so for the Indian girls to be treated justly and for our country to treat rapists and murderers as what they truly are - criminals who deserve nothing less than the death sentence."
Dastur said, "I truly appreciate that the focus of the protest was kept on the rape victims and how to prevent such atrocities from occurring again by pressurising our government through social media, rather than making it a political protest where we just keep blaming different parties and forgetting the true reason for the gathering that occurred today. Today made me see how strong Indian women are becoming and how it is high time that our Government stands with the 'Daughters of India' instead of against us."
Celebrity makeup artist Clint Fernandes was also there to lend his support to the cause. He tells us, "One can just hope and pray for something positive to come out of this. Social media petitions going viral and mass education in regards to this subject is the need of the hour. The Indian social fabric is very complex and women's equality needs to be addressed at all levels!"
Actress Anjana Sukhani was visibly in tears at the protest and found it unimaginable to comprehend the kind of pain and suffering the young girl, Asifa, had to go through while being raped multiple times and then being murdered.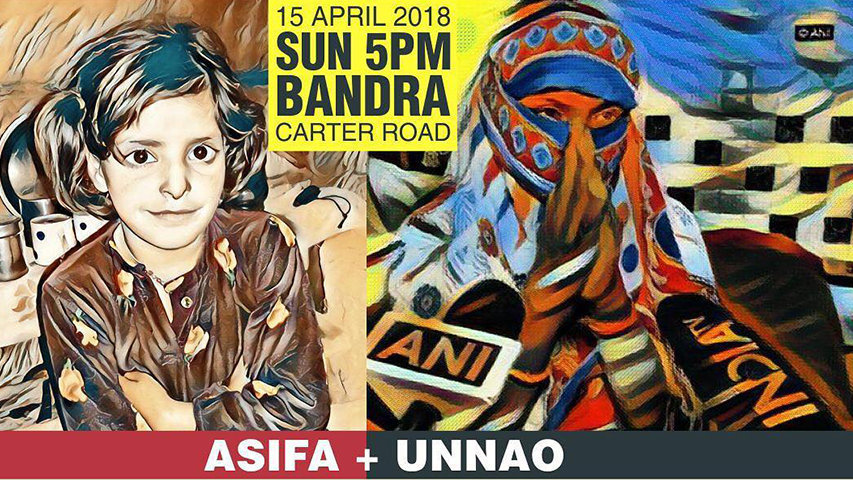 She tells us, "Rape is an assault not only on a woman's body but also her soul. Rape exists in our society from centuries ago and the reason men have become more fearless about it is because our justice system is slow, corrupt and influential. The most important step to curb rape cases is to instil fear with harsher punishments and also to have swift and speedy court trials for the benefit of the victims. We also need to go back and change the grass-root mind-sets of people about the way women should be treated. We need to teach our sons better. The ideology that persists that one can get away with rape because of the judicial system in our country needs to stop. People instigating communal and religious reasons of rape need to STOP. We have to learn to empathise."
The most poignant part of the evening was when a 16-year-old college girl took to the stage and shared the fact that when she had discussed the topic of molestation with her friends, almost nine out of ten had admitted to being victims. And when she asked them where their molesters were now, none of them told her that the perpetrator was in jail.
And that point exactly, was what this protest (which was expertly handled by lawyer Abha Singh, hairstylist Sapna Bhavnani and friends) was aiming for - the fact that many rapists and molesters were not in jail (due to a skewed legal system) but were instead, out there, roaming the streets and probably violating other women too.
No, ladies and gentlemen. It was not a balmy summer breeze that wafted in from the Arabian Sea as the protesters made their voices heard. It was the winds of change…..
And they times, yes, they are a changin'.