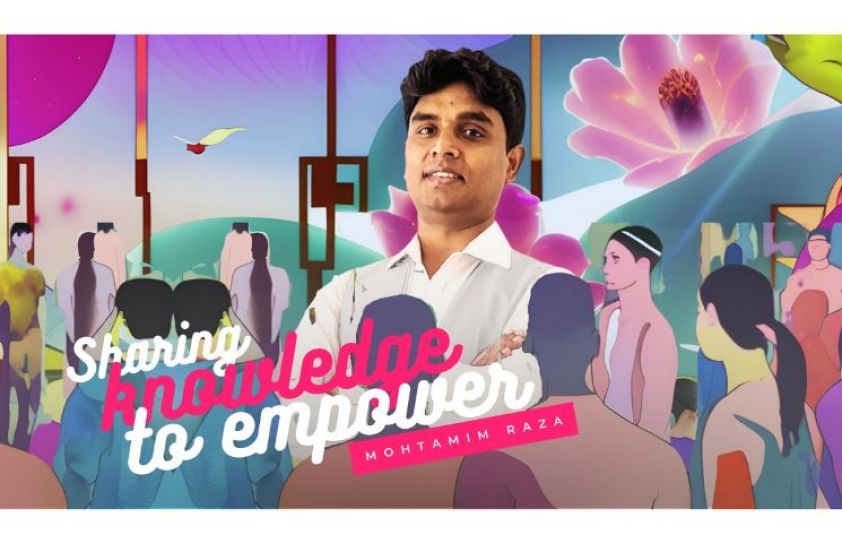 SHARING KNOWLEDGE TO EMPOWER: MOHTAMIM RAZA
by Vinta Nanda
June 5 2023, 12:00 am
Estimated Reading Time: 7 mins, 45 secs
Vinta Nanda chats with Mohtamim Raza about his work as a Student Empowerment and Memory Trainer with a focus on Mind Conditioning.
Mohtamim Raza is a Student Empowerment and Memory Trainer, NLP Expert, NPM & Wellness Coach. With his expertise, he assists individuals in enhancing memory power and facilitating accelerated learning techniques. He assists individuals in overcoming stress, anxiety, and depression, while also providing coaching in Neurological Path Making (NPM). Having addressed a diverse audience of parents, teachers, and professionals, he has helped students achieve academic success and personal growth. "It has been an incredible and rewarding experience to positively impact the lives of so many," he tells me.
I've known Raza for about ten years. And, most of my skills in graphics design, motion graphics, visual effects and in social media can be attributed to the education I've got from him and his wife Bithika Parul - they have taught me by hand holding over the years. They've imparted their knowledge to me, never fearing that by granting me the independence to work on my own, they are losing a client.
For a client (ex-now) to be a student is quite an oxymoron, right? But neither of the two spare the student in me when it comes to reprimanding me for the mistakes I make. We haven't worked together (officially) for a while now, but Bithika calls and criticizes my work if she notices something I've created is incorrectly executed or shoddily done. And, I admire her for it. Both of them have my back (I do keep running into trouble with technology, especially when ambition takes over and I try new things) and they help me get back on my feet. At the age of sixty, I feel more digitally empowered than most of my contemporaries, and it's Raza and Bithika I give all the credit to for it.
In a meeting with them, recently, I learned of Raza's foray into a new universe and about the success that he has achieved in such a short time. I thought it was time to interview him for The Daily Eye. So over to my conversation with him…
What are you doing these days?
As a Student Empowerment and Memory Trainer with a focus on Mind Conditioning, my primary objective these days is to help students enhance their cognitive abilities, memory retention, and overall mental performance. I work with students to develop effective study strategies, improve focus and concentration, and optimize their memory retention. I utilize unique techniques to train their minds and strengthen their memory muscles. In addition to memory training, I also incorporate mind conditioning techniques to help students develop a positive mindset, overcome limiting beliefs, and cultivate mental resilience. I guide them in building self-confidence, managing stress, and developing effective goal-setting and motivation strategies. By combining memory training and mind conditioning, I empower students with the tools and techniques to overcome challenges, boost their learning abilities, and excel academically to perform at their best.
How did you start getting interested in Student Empowerment?
As a child, I struggled with memory issues that made it difficult for me to keep up in school. I often forgot important details and struggled to recall information when I needed it. It was a frustrating and discouraging experience, but I refused to give up.
As I grew older, my curiosity about the human mind and its cognitive processes deepened. I began immersing myself in the study of memory and various memory enhancement techniques, including NPM (Neurological Path Making). Through my personal exploration and experimentation, I discovered that I had a natural aptitude for teaching others how to improve their memory. So, I started working with children who were struggling with their studies due to memory issues, and I found that my techniques were helping them achieve significant improvements in their memory retention and recall. This success inspired me to expand my reach, and I began working with parents and teachers and started sharing techniques with them, which could help their children or students.
Today, I'm proud to have helped countless children improve their memory and parents, and teachers help the children they work with achieve success in their academic and personal lives. It's been an incredible journey, and I'm grateful for the opportunity to make a positive impact on the lives of others.
Tell us about how your knowledge of NPM and web-development come together to make you succeed in your work?
By combining my expertise in NPM with my web-development skills, I strive to create a dynamic learning environment that harnesses the power of technology to support students' cognitive growth and academic success. I offer a holistic approach to student empowerment, memory training, and online visibility. This integration enables me to provide effective coaching strategies, create engaging digital resources, and deliver personalized learning experiences to empower students in their academic pursuits and personal growth journeys.
Tell us about your company?
Our company, Raza NPM and NLP Coaching Nexus, is focused on empowering individuals and making a positive impact on their lives through the utilization of NLP and specialized coaching techniques. We have two distinct aspects within our company.
Raza NPM (www.razanpm.com) is my personal venture, where I provide individual services as a Memory Trainer, Mind Conditioning, NPM and NLP Expert, and Wellness Coach. With over six years of experience in this field, I have successfully trained over 10,000 students, including individuals from educational institutions, parents, teachers, lecturers, professors, and trainers. My main objective is to equip individuals with effective techniques to enhance their memory, cognitive abilities, and overall personal growth. Through Raza NPM, I offer tailored programs and coaching sessions that help individuals tap into their full potential.
Additionally, I am a partner in NLP Coaching Nexus (www.nlpcoachingnexus.com), which was founded by Dr. Ashish Nagar, an experienced NLP Master and Transformational Coach. NLP Coaching Nexus is dedicated to empowering individuals and coaches to reach peak performance through the transformative technology of Neuro-Linguistic Programming (NLP). Our mission at NLP Coaching Nexus is to make NLP accessible to people worldwide, enabling them to lead happy, healthy, successful, and holistic lives. We provide structured coaching programs that simplify and make practical the implementation of NLP principles in daily life, facilitating personal transformation.
Together, through Raza NPM and NLP Coaching Nexus, we offer a comprehensive range of services and resources aimed at enhancing personal excellence, improving cognitive abilities, and fostering overall well-being. We are committed to helping individuals unlock their potential, achieve their goals, and lead fulfilling lives through the power of NLP, mind conditioning, and wellness practices.
Where are you from? Tell us about your growing up years?
I am originally from Bihar and have been residing in Mumbai for the past 15 years. Growing up in Bihar, I was exposed to a diverse cultural environment that shaped my values and work ethic. Witnessing the resilience and determination of the people around me instilled in me a drive to excel in my chosen field. After moving to Mumbai, I began my career in the IT industry as a web developer. However, my interests and passions gradually shifted towards memory training, mind conditioning, NPM, NLP, and wellness. This transformation led me to embrace my role as a memory trainer, mind conditioning expert, NPM and NLP practitioner, and wellness Coach. My upbringing in Bihar laid the foundation for my personal and professional growth, while my time in Mumbai provided me with opportunities to explore and develop my expertise in empowering individuals through memory enhancement, cognitive training, and holistic well-being.
How did you get interested in web design and development?
As an IT Professional turned Memory Trainer, Mind Conditioning, NPM & NLP Expert, and Wellness Coach, my interest in web design and development was ignited by a combination of factors. Firstly, my lifelong passion for computer knowledge, which I cultivated since childhood, made me naturally curious about various aspects of technology. Secondly, while working in the IT industry for 15 years, I witnessed the intense competition and the struggles individuals faced in finding employment, leading many into depression. This realization motivated me to explore alternative career paths that could make a positive impact on people's lives. Web design and development stood out as an exciting field where I could combine my technical expertise with my newfound passion for coaching and wellness. This realization inspired my transformation into this domain, where I could create user-friendly and visually appealing digital experiences while also helping individuals overcome challenges and improve their overall well-being along with student's mental health and academic performance.
What are your future plans?
My future plans revolve around expanding my impact and reaching more individuals who can benefit from my expertise, I aim to continue developing innovative memory training techniques, leveraging NPM and NLP expertise to create personalized mind conditioning programs. Additionally, I plan to offer workshops, seminars, and online courses to share my knowledge with a wider audience.
Furthermore, I intend to collaborate with other professionals in the field to enhance the integration of technology and mental well-being. Overall, my goal is to empower individuals to unlock their full potential and lead fulfilling lives through the intersection of technology, mindfulness, and personal growth.