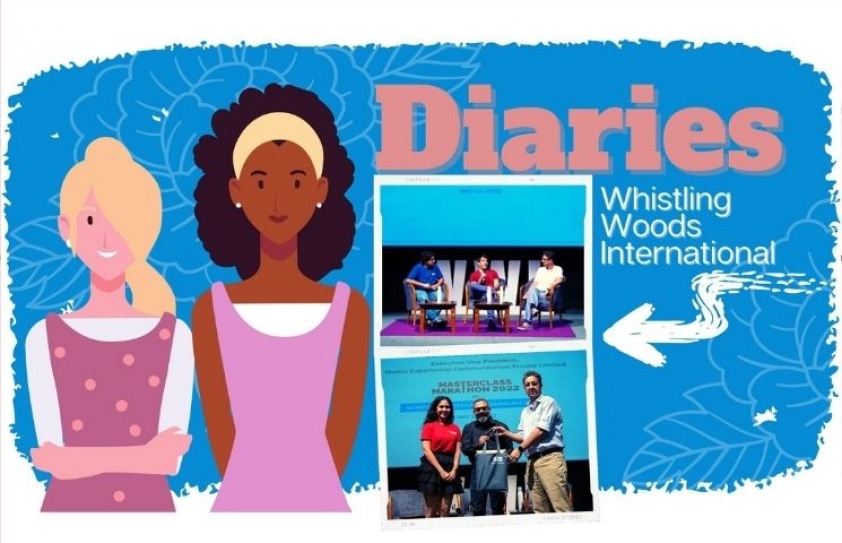 DIARIES: WHISTLING WOODS INTERNATIONAL
by Editorial Desk
May 23 2022, 12:00 am
Estimated Reading Time: 3 mins, 55 secs
There's so much going on at Whistling Woods International that it's hard to keep track, but we're trying our best to tell you all about it, reports The Daily Eye Newsdesk
Mumbai, 17th May 2022: Whistling Woods International (WWI) School of Media & Communication (SMC) recently concluded its inaugural edition of 'Masterclass Marathon' featuring distinguished names from the media and entertainment (M&E) industry. The SMC students were given exclusive exposure to prominent personalities from the top M&E companies namely Netflix India Originals, Boom Fact Check, Mediabrands Content Studio, ASB Communications, and Shobiz Experiential Communications. The SMC Masterclass Marathon spanning across five days witnessed the guest speakers touch upon aspects of advertising and marketing, integrated marketing communications, experiential marketing, journalism, streaming service ecosystem in India and much more.
Siddhant Mazumdar, Head, Mediabrands Content Studio, kicked off the first day of the SMC Masterclass Marathon with the inaugural discussion on digital media and advertising. He said, "There are few parts of advertising that have not changed and that is communication. But what has changed is the tools of communication - from writing for print, TV, and radio to digital, which includes OTT to Instagram posts."
The following day, Braj Kishore, Managing Director, ASB Communications took the audience behind the scenes of the corporate communications world through his personal experiences. "As a marketer today, your challenge is multifold. It was much easier 5 years back because there weren't as many communication media as today. Today, every Instagram user with over 1 lakh followers is a medium in themself and several newspapers and magazines also do not have a reach of that level."
Day three commenced with a session by Rajesh Singh, Executive Vice President, Shobiz Experiential Communication. While encouraging the aspiring students, who wish to build a career in the events industry, Rajesh Singh said, "Every event is like an exam and in the events industry, you'll have to face challenges in order to succeed. You cannot relax after doing 1-2 events, you need to keep going."
The fourth day witnessed the presence of Jency Jacob, Managing Editor at Boom Fact Check. This exclusive masterclass shed light on 'Fake News and Its Impact on Society'. Urging the students to follow a practice of fact checking while consuming news, Jency Jacob said, "The challenge is not just to think about misinformation or disinformation in its binary form. Rather it's about being a good digital citizen and bringing a global change."
The final day was with Rohit Vedprakash, Director at Netflix India Originals. In the highly anticipated session on streaming platforms, Rohit Vedprakash discussed the evolution of Netflix in India and its impact on the streaming service ecosystem. Rohit Vedprakash said, "Streaming is here to stay. It isn't competing with other entertainment-viewing options like theatres. India, specifically, is a huge opportunity for streaming platforms as we are a film and entertainment-consumption heavy country."
The SMC Masterclass Marathon concluded on a high note as the sessions received encouraging feedback from curious minds looking to get an insight into the different domains of media & communication.
And while this was one exhilarating experience for the students, another good news is that Whistling Woods International's (WWI) film, Nauha, is the only student film from India to make it to the esteemed Cannes Film Festival. It is among the 16 selected films in the La Cinef category amongst the 1528 entries received from various film schools across the world.
Nauha, a 26-minute film, written and directed by Pratham Khurana was made during the global pandemic as his final diploma film. Shot on the outskirts of Delhi, the film showcases the story of an ailing elderly person and his caregiver. As the title suggests, 'Mourning the Loss'. While the film is primarily about the losses suffered, it also deals with urbanization, class divide, and the restricted use of the term 'family'. Speaking about the recognition received by the film, Pratham Khurana, Writer-Director and Alumnus WWI School of Filmmaking said, "It is a huge achievement. Being screened at the Cannes Film Festival has helped us convey the message of the film to a wider audience, internationally."
This diploma film features the contribution of alumni and students from WWI's School of Filmmaking, Actors' Studio, School of Fashion & Costume Design, School of Design and School of Music in various pivotal roles.