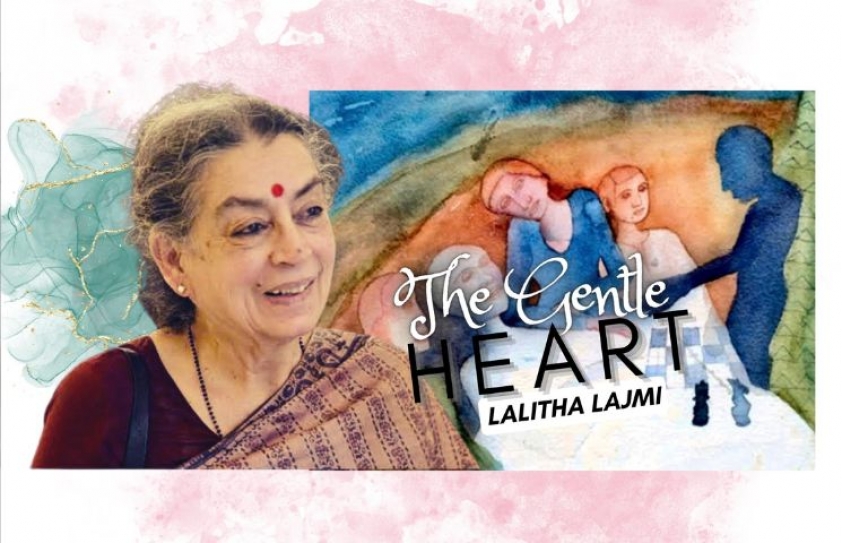 THE GENTLE HEART
by Khalid Mohamed
February 19 2023, 2:00 pm
Estimated Reading Time: 5 mins, 32 secs
Khalid Mohamed pens a tribute to the peerless artist, printmaker and art teacher Lalitha Lajmi, who passed away last Monday.
When Lalitha Lajmi moved on to another realm at the age of 90 on February 13, there was an elegiac, graceful note about it. The woman of fragile beauty and ingrained artistry had been ailing for years, exacerbated by the death of her daughter who had been in and out of hospitals.
Although, Lalitha saw her loved ones go one by one before her, she had remained resilient, almost as if she knew her end would come, and she would embrace it without any rancour. For Lalita to lose her parents, husband, daughter Kalpana Lajmi and way before that her genius brother Guru Dutt and brothers Atmaram and Vijay, sister-in-law Geeta Dutt, were tragedies which she fielded with an immeasurable stoicism.
Her, her husband Captain Gopal Lajmi, son Devdas, working for a marine company, Kalpana and partner Bhupen Hazarika (she was 17 to his 45), I had first met at an old-world Ballard Pier, her husband's official residence. The evening had been more than pleasant, except for the fact that Captain Gopal had downed his drinks like tap water. Lalitha's parting line to me was, "No, one is rarely at home. I hear your friends and you often see films at previews and at the Alliance Francaise. Do take me along if you can at times."
Lalitha became quite a movie buddy with my friends Rashid Irani, Rafique Bagdadi and I over time. Whenever she had an art exhibition, she would call us, our names bunched together on a single invitation card, so that all the three of us made it a point to be there. Once, she heard about my birthday somehow and sent me a lithograph of theatre's comedy and tragedy masks, which was much too expensive to accept. "If you don't, I'll feel insulted," she had said ever so seriously." The litho is one of my prized possessions."
A decade or more later, after the Captain's death perhaps because of his excessive drinking, the family moved to a compact apartment, where she lived with Kalpana and Bhupen Hazarika. If her daughter loves a much older, married and temperamental man, she had made it known that it was alright by her. And, she even attended the posthumous book launch on Hazarika written by Kalpana (who could only send a recorded message from her hospital bed). She was seated next to Waheeda Rehman, no morose expressions, both the women appeared to be upbeat that Kalpana had managed to finish and release a book on the magnificent obsession of her life.
Lalitha Lajmi's paintings and sketches never fetched the fancy prices of more publicized, in the news, artists. Her works are essentially of women multi-tasking and accepting every day as it comes. The women at times bear a striking resemblance to her but that could be overthinking on my part. After several conversations, I could sense that she was a thorough romantic. With a great deal of amusement, she once told me that her cousin, Shyam Benegal, would meet her by the Gateway of India and read out the poems, which he had just composed, perhaps dedicated to her.
She would hint that there was a proposal of marriage and had categorically stated, "I refused." She had smiled self-derisively. "I still perhaps foolishly believed in the notion of falling in love."
She described Guru Dutt as someone who would frequently descend into the depths of depression. By contrast, she said Shyam Benegal would be an extrovert and talk knowledgeably about any subject under the sun. These statements I have in a video interview with her, conducted some five years ago. By then, she had moved to a compact apartment at Versova with an unusually well-lit garage, which she would use for her paintings. Canvases galore were stacked in that garage, including a beautifully evocative one of her family. That she would never part with, she maintained then, but of late gave it for archiving to a film heritage foundation.
She would 'phone impulsively, to update me on her just-completed set of paintings, thrilled that she was trying out a new medium like elongated Chinese scrolls. Art was her salvation, and expostulating about fresh styles and colours were her joys in the face of isolation at the Versova apartment. Her voice never changed, neither did her wardrobe of silk handloom sarees. She would never apply a lick of make-up, she didn't have to because she spelt natural elegance.
When a novel of mine (The Aladia Sisters) was being launched at a Bandra book store, she was one of the first to turn up. She had hired a taxi and had kept her attendant waiting outside. She bought three copies of the book, promising me that she would read it and get back to me. She did and wondered, "Are the sisters really your grand-aunts? It was brave of you to write about the power and feminism of a bygone generation. Do hope you will keep writing." If I asked her about her acting cameo in Taare Zameen Par, she would blush, "How was I? I didn't know what I was doing. Aamir (Khan) asked me to do it. I couldn't possibly refuse.
Being alone at home with an attendant, couldn't have been what she would have wanted in the autumn of her life. She had memories to live with - some dream-like, some unpleasant - and employed these two polar facets of her life with all the creativity she could. I've seen her paintings strangely enough, only at women's homes: Neena Gupta's, Dimple Kapadia's, and if I'm not mistakenm Soni Razdan's.
There will be no more impromptu phone calls from Lalitha Lajmi, no more bytes from her in the media on the death and birth anniversaries of Guru Dutt. Here was a woman, romantic at the core but could simultaneously express her inner slights and wounds on canvas.
To my everlasting regret, I could not make that drive to Versova. She had asked me to keep a small sketch she had done of Guru Dutt and her as children. That loss doesn't matter of course. The one which does is that a woman, who repressed her feelings and hurts, could never tell her complete story… It will remain incomplete.