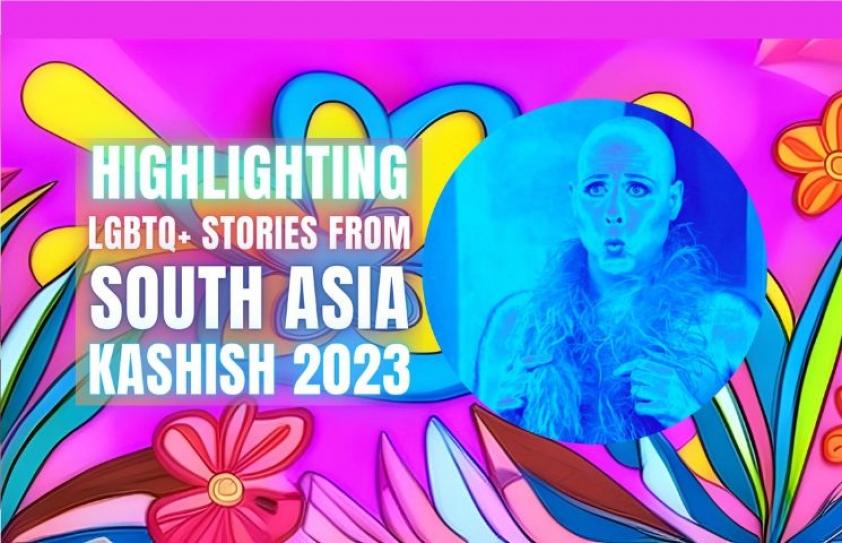 KASHISH 2023 TO HIGHLIGHT LGBTQ+ STORIES FROM ASIA
by Editorial Desk
June 7 2023, 12:00 am
Estimated Reading Time: 3 mins, 23 secs
A panel discussion 'LGBTQ+ Rights in Asian Countries – Nepal, Singapore, Lebanon & India' to be held on June 9th at Liberty Cinema with international speakers, reports The Daily Eye News-desk
The 14th edition of KASHISH Mumbai International Queer Film Festival will celebrate June Pride Month with its annual festival from June 7th to 11th at Liberty Cinema and Alliance Française de Bombay.
One of the highlights of the festival is the panel discussion titled 'LGBTQ+ Rights in Asian Countries - Nepal, Singapore, Lebanon & India', which is supported by the Consulate General of Canada in Mumbai, celebrating 10 years of collaboration with KASHISH. The panel brings together several amazing LGBTQ+ activists from Singapore, Nepal, Lebanon and India. Sunil Babu Pant, ex-MP of Nepal, Opera Tang, a Singaporean drag artist, Miguel Jelelaty, on whose life the award winning film Miguel's War is based, and Avni and Muskan, two transgender actors from Bhopal among others. Their films Blue Flower, Baby Queen, Miguel's War and Ek Jagah Apni are being screened at the festival.
The panel discussion, to be held on June 9th between 4.30-5.30pm at Liberty Cinema as part of KASHISH 2023, will discuss the impact of legal, social, political and, in some places, religious environments on the LGBTQ+ community.
"Canada is honoured to support the KASHISH Mumbai International Queer Film Festival for the 10th consecutive year. As South Asia's largest queer film festival, KASHISH is an important platform to raise awareness and advocate for the rights of the LGBTQI+ community. We are excited to support a panel discussion on LGBTQI+ Rights in Asian Countries, along with film screenings and interactive sessions. Join us in celebrating stories of identity and inclusion with this year's theme: Be Fluid, Be You!", said Diedrah Kelly, Consul General of Canada in Mumbai.
Sridhar Rangayan, festival director said, "Being South Asia's biggest LGBTQ+ film festival, our concerns lie with what is happening in South Asia and Asia in general with respect to LGBTQ+ rights. We wanted to have a dialogue among prominent activists and actors from some of the Asian films we are screening. We are privileged to bring together such an extraordinary panel with very powerful voices of the community."
Sunil Babu Pant, the first openly gay Member of Parliament in Asia, from Nepal, and founder of Blue Diamond Society said, "I feel really honoured and excited to be able to present my film Blue Flower at KASHISH 2023, the largest queer film festival in South Asia. This will be the first screening of my film outside Nepal. I hope to meet other queer filmmakers, discuss queer rights in Asia, and celebrate queer life, arts, and cinemas at KASHISH in Mumbai."
The festival will screen 110 LGBTQ+ Films from 41 Countries, hold Panel Discussions and Interactive Q&A sessions with filmmakers and also Dance and Music Performances on the opening & closing nights by LGBTQ+ community members and Allies.
More details about programs on the festival website at http://mumbaiqueerfest.com
Registrations can be done on Insider at https://insider.in/event/kashish-2023-jun7-2023
Panel Discussion:
Friday June 9, 2023 | 4.30pm – 5.30pm
LGBTQ+ Rights in Asian Countries – Nepal, Singapore, Lebanon & India
In 2007 Nepal repealed the laws against gay sex and introduced several laws, which explicitly protected sexual orientation. In 2018 India read down Sec 377 thereby decriminalizing same-sex relationships. In 2022 Singapore read down Sec 377A thereby legalizing same-sex sexual activity. A district court of appeal in Lebanon issued a ground-breaking ruling on July 12, 2018, that consensual sex between people of the same sex is not unlawful, thereby reading down Article 534. KASHISH 2023 brings together activists and filmmakers from Nepal, Singapore, Lebanon and India to talk about legal, economic and social rights of LGBTQ+ individuals in their individual countries.
Supported by: Consulate General of Canada
Speakers: Sunil Babu Pant, Miguel Jelelaty Obeid, Opera Tang, Avni, Muskaan
Moderator: Shruta Amit Rawat