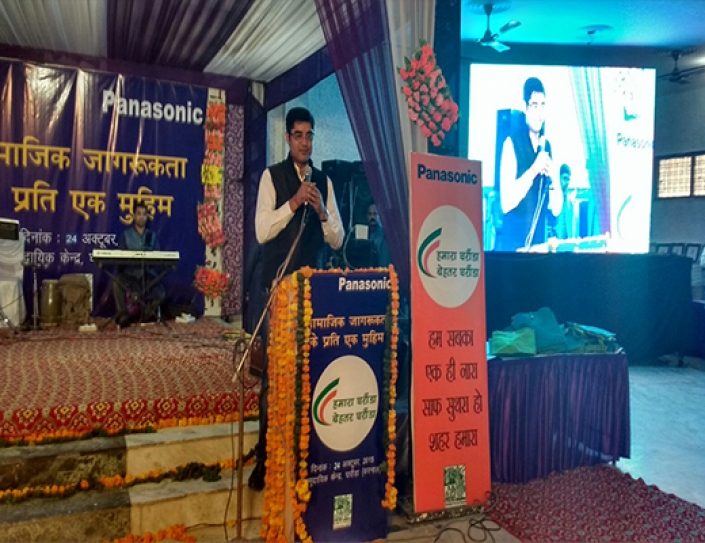 Continuing Its Mission To Light Up Lives, Panasonic To Take Up CSR Initiatives At Gharaunda Constituency, Haryana.
by The Daily Eye Team
October 27 2015, 5:00 pm
Estimated Reading Time: 3 mins, 57 secs
The initiative is to support the residents for better sustainability
24 October, 2015, Haryana: Reaffirming its commitment towards building a smart and sustainable future, Panasonic India today organized an event at the Gharaunda constituency of Karnal, Haryana announcing their community empowering initiatives towards improving lives of the people residing in these areas. The event was presided over by Chief Guest, Shri Harvinder Kalyan, BJP MLA – Gharaunda Constituency. Also present at the occasion was Mr. Manish Sharma, Managing Director of Panasonic India & South Asia.
Panasonic's vision towards achieving a sustainable future involves using the resources entrusted by the society – in the form of people, land, buildings, funds, knowledge, information and time in the most efficient manner. Aligning with PM Narendra Modi and Haryana Chief Minister Manohar Lal Khattar's vision of 'Skill India', Panasonic will be setting up a skill training center at Gharaunda which would provide vocational training to the youth of the region at subsidized rates and provide them with opportunities of economic independence and societal growth. Through this training center, Panasonic aims to train around 500 students every year in trades like basic computers, sewing, embroidery, beauty and others. Specific trades like sewing and beautician courses have been incorporated specifically to ensure empowerment of women and their participation in family decision making.
Panasonic's second intervention would be in terms of providing accessible and affordable health services to the residents of Gharaunda through periodic mobile health camps in identified villages. Apart from giving medical aid to the patients, the mobile ambulance team along with support from local volunteers will also do health checkup of women and children to determine anemic and malnutrition cases, data for which would further be shared with local authorities to help them link with Government schemes. In the last week of September (26th September – 1st October) as well, Panasonic had a medical ambulance in the area, which provided 24×7 free medical care service to 2000 individuals in 6 villages.
Commenting on this initiative, Shri Harvinder Kalyan, BJP MLA, Gharaunda Constituency, Karnal, Haryana said, "In the present competitive environment there is a need to work diligently through robust initiatives to help the communities enhance their life conditions as well as
become more self-sufficient to build a truly sustainable community. Panasonic is supporting us in our efforts to achieve sustainable development and prosperity for all in Gharaunda constituency. Together, we hope to make remarkable achievements in the region. I would like to commend and congratulate Panasonic for promoting a corporate citizenship project and for associating with the country's vision of fostering development and well-being of the wider community."
Mr. Manish Sharma, Managing Director, Panasonic India and South Asia said, "Panasonic India is committed to sustainable development and believes that a well embedded approach bringing tangible benefits to the communities is core to Panasonic India. Panasonic's sustainable development priorities focus on the material opportunities and risks that arise from our environmental, social and economic footprint. We are confident that the community building initiatives at Gharaunda constituency will become a benchmark in the way community empowerment is nurtured by corporate India in the coming years. Personally, I hope this paves way for concrete contribution towards improving the socio-economic conditions in the area, taking one confident step towards sustainable development."
The event also included cultural performance by school children and role play by NGO – SARD on the theme – Humara Gharonda, Behtar Gharonda which kept the audience captivated.
About Panasonic
Panasonic Corporation is a worldwide leader in the development of diverse electronics technologies and solutions for customers in the consumer electronics, housing, automotive, enterprise solutions and device industries. Since its founding in 1918, the company has expanded globally and now operates 468 subsidiaries and 94 associated companies worldwide, recording consolidated net sales of 7.715 trillion yen for the year ended March 31, 2015. Committed to pursuing new value through innovation across divisional lines, the company uses its technologies to create a better life and a better world for its customers. To learn more about Panasonic:http://www.panasonic.com/global
About Panasonic India
Panasonic makes available in India its wide range of consumer electronics, home appliances like LCD & Plasma TVs, DVD players, Home Theatre Systems, Smartphones, Cameras, Camcorders, Car Audio Systems, Air Conditioners, Washing Machines, Refrigerators, Microwave Ovens, Automatic Cookers, Vacuum Cleaners and a wide range of system products including communication ones like Mobile Phones, High Definition Videoconferencing,
Professional Audio Video products like Broadcast Cameras, Projectors and Displays, Business Solutions including Printers, Whiteboards, Security Solutions, and Energy Storage Solutions. The company currently has a workforce of about 13,000 in India. For more information on the company and the Panasonic brand in India, please visithttp://panasonic.co.in