Exceptional and Soul-stirring Films at the 5th Illuminate Film Festival
by Yash Saboo
June 7 2018, 7:53 pm
Estimated Reading Time: 2 mins, 52 secs
For most people, films are the idea of entertainment. Be it rich or poor to educated and uneducated, films influence each and every one in positive and negative (mostly positive) ways. Films open a gateway to another world, essentially taking us to a place beyond ourselves. As a medium, it opens hearts and minds, and our response to it is both visceral and personal. A cinephile as I am, watching a film would be the best of what I could do for my 2 and half hours.
The ILLUMINATE Film Festival is renowned for their ground-breaking immersive approach to the film festival experience. The 5th edition of the festival returned this year and like every season, this year ILLUMINATE searched out the year's most compelling, paradigm-shifting, life-affirming films. For their 5th annual Festival, they selected 26 conscious narratives, documentaries and shorts. The schedule included evening spotlights, special guests, post-screening presentations with directors and producers, filmmaker panels, nightly parties and live musical performances. The festival took place from May 30th to June 3rd in Sedona, Arizona.
Source: film festival
With the glitz and glamour of Hollywood and blockbuster movies, it's easy to overlook the very real and acutely transformative effect that film and motion pictures have had on the world. And this is why ILLUMINATE focuses on 'conscious' films that are unique. The festivals features movies with a deeper message yet with plots and characters that keep audiences enthralled. Part of this movement created by ILLUMINATE is that the centralized power of Hollywood is giving way to distribution of content that is not controlled only by giant corporations. Independent film makers thrive at festivals like Illuminate and their films can take off by word of mouth and social media.
Festival Founder and Executive Director Danette Wolpert believes that "film as a medium has a paradigm-shifting power. Our commitment to audience members is to support them on their own journey. This year's line-up answers both micro and macro-level questions: how do we become the best and fullest version of ourselves? How do we make a true and measurable impact on the world? Individually and collectively, how do we rise?"
The festival kicked off on May 30th. First, it began with a free screening of The Push. This featured the inspiring story of the indomitable Grant Korgan. Opening Night featured the Festival World Premiere of the Emmy-nominated Live Your Quest, which shared the wisdom of Michael Beckwith, Jack Canfield, Lisa Nichols, Tom Chi and others who explore the science, psychology and spirituality behind living a life of passion and purpose.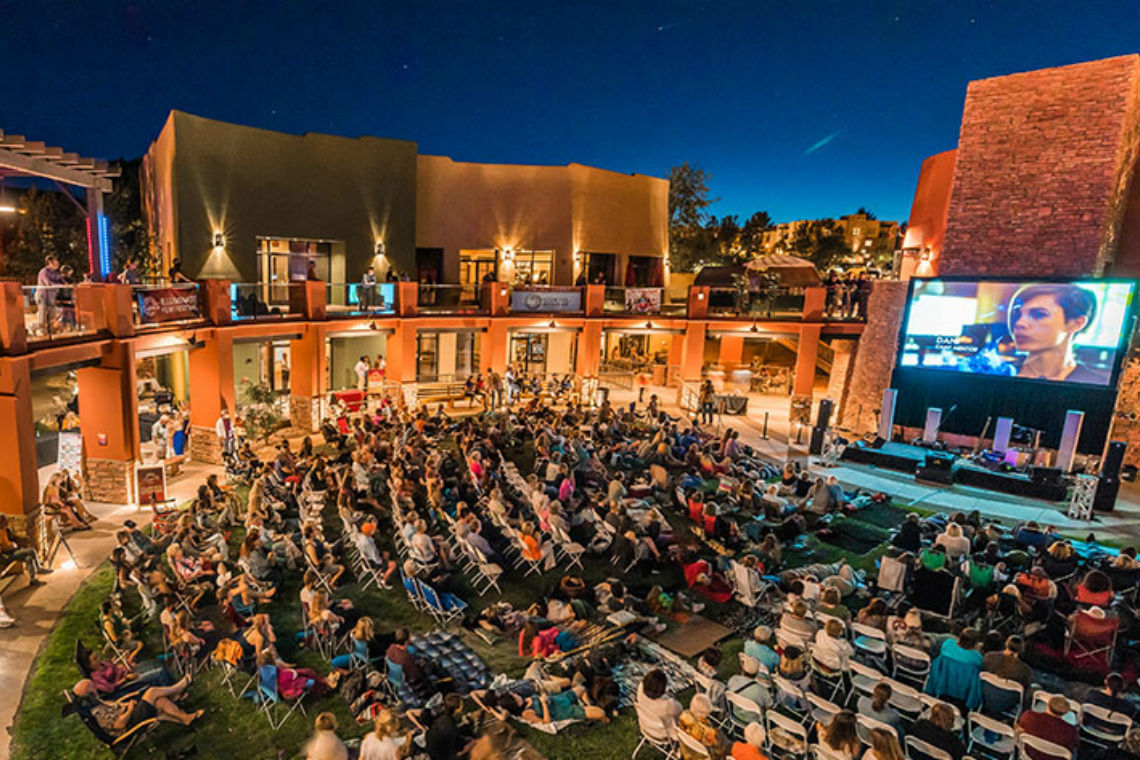 Source: Angelo Davis Sedona
The festival closed with the latest from musician Michael Franti; Stay Human. This heart-drenched film reflected on Franti's personal journey facing adversity as a child, struggling to find his voice as a musician, and how he came to find inspiration through six stories of extraordinary change-makers across the globe who chose to overcome cynicism through optimism and hope. A Q&A with Franti was held after the film.
A $5,000 cash prize and the Mangurama Award for Conscious Documentary Storytelling, was awarded to From Shock To Awe, the most transformative non-fiction film that exhibited a strong story arc, compelling subjects and high production value.
The winners: Stay Human tied with The Push and won the Audience Award for Best Feature. 3100: Run and Become won the Director's Choice Award. For the full list of awards, checkout ILLUMINATE's website here: http://illuminatefilmfestival.com