Look back in affection
by Dhruv Somani
May 9 2021, 12:00 am
Estimated Reading Time: 8 mins, 6 secs
Film historian Dhruv Somani, rewinds to the year 1980, which witnessed a spate of hits and sparked its abiding romance with the Bollywood movies.
It was a landmark year dotted with some of the most lavish Bollywood films. I was only seven years old but I clearly remember what a huge impact they made on my impressionable mind. That's the time when I began to breathe cinema, setting off my addiction and fascination for the movies. In many ways, 1980 was a milestone not only for me in person but also a signpost towards the future of Bollywood.
Today, as I look back and complete one year of writing for thedailyeye.info I am tempted not to write about a specific subject or individual. Rather I would like to focus on my life-defining year of 1980.
Amitabh Bachchan was ruling as the numero-uno superstar. It was also the year of Feroz Khan's stylish Qurbani with Vinod Khanna and Zeenat Aman oozing glamour at her best. On the flip side, she shone in B.R. Chopra's social courtroom drama Insaaf Ka Tarazu.
Then there was Ramesh Sippy's Shaan, which was released towards the end of the year. However, Manoj Kumar's Kranti after production delays was shifted to 1981. Meanwhile, who cannot recall the year for Vijay Anand's Ram Balram and Raj Khosla's Dostana, remarkable for the charisma exuded in the triangular tale by Bachchan, Zeenat and Shatrughan Sinha?
The year had commenced on a downbeat note though. Rakesh Kumar's Do Aur Do Paanch with Amitabh Bachchan, Shashi Kapoor, Hema Malini and Parveen Babi was considered a winning combination but proved to be a loser. However, Hrishikesh Mukherjee's Khubsoorat, which had been released earlier, was a slow but steady winner. Rekha, opposite Rakesh Roshan with Ashok Kumar, Dina Pathak, David and Shashikala was a breath of fresh air, boosting Rekha's popularity as an artiste of caliber (wonder why she didn't win an award for her bravura performance).
Clearly, Khubsoorat as well as Manik Chatterjee's Ghar, were her solo hits after Prakash Mehra's Muqaddar Ka Sikandar. T. Rama Rao's films - Judaai and Maang Bharo Sajana - both opposite Jeetendra were on her success list too. She was then seen in a variety of avatars, as in Anil Ganguly's Agreement opposite singer Shailendra Singh who made his short-lived acting career, and the same director's Neeyat opposite Jeetendra. In addition, there were the suspenseful films Ved Rahi's Kali Ghata (opposite Shashi Kapoor) Raghunath Jhalani's Jal Mahal again opposite Jeetendra - which were both appreciated for music scores.
Zeenat Aman triumphed in the second half of the year, rapidly tilting the scales in her favor as a game-changer. She dominated publicity posters with K. Bapaiah's Takkar, Umesh Mehra's Indo-Soviet collaboration Alibaba Aur 40 Chor, besides the biggies Qurbani, Dostana, Ram Balram. There were Sanjay Khan's Abdullah and Bombay 405 Miles directed by Brij, which were also-rans but could boast of terrific music scores. Undeniably, she was the numero-uno amongst the actresses.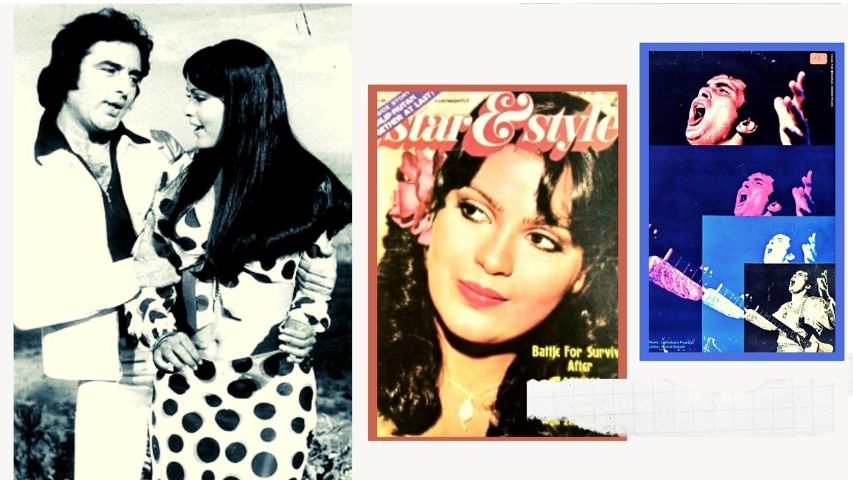 As it happened, Amitabh Bachchan suffered setbacks since Do Aur Do Paanch, Dostana, Ram Balram and Shaan fared averagely despite encouraging openings during the first few days. Maybe professionally it was not the best of years for him but he was on the cover of every tabloid with gossip about his closeness with his co-star Rekha. The casting of Yash Chopra's Silsila sparked the most controversial headlines.
Yash Chopra had initiated the project in Kashmir with Parveen Babi in Rekha's role and Padmini Kolhapure in Jaya Bachchan's. However, both the director and Bachchan felt something was amiss and the project was redesigned. The only film, which had set off such casting ripples before was Mehboob Khan's Andaz (1949) with Raj Kapoor, Nargis and Dilip Kumar. No one from the Silsila technical unit or acting crew whispered a word to the press.
Sanjeev Kumar, the powerhouse actor, made a tremendous impact in 1980 with K. Bapaiah's Takkar, Gulab Mehta's Patthar Se Takkar, P. Sambasiva Rao's Swayamvar, Basu Bhattacharya's bold Grihapravesh, and Raj Tilak's take on the famous tale of Dr. Jekyll and Mr. Hyde, Chehre Pe Chehra, co-starring Shatrughan Sinha, Rekha, Sulakshana Pandit, Vinod Mehra, Amol Palekar, Rajni Sharma and Amjad Khan. Although the film was no great shakes at the cash counters, Sanjeev Kumar's performance was unconditionally applauded. As an actor, he was surpassing all his contemporaries. The surprise hit Bapu's Hum Paanch was released towards the end of the year and inspired from the Mahabharata. He played the powerful character of Krishna.
Hema Malini, often rated as the top actress of that era, had a rather listless year. K. Bapaiah's Bandish opposite Rajesh Khanna in which she played a double role was the only saving grace. B.R. Chopra's The Burning Train was certainly not her film. And though she looked regal as Princess Marjina in Alibaba Aur 40 Chor, it was Zeenat Aman who stole the thunder. Enacting the part of Fatima, she was singled out for praise by the critics and amassed a huge fan following in Russia, which exists even today after 41 years of its release.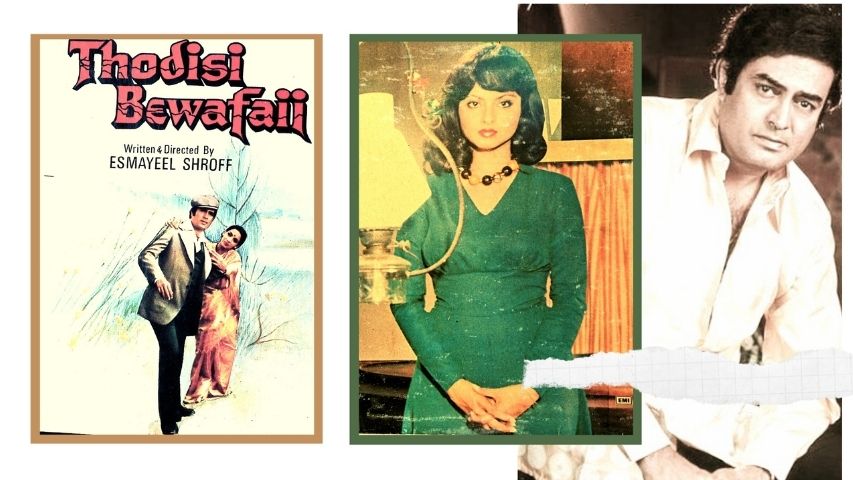 Reena Roy after being appreciated for her performance in J. Om Prakash' Apnapan (1977) was seen again in his film Asha, which was one of the top hits of the year. She also featured in other successes, Raghunath Jhalani's Be-Reham, and Vijay Sadanah's Sau Din Saas Ke, which became a craze among housewives. The same year, Reena set up her own production house with sister Barkha Roy with Sanam Teri Kasam opposite Kamal Hassan.
It was also the year of newcomers. Among the ones who made a major impact were Raj Babbar, Deepak Parashar, Raj Kiran and Kulbushan Kharbanda. Raj Babbar was a highly regarded actor from Delhi and had almost signed 50 films before the release of Insaaf Ka Tarazu. Deepak Parashar and he co-starred in Ambarish Sangal's Aap Toh Aise Na The in the same year opposite Ranjeeta.
Deepak Parashar, a fashion model, was the quintessential good-looking hero who had been crowned Mr. India. Kulbhushan Kharbanda was already known to be a sensitive actor and had been seen in off-mainstream films. And Raj Kiran, the camera-friendly actor, was lapped up as well by frontline producers like Yash Chopra (Nakhuda) and Ramesh Behl (Baseraa). Arun Govil was backed by the Rajshree banner, Mukesh Khanna, known for his baritone voice, was conjectured to be another Amitabh Bachchan in the making, Deepti Naval was seen in Sai Paranjpye's Chashme Buddoor and Vinod Pande's Ek Baar Phir and Miss India Swaroop Sampat was pencilled in by Yash Chopra for Nakhuda.
Quite a few star sons were launched in 1980, their projects being premiered the next year. Ahista Ahista starred Shashi Kapoor's son Kunal Kapoor, and the film Rocky was flagged off by Sunil Dutt for his son Sanjay. Rajendra Kumar launched Love Story with his son Kumar Gaurav opposite debutante Vijayeta Pandit, sister of actress-singer Sulakshana Pandit.
The year also witnessed Shashi Kapoor continuing as a film producer with the prestigious Kalyug directed by Shyam Benegal, their second collaboration after Junoon. Rishi Kapoor sparked chemistry with Tina Munim in Subhash Ghai's Karz, and Aap Ke Deewane, the first production by actor Rakesh Roshan. Tina Munim reappeared on the screen that year with Amit Khanna's Man Pasand and Lootmaar opposite her mentor Dev Anand, who also directed the crime thriller.
Rajesh Khanna experimented with his roles, the first superstar to venture into the genre of thrillers and horrors, earlier with B.R. Chopra's Ittefaq, and resumed with Bharathi Raja's Red Rose opposite Poonam Dhillon, and Phir Wahi Raat opposite debutante Kim directed by Danny Denzongpa. His social drama Thodisi Bewafaii directed by Esmayeel Shroff opposite Shabana Azmi was also a winner, critically and commercially.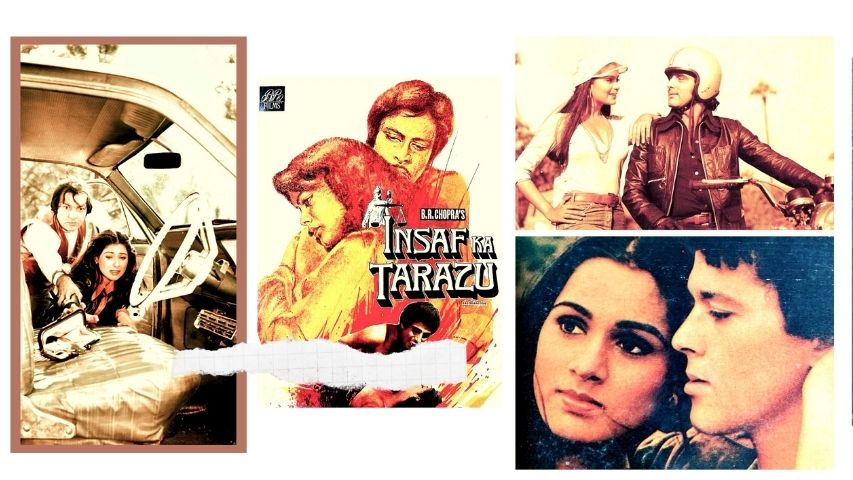 Neetu Singh who was about to marry Rishi Kapoor tasted success with Harish Shah's Dhan Daulat, Harmesh Malhotra's Choron Ki Baaraat and Satpal's Chunaoti. Her one big grosser, The Burning Train, was a flop with the heroine's assigned sketchy parts.
The masters of horror, the Ramsay Brothers delivered two certified hits with Saboot and Guest House directed by Tulsi and Shyam Ramsay. Plus, there was Gehrayee by Aruna and Vikas Raje, which did well after the controversy incited by a partly nude scene of Padmini Kolhapure.
Cut to Dasari Narayana Rao's Jyoti Bane Jwala starring Jeetendra, which ignited brouhaha due to its similar storyline with Prakash Mehra's Jwalamukhi (it had already lost money due to Parveen Babi's exit from the film). Jyoti Bane Jwala was a hit while Jwalamukhi tanked.
The year wasn't without some off-screen controversies like the event where Padmini Kolhapure kissed Prince Charles at Rajkamal Studios and creative differences over the Rajendra Kumar produced-and-led to Rahul Rawail withdrawing his name as director from the credit titles of Love Story. Movie barons Gulshan Rai and Yash Chopra parted ways with the producer assigning the direction of Yudh to his son Rajiv Rai.
All recalled and summed up, in their private lives it was a year for the Bollywood marriages of Rishi Kapoor and Neetu Singh, Dharmendra and Hema Malini and Vinod Mehra and Bindiya Goswami.
That was the year of full-throttle entertainment, then, unlike any other.