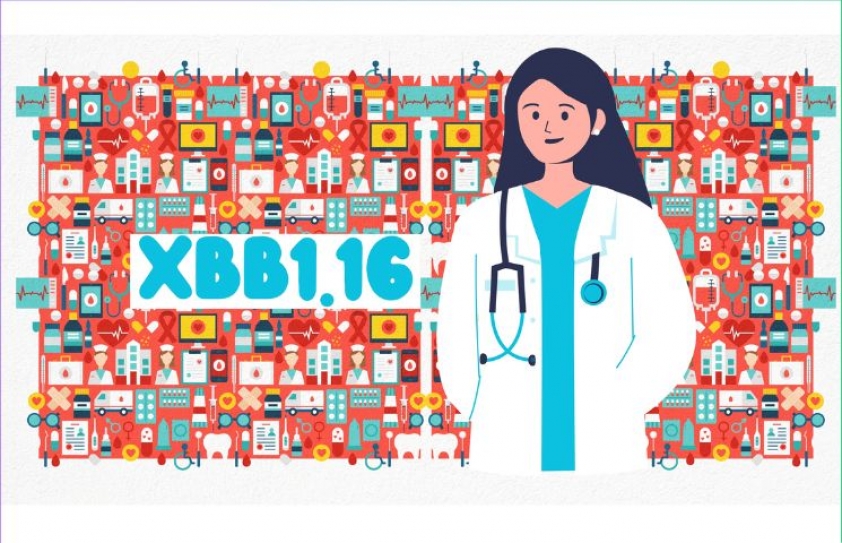 XBB1.16 VARIANT– THE NEW SUPER SPREADER
by Dr. Kishore Madhwani
April 4 2023, 12:00 am
Estimated Reading Time: 4 mins, 48 secs
Dr Kishore P Madhwani writes: India, in spite of acquiring a high coverage of primary COVID vaccination (97%) and its second dose (90%), the precautionary (booster) dose uptake stands at 27% (as on March 23, 2023).
This is according to data released by the Union Health Ministry.
India has been currently registering a significant rise in new COVID cases and now contributes to 1% of the global surge tally that has the U.S. (19.2%), Russia (12.6%), China (8.3%) in the lead. As India is witnessing a steady increase in daily Covid-19 infections, 349 cases of newly detected XBB1.16 variant, which might have been behind the recent rise of coronavirus cases, have been found in the country, news agency PTI reported quoting Indian SARS-CoV-2 Genomics Consortium (INSACOG) data.
A newly detected XBB1.16 variant of the COVID virus is believed to be responsible for this sudden surge in cases across the country. XBB.1.16 today accounts for more than 30% of all the sequenced genomes in March 2023, and its proportion has been seen to be increasing in the past few weeks, to become the major lineage in some states. On Saturday, India logged 1,890 new Covid-19 cases, the highest in 149 days, according to the Union health ministry data updated on Sunday. The daily positivity was recorded at 1.56% while the weekly positivity was pegged at 1.29 %. On Monday 27th March, 1805 new cases were reported.
Of the 349 cases detected, 105 cases have been found in Maharashtra topping the list (Pune, Thane, Mumbai, Amravati, Nandurbar, Aurangabad, Sangli, Ahmednagar); followed by 93 in Telangana (Adilabad, Asifabad); 57 in Karnataka (Shivamogga, Bengaluru Urban, Chitradurga, Mysuru, Davanagere, Kalaburagi, Ballari); 54 in Gujarat (Ahmedabad, Surat, Vadodara, Rajkot) and 19 cases in Delhi.
Evolution of XBB.1.16 lineage of SARS-CoV-2 explained:
First detected in SARS-CoV-2 sequences from India, the XBB.1.16 is a recombinant lineage of the virus and is a descendent of the XBB lineage. The earliest sequence of this lineage belongs to a viral genome isolated in New York in January 2023 and the lineage has been seen to be circulating predominantly in India. The variant has to date been detected in at least 14 countries across the world. Preliminary data also suggest that XBB.1.16 has a higher growth advantage over currently circulating SARS-CoV-2 lineages, including the XBB.1.5 lineage.
Why is XBB.1.16 causing concerns in India?
XBB.1.16, a mutant strain of SARS CoV 2, mainly of Omicron, can escape the immunity smartly. The Omicron variant has been known for its high transmission rate ever since it emerged in late 2021.
This new variant is being seen as a threat as it is highly contagious and the speed at which it is spreading. XBB.1.16 is a recombinant lineage of the virus and is a descendent of the XBB lineage of Covid-19.
Amid the ongoing increase in the number of seasonal Influenza H3N2(Swine Flu) cases, an uptick in COVID-19 cases is being seen in India in March 2023, despite the low number of tests, as the total number of active COVID-19 cases across the country increased to over 6,000.
This variant is currently under intense scientific scrutiny, being rigorously monitored with no evidence of an increase in hospitalisation and/or mortality being reported. The Prime Minister warns us: 'The Covid 19 pandemic is far from over today. We all need to keep our guards up and mask on', especially in crowded settings.
Symptoms of XBB.1.16
Symptoms generally include upper respiratory issues like blocked nose, headache and sore throat, along with fever and myalgia or muscle pain, which lasts for three to four days. At present, XBB.1.16 variant does not seem to be causing serious health issues. Most cases are not severe; so there is no need to panic as of now.
Immediate Actions to be undertaken collectively by all
States have been advised to intensify their focus on a 6 -fold strategy of T3 (Test-Track-Treat) & V3 Vaccination for precautionary dose and for prevention of seasonal influenza cases, ventilation of workplaces, public spaces and during transportation, follow COVID -appropriate behaviour, augment vigilance by enhancing lab surveillance and testing of all Severe Acute Respiratory Illness (SARI) cases, ramping up genome sequencing of positive samples and follow the Union Health Ministry guidelines for management of seasonal influenza and vaccination for prevention of influenza including swine flu.
Workplace ventilation can be ensured by measuring real time Carbon dioxide emission (by installing room sensors) or by portable Co2 monitors (available on Amazon) in the room (less than 800 part per million is safe) and using green plants that remove harmful toxins like spider plant, money plant. etc. During transportation in bus or train, keep windows open if feasible, don your masks and maintain social distance. In a vehicle, kindly be seated diagonally behind the driver. Request the driver to roll up the window on his right, you may please shut the rear window on your left side. The remaining two windows can be kept open. In this way; even if the driver is harbouring the virus you will not be exposed to it. If more than one person is travelling as passengers', then request the driver to keep all 4 windows open by 2 inches.
Time again to responsibly don your mask, encourage family members, colleagues and friends to complete precautionary vaccination dose against Covid 19 (if not already taken) as well as the seasonal flu shot, control risk factors if co-morbidities exist, take care and practice covid appropriate behaviour (can help contain spread of infection) and enhance appropriate ventilation everywhere. And also most of the cases are not severe, so there is no need to panic as of now.
Do contact your personal family physician immediately if you experience flu like symptoms to treat, track and test for COVID-19/H3N2 (Swine Flu), as early detection and treatment is essential for excellent outcomes.