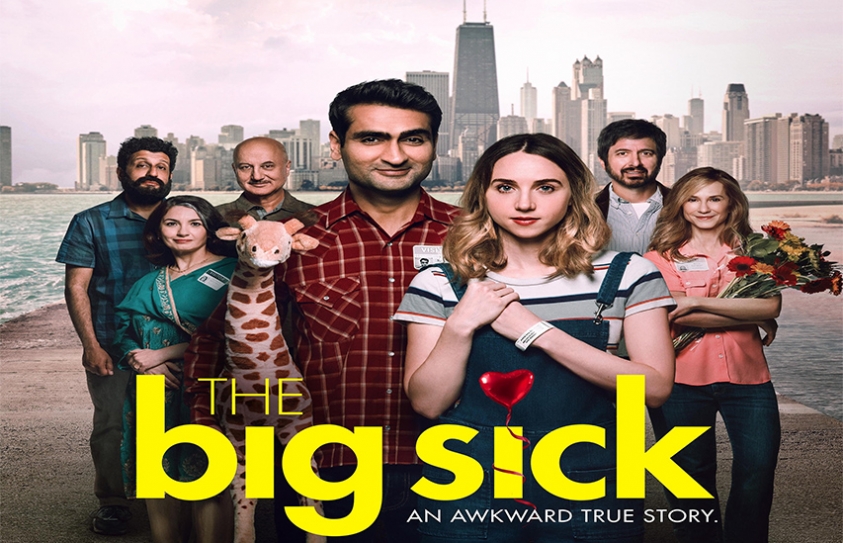 True Review Movie - The Big Sick
by Denver Fernandes
June 30 2017, 6:20 pm
Estimated Reading Time: 3 mins, 3 secs
Cast: Kumail Nanjiani, Zoe Kazan, Holly Hunter, Ray Romano, Adeel Akhtar, Anupam Kher

Direction:Michael Showalter

Producer: Judd Apatow, Barry Mendel

Writer: Kumail Nanjiani, Emily V. Gordon

Duration:124 Mins

The Big Sick is romantic comedy starring Kumail Nanjiani as a fictionalized version of himself based on the real life romantic trajectory between him and a 'gori'. The film is co-written by Kumail and Emily (the real life couple) and is directed by Michael Showalter. It's is a smart depiction of immigrants in America and how a nice guy falls for a nice girl kind of movie. This movie states that Rom-Coms have not completely lost steam over the years and there's plenty of juice left. The movie treads on similar plot elements in other rom-coms but it's the little things that make it an utter delight to watch.


Kumail Nanjiani (Kumail Nanjiani) is an uber driver and an aspiring stand up comedian who falls for an American student named Emily Gordon (Zoe Kazan) who cheers for him at a standup set. Their relationship blossoms and they quickly start seeing each after many hilarious casual conversations about not dating. On the other hand, Kumail's parents, Azmat (Anupam Kher) and Sharmeen (Zenobia Shroff) are hardcore religious Muslims and want him to get arranged married to a pleasant American-Pakistani girl. Kumail strays from telling his parents about his newfound girlfriend since he will be ostracized from the family. When Emily finds out that he has been keeping this from her she breaks up with him in fury. Things really take a turn when Kumail finds out that Emily is admitted in the hospital for a mystery illness and now he has to bond with Emily's parents Beth (Holly Hunter) and Terry (Ray Romero) while she's in a coma. Kumail slowly realizes that he has feelings for her and he must stick around with her parents till he wakes up.


The movie is funny, sharp, all the things you want from a good heartfelt comedy and much more. From awkward 9/11 jokes to self-deprecatory humor to ISIS jokes, this movie has it all. The chemistry of Kumail and Emily is worth the price of admission alone. All other side characters were downright amazing. The pairing of Ray Romero and Holly Hunter as Emily's parents was a perfect choice. It's nice to see Ray Romero back to acting and into a well-rounded character. Anupam Kher and Zenobia Shroff were also very good. Kumail's comedy buddies were spot on with their jokes. The director grounded all the characters making them relatable thus everyone that appeared onscreen who had a heavy emotional arc to them tugged at your heartstrings, every time.

The director was clearly looking to expose the whole dynamic and realism of Muslim families in America and this movie succeeds with wonder. New age romantic comedies are extremely hard make in our times. The director literally revitalized the often perceived, 'dead' sub-genre to appeal to a new age audience. Very few filmmakers have managed to appropriate contemporary men and women with an age-old narrative structure. Then movie could probably be cut short by about 12 minutes but it's a great movie nevertheless.

All in all, the movie is a lot of fun. It will tug at your heartstrings and if you're a Bollywood fan you will surely love the subtle reference to it in the movie. It is a masterfully crafted movie and the performances by the lead actors were amazing. On a rainy day, this clever comedy is your perfect retreat.