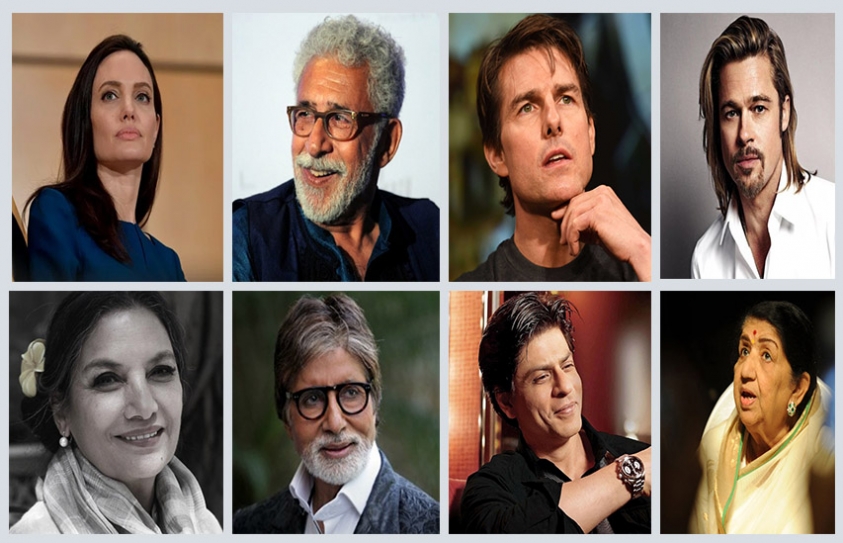 No Room With An Interview Any More
by Khalid Mohamed
July 5 2017, 5:54 pm
Yesterday, a master blaster -- a former editor of mine whom I respect unconditionally-- called up from the deepest shade of blue, to ask, "Can you interview Lata Mangeshkar for a book being planned on famous Indian personalities?"

"Honoured," I responded. "But sir I'm done with fixing appointments etc etc."

"Yeah, I can't seem to get her new number," the editor continued. "Do you have it? Called up the number I had and some wise guy claimed he was her husband. Do you know someone who has an updated Bollywood 'phone book."

"Nope. I only do 'think' pieces now. No more calls. No more dialoguing which are monitored by PRs. No more vanilla q's and a's," I said categorically.

That was the end of the Ms Mangeshkar assignment. Not that the legendary chanteuse has been stubbornly inaccessible in the past. The point I'm making here is simple: no one in Bollywood, without exception, is open to conversations or to use the more pertinent word, heartspeak on record.

Belatedly seguing into a ritual established by Hollywood eons ago, B-city's celebrities grant audiences strictly on the eve of a film's release, or on a momentous occasion in their lives (completing so-and-so many years in showbiz), on birthdays, on Eid-Diwali-X'mas, and god forbid, after a blazing controversy which requires laundering.

So what's wrong with that? After all, Tom Cruise's all over the international magazine covers and the internet, a fistful of days before the premiere of The Mummy. Brad Pitt may fly down to Mumbai to plug the Netflix produced War Machine. As for any mention of the acrimonious split with Angelina Jolie, don't you dare go that route. Leave you journalism instincts at home please, just stick to the publicity dance floor. Select paparazzi allowed, but the photographs had better be flattering, or no admission without permission the next time.

It's no national secret that a sizeable chunk of interviews and cover stories are 'paid for' officially. Unbeknownst to many, though, especially the A-list actors have to be kept happy by the media corpus since they are key to the TRP ratings clocked at the telecast of annual award shows. They are the walking-talking vaults which have to be unlocked also for summit meets, literary fests, polo tournmanets and the launch of the brand-new edition or entertainment supplement, in XYZ cities.

Admittedly, this celebrity mania has been exacerbated by the everyday coverage of who was seen with whom at which upscale event. Indeed, the internet as well as print sheeters now even flash-photos of Bollywoodkars arriving at or departing from the airport terminals. Whatever happened to the good ole news stories or even dare I say authenticated tittle tattle? Okay, so when a twosome breaks up, it's reported, at first cautiously but then repeatedly, minus any updated details, till you want to yell out loud, the story's been done to death. Chill, guys.

The fault lies not entirely in our stars but in the acres of content essential to fill up the entertainment news pages, and cram website portals with as many as ten to 15 reports a day at the very least. Advertisers don't have the patience for niche spends. Only the top five in newsprint and on the inernet are on their radar. A desperate effort's on then, to break a 'story' which goes viral on the social media, and then maybe just maybe, a portal may make that great leap forward. Snag: the exclusive has to be followed up by a regular series of xxxclusives. As with the movie stars, the score of hits has to be consistent. A scoop a day? Not enough.

The television medium still has to discover a feisty talk-show host. For sure, a badgering avatar of Arnab Goswami isn't the answer. Not surprisingly, the most probing quizzer of film personalities to emerge on the TV screen has been none other than Karan Johar, wit, tongue-in-chic intact. A sizeable number of the interviews have been insightful and no-holds-barred. It goes without saying that Koffee with Karan can get away with its strong blend of the personal and professional -- because of his equations with the interviewees and his stature as a movie powerhouse. Can a journalist make you smell the coffee? No chance, not yet.

In any case, and this I say without a trace of condescension, film stars aren't blessed with that rare quality of being articulate. Over the decades, I can list the ones who can hold a conversation: Shabana Azmi, Amitabh Bachchan, Rekha, Rishi Kapoor, Aamir and Shah Rukh Khan, Naseeruddin Shah, and the late Raaj Kumar. Of course, there have always been underpinnings of caution.

Actors intuitively want to preserve their image as established in the public eye. No iconoclasm or deducing their frailties permitted. In that context, frankly none of the countless interviews I've done have been completely satisfying. There has always been – how do I put it? – something missing.

By that 'something missing', I do not mean the invasion of privacy at all. I mean by their very nature, artistes aren't wont to submit themselves to interviews which, in a manner of speaking, are an equivalent of self-therapy."Are you placing me on a shrink's couch?" I've been often asked. If I were to say, "Yes", the interface would have gone off the rails. My subject would clam up. Result: a softer, gee-whiz approach.

The journalist's intention should neither seek to demolish or extoll an image. Ideally, an interview is a freeflowing inquiry conducted with mutual respect. Easier said than achieved.The feeling of mistrust and the futility of the media-versus-showtownies ritual have heightened of late.
And it's not solely among our topnotchers. Take Woody Allen who detests interviews. Believes he, "I never thought there was any point in doing press. I don't think anybody ever reads an interview and says, 'I want to see that movie.'"

Right. Point noted. Clearly, the master blaster editor who called didn't get back on the Lata Mangeshkar assignment. And I didn't call him back, because I'm convinced that there's no point in tea, cofee or 'cold drink' with film celebrities any longer. My bad.